| | |
| --- | --- |
| Hello guest , My name is STORMY_333. I am 108376 hours old. I have a fantastic owner called ladyrain33, who takes great care of me. We have gone on many travels around Neopia.Here are some places we have gone.If you would like me to add another place please neomail my owner and she'll put in on here for you. | |
---
Table of Contents
---
Advent Calender
-Free
Come here everyday in the month of december to receive neopoints and items for free
Bank interest
-Free
Don't deposit or with draw until you collect.Free neopoints Everyday!
Buried Treasure
-300 NPS
win nps. and Randomly get a avatar
Coltzan's Shrine
-Free
Some people have said these are the best times to play it,but i've won on other times also: Speed: Every fifth second of the hour~ Defense: Every tenth second of the hour~ Strength: Every thirty minutes of the hour~ Endurance (hit points): Every hour of the day~ Level: Every two hours of the day~ Burnt Food: 11:00 - 12:00 NST~ Dubloons: 55 seconds past the minute~ At exactly 12:00 PM (NST):1,000,000 NP!*
Compare prices
-Free
Earn 800 Neopoints Once every 24 hours !!!
Council Chamber
-Free
Click on King Altador,once per day. Can do only if you have finished the Altador Plot
Desert Scratchcard Kiosk
-500
You can win neopoints and random other things.you can only buy one if you have not purchased any scratchcards in the last 4 hours
Deserted Fairground Scratchcards
-1,200
You can only buy one scratchcard every 4 hours. You can win Neopoints. You also can get an avatar!
Deserted Tomb
-Free
Random Items.ONCE a day
FIND THE HIDDEN NEOPOINTS
-Free
Click on the links below and move your mouse around the page until it pops up this, NP .Then click on it. May take up to 30 min to get neopoints.Once a day.

Narnia.Find the NP for 500 NPS
Raven.Find the NP for 500 NPS
Froot Loops.Find the NP for 300 NPS.
Son of the Mask.Find the NP for 250 NPS
Maybelline.Find the NP for 250 NPS
Madagascar.Find the NP for 250 NPS
Sultans.Find the NP for 250 NPS
Coming Soon!!.Find the NP for 200 NPS

Fruit Machine
-Free
Random Prize.Can play ONCE a day
Grumpy Old King
-Free
You can get 2 avatars, NeoPoints and Items.Say "What do you do if fierce peophins has eaten too much tin of olives?" and also use the answer of "You offering them a tin of what what what."to randomly get the avatar.
Guess the Marrow
-Free
Random Prize. Can try ONCE a day
Healing Springs
-Free
health healed,or potions.She will even heal a sick pet when she says "All your Neopets have their health completely restored!!!" Every 30 min.
Igloo Garage Sale
-Stuff for Cheap
Random items
Jelly
-Free
It does not exist....Please click on the giant jelly once you are there.Food you take with you.2 bites worth.ONCE a day
Lab Ray
-need 9 lab map pieces
Changes stats,species(get the avatar) and colors
Lunar Temple
-FREE
Guess what Kreludor looks like if looking at it from Neopia.Once a day.Click HERE for guide.
Mcdonalds Giveaway!
-Free
From September 15th through October 12th in New Zealand and September 23rd through October 20th in Australia, you'll be able to find a Neopets Plushie in every McDonald's Happy Meal. During that time, you'll also be able to visit us here and get your own virtual prize - a different one every day from September 15th to October 20th! I'm not from these countries, please tell me if this is no longer available.
Meteor Crash
-Free

Money Tree
-Free
Random Items.People donate items and you try to get them.
Balthazar's Mega Faerie Giveaway Bonanza:Wednesday at 7 am NST
Healthy Food Giveaway: Every day at 7 am NST
Muntando Fruit: Monday at 10:45 am/pm NST
Chocolate Giveaway: Sunday at 5:50 pm NST
The Neopian Lottery
-100
To purchase a lottery ticket, please enter six numbers between 1 and 30 in the boxes below. The person with the most numbers matching wins :)
NEWS
-Monday through Friday
Omelette
-Free
Food you take with you.3 bites worth.ONCE a day
Once a month Freebies
Random items
PetPet Lab Ray
-need all 9 Lab Maps and all 9 petpet lab map pieces
Changes petpet stats,species or colors ,Zaps your pet into soot to get the avatar.If you unattach your petpet it will turn back to its original form
Qasalan Expellibox
-Free
ONCE A DAY. Drop a scarab into the machine and win the prize that it lands on.(you can even win Neocash if you hit the blinking tube).
Rubbish Dump
-Free
Random rubbish items
Scratchcard Kiosk
-600
You win random neopoints and items.You can win a avatar.Every 4 hrs.
Second Hand Shoppe
-Free
A series of tubes that automatically reroute any donated wearable items to the Second Hand Shoppe instead of the Money Tree.
Shop Till
Go get your Nps out of your shop.
Six Flags Snack Bar
-Free
Eat at at Six flags snack bar. ONCE a day.
Slorg
-Free
Meet a rich slorg who will give you 50 or 100 Nps.
Snowager
-Free
Sleeps 6-7am,2-3pm,10-11pm NST,Randomly get a avatar
Soup kitchen
-free
Only really poor users (under 3,000 NP total) can get handouts at the Soup Kitchen.You Can get the avatar randomly.
Stock Market
-As much as you want to invest
Buy stock that is curr (currently) 15 neopoints and sell it at 30 neopoints OR MORE.Buy the most shares you can afford for more of a profit.If you buy 1,000 shares at 15 neopoints each that means you spend 15,000 neopoints.If you sell the shares at 30 neopoints each then that means you get back 30,000 neopoints.1,000 shares is the most you can buy in 1 day and can not buy shares that cost less than 15 neopoints


Sultan
Feed pet,CANADA ONLY.I'm not canadian so i don't know how much or how often.Please neomail me if you know.
Summer Faire
-Free
Eat at the Summer Faire. ONCE a day.
SymolHole
-Free
Have one of your named petpets climb down and win Random items and randomly win a avatar.Every hour.
Tarla's Shop of Mystery
-Prices very
Tarla bundles up bags of random stuff and sell them.Just because the bag is cheap doesn't mean the items in it are.The same goes for the EXPENSIVE bags.
Test your strength
-100
You can play it every 6 hours. Random items.
Tombola
-Free
Pick a tombola ticket, and see what prize you win.You need a ticket ending with a 0, 2 or 5.ONCE a day.Win Random cheap items,bottled faeries,codestones and Nps.
Turmaculus
-Free
You can get an avatar(to get,he will eat your petpet)or items.Will wake up at random hours
Underwater Fishing
-Free
Random items,Catch a Titanic squid for a avatar.Can fish with all your pets.
Wheel of Excitement
-150 NPS
Win 10,000nps to get the avatar.Can spin every 2 hrs.
Wheel of Knowledge
-500 nps
land on Star to get the avatar.Can spin every 24 hrs.
Wheel of Mediocrity
-50 nps
land on 1000nps to get the avatar.Can spin every 40 min.
Wheel of Misfortune
-100 nps
have a item turned into sludge to get the avatar.Can spin every 2 hrs.
Wheel of Monotony
-100 nps
land on the Five Neopoint Bags to Randomly get the avatar.Can play every 24 hrs.
Wise old king
-Free
Tell him some wise info and win Random NeoPoints and Items. You can try ONCE per day.
Cap'n Threelegs' Swashbuckling Academy
-Pay with Dubloons
His academy only takes Neopets up ta level 40.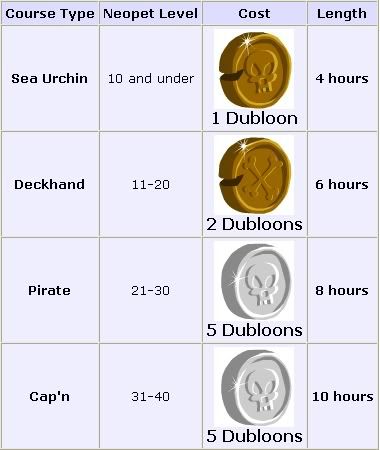 Cooking pots
Culinary Concoctions
-any items
Give a rather surly looking orange Blumaroo some items and he will mix them together to create a different item.
Magical Cooking Pot
-any items
Give Jhuidah the Island Faerie some items and she will mix them together to create a different item.
Customize your pets clothes
Go here and click on the customize button under the pet you want to change
Deadly Dice
Challenge Count Von Roo to a game of Deadly Dice from 12am to 1am NST. Win or lose a game to increase or decrease your active pet's level.This game can be played at any time on October 31.
Discarded Magical Blue Grundo Plushie
-free
maybe you should click on him to talk to him...
Donny's Toy Repair Shop
If you have a broken item and would like to get it fixed,this is the place for you.He charges depending on what you want fixed.
Draiknest
-Drake egg
To get a draik you have to buy a draik egg from either the Meridell food shop or through the trading post. They are normally very expensive. Once you have your egg and only 3 pets, go to the Draik's Nest to hatch your egg.You can also buy a morphing potion.
Employment Agency
Sometimes, it may cost you more to buy the items for a job, than the job will reward you for turning them in -- but that's the risk you take.
Some jobs require a Job Coupon. Job Coupons come in eleven colours, from lowest to highest:

Green Job Coupon (lowest!)
Blue Job Coupon
Red Job Coupon(lowest)
Silver Job Coupon
Gold Job Coupon
Purple Job Coupon
Pink Job Coupon
Green Brightvale Job Coupon
Bronze Brightvale Job Coupon
Silver Brightvale Job Coupon
Gold Brightvale Job Coupon (highest!)

A job coupon can be used for any job that requires a coupon of that colour or lower; for example, you can use a Red coupon for a Green, Blue, or Red job, but not for a Silver or higher job. When you use a job coupon on a job, that coupon will be downgraded by one level (a Gold coupon will become a Silver coupon, a Red coupon will become a Blue coupon, and a Green coupon will disappear).
Freeze/Delete your account
Are you tired of playing neopets?If so you can self freeze your account.
The Grand Neopian Neolodge
-5np to 500np for each pet
Are you going on vacation?Stop by this hotel and send your neopets off to be taken care of.

Funguscave
-Krawk
You must have a Krawk petpet. Krawk petpet's are rather expensive but you can find them in the trading post.
1. Make sure you have no more than 3 NeoPets.
2. Give a Krawk PetPet to one of your NeoPets.
3. Go to your Pet Status Page and Click On Krawk.
4. Name the Krawk what ever you want it's neopet name to be.
5. Go to The Fungus Cave.
Half Price Day
Half price day is on the third of every Neopian month.All the shops in NEOPIA (not the rest of the world)will be half price.
Hidden Tower
Must be rich to buy stuff,get the avatar when you buy, then look at your inventory and refresh until the paint devil appears.(strongly recommend putting 49 other items in your inventory)
Jelly World Message Board
It does not exist....
Learn to speak Neopian (nee-oh-pee-an)
Many people seem confused how to pronounce their favourite Neopet's name. This page will list all pet names and any other words that people may find confusing. Click on the musical note next to the word to hear a sound clip.
Lever of Doom
DO NOT PULL THIS LEVER!....If you do you might randomly get a avatar.
Most Popular Games
-Free
It's a list of the most popular games in neopia
Mystery Island Training School
-Yellow codestones
Can only teach pets to level 250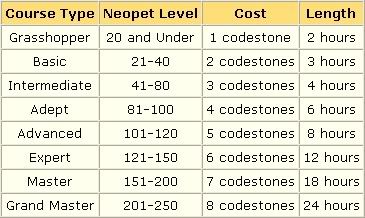 Neopets JR.
-Free
Welcome to Neopets Jr. - a simpler version of the main Neopets.com site
Neopets Mobile Phone(Lutari Island)
-$2.99 US Dollers a month
Go to Lutari island.Make a new account or use the one your on now.Remember you can only get to Lutari Island from your mobil phone.Right now only for Cingular and T mobile phones.Here is alist of stuff;
The Wheel of Happiness(spin the wheel to win stuff),Lutari Savings Bank(your bank account),Island Market(shop to buy random stuff,some you can buy on neopets some you buy only on the island),Fluorescent Pools(like the healing springs),Brianna's Quests(air faerie quest),Island Gossip(neopian news),Bog of Charity(like the money tree),and Survival Academy(like all the training schools but with feathers as payment).You can play two games that are only on the mobil site,they are called 'Blockstravaganza' and 'Go Go Lutari'.You can switch your pets, play with items , put them in your safty deposit box, and create new pets.You also can get somthing for your Talisman.If you invite another person to join the mobile neopets and they join you get beads to put on your talisman,or you can buy them on the trading post.The neopets team say that the beads do different things around the neopets site.Hmmm....You might catch a glimps of it here
Neopets Tool Bar
The Toolbar is an important part of your Neopets account! You'll get one-click access to your favourite pages and sites, special alert messages and events, access to your Neomail account, Premium Service features, pop-up blockers and more!

Plus it is now available in 11 languages: English, Spanish, German, French, Italian, Chinese Traditional, Chinese Simplified, Japanese, Korean, Dutch, and Portuguese.

Features Include
Quick Links
Instant access to the most important areas in Neopia, 'dailies' links, games, Neomail, Online Mall, your favourite real-world sites and more.
Special Alerts
When the orb is flashing, a special message or event is waiting for you. Make sure you catch the Alert before it disappears!
Tools & Protection
Enjoy surfing the web again with search, pop-up blockers, URL error assistant, and more. The Neopets Toolbar is spyware and adware free!Absolutely No Spyware! Available for IE and Firefox.
Neopets Treasure Hunt
Bring the 9 pieces of the treasure map here to collect your reward.The types of maps are;
Original Map
Spooky
Underwater
Laboratory
Space
Petpet
The Neopian Neggery
Well I bet the first question on your lips will be, what on earth is a neggery??? Just bring her your ordinary, boring neggs, and she will trade them in for powerful, magical ones!!!Remember, Not all neggs can be exchanged.
Neopian Pound
Come and Adopt a homeless pet.
Ninja school
-Red codestones
Only people with super tough neopets (pet level 250• )can get into this top secret school.So if you don't have a top fighter,it's a waste of time to try.Some say they take red codestones instead of the regular...
Premium Neopets
$7.99 US Dollers Neopets Premium Web Pack (pay monthly)
$69.95 US Dollers Neopets Premium Web Pack (pay yearly)
$15.95 US Dollers Neopets Dial-up with Accelerator (pay monthly)
$99.99 US Dollers Neopets Dial-up with Accelerator (pay yearly)

EXTRA neopets stuff.As of now there are two ways to sign up:

1. Visit www.premium.neopets.com regularly and hope that you will be at the page when the "gates" are open for new members. No one knows for sure just how many are welcomed at a time or when this page opens, it appears to be fairly sporadic.

2. Be refered by an existing premium user.
Ticket Booth
-Depends on the concert playing
After you buy the ticket go to the Concert Hall.To find out concert dates,click HERE
Unscrambled words
-free
find the unscrambled word in the neopets magazine and you could get stuff like 1000np and a codestone.
The Wishing Well!
Make a donation and wish for anything you want.You MIGHT be picked for the winner.
Air Faerie: Grants • 2 speed and asks for Beauty Products.
Fire Faerie: Grants • 2 strength and asks for clothing items.
Water Faerie: Grants • 2 defence and asks for books.
Earth Faerie: Grants bloated status(Not Hungry) and asks for magic items.
Dark Faerie: Grants • 2 health(hit points) and asks for toys.
Light Faerie: Grants • 1 level and asks for Collectible Trading Cards.
Faerie Queen: Grants 1 level, 3strength, 3 health . Sometimes she does give random stats though.She asks for Random items.
Space Faerie: Grants 4 Levels and asks for Random items.The price ranges from as low as 300 nps to as high as 30,000 nps.
Fountain Faerie: Grants one time usage of the rainbow fountain in faerieland where you can paint your pet all the colors its species can be painted.She asks for Random items.Get the avatar if you paint your buzz.
Brain Tree- The Brain Tree lives in the The Haunted Woods.He thirsts for knowledge and require you feed the Esophagor twice to get the answers that he needs.
Edna the Witch- Edna Lives in her Witch's Tower in The Haunted Woods.She asks for Candy,Toys and Gardening Items. She then gives out Spooky Food and sometimes neopoints.You can also get the 'Edna *cackle*' avatar randomly for completing her quest.
Esophagor- The Esophagor lives in the ground in The Haunted Woods.He asks for various items and gives you an item for a reward.If you are on The Brain Tree Quest, The Esophagor gives you the answers to his quest.
Illusen- Illusen lives in her glade in Meridell. She asks for items based on what level you are on in her quests. In the lower level quests she asks for items that are low in rarity, but in the higher level quests she asks for more rarer items with the highest items being rarity of 99. Rarity 99 items are usually unbuyable items.Her rewards depend on what level of quest you are on.To get her avatar Complete level 20. Level 1-Ilusens Cream Cookie Level 3-Illusens Potion Level 5-Illusens Comb Level 9-Cucumber Eye Cream Level 11-Illusens Novel Level 14-Mud Mixture Level 17-Flower Cake Level 20-Rain Water Shampoo Level 23-Rose Shake Level 26-Earth Spell Book Level 29-Leaf Shield Level 32-Illusens Earth Potion Level 35-Honey Potion Level 38-Illusens Scroll Level 41-Illusens Blade Level 44-Leaf Taco Level 47-Illusens Orb Plant Level 50-Illusens Staff
Jhudora- Jhudora lives on her Cloud in Faerieland.She asks for items based on what level you are on in her quests. In the lower level quests she asks for items that are low in rarity, but in the higher level quests she asks for more rarer items with the highest items being rarity of 99. Rarity 99 items are usually unbuyable items.Her reward depend on what level of quest you are on.To get her avatar Complete level 20. Level 1-Poisonous Lollypop Level 3-Noxious Nectar Level 5-Jhudoras Brush Level 8-Purple Blob Potion Level 11-Jhudora T-Shirt Level 14-Gnome Shroom Level 17-Caustic Potion Level 20-Dark Faerie Magic Level 23-Malice Potion Level 26-Purple Spotted Shroom Level 29-Clockwork Rat Level 32-Toxic Shroom Level 35-Dark Shroom Level 38-Jhudoras Potion Level 41-Bartamus Level 44-Dark Faerie Collar Level 47-Wand of the Dark Faerie Level 50-Portable Cloud
Kitchen- Underwater Chef Now lives on Mystery Island After Maraqua was destroyed.When finishing one of his quests, Chef will randomly give you a reward, sometimes raising your pet's stats (Level, Strength, Endurance, Movement, and Defence)
Snow Faerie- Taelia lives on the top of TERROR MOUNTAIN.She asks you for Snow Food, Medicine, Candy, and Magic Items. In return for giving her these items she gives you Magic Items, Battle Magic Items, Defence Magic Items, Neopoints and some have said Ice cream coupons.You do get The 'Taelia the snow faerie' Avatar for completing her quest.