Another fan of his! My my, Ryan is quite that special 'thang,' as he might put it. Of course, his head is full of a lot of things, mostly hot air. So, you probably aren't really a fan, but look at how gorgeous he is! A male Lupe with such definity, and quite distinguished-
Okay. I'm not reading from that script anymore.
Obviously, he wrote it.
There's only one way I can describe him without being entirely belittling: he's quite the character.


CONCEITED! Selfish! Idiodic! INSANE!-

Oh, and he's a caring, giving, all around loving fellow...

Look! I'm just breathing sarcasm.

But before we get to the point of this page, there's just a few things to know about the 'almighty' Ryanicu.
Vitals»

]Full Name: Ryanicu
]Preference: Ryan
]Species: Lupe
]Gender: Male
]Age: Prime ;3
]Fur: Light and dark brown, white
]Markings:
a.white underbelly and most of tail
b.white legs
c.dark brown stripes on front legs
d.dark brown paws
e.dark brown around ears
f.white inside ears
g.white nose
]Eyes: Emerald green
]Faults: Conceited, believed eminence, cocky
Miscellaneous»

♥ Give him a mirror, and he'll be busy for hours.
Yes, he's that pathetic.

♥ He won't say much about his back-story, it's mostly, "I was born, I was beautiful, and I've been loved by everyone ever since."

♥ On sidenote for the Ladies, he will think you find him attractive.

♥ His White Gruslen, Kitten, is named after someone who was once a great friend to me, and she also bought the petpet for him.

♥ He does not like fresh, bloody food. If he's hungry and happens to be in the forest, he prefers fruit.

♥ He is mostly domesticated, and lives with the rest of my pets in my cottage in the Meridellian forests.

♥ Ryan knows some words and phrases in French, having heard me speak it in the cottage.

♥ His personality adapts to the situation. Around other males, he's more competitive and feels intimidated. Intuitive aspects reveal themselves in emotional situations.

♥ His past, especially Laskhan, will often haunt his dreams, and other aspects of his day-to-day life. This often scares him since it has all been lost.
Those He Knows»
Well, there was a long period of inactivity for everyone... Ryan lost contact with all his friends, and only they know where they are at now. There is only one he still cares for, only one that ever mattered... but, they had their story.
Azshaera is a new friend of Ryan's, but growing closer the more they associate. She is his Mialora for the clan of Oiolosse, an assertive leader, but also a great companion. They met before he joined her pack, finding her alone on a mountain top. They were from two different worlds, now living in the same.
This girl redefines beauty in Ryan's eyes. She's enticing on every level, perhaps a better flirt than he. When it all boils down, he lives for the emotion she has towards him, and for some reason, it's her face he's been falling asleep to at night.
You're In His Paws Now»
So that covers everything about thee Ryanicu. In my opinion, there's not much else to tell, though he may beg to differ.
Now, applauses not necessary, I present to you the Canine of the Hour to take over and finish this part of the... um, presentation?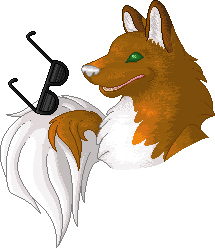 Now that you're in the presence of mo-wah[moi], I bet you're just dying to know how I look so handsome and amazing everyday of my life! Well, I'm here to teach you all the grooming tricks I use myself, and hopefully, after you try everything, you might look half as good as I do :3
But first let's give a hand to Amber for giving you the information about your's truly ;3 She's no Vanna White, but she's somethin'!
The Guide»
a).

Well, the first step is the most important part- your fur/hair. Thee best stuff to use, and when I recommend it it should be out of stock fast, so be sure to go out and buy it before it's gone, is Raindrop Shampoo. Nothing's fresher than rain, and it says right on the bottle: Guaranteed to leave a sparkling glitter! Little tip though, lather in so it feels like thin lotion, rinse thoroughly, no repeat. Voila! Gorgeous.
b).

To first get your fur/hair manageable, brush completely with your Golden Hair Brush. Why such a specific brush? Well, why not use something as shiny and beautiful like you're going to be, ... ahem, I mean, are. Then, take your Golden Moon Comb and whisk lightly through your coat a second time. Fur/hair should now be fluffy and shiny, well done :3

c). For those dirty paws and paw pads, I suggest using Lavender Soap. I think we all can agree that the dirtiest part of us is what touches the ground constantly, so let's make it smell pretty! Gently scrub and massage into paws or paw pads, then rinse with luke-warm water. Mmhmm! Lavender.
d).

Don't forget those canines, Canines! Any color Deluxe Toothbrush, I prefer Blue, is perfect to give you those pearly whites. "When you're strong, you sparkle." Any idea what that's from, or what it means? Well, it means give those teeth a brushing using Sparkly Toothpaste. There's no better way to make your teeth shine, plus you get a tingly sensation in your mouth; always a good sign.
e).

Let's recap. You now have soft, shiny fur, your feet don't stink, and you've got a mouth made for kissing[not that you should -wag of the finger if he had them-]! To top yourself off, you want to smell as pretty as you look. To match your paws, use Lavender Perfume. Cooler Than You Perfume is also a good choice, but do you really want to clash scents with the soap you used to scrub your toes? Think about it, kids.
f).

One last thing before you go out in public... Have you seen your nails?!? This is the final touch-up, I promise :3 First, let's fix their length by using the top-brand Fyora Nail Clippers. Be careful not to try cutting too short; it may result in pain, cracks, and breakage. Remember, little nerves are hidden in that nail, and if you cut too short/low, you're going to feel it. Next in this nail-care step, is color. Are they starting to show your age? Oh dear... So, to still keep my manliness, since I'm still a man, I touch up my nails by using Black Nail Varnish. Men do too use make-up when they need to!
...Please don't tell anyone :(
The Shelf»
See- people love me so much, and since I am the one name you would hear in every household, people made gifts to represent my greatness. Of course, that's too much greatness, so they could only try.
Thanks to all who make Ryan a custom :D! We appreciate it :) -invalid_words-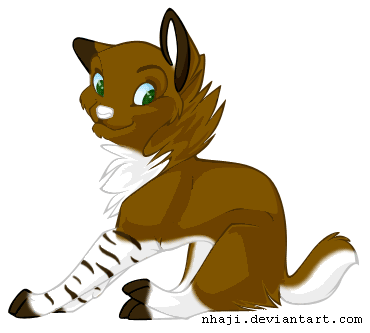 Buh-bai»
Well that concludes everything! If you see someone who needs some good hygiene tips, don't be scare to send them my way. It's not rude, it's helpful :3
Amber's Other Pages: