About Me

Hi, I'm Gina, but you can call me
doggirl
if you want to... I don't mind. Some random things about me: My favorite color s red,my favorite ice cream flavor is mint chocolate chip, I enjoy video games(especially
The Legend of Zelda
), and I love to read and write. I have a boxer named Roscoe,who likes playing,running around, and a being a crazy puppy in general. Thanks for stopping by. Have a great day! :)
My Stories
Magic and Mayhem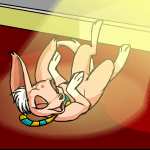 I have finished a story involving two of my pets(Ruby & Violet) and Ruby's petpet, Sand the kepru.(This was my first story to be successfully entered into the NT.)It has six parts.[Status: Accepted!Issues 602-607]
Our Castle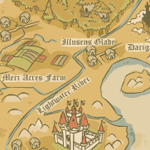 I wanted to write about the castle all my neopets lived in and introduce the setting which will likely be a large part of future stories. Sound boring? Don't worry. This isn't an ordinary castle..... [Status: Accepted! Issue 608]
Title Here
What's this? A Christmas special? How exciting!
My Pets
Violet&Firefly

Violet is a friendly(but sometimes somewhat bossy) and determined xweetok.She loves her owner and even her crazy brothers. She doesn't enjoy bruising others' feelings,but is not afraid to state her opinions.She believes that her current job-an agent for ???- is exhilarating and rewarding.Her experiences in the pound is something that has inspired her in many different ways.
Physical description:
Violet has numerous different shades of brown fur from nearly white to dark brown. Most of her body is a lighter milk chocolate brown with flecks of darker shades. Her eyes are a deep violet with a little bit of lavender. Her faerie wings are a cross between butterfly wings and dragonfly wings and have a slight teal color to them. The strip of colored fur down her back is different purples instead of teal. At her head is the darker purple and it lightens all the way down to the color on her tail. The brown strips that come down across xweetok's faces is mirrored in her hair with blue streak that lighten into teal.

A red carmariller named Firefly is her petpet.He is protective of his owner and easily jealous.When his emotions are strong, he will glow so brightly that he will look like an orb of light with wings.
Ruby&Sand

Ruby, my first pet I ever created, is a laid-back, sweet lupe,who loves to go on exciting adventures with his friends. Since he tends to act like a small puppy, people assume he is not very smart at all,but underestimating him can be dangerous.He has some pretty clever tricks.And some secrets of his own.
Physical description:
Ruby has shaggy redish-brown fur and emerald eyes.He is a large lupe(in non-neopian standers he is the size of great dane usually). His size is subject to change since he is a pure-blooded werelupe(explanation coming later), which do not rely on the full moon for transformations. He likes to wear a thick red collar with a large diamond-shaped gold tag that has the letters 'R' and 'W' (under the 'R')in red.

Sand,his kepru petpet(a point she will gladly dispute), is a powerful enchantress, who wasn't always a petpet. She likes to be brutally honest and is bitter, sarcastic and can be unintentionally- a point that others argue-overly dramatic.. Although she does not make friends easily or quickly, the ones she does call friends, she is fiercely loyal to. She detests being called "cute". Physical description:Sand has a light brownish-pink pelt with tufts of fluffy creamy white fur. The symbol on her head glows the same color as her eyes(sea blue-green)when she is casting a spell,but is white when she is not.
Lucky&Akila

Lucky is a quiet,serious bori who loves reading anything he gets his paws on due to his thirst for knowledge despite having the burden of knowing too much(about quite a few things.) You might assume he is very shy since he does not speak to many people, but that is not completely true. He likes to think carefully before he speaks and his words are taken with more respect. Lucky has a zen-like patience, which is hard to tell because his brother Storm is one of the few that can get under his fur. He is also a powerful wizard.
Physical description:
Lucky has light yellow fur. His left eye is a pale blue with silver in it and his right eye is brown with green and gold in it. He is short- only about a head and a half taller than a baby bori. He has large paws, a long tail and big ears for the size of his body.

Akila is Lucky's Gold Mauket.She is around Lucky constantly and has some magical powers of her own.Akila cannot talk like Sand, but she can use telepathy to communicate her thoughts to those that cannot understand her various petpet noises.Akila is loyal to Lucky, who rescued her from her previous owner and enhanced her magic. She does not like Storm, but tolerates him.Physical description:Most of Akila's fur is gold, but she has black markings: the tips of her ears and tail, the symbol on her head and her wings.Her eyes are a dark shade of gold.
Storm

Storm,the youngest, loves to have fun by playing pranks on just about anybody and doesn't mind bending/stretching the truth. He isn't really mean, but his jokes can get out of hand. His heart is (usually) in the right place and his friends find him easy to talk to(although he has trouble listening/staying still). For some reason he and Lucky do not get along very well and are constantly bickering.A incredibly surprising thing- he is a champion of the air faeries, but no one is quite sure
what
that means exactly since there hasn't been one in a long time..... only that a ancient ancestor of Storm's was one too.
Physical description:
Storm is a tall, lean ogrin.His stripes across his back legs are shaped like lightning bolts.Storm has dark grey eyes with electric blue swirls in them.He has a long tail(I always imagine it being like Marty's from
Madagascar
).
Even though he is a temporary lab pet in most of the stories he will be a male ogrin- likely a green ogrin.

More To Come
Astroburn_

Khyrao

BlackClaws

......
What should I do with this space.... ?
Credits
Layout by
Sugary Premades
Neomail icon from
Background pattern from deviantArt; recoloured by TLB
Divider from TLB
Float by SS!