This page best viewed in Firefox or Internet Explorer.



Making your way through a dew-laden brush, you've found yourself in a rather cold and desolate part of the Haunted Wood. You silently grumble to yourself wishing that you would have taken the other road that lead in the other direction. Maybe all of this could have been avoided and you'd be in Neovia by now.

But now? You're hopelessly lost.

Shivering from the icy chill in the air, you push forward. You can hear the squishing of your feet into the muddy and leaf covered floor. You have a feeling your feet are caked in mud, but at this point? You don't care.
With each foot step you take, the forest's usually eerie noises suddenly die off. Leaving the area in an un-recognizable silence. You suddenly get a twisted feeling in the pit of your stomach. SOMETHING, just doesn't
feel
right.
Passing under a set of decaying trees, a spyder's web seems to catch you by surprise. You shriek, arms flailing around in the hopes of freeing yourself from the clinging webs.

These webs, however, are a *lot* stronger than any webs that any typical person would have encountered before. In fact, these almost seem... engineered.
The moonlight is the only bit of light shining into the area now. All of it in patches from the woodland canopy above. But it's just enough to see something off in the distance. A figure moving ever so slowly through the thicket.
You want to scream, but your voice is suddenly gone. You want to move, but with eac tug or twist you do encases you ever more snugly into the spyder's web. As the figure looms closer you can see a hallowed ex pression staring back through almost completely white eyes. You're pretty sure that the figure is blind, but it's seems to know exactly where you are!
With panic etched into your face you can see the figure's face dripping in blood. Stringy blond hair turned red certain parts, obviously from blood as well. Her jaw looks as if it would fall off if it weren't for for the few pieces of decaying flesh holding it in place. She's an ixi. That much you can tell. Two long, curved horns wrapped around her head. Well, at least one did, the other was snapped off. Though, despite all of the flaws, you realize how hauntingly beautiful this creature is.
Escaping from the trance, you finally realize what's going on. You've heard tales! You've HEARD them. But never thought it to be true! That's when you realize that you're face to face with a--
ZOOOOMBIE--!!!!??!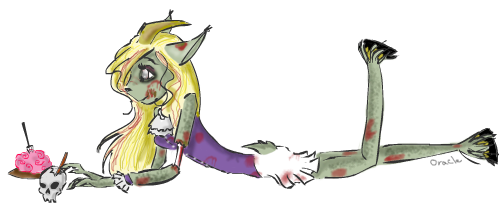 Unlife
Chapter 1 - Thoughts
The Neovian days were long and dreary. The ominous gray clouds were bursting at the seems with the onset of rain, but nothing seemed to fall all day. By now, the fog was rolling in and the air had become extremely cold. For those who were not native to the area would see it as incredibly odd weather for a summer day. But those within the region were used to it. It never got too warm-- which was probably a good thing in some cases.
A young figure in an elegantly large, Victorian style house sat surrounded by shrubbery and trees. Watching as the wind blew the delicate leaves of the giant willow tree out in the front lawn. The figure from within the home sat with a dreamy smile on her face, her pale fur giving the illusion that she was aglow.
Her hair was pulled in a high bun with lustrous blond locks falling elegantly around her face. Ro loved to read.
Turning a page in the discolored book, she grinned as her eyes darted back and forth across the page. She casually sipped on a cup of hot chamomile and mint tea as she devoured deeper into her book.
With each sentence she read, she was further intertwined within the topic.
The book's basis was on the inner being of self. A collection of tales and inner wisdoms put together by Mystery Island's own Island Mystic.
Once finishing her chapter, she nestled a ribbon within the pages and closed the book. Her fingers running over the cover, her own mind flooded with thoughts.
She spoke aloud, speaking to no one in particular.
The fascination of what is on the other side has to be an incredible adventure. Held with such meaning... and a different soul-bearing essence...
She rose and made her way over to stand in front of the window that she had been sitting in front of. Her fingers pressing against the cold glass, beaded with condensation.
As she made her way to the window a white flash. A figure. Of SOMETHING that looked like a shrouded figure glided across the lawn.
Ro blinked, unsure if it were her imagination playing tricks on her or something more.
Suddenly a whisper raced through the air. Almost as if someone were speaking to her just inches away from her ear. Come to the gate....
As she heard the voice, she blinked. The shrouded figure before her was gone.
She was used to seeing things. Hearing things. She would even follow the voices, only to find herself standing outside in the cold, trying to find the figures and voices that called to her.
She knew this wasn't normal. You're never at the gate. she muttered, a little annoyed. I don't understand...
She sighed. I hate not knowing... This... needs to stop.
As silence fell upon the room. She closed her green eyes as if she were seeking for some sort of answer from the Island Mystic.
I NEED to understand what lies beyond. This.. can't be my place
Chapter 2 - Journey
Packing only the essentials Ro found a way to leave her home within Neovia and set forth on her journey toward the high-density, plant-covered Mystery Island. It took her weeks to journey to where she needed to be. Trying to ask the locals for guidance in her search for the famous Island Mystic.
Apparently the great Island Mystic was a lot trickier to find. Apparently, only those that the Island Entities felt needed to see him would see him.
This news momentarily shattered Ro's inner self. Almost making her believe that she may not have been worthy to meet him... especially after everything she had gone through.
Under the jungle's sweltering heat, she soon found herself within the jungle thickets. Pushing multiple vines and over-sized leaves out of her way until she made her way to the Mystic's lair.
Ro's heart was pounding against her chest with excitement and nervousness. After her weeks of travel and sacrifice, she was finally getting somewhere. Her inner desires were about to be fulfilled.
Hidden in a darkened corner of the cave-like dwelling, a calm and foreign voice spoke. They told me you were seeking me, young one.
Was he speaking to her? She quickly looked around to make sure that she truly was the one that he was openly speaking to.
Yes, child. Ro, was it?
Ro blinked, incredibly surprised. You... know of me? she asked, timidly stepping forward.
Your presence has been felt on this island for weeks. Arching his neck back, he tilted his head, trying to get a better look at the ixi before him. Your intentions are vast for a deeper understanding of the the un-living.
As he spoke, Ro inched closer and rested on her knees, bits of the cave's deep brown soil mixing into her already dingy colored fur. She hung onto his every word, truly astounded at how much the Island Mystic knew about her without her even telling him much of herself. This guy was impressive! He had to have some other-worldly spirit guiding him... that or he had the villagers wrapped around his little finger. That and every part of Ro's stay on Mystery Island was being trailed.
She figured it was the first option, if anything.
Relaxing as if she were talking to an old friend, she watched him through attentive eyes. Her eyes glinting just faintly from the bits of sunlight that made its way into the cavern. For quite a while I have felt that something else had been calling to me. I could never really describe the feeling or... what it was. I cannot tell you how many ways I've tried to enrich myself. Trying to figure out why I would hear things. Why I would SEE things... None of which could be deemed as 'normal' for the society I've come from. Something... lead me here.
The voices lead you here. he spoke finally.
Hesitant to answer, she breathed out. Yes.
The golden Kyrii raised from his sitting position and walked toward one of the far walls. Ro tried to watch what he was doing, but his slender frame was in the way and it made it impossible to see what he was doing. Moments later, he walked toward her, his hand opening to show her a very small skull. It looked as if he had drizzled something on it. Though, she had to admit it smelled quite pleasant. Take.
For a moment, Ro watched him carefully, before taking the small skull out of his hands. She squinted, trying to determine what it had previously come from. But at this rate, she couldn't tell.
For the answers you seek, this will guide you. I cannot do anything more but lead you into the favored direction. Your journey... is a fated one. He gave her a knowing grin. Your journey will end and begin here. You are the key that will find it's way to the stone.
Looking back to the skull in her hand Ro quirked an eyebrow. Why did the island nation always have to talk in riddles. W--what...? She didn't understand this. But she knew that the Island Mystic did.
You will go now. Find your way. Turning on his heel, the golden Kyrii sat down where Ro had originally found him and went back into a meditative state.
Chapter 3 - Ambush
Ro left the Island Mystic's secluded meditating point with a face etched in sheer confusion. She should have known better. Maybe the reason why she didn't understand what the Mystic had told her was because her mind wasn't truly open. Or... something like that.
She sighed as she pushed forward, Perhaps a night's rest will do me some good.
Little did Ro know, she was heading in the wrong direction and headed deeper into the jungle.
As the sun sunk lower into the sky, the brief chill of the onset of night was sweeping ever closer. She was angry at herself for going in the direction that she did. How could she be so stupid as to get turned around? Especially in the jungle. She could only hope that the local's stories weren't true. She really hoped that the dreaded 'Jungle Beast' didn't exist. She really didn't want to become it's next meal.
As her legs ached, she managed to climb into the limbs of a tree and rest on one of the branches. Her eyes gazed into the canopy above her, her mind starting to venture off. Maybe she could sleep for the meantime and when the sun rose again, she could find her way back to the village that she was staying at.
Resting her eyes for a while, Ro found herself resting peacefully within the confines of the tree she was using as a safe-haven.
Her ears twitched, hearing the crack of a tree branch. She sat up quickly, her hands still clutching the skull that the mystic had given her.
Her eyes forced themselves to focus in the semi-darkness.
Come to the gate.
It was that voice again. The same one from when she was in Neovia.
Fully alert now, she looked around, the hues of greens and browns swirling together in a magical mess of vines and leaves. She suddenly felt incredibly light-headed. There... is no gate--!
With a quick movement, Ro's body rolled off her tree branch and hit the squishy forest floor. She groaned weakly and struggled to get herself up, but the world wasn't working in her favor.
She gripped the small skull that was still in her hand, starting to wonder if the Island Mystic had laced it with something to make her surrounding environment so wonky. Maybe that was why she lost her bearings!
Suddenly a purple figure with silver skull mask appeared in front of her. Yellow eyes staring her down like a wild cat. I knew I would find you, mon.
Ro's eyes grew wide for a moment as the figure swirled in front of her. She hazily responded, You ghosts need to stop..... playing tricks on me... --before her eyes rolled into the back of her head into unconsciousness.
Chapter 4 - Almonds
Ro had woken up to find herself in an odd hut. At least, that's what it looked like. Beads and bits of what looked like bone were hanging from the roof. She groaned attempting to sit upright.
So maybe her whole ordeal was a part of a bad dream. Maybe she only thought she heard voices and saw the looming, skull-faced figure. But then again... why was she in a hut? Wasn't she sleeping in a tree?
Ro's eyes darted around and could see the glow of a fire just outside the hut. The fire gave her just enough light to get a clear picture of the inner part of the hut she was in. There were bundles of jungle trinkets that lined a few make-shift shelves along with potion bottles and herbs that littered a small table in front of her.
This was strange, indeed.
Her eyes were diverted to an oncoming shadow that pushed it's way into the hut.
A tall female form stood in front of her. She had wild, frizzy hair, decorated with braids and beads. Two horns on the top of her head curved ever-so-delicately around her ears. She was an ixi, alright. But one probably couldn't tell upon first glance. Her face was the exact same face that Ro had seen right before she passed out. A skull mask had hidden her face underneath. You bumped your head good there, mon. she greeted.
Ro was weary. She had a feeling if this ixi wanted her dead, it probably would have done so already. Either that or it was going to prepare a meal of her... and eat her.
She shuddered at the thought.
After all, there were some rumors that pets would sweep out from the jungle and grab weary travelers and cook them for dinner. She really hoped that she wasn't on the menu....again. First the Jungle Beast and now natives!? What was next?
Ro showed no fear, however. She was used to more spooky things coming within inches of her. This one in front of her definitely was no ghost. She stayed quiet, however.
The purple ixi blinked and went to find a bowl and stone and went to mixing some kind of unknown something into a powder. Ro figured that maybe it was some of the flowers she saw scattered on the table behind her. I am Nemazarre. You spoke with Island Mystic? She watched Ro carefully.
Ro lifted her head and nodded slowly.
Nemazarre smiled an eerie smile before pointing to the small skull the Island Mystic had given her. She spoke with a bit of an island accent. He give you dis beacon. It is his sign to me that you are the one.
So maybe this was the other piece of the puzzle. She sat straighter, listening to her every word. Yes. I did visit him. He.... told me something about keys. And that I would find my way to the stone? I.... don't understand. I don't HAVE any keys.
The witch doctor pulled up a stool to sit next to her guest. No, mon. You are not hearing him correctly. YOU are da key. You are da keystone to your awakening. To your gate.
Upon hearing the purple ixi speak of 'gate' she had a sudden thought of the ghosts back home in Neovia as well as in the jungle telling her to 'Come to the gate.' Maybe... this was where she would reach that gate. She was starting to get it now. I.... think I understand now--! The slightest hint of a smile had appeared on her face. Maybe this journey wasn't so bad like she thought after all. I.. would always hear THEM call to me. Telling me to 'Come to the Gate' and I could never understand what they meant. Until right now. At least she hoped she understood. She spoke slowly to Nemazarre, trying to be careful with her wording. I am... the key for this 'gate,' right?
Nemazarre nodded. Good to know you are opening your mind, mon! However, you will not be able to reach this gate without proper passage. And this is where I may help you. Standing, Nemazarre turned and started looking through her baskets and phials she kept handy, reading each label carefully.
Is... this where I need to go into a trance to gain the answers I need?
Something like dat. Nemazarre said, dumping the contents of one of the phials into her mixing bowl. You must understand dat in gaining the answer you seek to your internal self may be the start of a whole NEW beginning. Da cost... may be VERY great to you.
Ro stood, determination etched onto her face. What ever it is, I am sure I can cope. If I can figure out why I can see and hear the things I see-- If I can figure out why my inner being doesn't feel of this world, I will rest happily.
Nemazarre watched her carefully, seeing that she really did mean what she stated. Perhaps this one was ready. She nodded and motioned. Very well, mon. Follow me.
Making her way out of the hut, the blast of the humid jungle air hit them. Standing in front of the fire she poured the contents of the mixing bowl into a giant cooking pot.
Ro followed, her eyes watching Nemazarre's actions. She took a deep breath, really unsure of what was going to happen next.
Nemazarre pulled a large cane decorated in a variety of colors and feathers from its resting point against the hut. The top of which had a large skull with shells and beads surrounding it. Shaking it over the cooking pot, Nemazarre chanted a few words. Her voice loud, booming. Ro couldn't recognize the language, but she realized it had to be a very dead language of their ancients.
After a few moments, she dipped a cup into the mix and brought it over to Ro, handing it to her. Here! Drink quickly. Do not think.
Doing as told, Ro took the liquid and drank it down quickly. The heat of the liquid burning the back of her throat. The taste was bitter... almost like almonds.
She gasped for breath as her hands immediately went to her throat. The sight in front of her blurred. Her vision was going... She was sweating, nauseated, and now it felt like her stomach was burning from the inside out.
Falling to the ground in pain, she clutched the dirt and leaves beneath her. She tilted her head to see the looming image of Nemazarre standing at an angle in front of her. Did--you--poison--?!? She couldn't get the words out. This wasn't good.
Nemazarre crawled next to Ro's body, her skull staff's melody bouncing overhead as she chanted in an unknown language. Her before Ro's eyes closed, she murmured. You're welcome.
Chapter 5 - Soul Keeper
Ro's lifeless body lay on the jungle floor. For any outsiders that would have watched the whole ordeal, anyone could have passed the blame to the island witch doctor and said that she had just murdered the pale colored ixi via poisoning. Of course, everyone there on the island knew better.

Nemazarre was good at what she did and wouldn't just flat out kill someone. THIS? This had to be done. As time past, Nemazarre brought in Ro's corpse into her hut and put it on the bed. She placed the skull beacon that the Island Mystic had given her when she started her journey into her cold, dead hands. Dis will help you find your way...

++++++

The world that Ro had entered was almost a carbon copy of the world around her. Only this part of her journey found herself back in Neovia, outside her home.

Everything was different though. There was this permanent haze and white fog around her field of vision, no matter where she went. It was almost ghostly. Holding he hand in front of her, she wiggled it in front of her. She felt.... so NUMB. Am I dead?

You made it to the gate! A familiar voice greeted her. And you are no longer in the living world. So yes... you have ventured to the other side.

Somehow Ro believed it. When she peered ahead of her, the same shrouded figure that she would see roaming the grounds of her home was right in front of her. Clear as day. She was a Aisha with long white hair. You--! I know you. You're the one that's always calling to me. Why..?

Calling you to come to us. Said the Aisha, her arms expanding to the world around her. You have found gate. The gate of this world and the next. The living and the dead. You are a soul keeper.

I'm not sure I follow you...

The Aisha continued to speak, her tone unwavering. Your internal essence has been pulling toward me. This is why I've come to you. This is why I allowed you to see me. This is why I spoke to you. However, communication with this world and the living sometimes... gets scrambled. Or ones are just not apt to hear it all correctly. You did though. And you followed your essence.

You must take this...

The Aisha dropped the very same skull beacon that the Island Mystic had given her before into Ro's hands. --And use it in the world of the living to capture souls that are stuck, wondering, lost, or don't belong. You must set them free. For the evil souls, this will trap them. Only a soul keeper has the ability to do this. And there are only a very slim few in known existence. Please, aid the Underworld. Aid the body's essence and be our soul keeper?

So this was her eternal calling? Suddenly, Ro felt complete. She knew exactly what was needed. She nodded to the Aisha. I will.

The Aisha smiled to her. To keep you as a soul keeper you will have to be able to walk both realms of the living and the dead. I will see you soon. Reaching out to Ro, the Aisha touched her forehead and Ro was moved backward at a very fast pace. It was as if she were in a vacuum, rushing through the air.

Ro's eyes went wide as she was yanked backward. The shrouded Aisha before her was gone and she suddenly felt a rush of cool air hit her.

Ro's lifeless body in Nemazarre's hut jerked violently. Her eyes shot open, the sudden change of her eyes brilliant green color to a stone cold blood-shot gray shot painfully through her eye cavity. Feeling the after effects of everything that had happened, her entire body ached, but she felt otherwise fine. Her skin and fur was deep with jungle rot, and muscles and tendons were now visible. Almost as if some jungle creatures decided to come and sample her flesh. She was now basically one of the walking dead. A 'zombie' if you would.

Somewhat stiff, she sat up, amazed to see Nemazarre watching attentively.

Welcome back, mon.
Likes/Dislikes
+ Brains!
+ Darkness
+ Dead Girl's Fashion
+ Tea Parties
+ Skulls
+ Guns
+ Spyders
+ Water
+ Jungle Rot

Companion
This little section will be all about my pet! I can't wait to introduce you!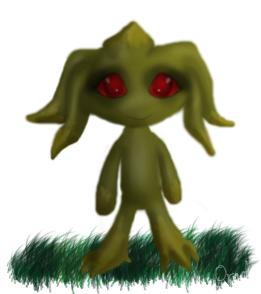 This is Sunflower, my mutant Flowper!

When I first found Sunflower he was submerged in a dirt patch in the backyard of some abandoned house. When I first heard the muffled noises, I approached it with caution, but was soon met with the oncoming of a vile attack! Can you believe that?!?

All of this dirt and... seeds? –-starting coming at me at such an alarming place! Through all of the flying projectiles coming at me, I got up really close to see this little Flowper hurling them. He looked scared... and determined. I couldn't figure it out. I spoke to him and told him that I wasn't going to harm him... But he seemed convinced I was going to eat him for some reason or another.

I offered him some organic mix and... ever since then he's been following me around and protecting me even! :)

He's so adorable. I can't ever imagine going anywhere without him.
Family


This is my family! Not everyone showed up for our photo session so it has to be rescheduled. But here's the first attempt!

If you want to see it larger, drag the image to your address bar or a new tab! You can see everyone so much clearer!


Awards
Companion
Adoptables


Your adorable Brain-eating zombie adopts are here! Now your ixi can be transformed into a brain-eating zombie, just like Ro!! Go ahead and eat a brain. I hear it tastes just like chicken!!!

For the moment I'm only doing customs of these little ones. Slowly but surely I'll attempt to get every color finished. However, if you're looking to adopt one of these, there are a few rules you need to be advised of:

1) NO STEALING!! Do not STEAL these or claim them as your own! Steal and be mauled, by yours truly.
2) Do NOT alter the image in ANY way.
3) Do NOT remove my signature.
4) Do NOT alter the coding. Make sure you link back to me!
5) Do not place these into the Beauty Contest.
6) Please do not take customs if they aren't yours.
7) * Please host your own customs. After a week I will delete them. I won't responsible for deleted adoptees!

So go ahead and NEOMAIL with the subject "Mmm Brains" in the subject (so I know you've read the rules).

Please include a detailed description of your pet and a reference picture.

::Customs::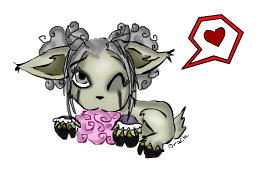 _AUTUMN__LEAVES_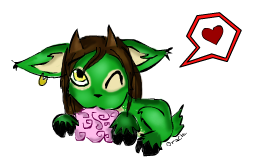 Libetis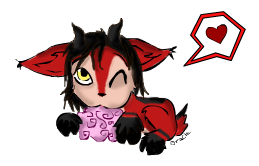 Damoneris


Art
[Art by Oracle]

I adore my darling Ro. ♥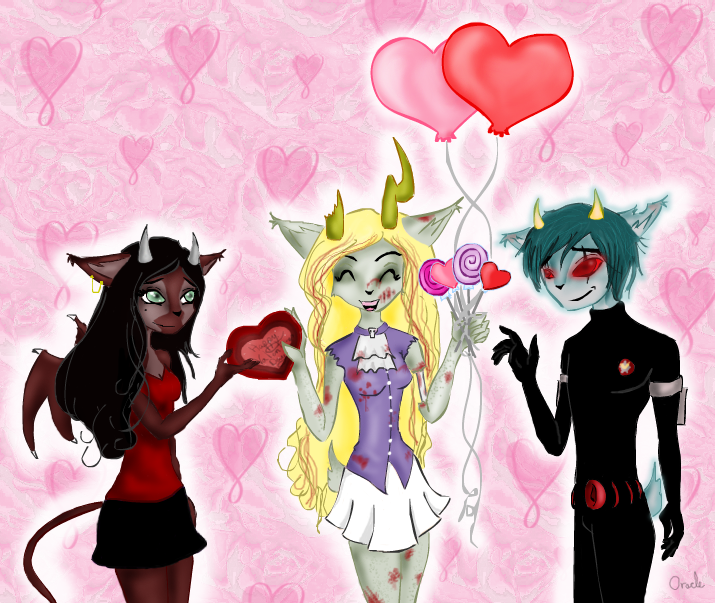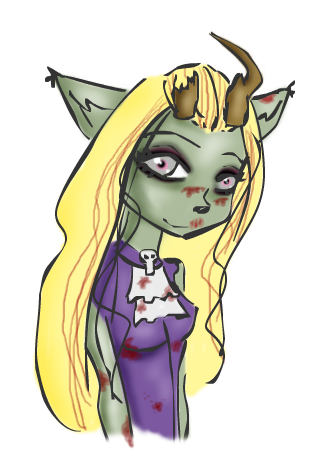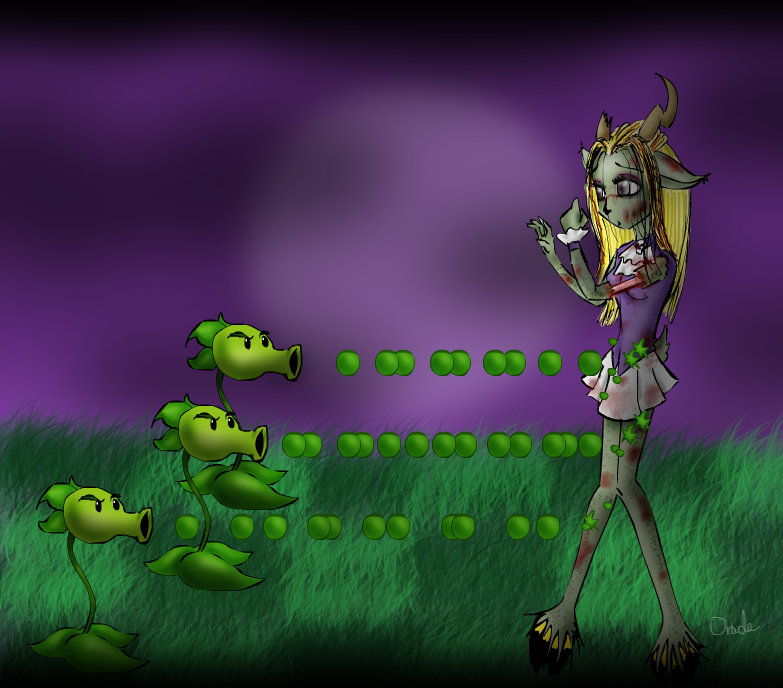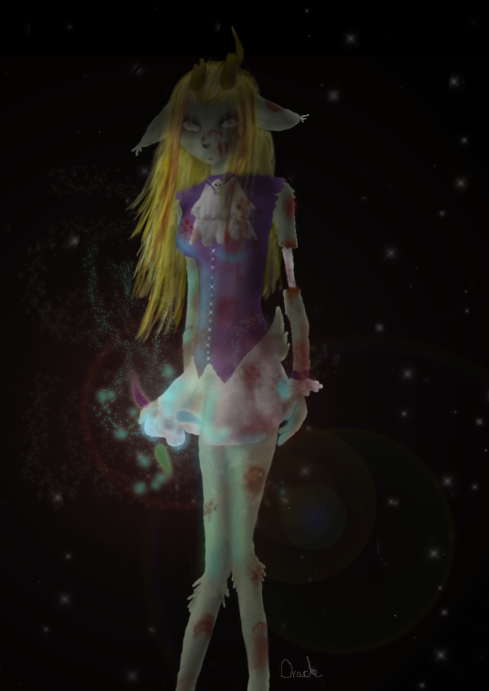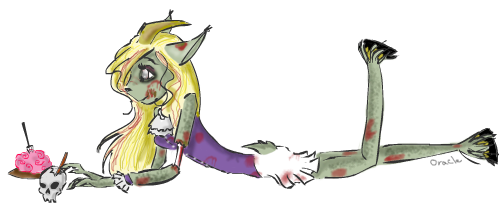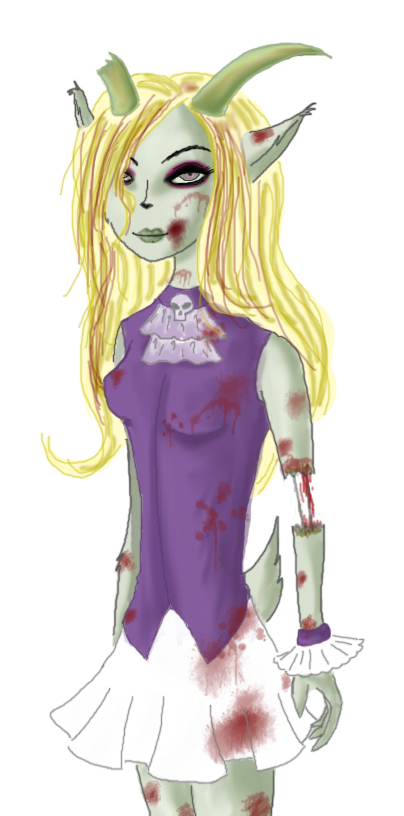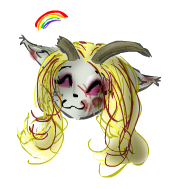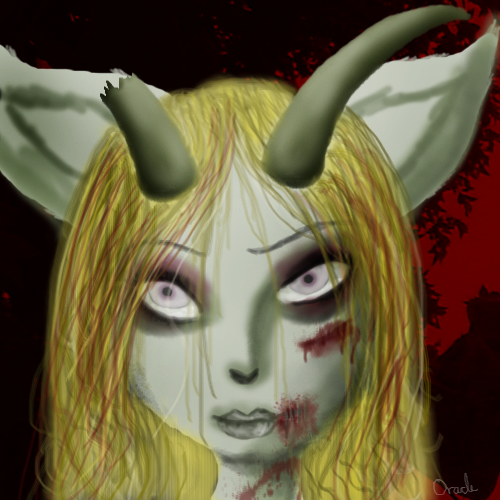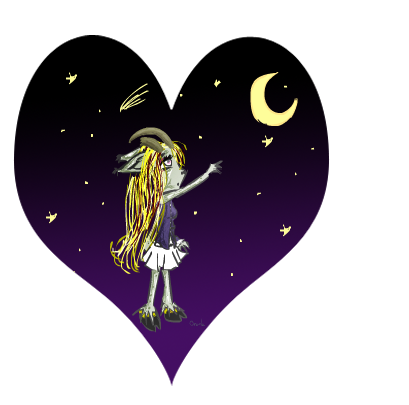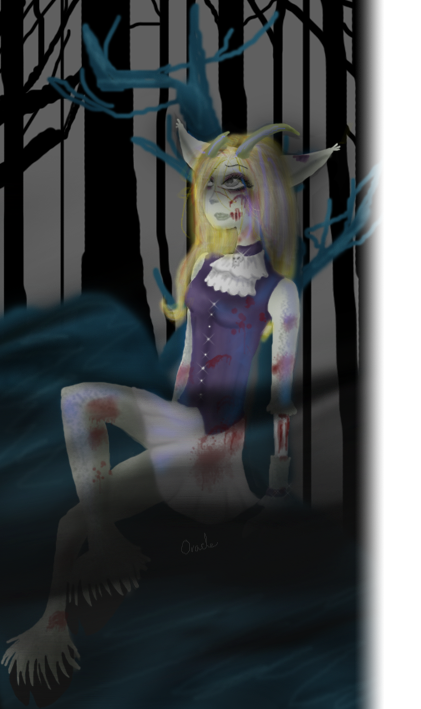 Art by Others
| | |
| --- | --- |
| This is INCREDIBLE!! I love it, Naorui , thank you!! ♥ | A younger picture of moi? Thank you, Kris |
| I'm so adorable!! Thank you so much, Carly!! | I love this! Thank you, Rae!! |
| This is so great! Thankies, AJ!! | Awww! Thankies so much, Lily!! |
Keeper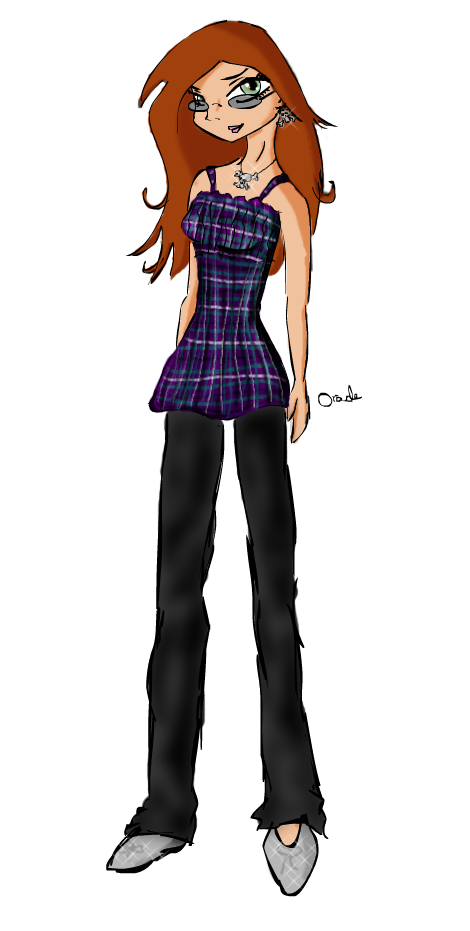 My keeper, Oracle is the one that adopted me. She is one who truly loves us Ixi! She is what you might call an "Ixi Fanatic." Oh! She recently graduated college with a BA in Information Systems Security too—isn't that awesome!?

Most of the time you can find her reading, roleplaying, costuming, drawing, and making a fuss over me! (My brothers and sisters too, of course.)

She also has other video game obsessions—like this game called Dance Dance Revolution. She's really good and she totally loves that game! I try to play with her sometimes, but my hooves just aren't fast enough. :(

When here on Neopets, she is usually playing games or bouncing around the Neoboards. Most of the time, she can be found on the Beauty Contest boards! (usually at the NNTM boards)

...or ....SOMEWHERE... over there... yeah.


Thank you!
I wanted to take this time to say THANK you *SO* much to my best gal pal, Momo for showing me where darling Ro was hiding. Without you, I don't think I would have been able to find her! ♥

And thank you so incredibly much to Kris for allowing me to adopt Ro and making my ultimate dream here on Neo come true! ♥♥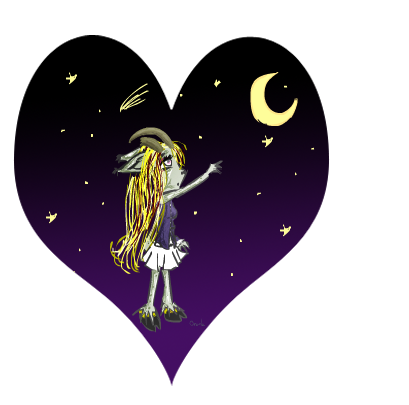 Switch Souls
::Link Back::


::Other Ixi's::


::The Family::












If you're interested in a link exchange, please don't hesitate to neomail my keeper, oracle01. She'll be more than happy to trade links with you! ♥