My Story
When I was a small Ixi, I lived with my owner in Faerieland. It was great! She took me everywhere she went, on faerie quest, to the market, anywhere you could imagine.
We lived in a small cottage on Water Faerie Way. It was a great neighborhood, with so many other neopets to play with. Everyday I would go out and play with my best friend Lucy. Everything seemed to be perfect. That is until one day....
My owner and I were browseing the market place. We stopped to look at some furniture when something caught my eye. It was the most beautiful collar, blue and green feathers, and a red ruby in the center.

I had walked over to look at it, and when I turned around my owner was gone! I ran around franticly, looking everywhere for her. "Where could she be!" I thought to myself.
I never could find her. I would have went home, but I didn't know the way.
The sun began to set, I walked around slowly with my head dropped. It began to rain so I found a tree and laid down. My eyes slowly began to shut when something picked me up. I tried to get free, but couldn't. Suddenly, a voice began to sing a lalaby. I slowly drifted to sleep.
When I awoke, I was in a quite large house. The sun was streaming in through the windows and the smell of pancakes filled the air. I got to my feet and crept to one of the windows, For some reason the house was weird. When I looked out the window I saw that.... I was in the air!
Not in the air, but in a treehouse. As I looked out farther though, I noticed I wasn't in Faerieland. I gazed out the window, when someone came in. It startled me and I jumped. "You're awake!" said a voice. It was a sweet voice, gentle yet sharp. I raised my head to see the sweet face of a faerie.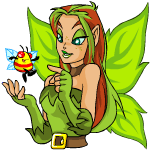 This faerie was one I hadn't ever meet. She was an Earth Faerie. Her hair was a fair orange brown with green striked through it. Her eys were a soft blue, and she wore green eyeshadow. She bent down and picked me up. "Who-who are you?" I studered. "Why, I'm Illusen. Do you not know of me?" She replied. "No, I don't." I said confused. She set me down and asked, "And who might you be?" "I'm Rosebeam." I replied smiling. "Do you know where I am?" "Well, your in Meridell. In my treehouse." I glared at her for awhile, trying to soke it all in. She toke me from Faerieland, and now I'm in some place called Meridell!
Illusen told how she found me, and said she would find me a new owner. Of course I didn't want a new one, but I figured that was how it had to be.
Illusen didn't have much luck, so she kept me. We spent lots of time together. I grew to like her, and she was very kind. I lived with her until I was almost fully grown. When I reached such an age, Illusen got a letter. It was from a girl named Sescatcat. She wrote that she would love to adopt me, and would greatly care for me. Illusen went away and met her. She was a nice girl, with three other pets. Illusen told me all about them. They sounded great, but I didn't want to leave Illusen. I didn't want to lose another owner. I didn't have much luck though.
Sescatcat came one day. To pick me up. I packed my stuff, said goodbye to Illusen, and left. Now I have a great family, and still get to visit Illsuen in her treehouse. Life is goin' great!