EM History
Rix was born and raised in a small town just outside Neopia Central. His father was the police chief of one the largest stations in Central, helping bring several dangerous criminals to justice and earning the title of "Hero" among the locals. He was the typical male; the jock in high school, the sports fan, outdoorsman, fun and easy going. His mother was smart and strong; having earned her college degree in microbiology, she had worked at the local hospital before deciding to stay at home to care for her family. At first, life was normal. Although the threat of the Allegiance was strong, the town was left alone fairly often, allowing for a semi-perfect life in a time filled with chaos. It was only after their son had started school that they noticed something wasn't quite right in their normal life.
They received reports from the kindergarten teacher that their son wasn't getting along well with the other children, that while the other children would run around and play and generally create utter mayhem, the aisha would sit quietly in a corner and read. She told them that other other kids didn't like him, and would often pick on him for being different. The teacher had told them that while their son was an excellent student, he would continue to suffer socially unless they did something to try and remedy the situation. At first the both the them ignored the teacher's comments; though they were concerned for their son's lack of friends, they didn't think there was anything seriously wrong with him. He was just a normal, if somewhat shy, child.
But the teacher's words continued to stay with them, and slowly they began to observe her concerns. The young aisha didn't seem interested in anything other than reading. They began to notice how quiet he was, hardly speaking a word to anyone, even to themselves. His father began to challenge him to play sports, to go outside and explore, yet he became frustrated and desperate when each time the aisha refused. With the way he kept to himself up in his room all the time, it was like they didn't have a kid at all. It was concerning, and soon they both agreed that something had to be done. Though it pained them to do so, they took their son in to a psychiatrist. They fully expected to hear the worst: that their son had a disease, or that he was mentally challenged. They were totally unprepared for announcement the psychiatrist made after calling them in to hear what he had learned. Their boy was a genius.
Of course, they were both shocked and proud to hear the news, though they still worried about the kind of life their son would lead. He had absolutely no friends, and only now did they realize how hard it would be to raise him. Yet the two of them were up to the challenge. They slowly started to put back together their normal life. They bought their son more books and puzzles in order to keep his mind stimulated. At his teacher's recommendation, he was bumped up several grades. And as the aisha matured, he began to realize the things his family did for him, and started to return the favor. He would go camping and fishing with his father, though even the idea of it bored him. He tried in his own way to be a part of the family, taking special interest in his parent's lines of work. They were an odd, but happy family.
By the time Rix was eight another member joined the family. Like most siblings, the aisha was jealous at first of his baby brother. The little lupe would get to live a normal life. His parents wouldn't have to work as hard for their new son as they did for him. Finally, his father would have a son he could spend some male bonding time with, and a child for his mother to coddle over. Yet time passed and things hardly changed. His father still boasted of his genius son's grades (along with how big the baby was getting), and his mother would still give him a concerned look whenever he had had a bad day at school, listening to him and his daily troubles. The family had grown, had decided to share their love with another. That was all.
It was shortly after the aisha turned nine that his true genius began to become known. Once his parents had bought him a computer to help him in school (Not that he needed it. He was already top of his class even in the most advanced grade). After that, they could hardly peel him away from the screen. He was always seeking new information online_ and yet he was also curious about the computer itself. He had always been one for figuring out how machines worked, and the computer was the most advanced thing he had seen yet. He was curious about how it worked, how it got and stored information, how one machine could do so many things. Whenever he was alone the aisha would study computers, learning about coding, how programs ran and how the internet worked, all the while adding his own ideas into his findings. The family was happy and full of love for each other. No one could have predicted the coming tragedy, nor how drastically their lives would change because of it.
It happened suddenly one day, a day that had began like any other. A day where before going to work the aisha's father had hugged his wife goodbye, commented on how big and strong his two year old was getting, ruffled his older son's hair in affection, and headed out the door. No one knew that the Allegiance had decided to gather more supplies and soldiers that day. Had decided to keep the fear instilled among the people in Central. It had been a blood bath. What had started as a simple resistance against the soldiers taking anything they wanted turned into a desperate fight to protect family and friends. Innocents were slaughtered, and the police had a hard time trying to subdue both sides. The Allegiance soldiers showed no mercy, and a few of the officers started to fight back, all the while knowing it was a hopeless fight. A few remaining men were kept alive in hopes of brainwashing them into service, though most were left dead and broken in the streets where they lay. Their family had no idea anything had happened that day, and suspected nothing was wrong until a fellow officer, one of the only survivors of the event, told his mother the news of what had happened, and how her husband was found amongst the dead with a bullet wound through his chest.
It was amazing, how much their family changed after that event. The boy's mother and become emotionally withdrawn as she returned to work in order to provide for her family, leaving Rix in charge of the house and his younger brother. He had to mature quickly, in order to keep the family going. Though they tried their best to pretend it wasn't so, their family was broken, missing a vital member. And yet, they somehow made it work. As young brother Rogan grew older, so did his admiration for his older brother. The lupe had no memory of his real father, and so Rix became his second parental figure, taking his younger brother to school and daycare, and helping him get ready each day. Likewise the aisha grew fond of his younger sibling, who looked at lot like their father. The little lupe never seemed to want to leave his side. He would let his little brother help him with his projects, having Rogan grab a certain item for him whenever he needed it in exchange for a soda or some candy. The two formed a close bond, and slowly but surely the family started to heal, though it was never quite the same.
A few years passed, and things were running smoothly. High school was a pain as the bullying got worse (being four years apart from the rest of his classmates was bad enough, but the fact that such a twerp was currently top of the class riled any and every jock and dellinquent in the school), but his projects and family made things easier for the aisha. Though he certainly wasn't loved among the younger generation, he was slowly gaining fame among his teachers, and from them his fame spread though town, into the city, and even far beyond. Soon, it seemed everyone had heard of the genius kid and his ideas and escapades. How one night his mother had caught him and his younger brother asleep in front of his computer, having successfully hacked into the satellite system in order to watch a few late night shows. Even before he had graduated the aisha was receiving letters from top colleges, all inviting him to join their school. His mother was proud of him. His brother was proud of him. It seemed like things were finally turning around.
Yet all too soon the Allegiance made another appearance, only this time they weren't here for a raid. They were only after one thing. The Captain had approached the aisha shortly after his graduation ceremony with a job proposal. The Allegiance had heard about him and his skills with computers. They wanted to hire him, and to have him help build the most advanced computer in the galaxy. In return he would be paid well for his services. Yet the aisha politely refused. He didn't want to cause his family any more pain by leaving them. He didn't want to betray his father's memory by working for the people who killed him. He was young and naive, full of hatred and fear of the Allegiance. Though the tonu left him then, he made a promise to the aisha that he would be back. That sooner or later, the Allegiance would have him.
A few weeks passed, and the fourteen year old forgot about the tonu's visit. He had other things on his mind; his summer job, his newest invention, helping his mom take care of his sick brother (who had been down with the neoflu for a few days). In spite of the down pouring weather, the aisha decided to make the trip to the store for some groceries (and perhaps a special treat for Rogan). His mother was extremely grateful, wishing her son a safe trip. It came as an utter shock when the tonu captain confronted him outside the store, a cold, merciless look in his eyes. The aisha tried to run, but every where he turned there seemed to be another soldier. He started to plead with them as they backed him into an alley, away from the eyes of any passersby, but it was useless. He struggled when one of the soldiers grabbed his arms, twisting them behind his back as the others surrounded him. He continued to struggle and plead, even when the captain announced his punishment, saying that the next time he refused an order from the Allegiance his family would suffer along with him. Even as the other soldiers stood by with clubs in hand, waiting for the captain's order...
It was hours later that an old friend of the family found him lying in the ally after his mother had made a worried call. He was rushed to the hospital immediately, where his condition was announced as critical, yet stable. The story of what had happened was told to his mother as soon as she arrived. Though no one had been there to witness it, it was obvious that it was the work of the Allegiance. The aisha was asked several questions as soon as he was well enough, but he refused to go into great detail. The one thing he made clear to his family though was that he was leaving as soon as he had recovered.
The day to leave came all too soon, and though his family tried to support him, he could see his mother's pain, and his brother's questioning sense of betrayal. Though most older members of the town felt pity for the aisha, quite a few of his former class mates thought him weak and cowardly for joining the Allegiance, and quite a few stuck around to jeer at him as he boarded the ship that would take him to his new home and prison.
Two years have passed, and the aisha has done all that he can to make himself useful. The threat the Allegiance holds over him has never left his mind, as he has learned through experience what happens to someone who rebels or makes a mistake. Those that lose their usefulness are never heard from again. Those above him in rank terrify him, and those at the same level or below him dislike him, finding him too weak and soft to be an Allegiance member. He tries to keep in contact with his family, though he hasn't seen them since the day he left home. Yet he tries to make light of his situation. He has made a few friends among some Allegiance members in a similar situation to his own. He still tries to act like a normal teen, eating junk food and staying up late watching tv. It's hope, too, that keeps him going. Keeps him sane. Hope that someday the Allegiance will fall, and life would be worth living for again.
Fan/Gift Art!!!!!
Cause who doesn't love art drawn by other people? xD (especially when you yourself have no art skills whatsoever x3)
Thank you dreamilly, I love how cute he looks. ^.^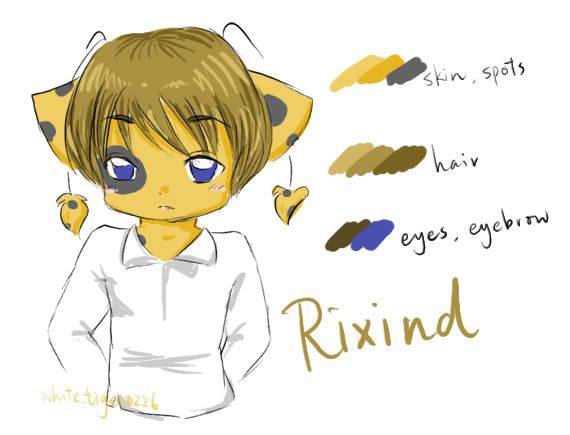 Thanks POTM. Your male anatomy skills are very good, despite what you may say. ;-)


Thank you so much Lauren ^.^ I love it, though I still say he was dared to pose for this. xD


Yet another picture by the amazing Lauren ^.^ Poor kid looks mortified at the idea of wearing a vest xD I still say he should wear one more often though ;-)


Shadow's back! ^.^ And I'm still eternally grateful for your amazing picture. ;-)


Aww, so cute x3 Love you and your wonderful gift, Moon ^.^


Thanks Yurre, they both look so cute together, just the way I pictured. ^.^