Things my heart used to know...
-Rikka-
Introduction
Ah- hello anniedoodle, you seem to have stumbled upon my peaceful little corner of Neopia. My name's Riktara, but feel free to call me Rikka. I've been around for at least a decade now, and have I got some stories I could tell! I remember when Meridell was discovered, when Tyrannia was discovered, even way back to when Maraqua was first destroyed! It's been a long time, and I've built up a lot of memories over the years. Friends old and new, family coming and going, and one specific Halloween Kougra I can never forget. Stick around a while if you so choose- I'll tell you about my life in Neopia these past 10 years.
---
About Me
Well, I suppose I'll at least start off with the basics about myself.
Birthday: January 17, 2002
Level: 18
Strength: 24
Defense: 15
Agility: 15
Intelligence: 43
Likes
Springtime
Reminiscing
Spending time with friends
High places
Cherry Trees
Dislikes
Being alone
Water (bleh!)
Being woken up
Ummagine
Petpetpets
---
Life of Memories
I obviously didn't start my long life in Neopia the way I am now. I've grown and matured much these past 10 or so years that I've lived here, and seen my fair share of other Neopians come and go from my life. It's been both exciting... and at times terribly sad.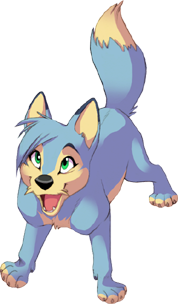 Believe it or not, I wasn't even born a Kougra- when I came into this world, I was an overly inquisitive and excitable Blue Lupe Pup. Ruro had a difficult time keeping track of me, I just loved exploring anywhere and everywhere I could poke my nose into. Eventually, she took to asking another of her pets, Mist, to keep an eye on me. She had just adopted a shoyru from the pound that was even MORE of a troublemaker than I was, (which was very difficult to believe at the time) and needed all the help she could get. I really didn't mind though, uncle Mist showed me all sorts of amazing things about Neopia. My favourite of all though was when we'd watch the sky and try to spot Faerieland from the ground. I wanted to know what it was like up there so badly- but of course, I lacked a pair of wings. Mist would see how I stared up at the clouds and would playfully knock me on my back with his big paws.
Easy there little Lupe- if you leave your head in the clouds too long, your feet won't know what to do!" He'd gently chide me. Months passed by like that- and we were happy.
There came a time though, when Mist had to leave. I don't remember the exact reason, it's been so long, but I do remember he had other responibilities to attend to, and I wouldn't be able to see him anymore. I was devestated. I tried playing with Mina, the Shoyru Ruro had adopted before, but I just couldn't keep up with her, and I was getting very lonely.
Ruro must have noticed my mood change, as not long after, she came to me with a Red Kougra Morphing potion and an idea.
I know you miss your friend an awful lot Rikka, and I just don't know too many other Neopians with Lupes your age for you to play with, but... Well, maybe a fresh start might help you feel a bit better?" She said, opening the stopper to the magical liquid and giving it to me. "I'll leave the choice up to you."
I eyed the container, contemplating. What harm could it do anyway? I HAD been seeing a lot of Kougras around Neopia lately, maybe if I were one of them it would be easier to make friends? My decision made, I drank the red liquid...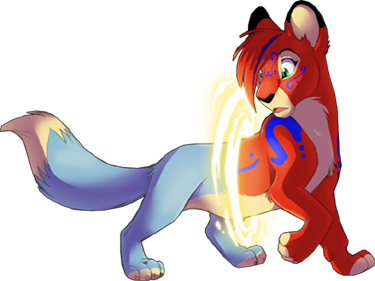 Oddly enough- it tasted like a Cheops plant. I looked down at my new red fur, my huge paws and long tail- it had worked! Though... my stripes seemed a little... off. In my experience, Kougras had always had relatively simple looking stripes. Mine looked like strange blue swirly gigs. I looked at Ruro, but she just looked as puzzled as I was.
Well... they're pretty, I'll say that much for sure," she commented, "but I wonder why they turned out like that and not the normal Kougra stripes? I've never seen anything like it." I wandered around the room, looking for a mirror to see the full extent of the changes. Peering in at the first mirror I found, I started prodding at my face with my paws. At least my eye color had stayed the same through all that.
I've got an idea!" Ruro burst out, so suddenly it made me jump. "Why don't we take a picture and enter you in the Neopian Beauty Contest? It would be a great way to show off your new look, and you might even meet some friends!" The next thing I knew, we were packing up and getting ready to head down to Neopia Central to enter into the contest before I could even protest.
I am glad to have been entered in that contest though, we ended up coming home with a gold first place trophy in species, and I had met a very friendly (and VERY handsome) Halloween Kougra, named Bardock.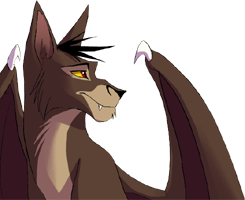 He had seen me in the contest and decided to say hi. We kept running into each other more and more often, each time talking all the more, until we were pretty much inseparable. We went everywhere together, everywhere we could go without wings that is. I was still unfortunately grounded, and sometimes I got so frustrated that he could glide so easily through the air and I could not. He would sometimes bring me gifts from Faerieland since I couldn't get there myself- but it just wasn't the same. Often, I'd throw as much NP down the wishing well as I could, desperately wishing to be able to fly. Little did I know that wish was soon to come true.
One day, Ruro was approached by a kind stranger who happened to have a spare Faerie paintbrush. Apparently, word had gotten around about how badly I wanted to fly through the sky, and this kind Neopian had decided to make a gift of the paint brush so that I could. Both Ruro and I were left absolutely speechless when the stranger said we could just have it, and that the only thing they wanted from us was for us to enjoy the gift. Needless to say, I was overjoyed, thanked the kind Neopian over and over again, and then dashed as quickly as I could to the Rainbow Pool. I didn't want to give the Pant Devil ANY chance at ruining this day!
((To Be Continued... Bear with me, 10 years worth of memories is a LOT to try and remember!))
---
Aitrus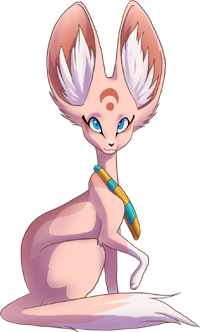 This cute little ball of fur and ears is Aitrus, my Kepru. I've been through a lot of petpets over the years, and none of them have ever really seemed to suit me. But Aitrus... Well, let's just say I have a profound liking for the little guy. He's just as curious about things as I was when I was a pup, and gets into EVERYTHING. But I just can't seem to stay angry with him.
Back when I lived with Mina and the other Kyrii in the Lost Desert, Aitrus, Mina's Anubis Tha FONZ, and Juratu's Seti Veovis would cause all kinds of mischief, particularly around poor Peopatra's petpet stall. I can't count the amount of times I've had to apologize to the shopkeeper and hurry the petpets out while Mina was laughing outside.
Now that we're here, he seems to have befriended Jerome, Isouro's Warf. The two of them go and play in the grassy fields pretty often, often coming back with some nasty burrs attached to them, which I always have to clean off. I honestly wonder where those two go to get so dirty. Either way, I'm happy to have this furball around.
---
Adoptables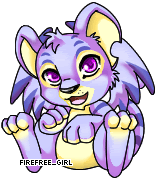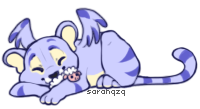 ---
Artwork
Drag and drop for full view!

Artwork done by Ruro (WARNING! First three are OBNOXIOUSLY old!)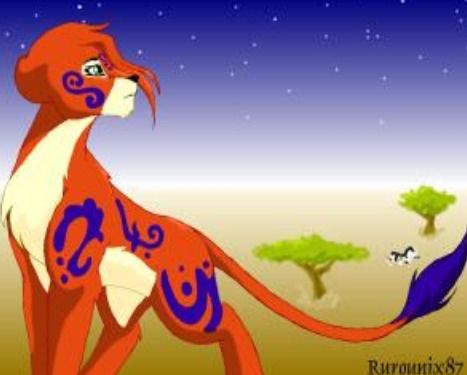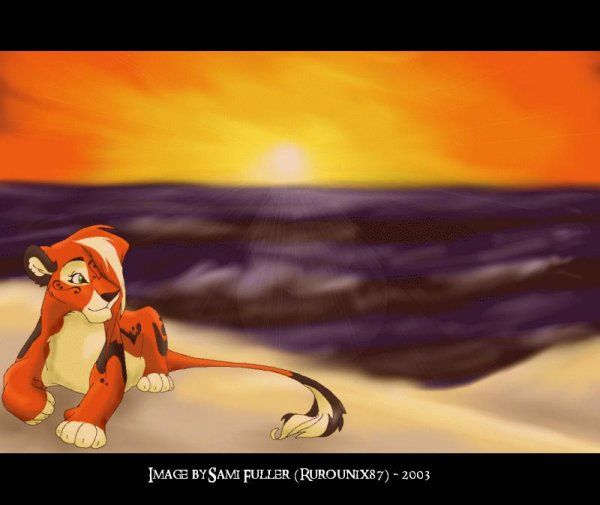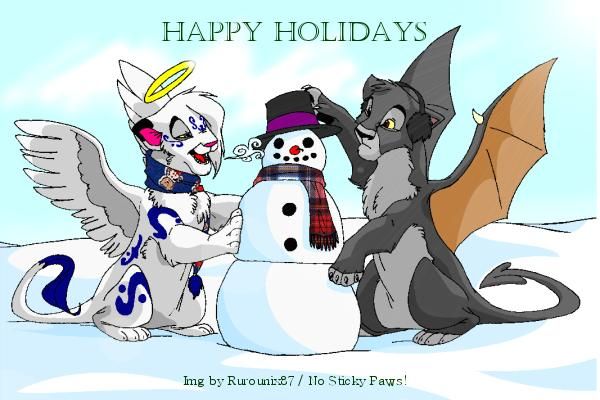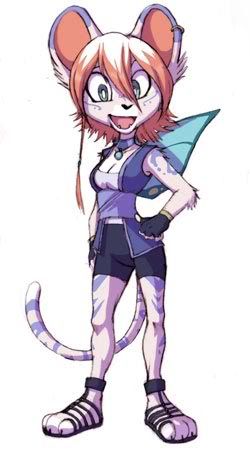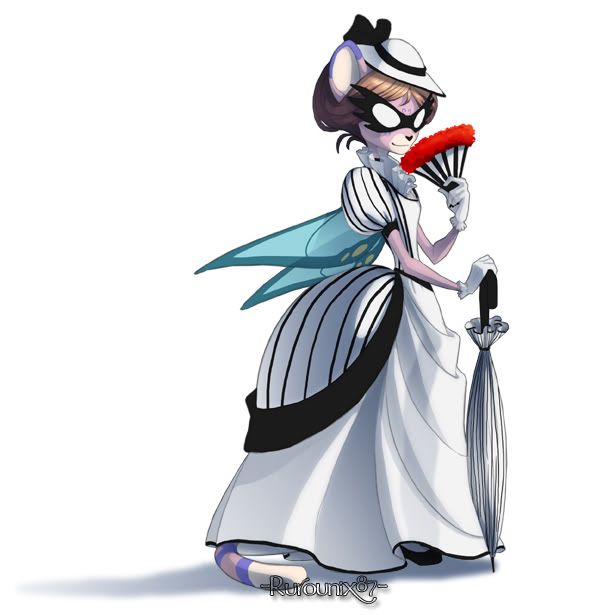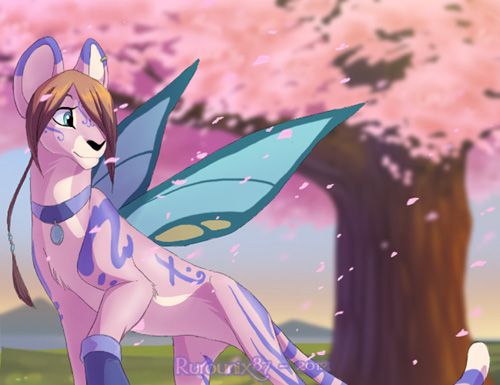 Artwork done by others (all old art, Ruro needs to do some trades):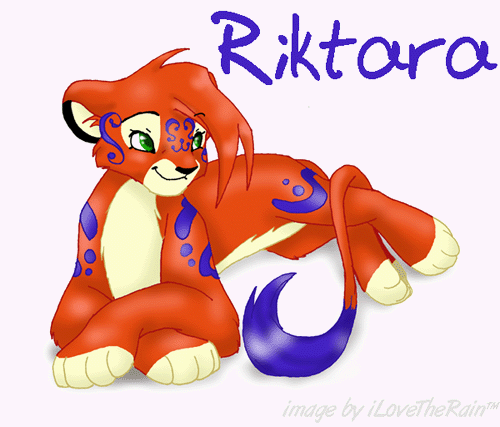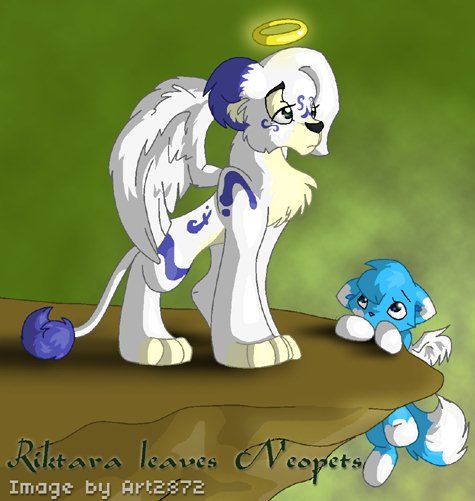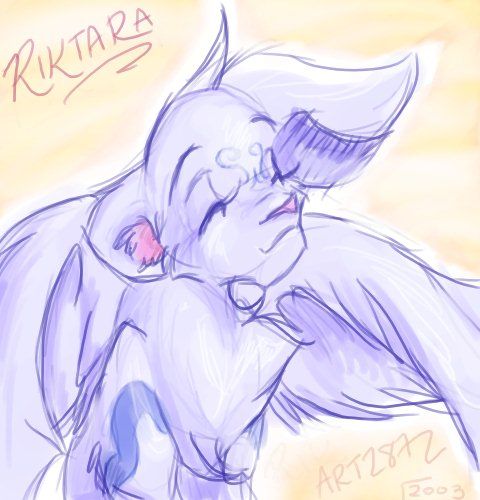 ---
My Family

Mistwolf8 the Fire Lupe
The Lupe I've always known as "Uncle Mist". There was a very long time in which we hadn't heard from him, and then one day, he just showed up out of the blue. For some reason, his memory seems to have gone really foggy, and he can barely recall any aspect of his life before coming back. But I know he's the same old cheerful Uncle Mist I grew up with as a cub, and we've gotten quite close since his return.
---

Maulaye the Grey Gelert
Mau is very sweet and easygoing- which is a bit odd for a grey pet. She however, firmly believes that a pets paint job should have no effect on their attitude. ...She and Isouro often get into debates on this subject. And by debates, I mean he sits and yells at her, and she calmly smiles and ignores him. She's got a pair of Cirrus Wings that she uses to fly around where Faerieland used to be in the sky and direct cloud flow.
---

Isouro the Red Lupe
Isouro is... an interesting individual. Rather rough around the edges, but he's definitely got a sweet side. He just works so hard at his "tough-guy" image that it's a little hard to notice sometimes. He really doesn't see the point in pets being painted fancy colors. Seriously, Ruro tried to paint him once and he threatened to bite her. At least he's comfortable with himself.
---

Mina932 the Speckled Kyrii
Yes, the same Mina that Ruro adopted from the pound as a troublemaking Blue Shoyru. Mina recently was involved in an accident in Ruro's Safety Deposit Box in which a Speckled Kyrii Morphing Potion fell on her head. The only difference now is that she's really fluffy and doesn't have wings- she's still the same old wise-cracking, fast talking buddy I grew up with though. I think she's adjusted to life as a Kyrii quite well, and gets on great with the other Kyrii in that particular household.
---
Farewell
Here is were we must part- though if you should wish to come back, you could always use this link.

Links Out