Hi there, meda_rue! Welcome to Cheesy Screenies. A cozy little page managed by an adorable Ghost Bori named Rhoshmiz, and his owner, Cat (that's me). Here you can relax, grab yourself a nice plate of nachos, and see our lovely collection of cheese and screenies (probably not for the lactose-intolerant). This site's been up and running since June 2009.



If any questions, comments, pie... neomail Cat.
Updates:
7/22/2017
WHAT IN GODS NAME HAOPPENED TO THIS PAGE LMFAO.., been using photobucket to host screenies since 2009. rip. i promise I'll re host and redo everything when I get the time. Which i don't seen to have a lot of lately :/
10/31/2016
Added four new screenies, and one fanmail! Wow it's crazy seeing 7 years of my drawings compiled in one page...
10/30/2016
I took down the page temporarily because it was just a huge mess, and I just didn't like my screenies anymore. It's back up now and a bit cleaner, and I've updated all the info and I still plan to add more screenies. I had hundreds of unedited screenies sitting in my folder, I couldn't let it all go to waste. c:
6/10/2015
After 2 years I've decided to redo Rho's screenie page! Expect the page to be a bit wonky in the meantime. Also added 4 new screenies today.
+ Screenies +
Newest to oldest. If you prefer oldest to newest, you can read them starting from the bottom.

Btw I finally dyed my hair red, my life is complete.

this is it, my worst screenie

To this day I still have no idea who did this and why.

This happened on my old account *cries*

FINALLY. GOSH.

This game is literally impossible.

My least favorite part of dice-a-roo: their annoying commentary.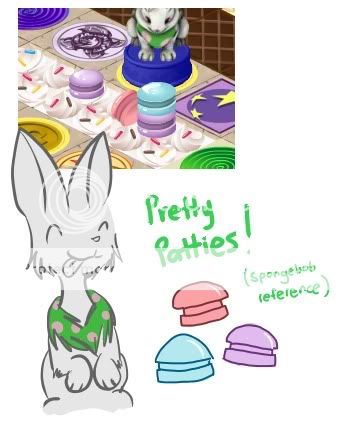 ???

Is no one going to mention Pasqual's faerie bubble?

Oh, 2009.

I'M STILL NOT OVER KEYQUEST OKAY.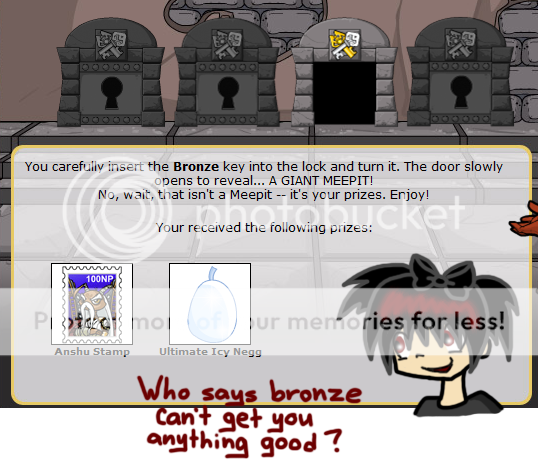 *cries forever*

Little did we know how easy we had it back then.

Well you can still throw it at people.

I deserved those 50 nps.

This isn't really funny but I just wanted to brag about my BC win from 2009.

Seeing these almost hurts my heart. Almost.

*holds back tears*

...I am not buying that for you.

Well, I would, but...

Is it just me or was getting prizes from the shrine easier back then?

Lies, all lies.

Dear TNT, pls give us more super bonuses in training.

The screenie that started it all.
+ Gifts and Fanmail +
Also listed from newest to oldest. Thank you to all who have sent me and Rho these gifts and fanmail!
+ Art by Me +
As if the screenies weren't enough for you. Art of Rhoshmiz by me. He's my longest-lasting Neopet, so his art goes a long way. In order from oldest to newest, enjoy!
+ Fan Art +
Looks like Rho has some fan art!

These are put in order from oldest to newest. Drag + drop the resized images to your address bar for full view. Mouse over for credit and some messages from Rhoshmiz. Thank you to all for these wonderful drawings!
+ Awards +
Rho is flattered by the lovely awards he received. If you have an award, we'll gladly accept it. =)
Likes:

Cheese!
The Cheeseroller
The Beauty Contest
Digging holes
Being a Ghost

Dislikes:

Anime
Usuls
Art thieves
Key Quest (r.i.p.)
Rhoshmiz is a lighthearted young Bori who loves digging holes and adores collecting cheese. Followed by Zuppa, he is the youngest of the Bori Brothers, following Pasqualli. Rhoshmiz was once a Yellow Bori, until an accident on Terror Mountain caused him to be resurrected as a ghost.
I have Rho's backstory written out but I'm not sure where to put it because this page is pretty much all dedicated to his screenies.
+ FAQ +
What program do you use for screenies?
In the ancient earlier screenies, I used MS Paint with a mouse. Then Photoshop 7 with a mouse. Then Corel Painter with a drawing tablet. Now in my current screenies I draw with a tablet and use Paint Tool Sai.

Why cheese?
At one point I noticed everywhere I went with Rho, I always get a cheese item. Cheese jelly, cheese omelette, his monthly free food item always mysteriously had cheese in it... it kind of just became a thing from there.

Can I be in a screenie?
Unless you're there by coincidence, not likely. But I typically screenie fanmail. But please don't just send insincere fanmail just to be featured in a screenie.

Do you accept gifts/fanmail?
Of course! Don't be upset if the gifts get sent back to you, or if I don't reply to your mail... I just don't log on as frequently anymore.

I don't like your screenies.
Not a problem, we can't please everyone.

Do you use dA?
Yup! MedaRue is my ID. Feel free to follow!
+ My Links +
We would love for you to spread the word of our site. Link back?

Button by jessiemarie89

~ ~ ~ ~ ~ ~ ~ ~ ~ ~
Or check out my art dump.
~ ~ ~ ~ ~ ~ ~ ~ ~ ~
~ ~ ~ ~ ~ ~ ~ ~ ~ ~
~ ~ ~ ~ ~ ~ ~ ~ ~ ~
+ Credits & Thanks +
This page was coded by me. But I got tons of help from wonderful pages such as these!

Counter started: April 2, 2011