Profile

Name: Rghu (Just R if he doesn't trust you)
Age: 16
Gender: Male
Species: Halloween Bori
Family: Deceased mother, hated father
Powers: Hands glow blue when he casts spoken spells
Personality

-Very extroverted
-Always at the center of attention
-Can be seen as very annoying and a showoff
-Always happy and easily excited
-Finds a way to talk himself out of anything
-Tends to be crafty and has a special skill to trick people
Likes

-Ice cream
-YYB
-Being the center of attention
-Playing with spells
Dislikes

-His father
-Being left alone
-Wide open empty spaces
-Reading
-Memorizing spells (will try to make them up and will usually end up having to go to Shishou often to fix injuries)
Friends
Cura

Info on Cura will go here when I actually have it :P
Retzu

Info on Retzu will go here when I actually have it :P
Rghu: Welcome!
Story
Chapter 1
Rghu, you really need to memorize these. You'll end up killing yourself if you don't.

Oh please, Rghu moaned. Don't launch into your lecture about how magic is so delicate and needs to be "handled with care." I'll figure it out as I go along.

You do realize, Shishou* lowered his voice. That this is no ordinary competition? You'll be dueling with sorcerers far older and more practiced than you. You need to memorize these spells. Dumb luck got you this far, but you cant just string together whatever words you remember anymore.

I know, I know, Rghu leaned back in his chair and stared up at the ceiling. But remembering the words seems much more efficient to me than memorizing phrases. It's like learning a new language, isn't it? A list of phrases won't get you very far.

In a sense, you are right. But you haven't been studying sorcery for nearly long enough to know all the words, nor the mechanics of how those words fit together. You've been lucky thus far, but if you're not careful today, you'll end up with worse than an extra tail or a missing voice.


Rghu walked along the dirt path leading up to Shishou's house, his nose in the book of spells he was being forced to memorize. Rghu still didn't see the point in memorizing the phrases, because most of these he would have strung together the same way on his own. But memorize them he did, because there was nothing he hated more than disappointing Shishou.

Hello, Rghu, Shishou said suddenly. Rghu flinched and spun around to face him, dropping the book in the process.

Oi, what was that for? Rghu growled. Don't sneak up on me like that.

I shouldn't be able to sneak up on you anymore, Shishou pointed out. You need to become more aware of your surroundings.

Rghu rubbed his head absently. You've told me that before. He bent to pick up his book, careful to keep an eye on Shishou as he did so. Shishou didn't attack, which was more unsettling than if he had. He just smiled.

Glad to see you're trying, at least.

What's that supposed to mean? Rghu snapped in playful offense. I'm always trying!

And that's why you're my favorite student, Shishou said. Now come along. I have something to give you before your competition.

The two walked in silence toward Shishou's house. Typically, Rghu would have filled the silence somehow, but he knew better than to make noise at that moment. Shishou had a way of silently telling his students to shut up, so Rghu stayed quiet. He fingered his longest necklace and gazed absently into the nearby forest to the east. That was the only problem with Shishou's place, it was in the middle of nowhere and took long time to walk to.

You won't be able to ware those in the match, Shishou said after a while. Rghu glanced over, slightly startled by the sudden sound.

Why not? He asked. They're nothing special.

You wouldn't want them to be used against you, Shishou said simply as eyes flashed green. Rghu yelped in surprise and clawed at the necklaces that suddenly tightened around his neck, snapping the chains with his own magic so he could breathe again.

Not... cool, Rghu coughed. Shishou smirked.

You're too sentimental about those things.

Rghu didn't respond to that. He waved a glowing blue hand over his necklaces to repair the chains and clipped them back around his neck.

You'll want to take these off too, Shishou tugged on Rghu's left ear, referring to his three earrings.

Ow, ow, ow, Rghu managed to pull away. Shishou's hurting me! He whined playfully. Shishou smiled mischievously.

This will also have to go, Shishou grabbed a fistful of Rghu's loose overshirt, pulling it up and over his head in one smooth motion. Rghu leaped sideways behind Shishou and jumped up on his back.

Give it back! Rghu swiped at it, but Shishou tossed it high into a nearby tree before he could grab it.

Hey, no fair! Rghu leaped off Shishou and clawed his way up the tree. Shishou stumbled sideways, laughing.

Hurry down, Rghu, Shishou called. We only have a few hours before we need to leave.


Rghu gazed up at the sky through the branches of the tall tree that bent over Shishou's house. He needed time to be alone before the competition. He was nervous, and he masked his nervousness with overconfidence, he knew that. But when he was alone, he could admit to himself how he truly felt.

I don't want to do this, he mumbled to himself, gently rolling the cross-shaped pendent on his longest necklace between his clawed fingers. He didn't want to participate in competitions like this, but he always had. He'd never really thought about it before. It was just part of his training, something he had to do. He'd never questioned it before. So why now?

Rghu looked down, watching his tail slowly swing back and forth below him. If he didn't want this, then what did he want? He didn't want to disappoint Shishou, that was for sure. Shishou had once told him, "Your name isn't the only one being tested here. Mine is as well; my abilities as a teacher are being tested." At the time, Rghu had seen that as motivation and encouragement. It made him feel like he wasn't alone. But now... it was just extra stress. What if he let Shishou down? How would Shishou react? Would Rghu himself be able to handle such a loss? What had inspired this sudden change in his thinking?

Rghu, Shishou called from the second-story study wlndow. Rghu flinched and nearly fell off his tree branch.

Shishou! He yelped. Please, don't do that when I'm thirty feet off the ground.

You've seemed down lately, Shishou continued. Is it just nerves or do you have something else on your mind?

Nothing, I'm fine, Rghu looked away as he spoke. Shishou let the silence stretch for a moment before pressing the matter.

If I upset you when I broke your necklace...

No! No, it's not that. I fixed it, it's fine.

Then what's the problem?

Rghu stayed quiet, absently scratching deep gouges in the tree bark with his bright white claws. He gazed absently at the armband Shishou had given him earlier and wondered how he could get away with wearing it during the match, considering it was enchanted to protect him against the death spells. Shishou remained quiet, waiting for an answer. Rghu sighed, realizing that his teacher wasn't going to drop it.

I don't want to do this, Rghu admitted, avoiding eye contact. It'll just lead further and further down a path that doesn't interest me. These competitions... sure, they help for practice, I guess, but a shiny trophy or medal mean nothing to me. I used to like them for the attention, but... I dunno, he shrugged. Got bored I guess. But I'm not going to quit either. I can't.

Shishou remained quiet for a moment, thinking before he spoke.

You don't have to continue after this competition if that's not what you want, he said finally. But you need to complete this one.

Rghu had to think for a second to process the meaning of that.

Wait, you're serious? I don't have to keep going?

Of course not, Shishou laughed. Who got that idea into your head?

Uhh... well... We just never did anything different. I didn't realize there was another rout.

There's always more than one rout, and always a choice. You just have to step up and say something if you want a change.


So I completed the competition, and barely made it out alive, too. That other wizard cursed me, giving me the purple mark on my face. I haven't figured out what it does yet, so I'm a bit nervous about it, but nothing bad's happened yet, so *shrug* it looks cool, so I don't mind it.

What, you wanna know who won? I said I completed it, not how well I did. Can't we leave it at that? No? Fine... I lost. Big time. Horray, happy now? *end sarcasm*
Anywho, now that I'm not competing all the time, my training is a bit more laid back, so I can attend regular school too. It's fun, I have a lot of friends, and I get to annoy the (censored) out of the teachers on a daily basis! Just my type of place.

Who knows, maybe I'll introduce you to my friends sometime, maybe even add some more stories to this thing or draw some pictures for you guys. So check back later, 'kay? M'kay, I have computers to hack *cough cough* I mean, use without permission, so I can get my last endeavor of my school record. Can't get into a good collage with something like /that/ on my name, right? Oh don't worry, it's not that bad, just embarrassing. 'Kay see ya!


*Shishou means "teacher" in Japanese
Character Reference
Art Gallery
Art by Me
Drag to URL bar for full sized view.
Art by Others
Linked to their creators. Copy and paste the image source code into your URL bar for full sized view.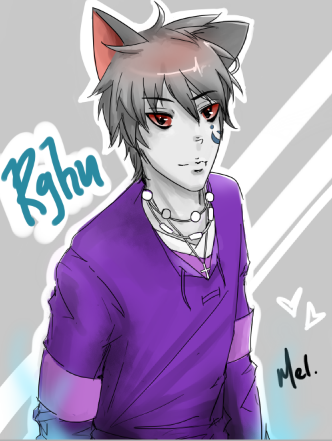 Adopted
Adoptables


Custom requests and trades are OPEN! Simply Neomail me.

I'm much more motivated to take custom requests than finish the set of basics, so this'll probably stay incomplete for a while now. If you request a custom and the base color is one I don't have yet, I'll add it, but other than that, I don't think anybody really uses basic ones anyways :P

Customs

Only take ones that belong to you. Don't steal, enter in the BC, etc. or I will find you and feed you to TNT's icebox.
Links
Link Back
Linkworthy Pages

Other Links
~
Vote for me in the BC?