REVOLUTION CHARACTER PROFILE
- TOP SECRET - CONFIDENTIAL -
Cadet Basic Information
Name: Reed Kerrigan
Gender: Male
Age: 27
DOB: October 11th
Height: (cm or ft)
Weight: self-explanatory
Hair: Blonde
Eyes: Red
Rank: General
Memo and Important Notes
Role: Recruitment & Peace-Maintenance
Special Talent(s): (Optional! Only include if they'll be useful for our purpose)
Previous Occupation: Timid kid.
Motives: Hatred for a former family, respect for an old man, and a quietly practiced love of music.
Physical Description
Never seen without his dog Skip. You don't get along with Skip, you don't get along with Reed.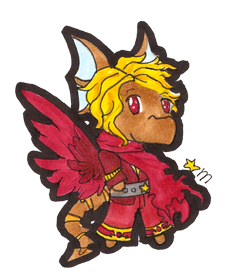 Personality and Demeanor
Personality
: Reed is always, always smiling. It's a calm and friendly look that doesn't change, even if he's witnessing something gruesome. It's been rumored that he'd still be smiling while killing a man in cold blood, but no one's really bold enough to say it to his face. That said, they wouldn't want to anyway. Reed's kind to everyone, regardless of background or personality. He's soft-spoken, but when he does have something to say people tend to listen. Behind the welcoming & gentle exterior, however, is a thick wall of distrust. Reed will always act nicely towards you, but he will never be genuine. He's also known for a surprisingly reckless streak.
Interactions: On the surface, Reed can get along with anyone. He's pleasant around his comrades, and is usually among the kinder of the Revolution's leadership team. That said, the perceptive will note that he almost never speaks about himself or divulges any personal information to anyone. It's very difficult to dislike Reed if you've known him only a brief time, but it's near impossible to get close to him. Only those who have served many years with the cause are even aware that he has a side other than the flat, never faltering smile.
Brief History
The Community would argue that I was born troublesome, with a genetic tendency towards rebellion and revolution. Disregarding my present 'occupation,' I'd have to disagree. Really. Whatever my father before me stood for, I was a pretty timid, malleable kid. You never saw me neglecting my studies or running around pushing the other little Community brats in the mud for the fun of it. Ironically, of the three 'father figures' in my life, my blood relation is the least responsible for how I turned out... for all of this. After all, I once took after my mother.
Roscoe Kerrigan was presented with his wife Eleanor when they reached the appropriate age, and though I've little memory of it myself, all accounts spoke to my father's great love and devotion for his spouse. He embodied everything the Community always expected of me... wild and wayward, constantly dancing the line with what was lawful and acceptable, speaking what he felt without worry or consideration to consequence. Honestly, Eleanor was a lucky pairing for him. In comparison, mom was always quiet and submissive. She rarely spoke her mind, was soft spoken and warm, fearful and obedient, as any good Community citizen should be. When I was very young I adored her for it. It's since come to be a temperament I loathe.
Still, for all his ideals and passion, Roscoe loved Eleanor. I can't say now that I have any real fondness or affection for either of them, but they were my parents. I suppose I should at least be grateful for my existence.
How Roscoe came to be involved with the Revolution I've never actually been told. Even back then, secrets were carefully guarded. However it came to be, dad got himself roped in with the original circle: Reginald's best and closest companions.

For authorized personnel only. Property of Revolution and Gobi.
/~REVOLUTION TO RECRUIT