Introduction
Oh hello, I didn't see you there, guest! I see you've stumbled across my homepage. You're perfectly welcome here! Pull up a chair, kick back, relax, stay awhile. It will be well worth your time, I promise! Maybe, you'll even learn how to fly. Though, Lea has yet to do so...I'm not sure what her problem is. She moved to Faerieland before she even thought about the fact that she'd be living on a cloud. So you see, she needs me to help her get around. I make up for that little lapse in judgment on her part.


Introducing Raynei
Opinionated. Spontaneous. Outgoing.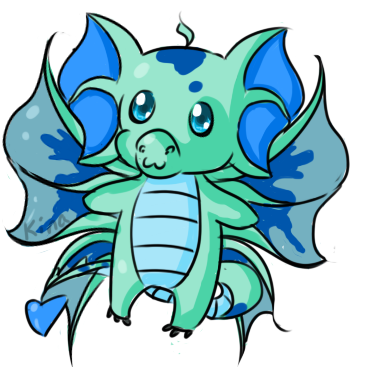 Custom made for Ray

Likes:
- Birdsong
- Flight
- Sunshine
- Strawberries
- Kacheek Seek
- Roo Island
- Exploring with Cas
- Flowers
- Playing tag with the Moon
- Pushing pets off clouds,
watching them fall a few feet,
then catching them again
Dislikes:
- The Ocean
- Maraqua
- Kreludor
- Dr. Sloth
- Disappointment
- Evil Feepits
- Forgetting to catch the pets
she pushes off the edge of clouds
Favorites:Color:
White
Movie:
Singing in the Rain
Book:
The Little Draik That Could
Quote:
Freedom is the oxygen of the soul.
Location:
Faerieland
Family:Mother:
Alive and Well
Father:
Disappeared. Whereabouts Unknown.
Siblings:
Two fabulous sisters.
The Past
Ray was born on a high cliff of Terror Mountain. When she was just a little draikling, her older sister, Draiqh, was trying to learn how to swim. As there is no water that high up on the side of a mountain, she wasn't able to stop herself once she started kicking her feet and flailing her arms. Her momentum was so great that she fell out of the nest and tumbled down, down, down, down. She tumbled so fast, even her Momma had a hard time catching up to her. Finally, as she was getting dangerously close to touching the ground, her Momma was able to swoop beneath her and catch her! It scared her Momma and Papa so badly that they were permanently afraid of heights, and from then on, Ray wasn't allowed to fly unless she was dangling from her Momma's claws. This rule continued all the way until she was a full grown draik. At that point, she was finally able to free herself from her parents, and take off on her own. Because her parents were so restrictive towards her, she holds a grudge and hasn't spoken much to them since, but she still visits her
sister
occasionally. (She doesn't make a habit of it, because Draiqh resides in Maraqua, and Ray doesn't like the ocean).
Because of, or perhaps in spite of, her upbringing, Raynei has developed an intense love of flying. She loves to be able to stretch her wings and take off whenever she pleases, and revels in the freedom she has been blessed with.
The Present
A dragon-like creature soars over Neopia Central, Faerieland, Tyrannia, and everywhere this majestic neopet travels, pets down below look up with envy in their hearts and jealousy in their eyes. She arrives back at her home on a tiny cloud above Faerieland, and as she lands, she is tackled by what seems to be a large bullet, or a small train.
Ray!" Sneezy squeals.
The two tumble off the edge of the cloud, the smaller giggling as the ground approaches, Ray eying him shrewdly, a sparkle in her eyes. Just before the tips of her wings hit the ground, she flips Sneezy onto her back and rockets back up into the air. They giggle together as they land safely back onto the cloud that is their front yard. Ray shows her soft side most often around Sneezy, he just has a way of making her lighten up and be a goofball.
Sneezy?" Lea comes out the front door, eying her baby suspiciously. "Oh, Raynei, welcome home, I'm glad you're out here keeping an eye on him."
Sneezy takes on a disgruntled look. "I'm NOT a BABY!"
Ray grins and pushes him off the edge of the cloud, watches him fall for a few feet, then swoops around and catches him. "Maybe not a baby, but certainly defenseless. You can't even fly!"
Neither can Essie!" He replies, still disgruntled. "It's rough being the only baby, not to mention the only BOY, in a house full of girls."
I'm going to go fly some more." Ray says, and takes off again. A sigh of relief escapes her as she ascends back into the clouds. As much as she loves her new family, there is nothing like the feeling of soaring through the whisps and swirls of cloud above and around her home. She was meant to be faerie, meant to be able to enjoy the freedom of the sky whenever she wanted to, meant to be with this family she had recently been given to. Lea was similar to her, and they understood each other on a certain level. Cas was fiesty like her, while Sneezy brought out her soft side. Essie... Well, Ray still hadn't figured out how to get close to Essie, but eventually she believed that she would. She could get close to anyone!
As she circles around the top of her home, looking through the windows at Sneezy bouncing around Lea's ankles as she made dinner, at Cas curled up on a bean bag chair by a blazing fire, and at Essie, tending her faerie flower garden in the little backyard, she realizes she has finally found the place she belongs.
---
Ray lands later that night in their little garden in the backyard. "Essie?" she asks hesitantly, afraid of spooking her new sister. "Essie?"
Over here." Essie replies in an even voice.
Raynei walks over to Esavil, who is curled up on a rocking chair near her flower garden. "How are you? How was your day?" She asks.
Oh, you know." Essie smirks. "Sneezy wouldn't leave me alone. Cas was down visiting some friends in Maraqua, and Lea was out shopping, so it was just me and him here." She pauses, then plows on. "Could you... Maybe try to hang around here more often in the future? Sneezy adores you, and it would be really great if I could get some peace and quiet."
Ray blinks, then quickly agrees. "Of course! You should have said something sooner. I like spending time with Sneezy. Maybe I'll take him flying with me tomorrow. Lea might like that as well."
Essie just stares at her. This new girl is so....kind. Ray is much more kind to Essie than Essie had been to Ray upon her arrival. Right after Ray was brought into their family, Essie had mostly avoided her, preferring to spend time outdoors and away from the rest of the family, rather than indoors getting to know her new sister better.
Silence settles on the little backyard as a bond starts to form between the two sisters. "Err. Thank you, Raynei. It's highly appreciated." Essie sniffs, and closes her eyes, resting her head on her paws once more.
Ray smiles inwardly to herself, and heads back out into the night sky, to once again play tag with the brilliantly bright moon.
Artwork
This one is by me!



This was created by Isa