hello, there.
A vast field is in front of you. The valley seems to be teeming with wildlife from rolling Yooyus, to magnificent Gallions, to playful Zebies. Your mouth is left agape at the beauty of the meadow. Your eyes catch a small cave. Instinct says to go check it out, but you're not too sure. In the midst of your thoughts, a little Airax flutters up to you and sits at your feet. You bend down to touch it, but it quickly flees. Disappointed, you go sit under a tree. After sitting for merely a second, the Airax comes back with a little ball; meaning you have to play with it. You toss the ball and it chases after it, then brings it back. The rountine goes on, until you throw the ball and hit something.
Ouch!
It screams. You run over to where it came from and see a pink Uni trying to rub its head.
I'm so sorry.
You say.
It's, um, fine.
The Uni smiles,
I'm used to it with all of these petpets around.
She looks around for something, then back to you.
I forgot my manners! I'm Raeliee, but most people know me as Rae.
She speaks with a warm smile.
I'm half_pint_.
You reply.
Nice to meet you,
She says,
I need to find my kids. You're welcome to follow.
As she begins walking away, you shrug and decide to follow her.
follow me.
You follow her to the same cave you'd seen earlier, still a little wary about it.
Well, my daughter and husband should be around here somewhere... I'm not sure where.
Raeliee laughs, and you just continue to follow her.
While I'm looking for them, I'll tell you a little about me.
She offers, and you nod.
.
about me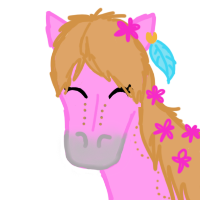 Name: Raeliee
Alias:
Rae
Age:
About 36
Birthday:
19th day of May, Y8
Gender:
Female
Description:
Rae's very small for a Uni, and is an usual color. Her body is pink, but most of her legs are covered with grey. She has brown dots all around her body, sort of like Henna. Rae always wears pink flowers in her hair, and the blue feather attached to her left ear.
Personality:
Raeliee is extremely shy, and doesn't really talk to many other Neopets. She's very sweet, though, and enjoys gardening when she has the chance (in other words, when she's not chasing the petpets and her daughter). Her timid personality is a direct effect of her trauma as a foal.
Friends:
Tohriell
Love:
Kharrya
Blood Relatives:
Song
(daughter)
Extended Family:
Tussie
,
Kadreael
, and
Yip
Reference: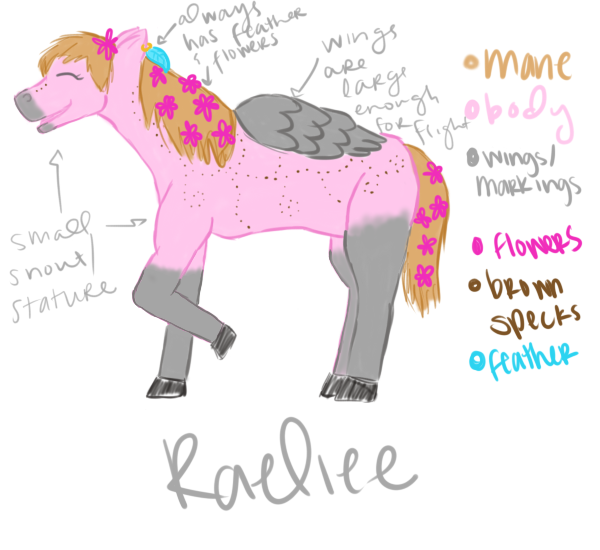 likes & dislikes
likes:
-Rain
-Snow
-Quiet
-Soft grass
-Khar and her children
-Iver, her Airax
dislikes:
-Her past
-Being away from Khar
-Being so afraid of everything
-Pollution
my history

I will tell you that most of my past isn't happy, so I'm skirting a lot of it. She warns, and you simply nod again.

Before I lived here, I lived on a large, beautiful farm. It flourished with flowers and meadows and wildlife. I loved it there, but the time I spent there was cut short. I'd lived there with my parents only about ten years or so when our master suddenly came down with a fatal, terrible disease and died. Since no one else could take his place, every animal on the farm either was to be taken to another farm or readied for eating. They took the weaker, younger animals for slaughtering, and the older animals for other farms. My younger sister and I made our escape early the next morning. As glad as we were to leave the farm, it wasn't an easy decision, considering we had no idea how to live in the wild. We wandered aimlessly for days without food or much water. She and I became very weak so she stopped.
Rae, I don't think I can go on. I'm so tired, and I can't move.. She murmured. She left me no other choice but to leave her.

As I went on, I got almost too weak to walk. I laid down in a soft meadow to regain some energy, but I passed out quickly. I thought I had died when I opened my eyes and saw myself laying in a little cabin. Where am I?, I asked myself. I looked around, seeing nothing but a small fireplace and a small little kitchen. I saw a figure sitting down near the fireplace. He was gorgeous. I identified him as another Uni. He was dark caramel in color, and his thicker fur shined in the firelight. He had a silver ridge that trailed down into his tail, which was flicking softly.
Oh, you're up. He spoke softly, a smile gracing his features. I was speechless at the smooth, velvety voice.
Umm.. Yeah. I spoke, I could feel my face getting red. His piercing golden eyes were fixated in my direction. So, how'd you get lost? He asked curiously and hopped down from his perch.
Well I ran away.. I spoke softly as he approached me.
You look famished. The Uni said, looking at me with concern.
Um.. Just a bit. I said jokingly, to which he chuckled. I'm glad I got a good laugh out of him.
Oh, man. I've forgotten my manners. My name's Kharrya. You can call me Khar. He said, holding out a hoof for me to shake.
I'm Raeliee. I replied with a smile.
Pleased to meet you. He said, helping me off the floor.
Something smells great. I said subconsciously, and he laughed.
I'm making some soup and some stuffed figs. Khar spoke, as we walked to the kitchen.

We talked for hours, and he was kind enough to show me a cave nearby.
Here... I found this cave a while back, and had no apparent use for it. you can live here if you'd like. He said with a small smile.
Oh, wow, Khar. It's.. great. I smiled to him.
Alright, then. I'll let you settle in. Just call if you need anything. He nodded, then walked out.

In a matter of hours, I had the place full and homely. I started with making a fire, so I had some light, then began adding flower arrangements around the place, trying to make it more appealing. I took some large leave from a nearby bush and laid them out for a rug. There were a few tree stumps I substituted for chairs, and with that, my place was at least better than before.
Gosh, Rae. This is really nice. Khar spoke, surprised.
Really? You think?
Yes, Raeliee. It's really awesome. He smiled, and we laughed once more.
beginning another chapter...
After a few years of living together, Khar and I grew extremely close. We grew to love each other, despite our little bickers here and there. It really wasn't a hard decision to make when he asked for my hand a few years later.

A few years after we'd gotten together, he and I wanted to start a family. It made sense--we both were healthy and had the space to do so. The meadow was a great place to raise children, simply because there was no danger. We were lucky and I had a foal the next spring, and we named her Song.
Song is a beautiful mix of the two of us--she's a light-colored Uni with darker splotches all over. We love her very much, and we are glad she is doing well.
family&friends
Here is my family, first. My beautiful, beautiful family.
Khar
is my wonderful husband. He's a very good man, and an incredible father. He can be a bit stubborn (as many men are), but deep down, he is a good man. He works hard and provides for his family, and certainly protects us. I really do love him, and I hope that what the two of us have will never, ever go away.
Song
is our daughter, and she is the most perfect mix of Khar and I. She's certainly stubborn like her dear father, but she has my determination and willingness to survive. I know she is a strong girl, but sometimes I think she takes it a little too far. I am proud of her, and I cannot wait to see her blossom into a wonderful young Uni.
And, here are my friends.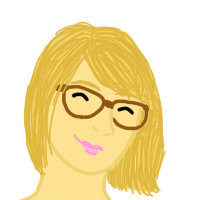 Cat is my owner, and she's very quirky. Her style is absolutely impeccable, and I adore her. She is very passionate about 'Once Upon a Time', which I think is a TV show about fairytales. She quickly gets obsessed over things, but I don't think that's necessarily a bad thing.