*You are walking back from the Neopia Central Marketplace with your arms full of groceries, which you abruptly release upon seeing an enormous colourful maggot draped languidly over a whitewashed fence. Your shopping bags land on the ground with a loud thud as fruit, faerie cakes and lupe treats tumble out. You look up irritably at the obese maggot, only to realise that it is not a flesh eating grub, but a reptillian... thing. Red and cream with a crest of blue feathers on its head. All right, possibly flesh eating. It stares intently at you with its beady eyes, then suddenly, it squawks loudly, making you jump.*
Where??? What is it??? What did you find???
*The annoyingly squeaky female voice gradually grows louder. A purple Aisha then bursts dramatically through the buses a metre from the creature's fence, and pauses as she takes in the sight of you standing over the mess of your groceries.*
Nice job, Peil!!
*She picks the reptile up and coils it around her neck (around which a hideous squid scarf is wrapped). You shiver slightly, trying to conceal your fright and disgust. The Aisha seems to forget about your existence as she then opens the gate, walks up to you, and bends down and helps herself to your recent purchases. You are completely nonplussed as she fishes out a bag of fresh apricots, blows the dirt off it, and turns to go back the way she came. At the last minute, she speaks again.*
Oi, guest, are you coming in for a visit or not?
The fact that she knows your name fails to occur to you at that second as you hastily and awkwardly stumble after her, leaving your fallen bags on the path.
origins
*The house behind the gate and the bushes is large, but very quiet. Qirame leads you to a spacious room with a Mystery Island print floor carpet. You weave cautiously through the furniture (what a nice assortment of bean bags!) and she sits you on the gaudy Kreludan bed in a blinding shade of orange.*
Food? Drink?
*You are famished, but before you can nod, she stops you with a raised paw.*
Eh never mind, that can wait. I want to tell you my story!
*Your hostess is obviously weird so you just nod in agreement. You tell yourself that you have to be nice, so as not to provoke her into a fit of spasms or those other things that strange people do.*
My name is Qirame. Hello!! My human, Amanda actually met me when she was just eleven years old. She's been on a very, very long holiday away from Neopia, but she's just recently returned to look after me again, which is why I am so happy that I've decided to invite you in today!! I'm so glad she's back to take me and my Quetzal, Peil, on exciting adventures, but I like to tell her I was okay left to my own devices alone at home.
*Judging from the paint stains on the walls and the carpet, and the ripped curtains, you know this is not true. But of course you just nod mutely.*
Anyway, I digress! The story of how I came to the world goes like this. Amanda visited the Snowager that fateful day, and she managed to steal a purple egg.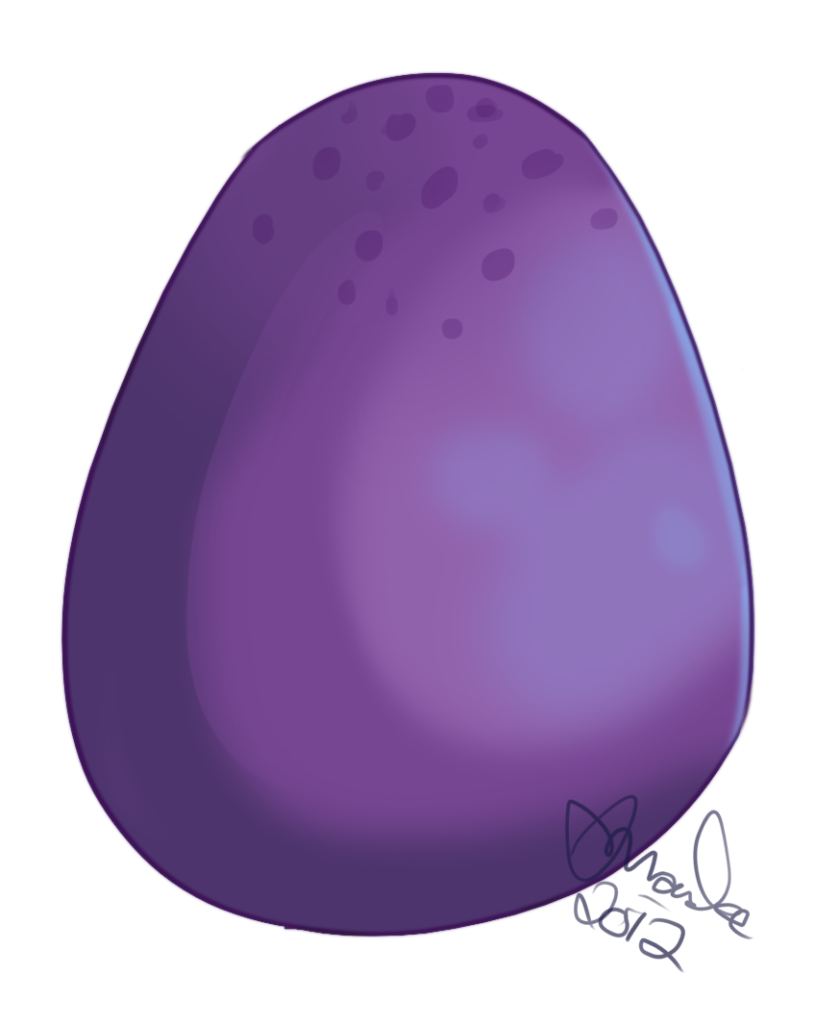 She thought she found a Draik egg or something, but when I hatched from it instead, I'll bet she was even more excited to find an Aisha!!! ... What? Draiks are rarer than Aishas? Nonsense, I know she was glad to have me.

Anyway, Amanda and I had the best of times in Neopia, wandering around, running from angry Tyrannian natives and Geraptiku darts, visiting the Snowager again... Ahh. And now that she's back, we can continue to do all of that :)

qirame's life

*Qirame hops off the offensively coloured bed and opens a drawer at her study desk. She returns to you with a small file filled with irregularly shaped papers, and coughs slightly from the dust released from its aged pages as it is opened.*

Page 3: Qirame in 2004
Look!! This is a picture Amanda drew of me in 2004. Gayle, the Christmas Doglefox I'm holding in that picture, is no longer living with us - one day we visited Terror Mountain and she liked it so much that she decided to stay behind :( Oh well, at least I've got Peil now!
Page 17: Qirame's Stats
Name| Qirame (Chi-ra-may)
Birthdate| 16 July 2003
Age| 97604
Owner| rainstreak
Level| 31
Strength| 35
Speed| 19
Defence| 33
Intelligence| 125
*She flips the page absentmindedly and a little drawing falls out. Qirame grabs it and examines the linework before handing the fragile sheet to you.*

I guess it has been awhile since I've tried drawing something! Now I spend most of my days outdoors, exploring Neopia Central with Peil.

Sometimes we stay at our holiday home in Roo Island, which is nice because it's got such a spacious garden; it's perfect for lying down and watching the clouds go by.

qirame's favourites

*Qirame gently extracts the drawing from your fingers, slips it carefully into the file, and leaves it on her bed. She gets up and stretches.*

Would you like some food now, guest? Of course you do, I'm sure you're starting to feel hungry.

*She disappears before you can tell her that actually, you have been hungry ever since you stepped into her home. When Qirame returns, she is carrying a tray of tea, cookies, marshmallows... and a familiar-looking bag of fresh apricots. Of course, you do not ask if they came from your shopping bag. Peil is curled snugly around her neck again, still giving you the strange look that makes you shiver and turn away quickly.*

I love eating. I love food. I've always been a huge fan of apricots! Fresh, dried, folded into cakes or sandwiches...

*You take a bite out of your apricot. At this point, Peil is squawking angrily, pecking Qirame's arm irritably. She laughs, picks up a cookie (you notice that it is no ordinary cookie - it looks pinkish, the colour of dried flesh), and feeds it to Peil. The reptile continues staring at you as it chews slowly, almost thoughtfully. You cough in discomfort.*

Oh! Have some tea! And marshmallows! They are my favourite foods too.



*Politely, you sample each food item, genteelly stretching out your pinky as you sip the tea. You have to convince yourself several times that the tea is not poisoned. Suddenly, something soft falls into your lap. You notice Peil first, sitting uncomfortably close to you, before you see the faerie doll in your lap. The snake seems very interested in getting your attention...*

Oh that's my Jhuidah plushie! I really love plushies, especially faerie dolls. Unfortunately they're usually very expensive, so I have to resort to eyeing them admiringly through toyshop windows. My three favourites are the rainbow faerie, tooth faerie and water faerie dolls.



peil
*There are no more meat circles on the tray, but Peil still looks hungry. He stares at you fixedly and with every second he looks more and more like the flesh-eating grub you previously thought he was.*
Peil's still hungry!
*Well obviously, you think, and I am probably the main course! Qirame quickly whisks Peil out of the room and after a minute, she returns alone.*
Peil is lovely, isn't he? The loveliest pet ever, I'd say. He just wanted more pink cabbage crackers, that's all! He's vegetarian you know. I find that immensely adorable because usually, Quetzals are carnivorous.

I found my dear Peil in a very special way: I was camping in Geraptiku when he fell from a tree, imagine that! Lucky for him, my sleeping bag broke his fall and I had a basket of fruit ready to share with him. After that, we became the bestest of friends.
I'm sure you agree with me that Quetzals are beautiful things. Imagine my horror and unhappiness when I found out that they are now worth only 1NP. What is the meaning of this?? How can such majestic creatures be worth as much as a soggy old boot, or a pile of dung?
*She is clearly very upset about the fallen value of Quetzals. A tear that runs down Qirame's left cheek is quickly wiped off by a tentacle on her squid scarf. You are too confused to react to this, so you sit in silence, still keeping in mind the proper way to behave around strange people. It seems like an hour has passed by before you decide that you really have to get going. You get up and ask the sobbing Aisha for directions to the restroom (you don't want to offend her and tell her that you are leaving). You make your way towards the second exit instead.*
the exit
*You're outdoors! You're alive! You wander around until you find the gate from which you entered. The groceries still lie on the path, still untouched after Qirame's hands found the bag of apricots. As you carefully arrange the items back into their bags (the heaviest and largest at the bottom, of course), you start to reflect upon the strange encounter. Maybe it wasn't so bad after all... The Aisha was eccentric, sure, but she also turned out to be rather nice. You only start feeling really guilty about lying to her, however, after you pick up a box of lupe treats and find a pair of binoculars with a piece of paper attached to it. It reads: Thank you for visiting us today! May your future adventures be filled with lots of fun. Take these binoculars with you! Love, Qirame.*
links