*You are walking back from the Neopia Central Marketplace with your arms full of groceries, which you abruptly release upon seeing an enormous colourful maggot draped languidly over a whitewashed fence. Your shopping bags land on the ground with a loud thud as fruit, faerie cakes and lupe treats tumble out. You look up irritably at the obese maggot, only to realise that it is not a flesh eating grub, but a reptillian... thing. Red and cream with a crest of blue feathers on its head. All right, possibly flesh eating. It stares intently at you with its beady eyes, then suddenly, it squawks loudly, making you jump.*
Where??? What is it??? What did you find???
*The annoyingly squeaky female voice gradually grows louder. A purple Aisha then bursts dramatically through the buses a metre from the creature's fence, and pauses as she takes in the sight of you standing over the mess of your groceries.*
Nice job, Peil!!
*She picks the reptile up and coils it around her neck (around which a hideous squid scarf is wrapped). You shiver slightly, trying to conceal your fright and disgust. The Aisha seems to forget about your existence as she then opens the gate, walks up to you, and bends down and helps herself to your recent purchases. You are completely nonplussed as she fishes out a bag of fresh apricots, blows the dirt off it, and turns to go back the way she came. At the last minute, she speaks again.*
Oi, guest, are you coming in for a visit or not?
The fact that she knows your name fails to occur to you at that second as you hastily and awkwardly stumble after her, leaving your fallen bags on the path.
origins
*The house behind the gate and the bushes is large, but very quiet. Qirame leads you to a spacious room with a Mystery Island print floor carpet. You weave cautiously through the furniture (what a nice assortment of bean bags!) and she sits you on the gaudy Kreludan bed in a blinding shade of orange.*
Food? Drink?
*You are famished, but before you can nod, she stops you with a raised paw.*
Eh never mind, that can wait. I want to tell you my story!
*Your hostess is obviously weird so you just nod in agreement. You tell yourself that you have to be nice, so as not to provoke her into a fit of spasms or those other things that strange people do.*
My name is Qirame. Hello!! My human, Amanda actually met me when she was just eleven years old. She's been on a very, very long holiday away from Neopia, but she's just recently returned to look after me again, which is why I am so happy that I've decided to invite you in today!! I'm so glad she's back to take me and my Quetzal, Peil, on exciting adventures, but I like to tell her I was okay left to my own devices alone at home.
*Judging from the paint stains on the walls and the carpet, and the ripped curtains, you know this is not true. But of course you just nod mutely.*
Anyway, I digress! The story of how I came to the world goes like this. Amanda visited the Snowager that fateful day, and she managed to steal a purple egg.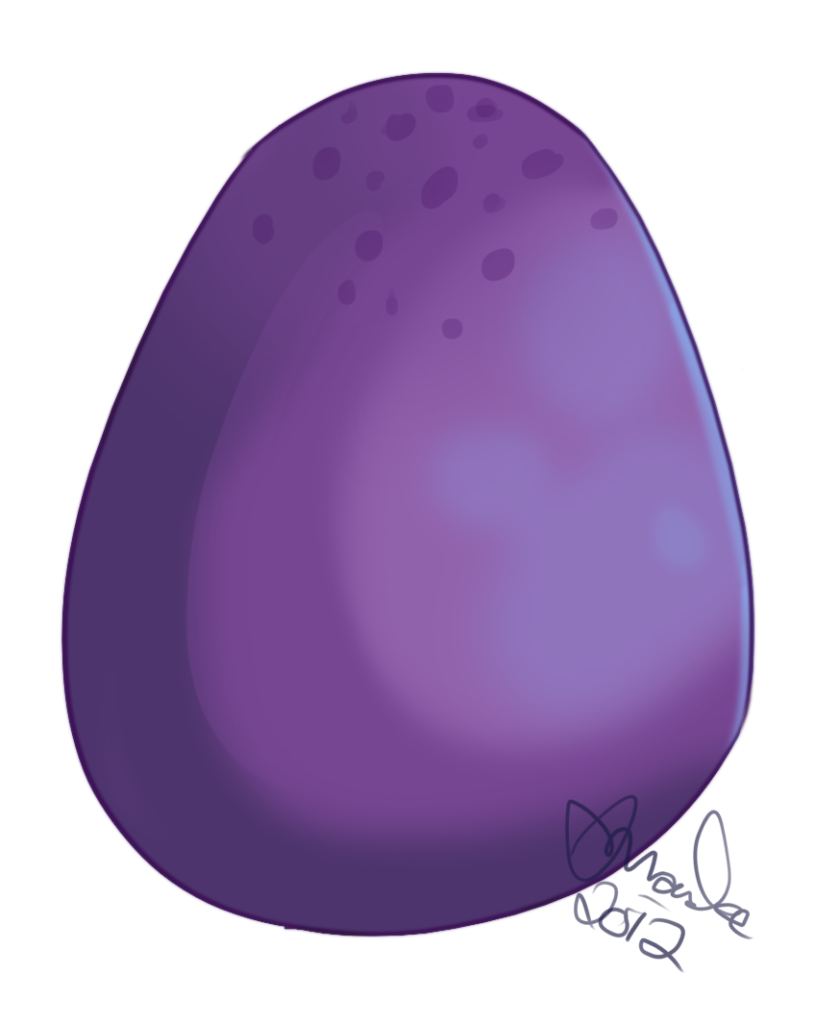 She thought she found a Draik egg or something, but when I hatched from it instead, I'll bet she was even more excited to find an Aisha!!! ... What? Draiks are rarer than Aishas? Nonsense, I know she was glad to have me.

Anyway, Amanda and I had the best of times in Neopia, wandering around, running from angry Tyrannian natives and Geraptiku darts, visiting the Snowager again... Ahh. And now that she's back, we can continue to do all of that :)

qirame's life

*Qirame hops off the offensively coloured bed and opens a drawer at her study desk. She returns to you with a small file filled with irregularly shaped papers, and coughs slightly from the dust released from its aged pages as it is opened.*

Page 3: Qirame in 2004
Look!! This is a picture Amanda drew of me in 2004. Gayle, the Christmas Doglefox I'm holding in that picture, is no longer living with us - one day we visited Terror Mountain and she liked it so much that she decided to stay behind :( Oh well, at least I've got Peil now!
Page 17: Qirame's Stats
Name| Qirame (Chi-ra-may)
Birthdate| 16 July 2003
Age| 129536
Owner|