The Graveyard
Welcome to my lair, mortal. The name's Punkhar, but you may call me Punky. I hope you're not afraid of the dark, for that is all you shall see in my realm...
So it seems that you're not afraid. But it's not like it matters...You still have to watch out for wondering spirits. You see, these spirits are the remains of those who have been sent to this place, and they wonder around in search of food...Only to be eaten by me. However, don't think that because I feed on mere spirits doesn't mean that I leave the living ALONE! No, I plan on getting revenge on the living fools from my past...And I shall enjoy every second of it as they perish in my sight!
Now, what else would you want to know about me, I wonder? Hm...Surely this list will help you out...
About the Ghost Master:
Name: Ghost Punkhar
AKA: Punky
Age: About 20+ years old; Died at age 20
Gender: Male
Race: Undead; Formerly human
Likes: Death, darkness, skeletons, spirits, his rule over the Graveyard, revenge, shadows, fire, his brother and servant: Ghostie, and the Skylander Ghost Roaster.
Loathes: The Living, humans, his past, his loss of love, betrayal, light, his rival: Punkharma, and the Skylander Chop Chop.
Before Death: Punky was a loner and couldn't make any friends due to his "strangeness" and interest in the Undead. He was beyond unpopular and was tricked by many girls who claimed that they liked him, but only to have been trying to catch another guy afterwards. He later met Punkharma and was with a girl at that time as well, but was once again fooled as the girl finally gained enough confidence to introduce herself to Karma, thus losing Punky's love.
Punky then desided that everyone didn't care about what he wanted and was later on ambushed by a group of boys, all of whom were with the girls he was tricked by at school, and had his legs broke so he could no longer walk. Punky was left alone near the football field, until a teacher saw him laying there and took him to the nurse, of whom immediantly called the ambulance and Punky's parents.
At the hospital, Punky found out that his legs were beyond repair and that they had to be surgically removed. He, however, didn't want this to happen and lost his temper, attempting to strike the doctors who were explaining the situation, then was assured that it wouldn't happen right away by his parents because they couldn't afford it at the time. Punky was then put in a wheelchair and begged to stay home for schooling. His parents agreed so he wouldn't get in any more danger than he was already in, and began to homeschool him.
As he was being homeschooled, Punky thought that he needed to get revenge on the guys who ambushed him...Including Karma. He then asked his parents to teach him about weapons and bombs instead of the basic school subjects, but they never did. He then did research on these things once his parents finished their teachings for the day and decided that a chain whip would be the best way to torment the girls he longed to hang out with...
Not so pretty now, is it? Well, neither was my death! I was sent to prison because of that stupid Karma, and I shall soon make him perish as well!
Humph. That's enough on that stuff...Now let's move on to a more...Positive...Topic. ART!
By Darkie:
By Others:
I have been granted the respect of others, and I am pleased with you all...If you wish to do more of me, contact Darkie and she'll get back to ya. YES, you must do so on that linked account! She's there all the time.
My Skelegora clones


This is my monsterous form, of which appears to be an undead snake, and is rarely seen by others.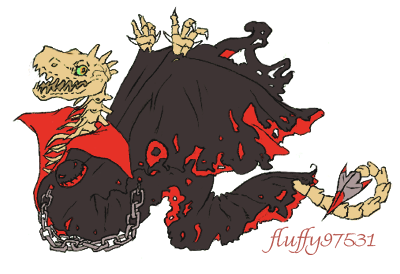 Links:

Y'know, I've met with many beings, but there are so many of them, it's hard to decide where to start...Heh, not really.

Family

The only one I have as of now is my little bro, Ghost Roaster, AKA, Ghostie. He's also a servant of mine, and can be rather annoying at times, but he's still worth my comfort.

Okay, fine...That other being you saw with me...Is my former brother, Ghostoastar. He's also the ruler of the Underworld and we...Had the most horrible time together. And he hates me...So much that he wants me dead. And Ghostie with me.

Allies

I've had fortunate encounters...Some are slightly more fortunate than others, however...

Illu isn't too bad, even though he's a rather psychotic freak. But he, too has Ghost Roaster as a minion...But he, unlike me, has his dark form as well.
Soulsteal isn't too bad either. He's an excellent fighter, but is very experienced in gambling. I don't mind too much, for I have nothing to bet against the guy anyway. But, Illu seems to have a very huge disliking toward him...Yet seems to adore him quite a bit as well.

Foes:

How I hate them! Anyone who lives and lived while I was in that world is a foe of mine. Those girls have all suffered for this betrayal, and my so-called friend shall also pay soon enough!

Karma, that no-good medieval freak...How I despise him above everyone else! He was thought to be my friend, but when that foolish girl came into place, he betrayed me! And for WHAT? A stupid, childish girl who ends up DYING in the end! I plan to destroy this fool...To finish him once and for all...And to make him SUFFER for sending me to PRISON!

Leave my Realm

Ah, so you're finally getting done? Well, that's good. I'm getting rather hungry, so you'd best leave before I devour you whole...

Outer realms:
Heh, none as of now...Nowhere to run, and you're all alone...WITH ME!
Farewell from: