News, Updates, Etc...
1/21/13: Sarah (mrs_harder) kindly let Melodie (prplecat) adopt PremiumBat. He has a new BatCave!
9-22-12: Batty inspired a fellow Neopian for the Bleached Out From Summer Random Contest, and took second place! I've put up a screenie under the Randoms tab. :)
9-2-12: Glack purchased and attached! :D
About PremiumBat...
PremiumBat was created from a collaborative vision of goofy Charter members. He started out as a simple typo, and progressed into a full Danger-fighting character.
He will be attending the Academy/Training School, to live up to expectations!
Interested in being a part of Bat's Bio? Send me a mail!
The Boards that started it all...
Permission to display obtained by all users shown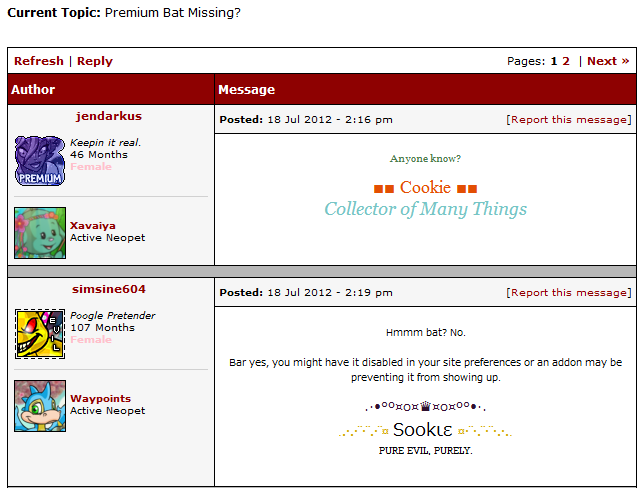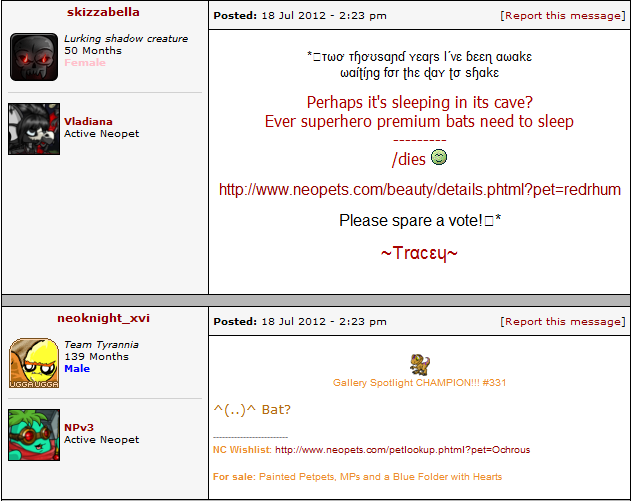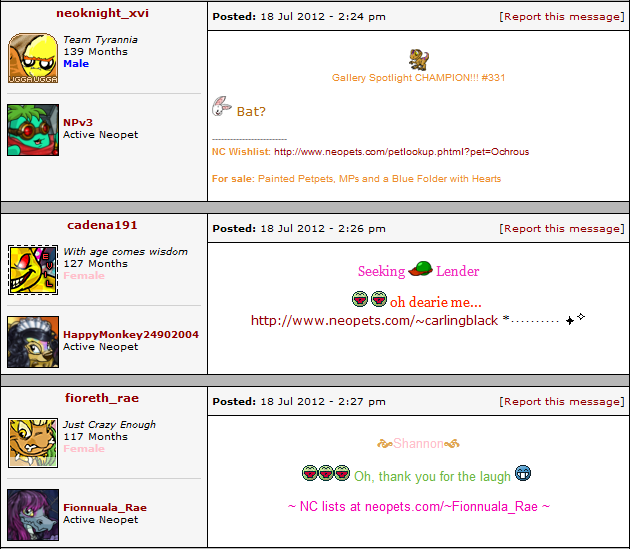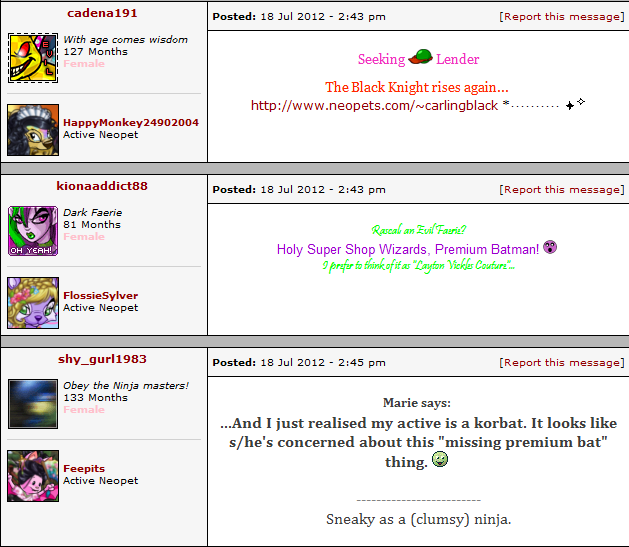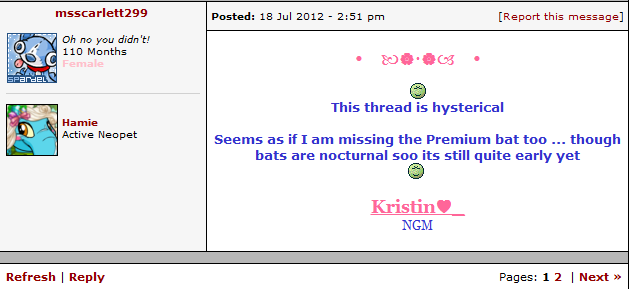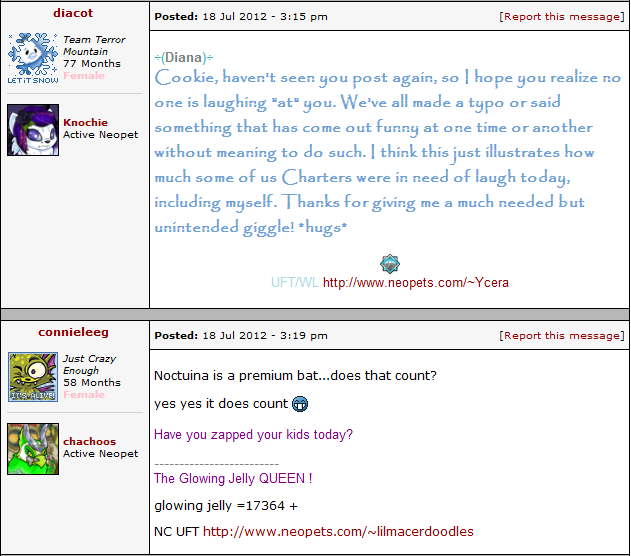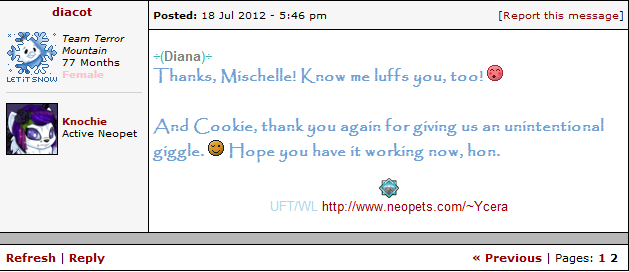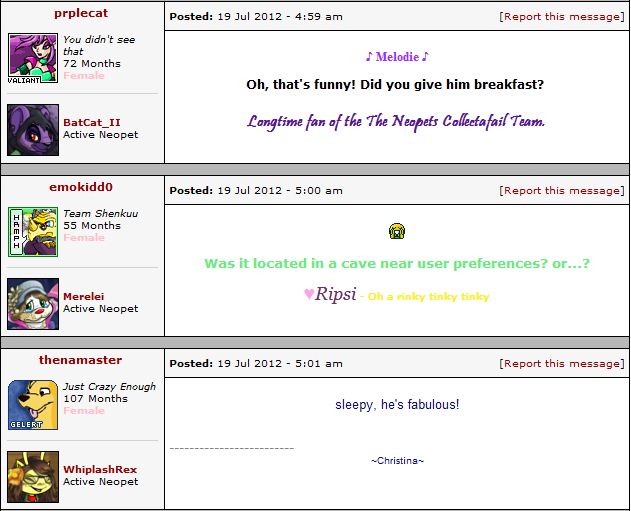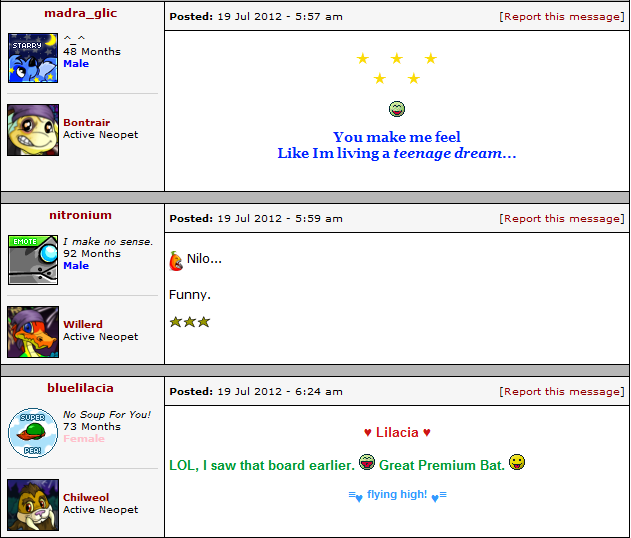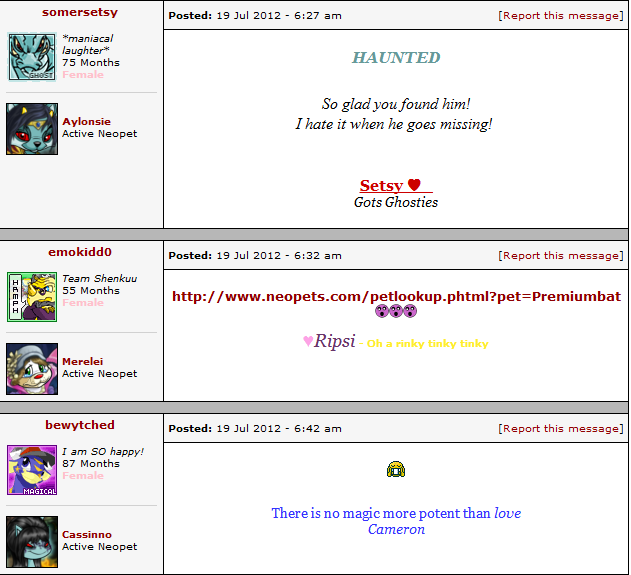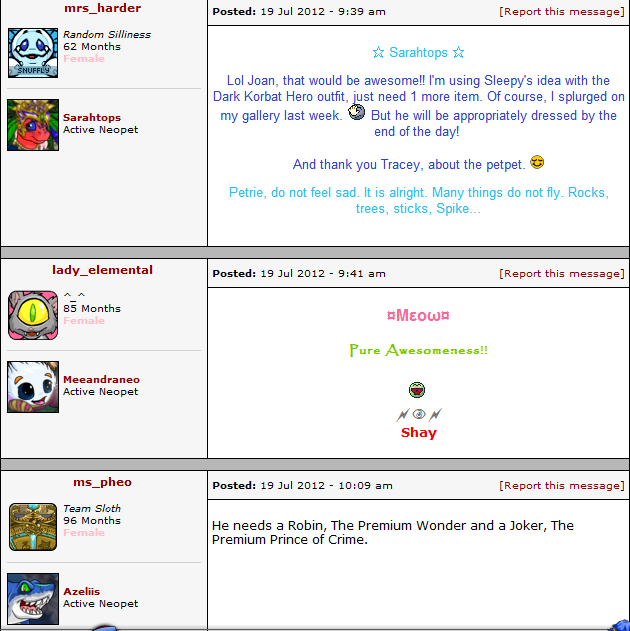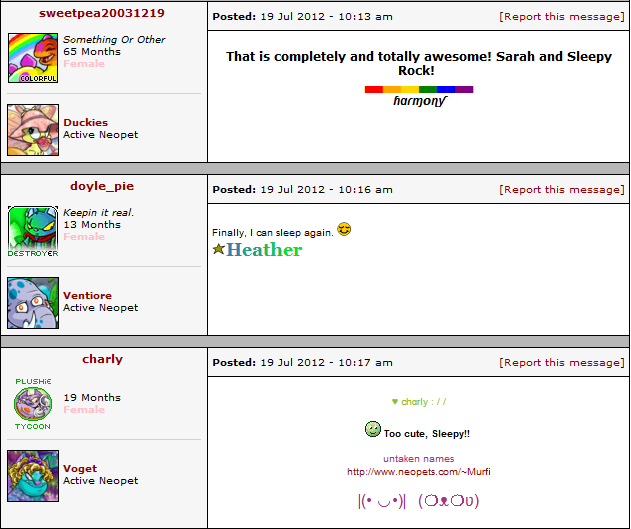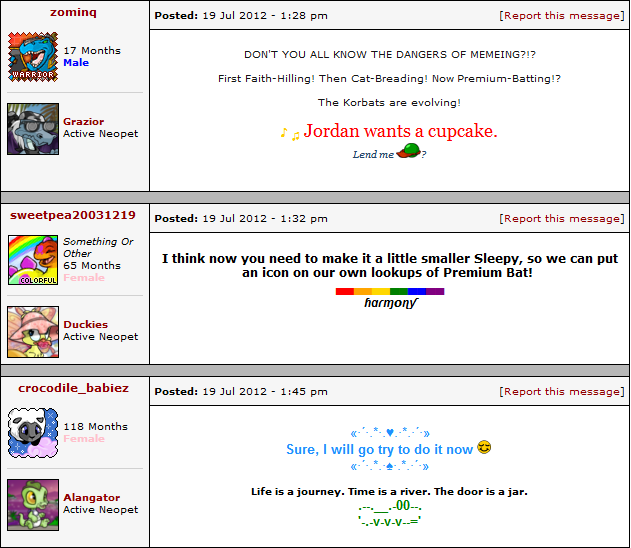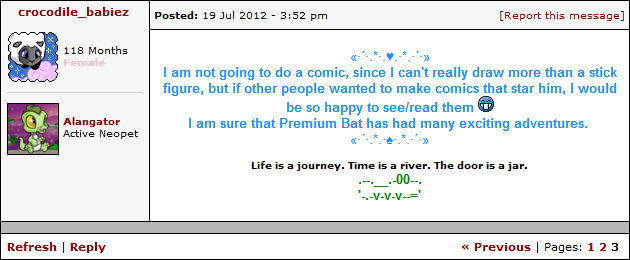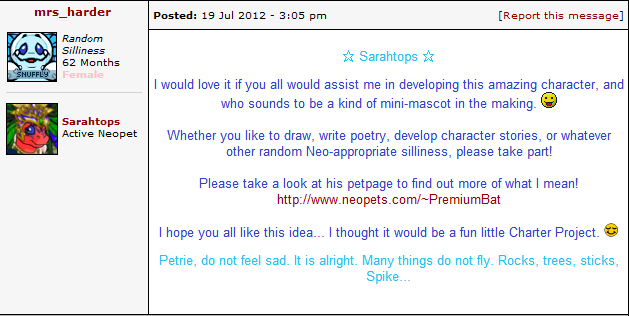 And now you know... the rest of the story!
The Charter Chronicles... Continuing Series!
Neomail me to get in on the fun!
Dark clouds begins to spread across Neopia...
All citizens look to the horizon. They see a wocky, no a gelert, ... no?... What is that?
No, it looks like a meepit... YES! It's a meepit riding a lupe! What in the world! What is that thing? It's not just a meepit, it's a decaying zombie meepit! This cannot be good...
*all citizens run into their homes, huts, and burrows...*
Suddenly, a large plume of eerie smoke surrounds the creepy meepit. Once Batty clears his eyes, the spooky meepit and his equally scary lupe are gone. The darkness spreading across the land begins to dissipate...
All the citizens feel strangely safe. But everyone knows things have changed. Everyone feels in a state of stasis.
Something is coming... something...
Submitted by nitronium
Late the next afternoon, a mommy Cybunny took her Baby to the park. As she rolled a ball toward him, she heard a high-pitched screech coming from behind her. She quickly whirled toward the sound, but there was nothing there.
Turning back to her baby, she saw a tiny wisp of smoke coming from under a shrub. The ball rolled into it, the baby dashed after the ball...and both were suddenly gone. Disappeared.
The mom ran screaming toward where the mist...and her child...had just been a moment before. Her anguished cries brought a small crowd rushing to find out what had happened, but the distraught Cybunny just kept pointing at the shrub and screaming, "My baby! NOOOOO! My baby was just there!
One Elderly Lenny, who had a long memory and knew everything about the history of the area that had been made into the park years ago, wandered over to a bench and sat down to watch. He began to think about the fetid swamp that had been drained and filled in many years ago.
Some said that there had been a haunted miasma that could cause things to just...not be there. No one had ever known exactly WHERE those things went, and they were never seen again. Even when the crew excavated the swamp, nothing was ever found. The local deputies had searched for months for several petpets, a couple of bicycles, and a homeless Grey Yurble that had been sheltering under a copse of trees for a few weeks.
Submitted by prplecat
This miasma has grown larger in the past few weeks," the elderly Lenny noted. "Lately it has taken more things... and Neopets than before. Yet the more it takes, the hungrier it seems to become."
Submitted by joancrr17
Hover over the image to see artist username.
Drag and drop into search bar to see larger image

(To the tune of Darkwing Duck)
Bat of mystery,
Champion of right,
Swoops out of the shadows,
PremiumBat owns the night.
Somewhere some villain schemes,
But his number's up.

(3-2-1) PremiumBat! (When there's trouble you call Batty)
PremiumBat! (Let's get dangerous)
PremiumBat! (Premium, PremiumBat!!)
xxxdiamondxox
PremiumBat, PremiumBat! Oh how we adore thee;
Your watchful eyes and trickster pranks
Spread far 'cross Neopian seas!


However we fight
We look to your might,
great protector of silly and fun.
Guide us in our ways, we shall not be ashamed
For PremiumBat is the one!
skutterbotched
NA NA NA NA,
NA NA NA NA.
NA NA NA NA,
NA NA NA NA.
NA NA NA NA,
NA NA NA NA.
PREMIUMBAT!!!

In brightest day, in blackest night,
No scammers shall escape my sight.
Let those who worship Sloth's might,
Beware my power... PremiumBat's bite!!
neoknight_xvi
Ode to PremiumBat:

He cannot be seen at night,
Scares bad guys away in fright,
With his splendor and his might,
It's the PremiumBat knight!

He'll be there in a hurry,
So there is no need to worry,
When all's in a flurry,
He steps in with fury!
honeybee54321
Oh, Premium Bat!
Watching over our accounts,
Patrolling the boards!

Premium sidekick!
The boy-wonder orbulon,
Watches, follows, learns.
elskegaderian
Sleepy (crocodile_babiez) and Corbin (jair_lorce) have written a wonderful series for the NT about PremiumBat! You can find links to each installment on the page of his newest Korbat hero, BattiusBattington.



From comawhite333:


~comawhite333
Want a PremiumBat sig? Copy/Paste
this code into your NeoSig:

| | | | | |
| --- | --- | --- | --- | --- |
| | | Top/NeoHTML | | Bottom/NeoSig |
Courtesy of ahilele



Random Contest, 2nd Place!!

Letters to our brave hero...
To see the gifts Batty has received, go to my gallery, ~here~.