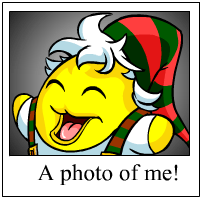 After Angel completed the secret laboratory map I've been changing species and colour frequently. It's really fun because every day is sort of like Halloween for me. Below is a list of all the different changes I've been through.
Species:
Colours:
Acara
Green
Bruce
Red, Purple
Elephante
Yellow, Island
Flotsam
Yellow, Christmas, Invisible, Blue, White, Red
Gelert
Yellow
Grarrl
Yellow, Purple, Invisible, Snow, Disco
Grundo
Fire, Glowing
Hissi
Red, Ice, Maraquan, Yellow, Glowing, Orange
Kiko
Green, Fire, White
Koi
Green, Invisible, Checkered, Shadow
Korbat
Yellow, Halloween, Brown
Lenny
Yellow
Lupe
Green, Starry, Cloud, Ghost, Grey
Meerca
Red, Halloween, Camouflage, Blue, Tyrannian, Island,

Spotted, Faerie, White, Robot, Gold, Cloud, Green

Moehog
Red, Purple, Ghost
Nimmo
Blue, Disco, Halloween
Peophin
Yellow
Poogle
Green, Yellow, Camouflage, Checkered, Tyrannian, Gold
Shoyru
Green, Pink, Speckled
Tuskaninny
Yellow, Mutant
Uni
Pink, Invisible, Brown
Wocky
Yellow, Gold, Desert, Green, Red
Xweetok
Yellow, White
Yurble
Yellow, Fire
I am now happy to report that I am no longer the lab rat. After being a Xweetok for a number of years, I was recently KFloured into a Kacheek.
I am hours old making me the oldest one in my family of four. My level is at 335 because of extensive training after the lab ray took me all the way down to level 1. As you may have guessed I love making new friends and playing games. My best friend is Adee the Chia who I love to play guess the card with. Adee and I would also take my Warf, Patches, out for walks together almost every day. Of course, now we have to take Patches' Mootix, Flea, with us.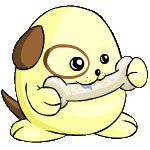 I love having fun with my friends. Every summer we go to the beach to have a picnic. Last year we went to Mystery Island because Trix wanted to go there. We built a massive sand Chia. It was so much fun.
It is a little known fact that Chias, love to bounce. For my last birthday, Angel bought me a fantastic trampoline. I invited all the Chias down my road over to our neohome and we had a great party. Even though I'm no longer a Chia on the outside, I'm still a Chia at heart.

My favourite room of my neo-home would have to be the play room because I just love to have fun. We have so many games and toys that we can play with in there that's it's hard to be bored on a rainy day. The best part is that we don't have to pick up after ourselves when we're done playing because our Robo Chia does that for us.
Besides my birthday, my other favourite day of the year is Halloween. I love trick-or-treating with all of my friends. We always have so much fun. Here is a photo of me from last Halloween.

I am Potato832000, if you want to be my friend or NeoMessage mercy_angel, feel free. My owner loves to get NeoMails :) Below is Angel's wishlist for her petpet gallery.
For the petpets, it doesn't matter if they're painted or not since I'm only trying to collect at least one of each species. All prices listed are approximations since prices are subject to change at any time. **NOTE: Ones marked with '???' means that the price range is too wide to put just one price and ones marked 'Unreleased' are ones that were featured in the News, but don't seem to be out yet.** Prices last updated: Oct. 19, 2010
---

Babith - 8 mil

Bartamus - ???

Bat Boy - 4.5 mil

Beepallite* - 1.5 mil

Blobikins* - 10 mil

Blorbis* - Unreleased

Bogie - 2 mil

Bubbles* - ???

C430 Autobot - 1.5 mil

Cadro - ???

Candychan* - ???

Crabby* - ???

Cyodrake* - 10 mil

Dua - 300K

Eustabee* - ???

Eventide Petpet Paint Brush - ???

Flippy* - ???

Flizzardo* - 9 mil

Flosset* - 2 mil

Flurm* - Unreleased

Frogarott* - ???

Geb* - 3 mil

Goldy* - ???

Gulper - 2 mil

GX-4 Haseebot - ???

Krawk – ???

Lellefisk* – ???

Marafin* - ???

Meepit* - 2 mil

Minitheus - 600K

Moltenna - ???

Moltenore* - 7.5 mil

Patamoose - ???

Peedleedoo* - ???

Pickulsaur – 4.5 mil

Pofew - 2.5 mil

Pooka* - ???

Pwerko - 500K

Pygui* - ???

Quilin - 4 mil

Rollatron* - ???

Romeep 3t3* - ???

Rotoblur 4000 - 700K

Scamander* - 4.5 mil

Sharky* - 2.5 mil

Short Fuse* - 800K

Slorgclops* - ???

Smiley - ???

Snorlkin - 500K

Snotbunny* - 700K

Stealthy Petpet Paint Brush - ???

Tootum - 800K

Turdle* - ???

Turmac* - ???

Vullard - 2 mil

Weebly* - Unreleased

Woodland Petpet Paint Brush - ???

Xampher* - 10 mil

Zamillion - ???

Zebie - 1.2 mil

Zoomik* - ???

Zumagorn - 3.5 mil

Ignalce - ???

Tamed Mini-Monster* - 1.75 mil

Elderly Petpet Paint Brush* - 1.4 mil

Valentine Petpet Paint Brush*- ???

Muyang*- ???