*COME ON IN*
Deep in the heart of Neopia Central, lies a long and windy passage called Soup Alley, there through the long row of houses lays number 207103 house.
You go through this small dark green door, straight ahead stands another door the same size but more of a lighter colour, you open it. You see a neat pretty sized garden, in the middle of the garden lies a averaged sized tree, with a few big branches. On the trunk of the tree, you see a carefully placed dark brown ladder, you climb up it and come across a little wooden den, made out of lots of different coloured wood. You carefully walk along the branch, where you come to the door of the den. On the door is a little white sign reading 'PinkyBW's Tree House!! Knock 3 times if you want to enter!
So you knock 3 times exactly, you wait, then the small little planked door slowly opens. You see a strange discoey coloured creature smiling at you.
The creature says to you "secret word?
You stutter for a moment "mm..... disco fever?
Correct, come on in and check out my links at the top to look around the place"
---
Well where should I start? It all started on the 24 February 2002, my birthday, Minemoe (my mum) chose me to be her pet.
I was a young sprightly Pink Aisha called PinkyBW, that was in the days when you had the choice of blue, yellow, green or pink to be the colour of your pet, but sadly all the pink pets were changed to the colour red :'(. I was so sad when I was red, I hated it, it was such a dreary colour. Minemoe saw that I was unhappy being red, so she decided to do something about it, she saved up a lot of neopoints to buy a paintbrush. But what colour did I want to be? Well I thought of being pink again, but just then I saw the most beautifulist colour, what would suit a Aisha called PinkyBW, it was disco fever, it was pink with different coloured star shapes all over. So I just had to be that colour. Minemoe looked everywhere to buy a disco fever paint brush, finally she bought one in a auction. I was so delighted I couldn't stop smiling .....
PinkyBW says
That's a sneaky peek into my autobiography,
I am still writing
---
Name: PinkyBW
Species Aisha

Colour: Disco
Gender: Female
Age: 142991 hours old
Level: 120
Max HP: 279 / 279
Strength: 237
Defence: 219
Movement: 148
Intelligence: 320
Petpet: Angel Face the Angelpuss
---
*LIKES & DISLIKES*

PinkyBW's likes:








PinkyBW's dislikes:






---
*THE DEN*

AKA the tree house, it was made for PinkyBW's 1st birthday. Minemoe built it from bits of different types of wood found around the place,
that's why its all different shades of brown.
The size of the den is 70cms in height and 110cms width, just the right size for any Aisha.
PinkyBW made the ladder leading up to the tree house all by her self, that's why some of the steps are crooked, you have to be careful when you are climbing it.
There's a great view from the tree house you can see all over Neopia, if you look very carefully in the sky you can just about see Faerie Land!!!
---
*TRAVELLING*

Here are some of my holiday snaps, which Minemoe took, of me when I went travelling around Neopia.
---
I have a wonderful bungalow with so many lovely rooms made out of every type of materials you could think of, chocolate, jelly, stone ect. 
My house
has all the extras like:

Security System:
Iron Bars

Carpet:
Marble

Lighting:
Chandeliers

Central Heating:
Neo Heating System

Wallpaper:
Royal Wallpaper

Insurance:
Peophin Platinum
I love my room because its made of soft cloud, and has all my favourite things inside of it, most of the rooms have a different short of themes from when I went on my travels round Neopia. Also I have a lovely big garden running round the hole house. If you go down the side of the garden you will find my
amazing
tree house!!!
---
*TROPHIES*

Here is Minemoe's trophy cabinet. I haven't got any trophies yet, but I hope to enter the beauty contest one day :). Minemoe is always trying to win more to grow her collection.










---
*GALLERY*

I have my very own gallery dedicated to all Aishas, If you are thinking of a gallery with lots of art work in it, well I am actually talking about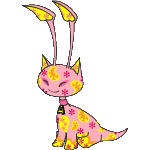 my shop. I guess Ill have to tell you a bit about it then:
Name of Shop: Aisha Cazy
Size: 30 (a nice round number)
Shopkeeper: PinkyBW
Link to Shop: Click Here
Located: Neopia Central
Holds: Aisha items, stuff with pictures of Aishas on it or has the word 'Aisha' written on it.


---
PinkyBW says to you "Well I guess its time for you to go now, I hope you have enjoyed your trip to my tree house."

So you carefully climb out of the small wooden tree house and shut the creaky door behind you. You swing yourself to the trunk of the tree and slowly descend down it. PinkyBW opens the door and waves goodbye as you go out of the garden. Leave