About me
This is what I look like. My owner (stickyjammy) is starting to like customising and is searching for the best clothes for me. She likes the Hissi Thief set but she doesn't spend so much money just for clothes.
Welcome
Welcome! This page has a few small tutorials on HTML and graphics.
To Navigate click the links on the right hand side.
OR, you can search for keywords by using the search function in your browser (Ctrl+F) and typing the word you want to find with "[" and "]" around the word.
HTML help
I already have a
HTML/CSS help page
, but that seemed more like tips and tricks. I realised by looking at the Help boards, that people need help with adding images, changing the look of things, etc. So I thought I'd construct a little section to help them with it.
Of course, anyone can send in requests for things to be mentioned or help they need. I would encourage this, as it would save time explaining things. :)
If you do have a question about HTML, I would be happy to help. Just
neomail me
.
Basics
---
MS Paint
Making gradients
DISCLAIMER: I didn't come up with this! I found this method on an offsite, I decided that maybe people would like to know it on neopets. Credits to NerdParadise.

Want to make a gradient like the above?
1. Create a new blank picture on MS Paint with the width of 100 pixels. The height should be what you want it to be. (You can change it by going to Image, Attributes. Or press Ctrl+E)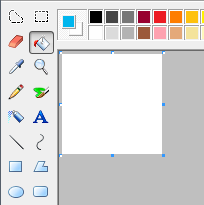 2. Fill it with the colour you want at the bottom of the gradient. I filled it with blue.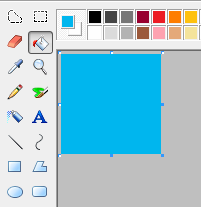 3. Then get the line tool and make a diagonal line with the colour you want the top part to be.
4. Fill the top side of the diagonal line.
5. Resize it horizontally to 1%. Change it by going to Resize and skew, press CTRL+W or click
Image, Resize and skew
.
6. It will become just a thin line, like so.
7. Then stretch it out again by going to Resize and skew and changing the horizontal resize to 500%. Keep doing this until it is as wide as you want.
Then you are done! You can add text to it or do whatever you want to it.
---
Index of tutorials
---
Awards/Reviews
None at the moment.