Deep below the Meratic Ocean, the sunlight-impermeable waves unveils a place of lush life and tantalizing history. The most exotic and miraculous underwater city where extravagantly rich coral buildings slumbered was yet the most mysterious of all. Looked upon closely, the unknown area shined with gold and life, a seemingly wonderful place... valleys and mountains of strange houses and stores filled the ocean's bottom, ample amount of cryptic dark coves yet to be explored, and lost memories are sunk deeply into the pale sand. And to the west lies the biggest rumor of all known to human intelligence... the Sea Enchantress, Perance.

Hello lurker of these murky waters, what drives you to come visit me?
Ah did you come here for one of my illustrious potions? Come here then, welcome in!
Now let's talk business... 8DD
-evil cackle-
lawl.
About Pera's Character
Feel free to drag the image to the URL bar to enlarge the image. C:
Perance is obviously a maraquan gelert, but not any regular one; she has been dubbed the name, Sea Enchantress due to the popularity of her potions and ability to cast magic to some extent.


However, Pera is known for her interesting concoctions, which she claims are well made because she uses a special technique of binding her love into the liquid for the greatest effect. Living in Merannis (located near the south west of the deeper floors of the Meratic Ocean) -which is essentially the capital in a way- (it's just the main city really), the main route to all trade and business, Pera is able to earn a lot of money off her special capabilities. But due to her gentle personality, she is rather more like the faeries of Neopia except with a different twist.. she asks for items of value instead of errands or rare items like most faeries do. From these valuables, she is able to draw upon the power within the object; it's not really the "power" but rather the essence of the emotions in the things. These emotions are usually the emotions of love, care, and kindness; hence from these, she is able to convert these emotions into a more stable form and this is what she uses into her potions. Hence it's really more like a cycle and Pera is the person who is able to manipulate and better benefit others during the process.
Pera has never really known her parents, as her mother has been declared dead several years ago in the younger stages of her life, and around then her father disappeared, unknowingly. But the highly sophisticated place fit for royals where Pera lives now was automatically inherited to her and somehow, there is an abundant amount of money still there in both her treasury/dowry to keep her alive for many thousands of years to go. The only memoirs that Pera owns of her parents would be the individuals self-portraits showing their nobility hanging around the patterned walls and the letters they used to correspond with (she treasures these deeply).
Pera's Memo
Name: Perance of Xenith-Merranis
Pronounced:paire"-"ahnce "ov" "mare"-"rhan"-"ness
Date of Birth: The Seventeenth Tide of the Year of Arcaran
Place of Birth: Merranis (last names are usually places of where they are born along with the family name)
Family Title:Xenith
Age: 16 years (in human years)
Age: 762 years old (in gelert/maraquan years- she is considered rather young) Gender: Female
Species: Maraquan Gelert
Mate: Don't have one, and not interested. Males are only nice to play around with, no? ;3
Offspring: What an outrageous idea!
Mother: Tilude of Quarantis (deceased)
Father: Xoquil of Neraq (where abouts unknown)
Sibling(s): Carinata, the Faerie Gelert (to be mentioned in plot)
Companion: Opal, the delphin

PetPet

Opal, the blue delfin has been in service of the Xenith family for ages for a reason unknown. She is really more like just the average pet but is able to use a lighter form of telepathy to speak with Pera. It's rather hard to understand her as she speaks in the language of several centuries ago but it is still decipherable.
The personality of Opal is rather old as she likes to pass down the traditional heritage ideals down from this family. No one really knows how many years she has lived by, but it is definitely easy to say that she is very knowledgeable of the household by her intelligence.
Perance and Opal have a very strengthened relationship, but it more that mother to daughter type but nevertheless they are friends and capable of supporting each other in times of need.
Pera's Design
(drag to URL bar to see the original size)
In Pera's "quad" form, her body is a purple and the underside a deeper shade of purple. Her hair is a pale green and her eyes a pretty blue. Essentially, the ring around her tail is rather like a magical talisman, ensuring her powers don't get out of place. Little does she know it, she's actually a enchantress of very high powers to the point that it would be uncontrollable. She never really takes it off though, because she has been warned by Opal that if she were to take it off, unimaginable things foreshadowing terrible events would happen and it wouldn't be wise to do so.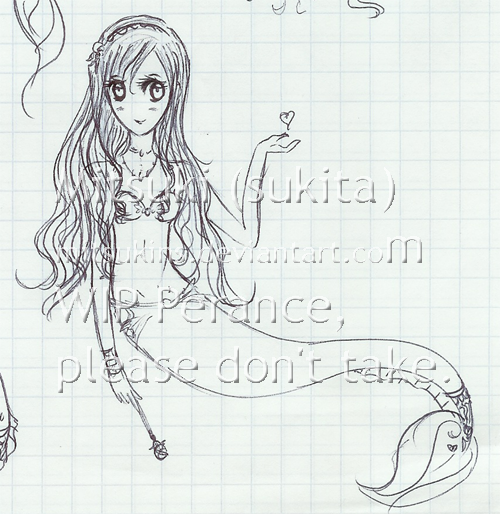 In Pera's anthro form, she holds sort of a wand-like thing, which is really a pearl. I was rather sort of debating to make it just a pearl with out the metallic stick but I figured it be easier to hold, lol. That was something the royal family of Merannis had commissioned her to do, and it was more or less a rather family treasure that was passed down though generations. However, not only does it hold sentimental royal value, but it is extremely powerful and it serves as a limited power source for Pera.
Another thing is that her jewelry necklace is also a source of power, but it is more of a stabilizer for her.