I've divided this page into sections, just so it's easier for me to feel organized. Feel free to skip stuff, click links, stand on your head, staple bacon to your face, whatever.

Yooyuball Screenies | Slushie Slinger Screenies | Make Some Noise Screenies | Rooligan Board Screenies

Yooyuball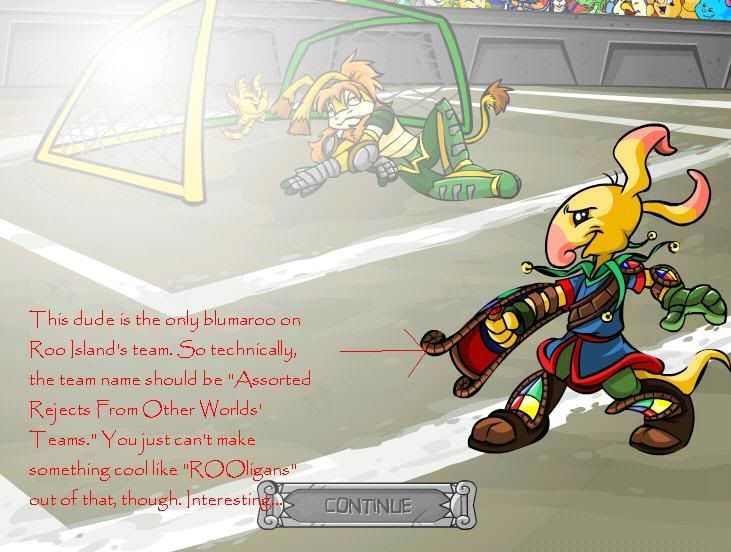 Maybe it's thanks to the Rooligans that we even actually have a blumaroo on the team. I mean, Kiko Lake doesn't have this problem. But Roo Island is better.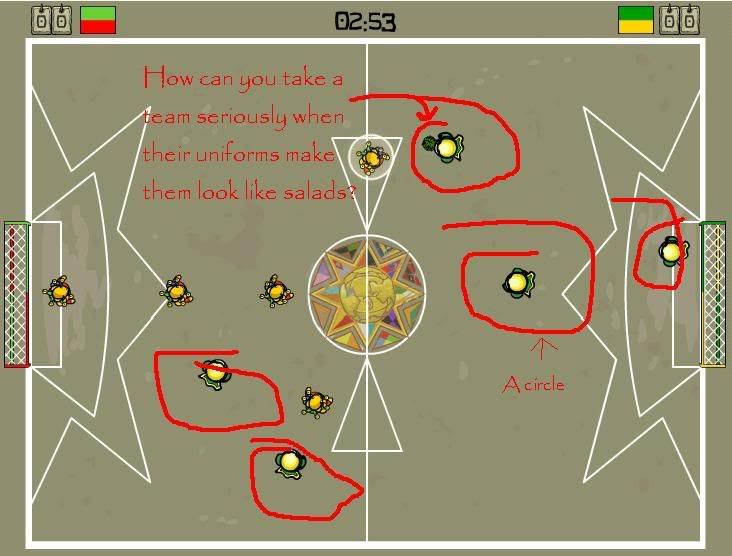 And here, boy and girls, we see the reason I do not attempt to create screenie art. Would you honestly want to suffer through four pages of my horrible artwork?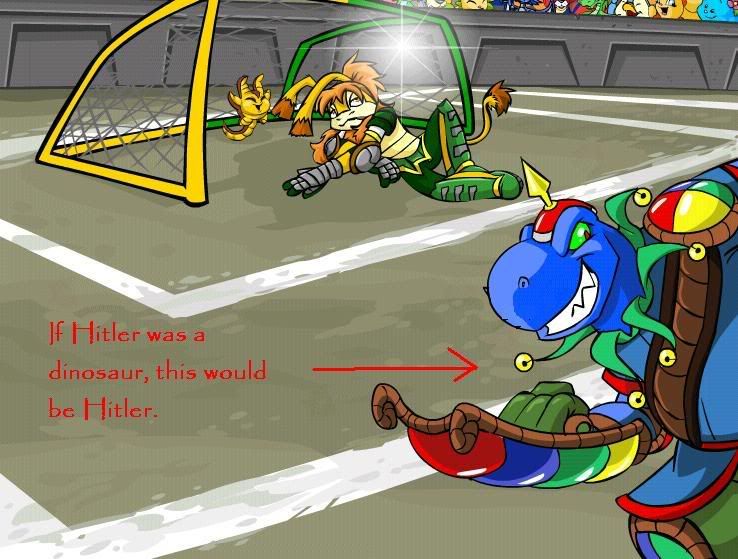 I can see it now. Someone is going to yell at me, saying that this is in really bad taste. But hey, I'm here to make you laugh. Oh well.



He looks funny. He's all furry and fuzzy and unclean.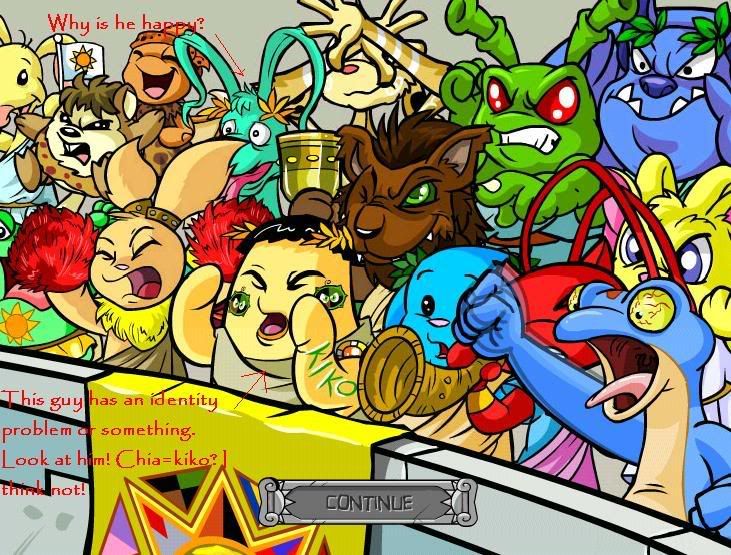 He looks like a monk. Maybe that's where the problems are coming from.



I was playing with my butt. I'm very impressed with my score.

Um...yeah. I don't play Yooyuball very often. It requires skill and patience, both of which I lack.

SS


And you won't even get the flavour you want. So please, please don't shove.

Can you tell which game I hate the most?

MSN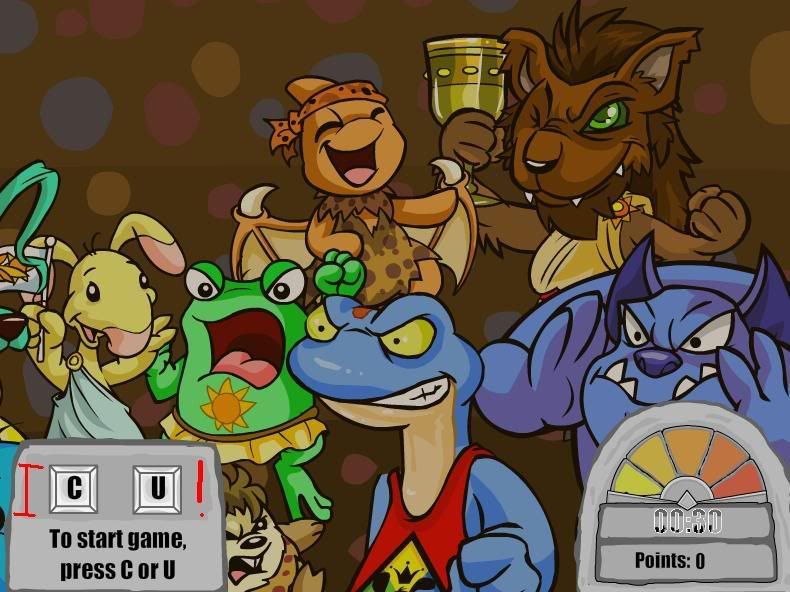 You should be scred... Very scared... *makes a creepy face*



Personally, though, if his burned to death, I don't think anyone would mind too much. He is rather...shall we say, obnoxious?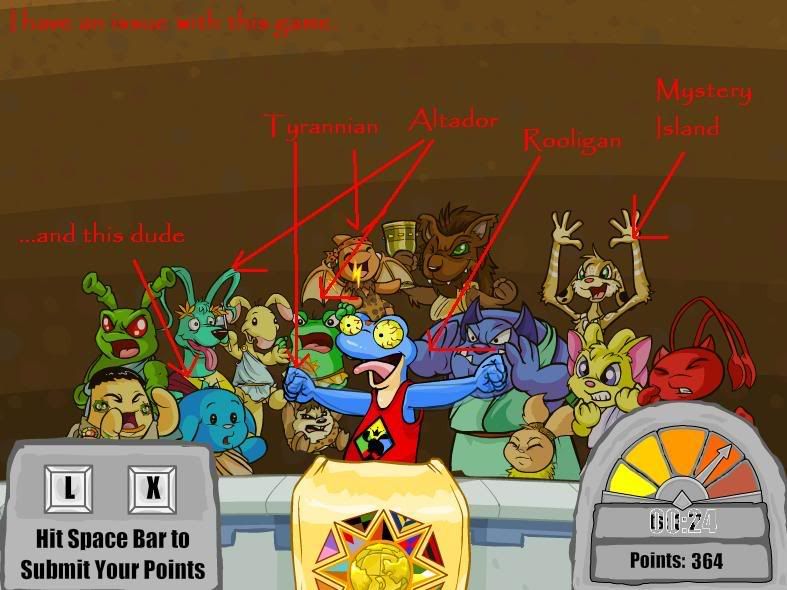 I'll bet he's a freeloader on whichever team he's on. Probably Darigan.



*stares around at the thousands of blank faces staring at her* Um...it's a biology joke. *everyone bursts into laughter (you should too)*



Or maybe they know what I'm listening to. That'd be weird.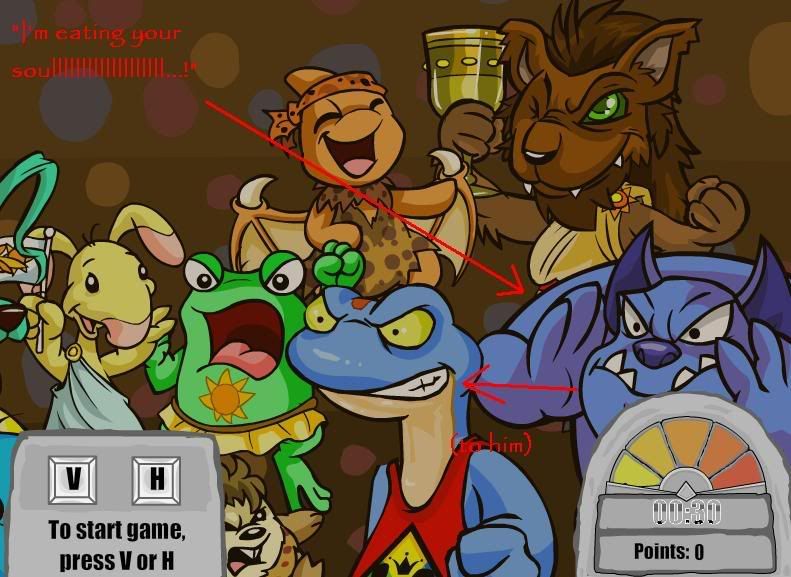 The dopey, weird techo should do something about this. If the skeith eats his soul, he'll only be able to devote his heart to the Altador Cup.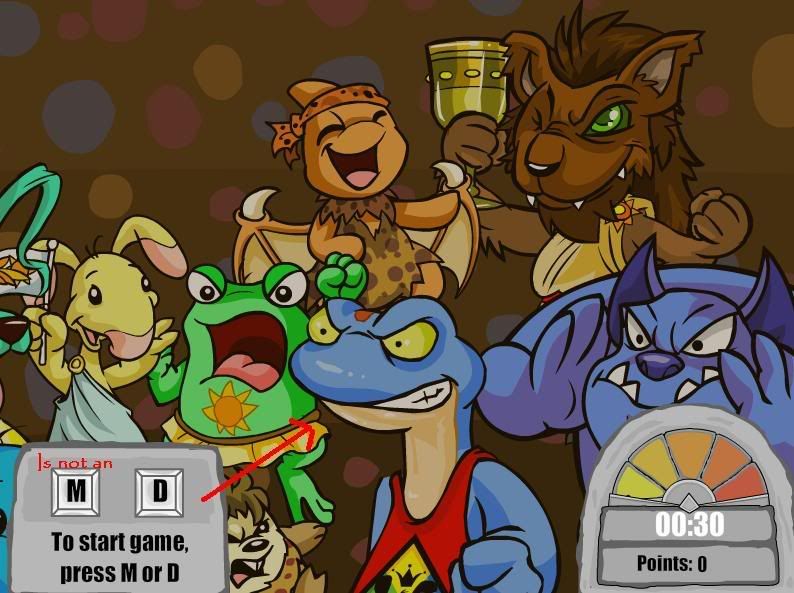 At least...I hope he's not a doctor.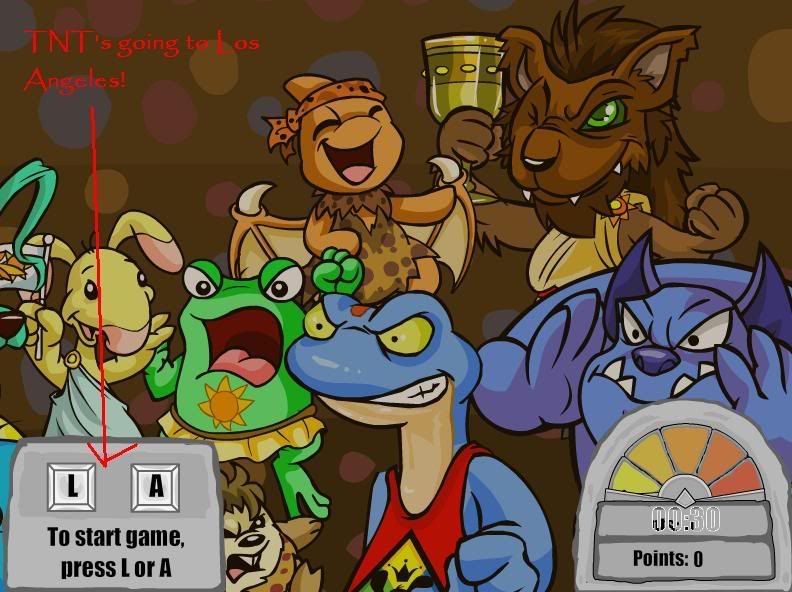 Either that or they're singing. But the sound of Adam singing would probably strike people deaf.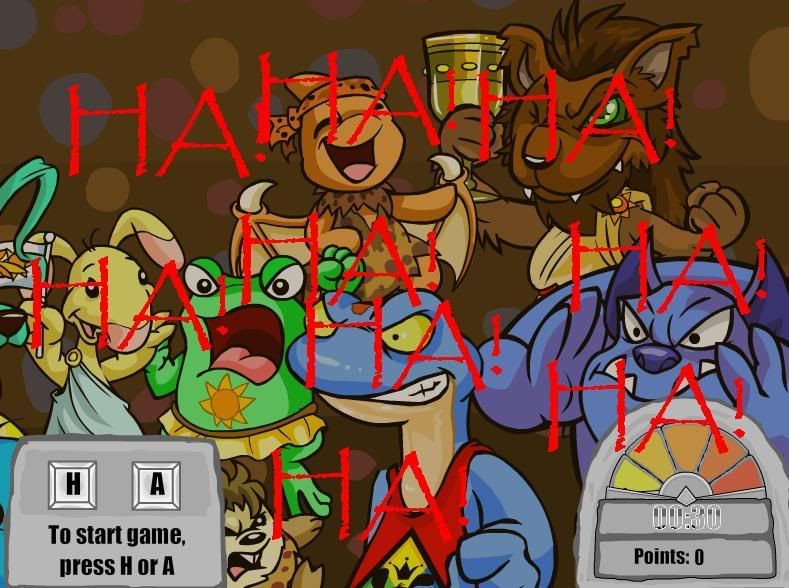 HAHAHAHAHAHAHAHAHAHAHAHAHAHAHAHAHA!


Maybe that's why the crowd isn't as packed on the usul's side.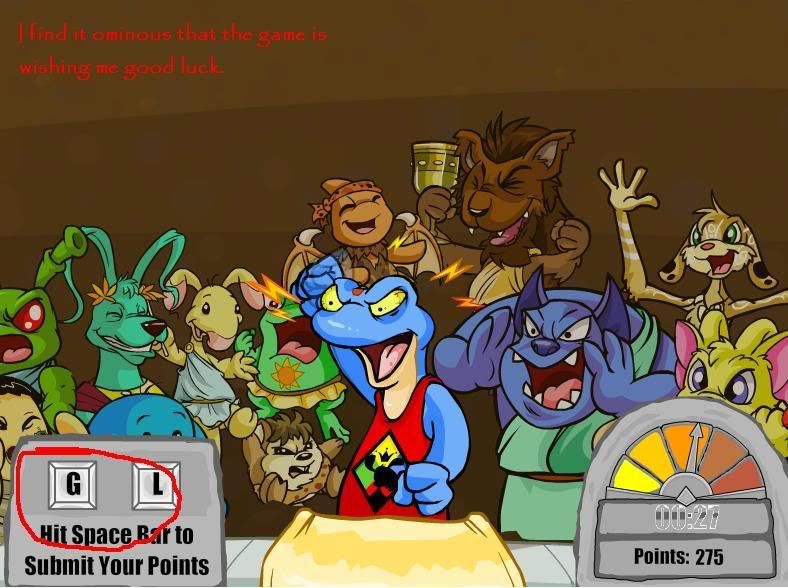 *is ashamed that she knows even that tiny amount of chatspeak*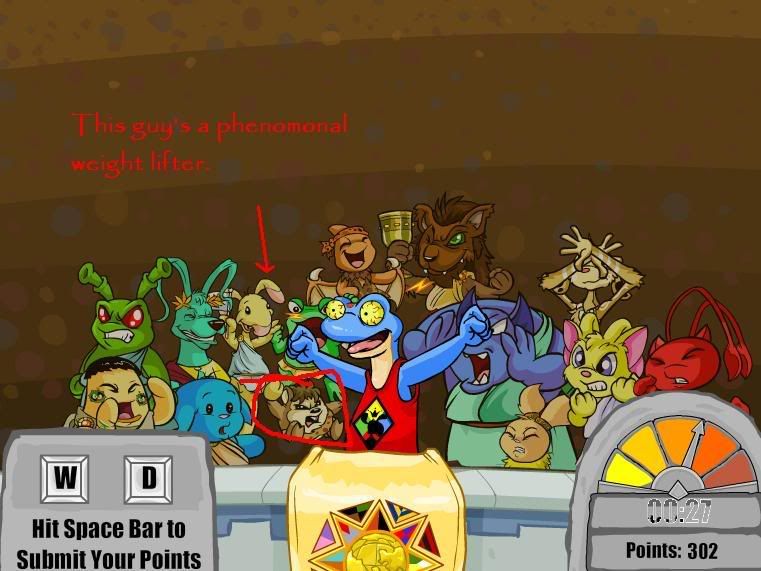 I know I couldn't lift a blumaroo AND a quiggle.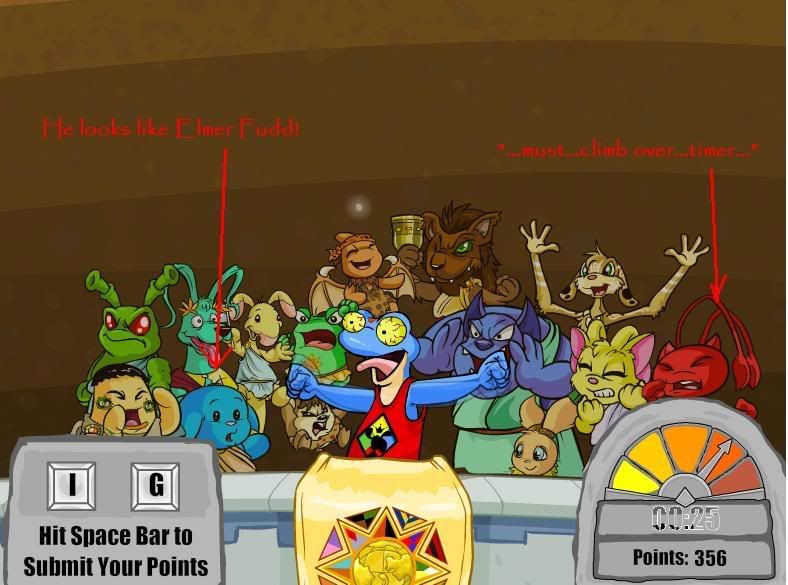 The aisha should have brought a sherpa with her.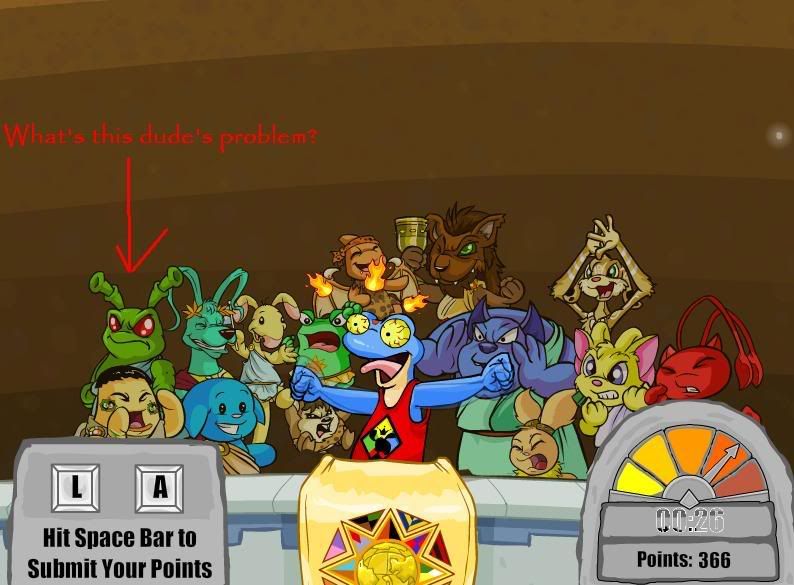 Thus ends the saga of the Grumpy Grundo.



Oh eidie didie didie didie didie didie die!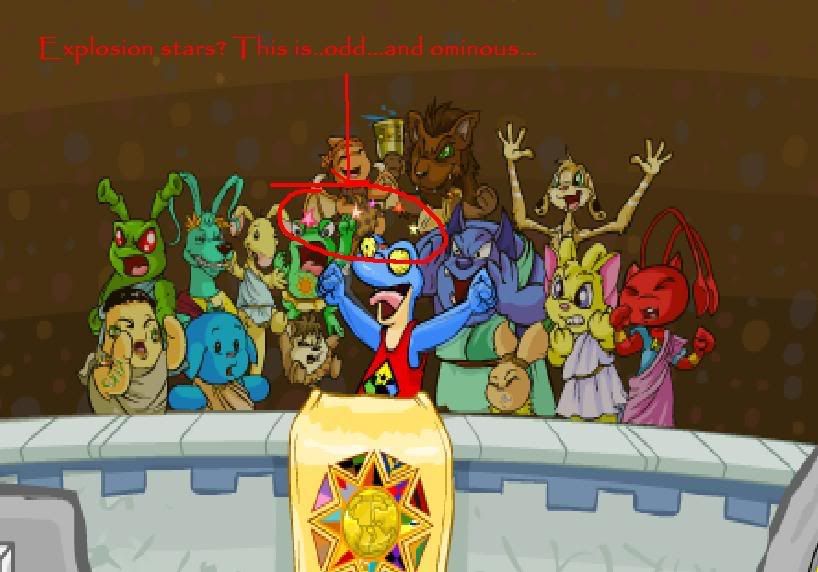 RUN! RUN! HE'S GONNA BLOW!



Or couldn't, when you look at my score.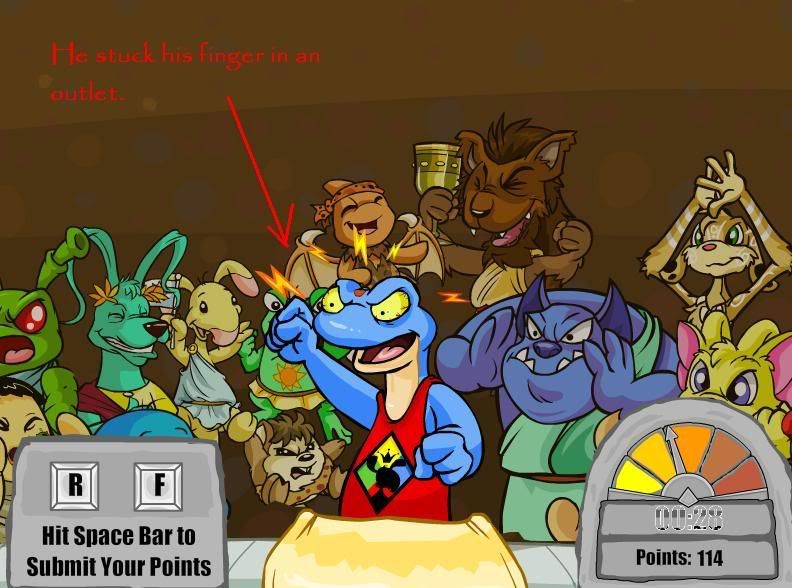 That's what happens when you get over-excited.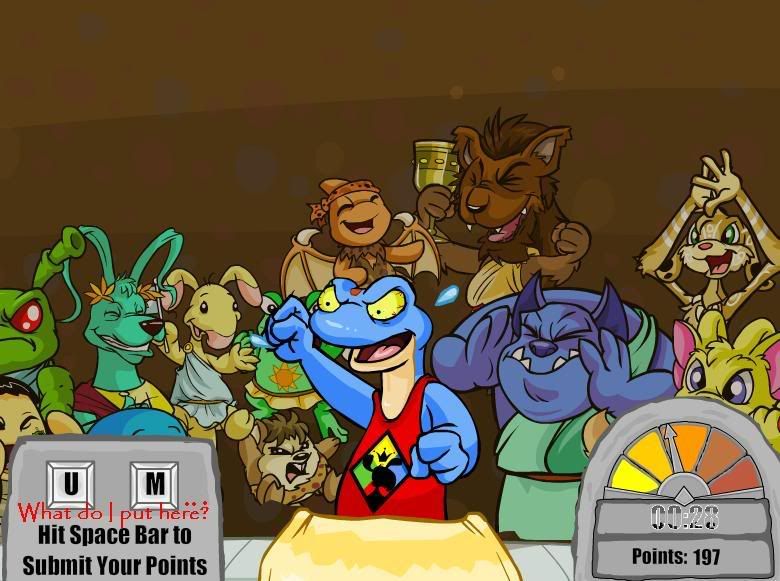 I just can't figure it out...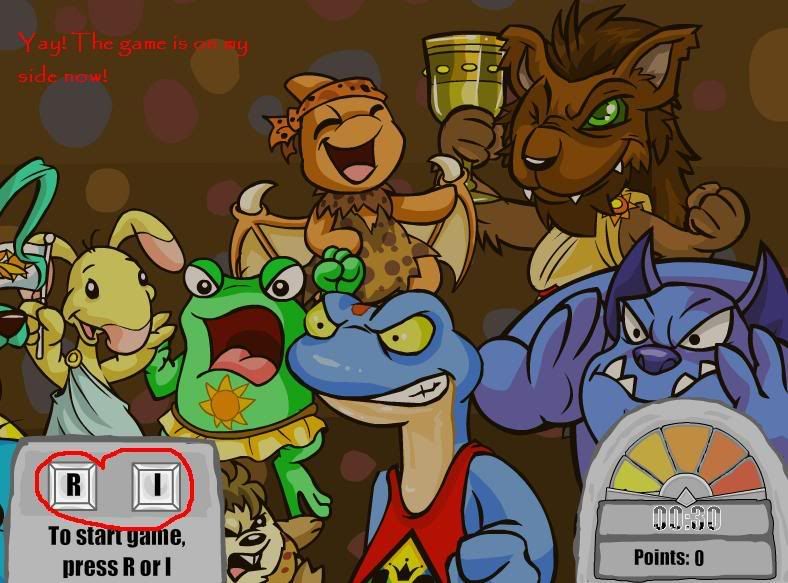 DISCLAIMER: The lousiness of Katami's heart does not mean she dislikes Roo Island. She adores Roo Island and really did try to make a nice heart.



*hides under her glass coffee table*



Wait, that makes no sense...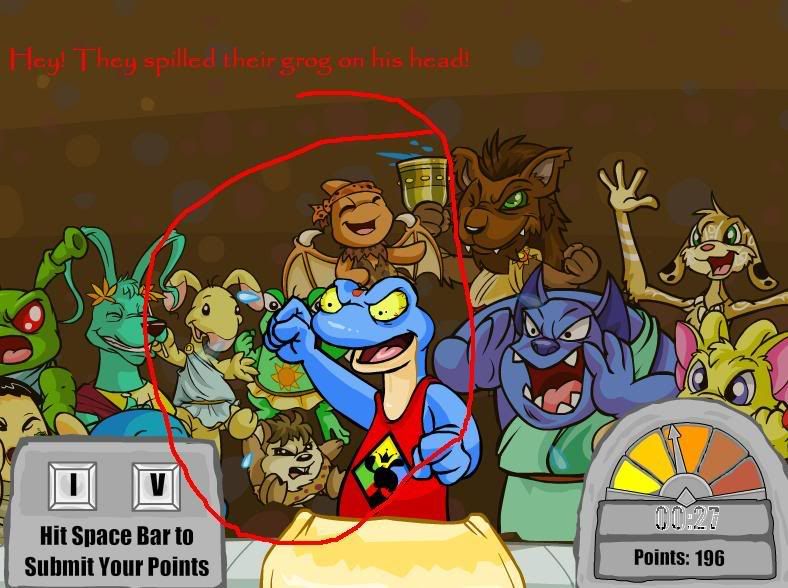 Techo's gonna be mad...GRRRRRRRRRRR!

Boards



I'm going to do the Chicken Dance when I'm the first person on Mars!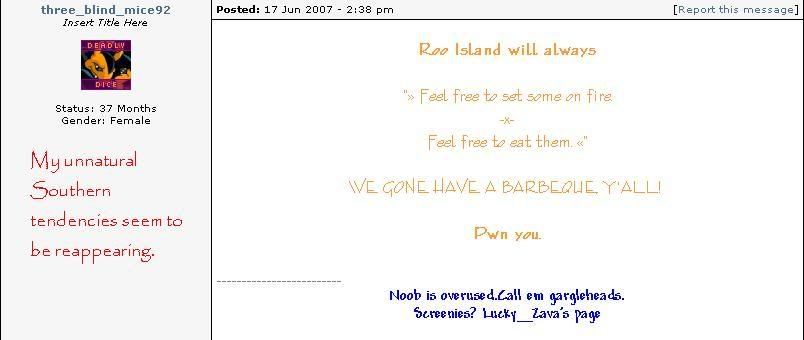 YEEEE-HAWWWWWW! MAKE SURE YOU BRING Y'ALL SOME SAUCE 'N SLAW, NAOW!




A whole bunch of people keep sending me steaks for some reason. Very strange.



That's a scary combination.



I hope they were drop kicking pugs.



*pictures someone singing to their stomach*




AHHHHH! THE KIKOS HAVE COME TO KILL ME!



Yes, I am aware that this is not a board. Why don't you just...take off, hoser?