On the shores of Great Bay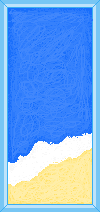 Great Bay, an area in the land known as Termina, not too far from Hyrule. You've heard about this place for so long, but never thought you'd be able to travel there. Now is your chance to finally go and meet the friendly zora that live there you've heard so much about.
As you arive, you look out onto the beach and see a small cat-like creature laying there on the sand.*...Is ...is it dead?* You ask yourself, as you begin to stagger towards it. The cat-like creature hears you coming, and opens one eye. She gets up, and stretches, then looks back up at you. "Welcome to Great Bay!" she says excitedly. "My name is PagodaXweetok, but you can just call me Pagoda. What's your name?" You pause, but then reply to her question. "My name is guest, and you gave me quite a fright! I thought you might have been hurt!" She starts giggling. "That's what everyone thinks when they see me laying there, I guess I should start bringing a pillow with me or something to lay on so no one thinks I'm injured!" She smiles. "Well guest, since you're here and all, I may as well tell you about myself!
About Pagoda


(Pagoda has a fin sticking from her head, it is not a tail.)
Name: PagodaXweetok
Alias: Pagoda
Age: 14
Species: Xweetok
Breed: Zortok (Zora-Xweetok)
Adoptables
Rules
Don't enter into the Beauty Contest or Art Gallery,they were made by PagodaDragon not you!
Don't claim these to have been made by you,they were made by PagodaDragon!
Don't take any customs that weren't made for you.If you want one,just make a request.
Neomail pagodadragon with the title of "Xweetok Adoptables" so she knows you read the rules,and she'll know what type of adoptable you want.
Please don't neomail her if you have your mail on "Neofriends Neomail only."She doesn't want to have to request you to be her neofriend just because you want an adoptable.
Please,understand that she is busy and cannot always get on.Don't rush her to make you a custom.
Please,understand that if your design is too hard you might not have your custom made.If you do a trade;however,you will get your custom.Do not complain if it didn't come out exactly like your pet.
Please,pick these up when she makes one for you.It's unfair if she has to work to make you a custom and you never use it.
Regular
Painted
Custom
These were shrunk down so they could fit on the page,the actual size image will be in the code.
Customs of Pagoda
These are little adoptable images that people have made for me!8D Thanks to everyone who has made me one!

Fan Art
This is some art that has been made just for me!:D
Thanks to all the artists out there who have made me art!^^
(drag and drop the images into your Adress bar to see the full sized image.)

Link Back

Links Out
Credits


This is how many people have come to visit Pagoda on the shores of Great Bay.
(This counter started on Friday,July 6,2007.)