Enter the Tower
Please, enter into my 'humble' chamber dear guest! My men and I are awaiting you – not too good at sneaking in, are we?
A muffled laughter escaped the lips of the henchmen who surrounded baron and he just smiled imagining the humiliation the intruder must go through.
I did not intend to act stealthy. I came to talk.
Is that so? Sit down, please.
He pointed at the elegant chair decorated with carved floral pattern. As grand as the ones he was sitting on. Directly in front of him, on the other end of long wooden table. The difference was, on his side there were guards. The newcomer was sitting in a comfortable trap.
Skip some formalities – I know who you're working for and why you came here. Would you like something to drink?
Not hearing a response and taking it as a sign of stress, he pointed to one of his men who quietly, yet with a smirk on his face, put the full chalice in front of the guest and retreated. The ruby liquid looked phenomenal inside delicate crystal. It matched the color of the woman's eyes.
She took a sip and finally spoke:
You have the choice to give them back, add a good deal of gold together with all your weapons and my merciful employer shall leave you be. Maybe even make a pact with you.
The baron laughed.
You hear that boys? Because I can't believe what I just heard. Hahahaha! I knew he would have no guts to come here by himself, but sending here a lady who tries to threat me, is just beyond my imagination!
The eyrie put down the chalice and slid it on the table towards baron.
You reject the most generous offer a trash like you could get and what is more, you have the nerve to serve me this disgusting cheap drink!.
The last words were almost shouted in rage and the chalice exploded into pieces, splattering the juice all over baron's face. His face became even more red when hot blood rushed to it.
When he shouted
Get her!
one of the guards was already rushing forward. Not expecting any resistance, he was taken down by a kick. The other two did not ignore it and took out the short swords attacking from both sides. The eyrie took off her black coat and blindfolded one of them. The other guard felt it was his chance to attack from behind, but the moment he raised the sword a scorching flare hit him. The first one tried to take the cloak off, but the thing wrapped tightly around him the more he struggled. The fabric went on fire.
You think you are good enough taking down these three rats?!
The high voice gave away baron's panic.
I gathered here whole boodle of ruffians thirsty for gold and fight, those fireworks won't do against their spears and arrows!
A dark silhouette of archer could be seen through a window for a blink of an eye before he reached the fosse and his scream ended with a splash. Someone was already sweeping the pests off the roof. In the corridors two men were beginning to wonder how many daggers can you throw at a lupe to stop him telling the crude jokes, but their supply ended while the joker was still on his feet.
You were saying?
asked the Schlagring leader making a step towards baron, a ruby fireball forming in her palm.

Maiden of Steel
Species: Eyrie
Color: Darigan
Gender: Female
Age: ~26
Form: furry anthro
Her name means Sharpbeak (f) and thus the nickname.

She likes:
Precious jewels
Money
Luxury
Her petpet
Sand baths
Hollygrove's petpet
Spicy food

She hates:
Getting wet
Disobedience
Onion
Xmas
Children
Hollygrove's jokes
Faeries
What you first see is an elegant lady who likes to dress up in dark clothes and favors leather over other fabrics. But the moment she gives you that cold look you probably would give up on making friends with her. Beneath the coolness, there are flames: sparks ready to blow into full blaze when someone awakens her rage.
She is harsh and unsympathetic individual who seems to care only about herself. She orders others around and expects full obedience. In this case strength comes in pair with intelligence. Planning and carrying out schemes is what is expected from Schlagring leader. Yes, she created her own special-task squad that can be hired by anyone. If they can pay enough, that is. Because the only thing appealing to her more than power is wealthiness. Nothing satisfies her greed like the glitter of precious jewels. Those who try to trick her with fakes are treated like roasted chickens – she both hates being tricked and is an expert on gems. That is her relaxing hobby. The other thing she does for pleasure (besides generally living like a lord and tormenting Hollygrove- the member of her own squad) is taking sand baths. Because she finds the mere idea of getting soaked appalling, but enjoys taking care of her body.
Besides being the leader of Schlagring, she also became the self-proclaimed manager of her brother's rock/metal band "Howl of Darkness". Ever saw a slave driver doing the dirty work? That's her when she motivates "HoD" to give better performance. She takes the effort probably just for the money and the chance to be in control of everything. And to scold both Hollygrove and her brother, Danakar. Just so they remember who is the boss.

As said before she seems to care for no one else than herself. Yet, if someone dares to put his paws on her petpet – he is doomed. However, getting so close to that Tyrannian Babaa is not an easy task. The little guy is as ill-tempered as his mistress and rams like a cannonball on anyone he finds enemy. That includes most of the living beings around him.

Normally this Schnelly would run away with her tail on fire if she dared to interrupt Sharpbeak. But the Eyrie takes pleasure in seeing how the feline petpet continuously adds new scratches in place of the healed one to her actual owner – Hollygrove. That is the most amusing show the lupe can (unwillingly) give to please his boss.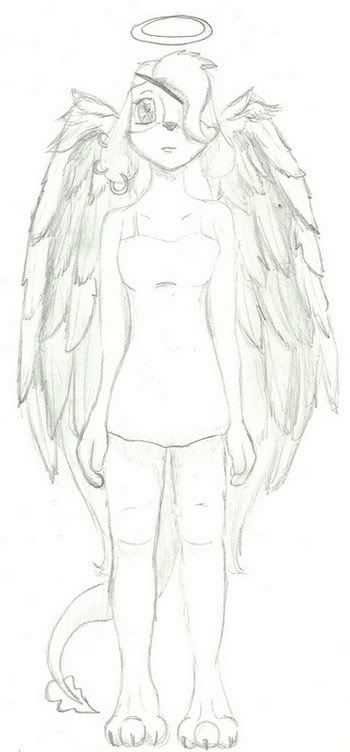 There is also someone in the Schlagring's Tower, who doesn't get treated as bad and as harsh as others. Although her acting towards Silvperpaint (Srebrzanka) is not what you would call a perfect sister's love, Sharpbeak took the girl under her wings. It was the duty and the burden her parents passed to her: to look after her cousin. The timid and naive girl looks up to her older "sister" and praises her. Sharpbeak has mixed feeling, knowing that Silverpaint's dark side, Silverblade, would probably like to make the eyrie shorter by her head. After all it's the Sharpbeak who holds the secret to sealing Silverblade's personality and keeping her at bay. Nevertheless the two girls get along pretty well in this family's wicked standards.
Past
Born and raised in Darigan Citadel her childhood was not all cute and fluffy, yet, it was not a nightmare as one might expect. Well, for some it might have been the gloomiest place to spend their early years. But it is both genes and atmosphere surrounding you from your first breath, that sculpts your mind and body to fit the conditions. Her mother was a sorceress and feared. Her father was a captain of offensive troops, respected and feared by those who tried to stand against him. In fact an uncanny nice fellow in darigan standards. Her mother introduced her to the magic and Sharpbeak learnt eagerly, but didn't ever want to stay in her mother's shadow and choose her own style. The sorceress was displeased seeing her docile child turn away from malicious spells and treacherous potions in favor of wild and brutal magic that brought only instant results to the body. Her father did not care, he was occupied with training soldiers, but when sorceress was brewing potions, he took their daughter to teach her few kick and punches. Despite her cold attitude towards Sharpbeak, her mother put more trust in her than in her younger son and taught the girl even more than she was willing to. When Sharpbeak grew up she left the castle where her family was residing and decided to make business on her own: something that would bring her prestige, money and all the control she could have. This way the Schlagring was created.

Fearsome Beauty
As much as I adore the original, quad design of an UC darigan eyrie, my idea for Sharpbeak is a furry anthro. She walks on her hind legs, has more of hands than paws (although claws are still there) and wears clothes.
Her clothing style is what I call an elegance with a claw. Black leather, trousers rather than skirt, jewelry – yes, but that of a simple, modern design or something spiky.
She has well-shaped body with sculpted muscles although leaning towards slender figure than Miss Muscles. She can walk with feline grace and move swiftly as hawk in the air.
Her colors are that of a darigan eyrie, although I have the idea of making her wings a blend of purple and black semi-intricate markings. Yet to work on the details.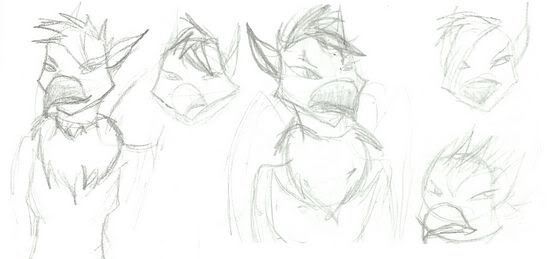 Just some early sketches of her.

Fire and Darkness
Trained over years from the early childhood she achieved a mastery at fire magic paired with some fighting hand-to-hand combat skills. Although she usually despises her opponents so much she prefers to attack using fire, than touch them.
Her pyrokinetic abilities allow her to create fireballs, start a fire or heat some objects without even the need of touching them, although the closer the distance, the more effective her abilities are. She has learnt how to merge dark and fire magic and uses it when in really tough battles: she can create a huge bird of flames which she controls.
She has some knowledge on other kinds of magic as well, because her mother tried to teach her some malicious curses. Also, the appearance of her stepsister forced Sharpbeak to master a light-type sealing spell. She can recognize the spells and think of a plan to break them. After all she is assisted with 3 other members of Schlagring, each of them with unique abilities which she can combine.
Weaknesses
It is hard to think about this character as weak. But even with all her force and abilities she is not able to face everything alone or else she would never think of forming the Schlagring.
Just knowing about various kinds of magic does not equal using it in practice. She can occasionally do few other spells, especially if all that is needed is the knowledge of some rituals, but it is not her strong side.
She hates water. Ground and/or open space to fly gives her comfort at fight, but the less of the two and more water, the worse for her. She avoids ships, although can handle stepping on board, but would never go on a mission into sewers: damp, dirty and smelly. She would order other team members to go there.

Shades of original
A collection of pretty images that resemble Sharpbeak. A vain creature like her should appreciate it. But just in case she thinks that no image done by human can match her awesome self, I will not tell her about this display. Would be awful to get those pretty pieces of art burned to ashes, eh? If you click on the image, it'll teleport you to the artist's hideout ;)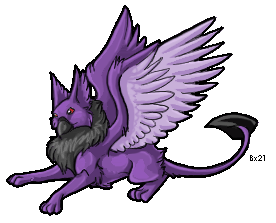 Schlagring
"Schalgring" is an elite force which has its origins in the Darigan Army.
Never fully obedient to the lords of the Citadel they took a path of their own, but their Darigan pride have never extinguished.

Four members joined together like rings of brass knuckles. Each bears great power. Together they strike like a thunder to give the fatal blow.

Missions too dangerous for a single man too handle and too secret to send out a whole army: this is what Schlagring is meant for.

In the beginning they took on jobs from all kinds of customers. Now they work towards making their name a recognized brand in this business. A legend one day. The decision whether to accept or reject the offers lies in their hands.

Can YOU hire them?
The question is: can you afford it? They don't do charity.
---
Schlagring – German for "knuckles" (in terms of weapon). "Schlag" alone means "a blow", but sometimes it may be translated as "thunder".
---
Sharpbeak
This kind of group calls for a strong and clever leader. Sharpbeak meets both conditions. She comes up with plans and makes sure they work. She is good at close combat with her sharp claws and talons, but her true power is fire. Even those who heard she can do magic do not suspect it comes in form of such a destructive force. Using pyrokinesis she can create a wild blaze. Her mission does not ends only after she receives the wage. Anyone foolish enough to try tricking her and break the contract will experience the Schlagring's force turning on him.
Danakar
Nickname: Dan or Danny, but if a stranger tries to call him by that, it's going to end badly.
Species: Kyrii
Color: Darigan
Gender: Male
Age: ~24
Despite being Sharpbeak's brother, she doesn't cut him slacks. He is also not fit to take the role of the leader which requires reliability and some scrupulousness. He is quite content that his sister takes care of the logistics. So he can just jump straight into the fight. His magic relates to anything dark balancing on the verge of necromancy, but bringing much more straight damage. He is the only member who always takes his petpet for the missions. Fed by fear Harpagon shifts his shape into ferocious hell hound. Danakar's main weapon is his guitar.

Hollygrove
Nicname: Usually goes by the full name, but can be called Holly or Grove. Danakar calls him "dog", Sharpbeak calls him "stupid dog".
Species: Werelupe
Gender: Male
Age: ~28
It was Sharpbeak who made him join the squad and she also became one of his biggest nightmares. He often complains about her being such an uncaring leader. His remarkable immunity to damage and ability to heal injuries in a blink of an eye makes him fit for the role. Although he dreamed of a real role on the stage and becoming a star. Instead he ended as a warrior and a punching bag for Sharpbeak. He may act like a fool, but he is a fool with wits. During a fight he comes up with surprising methods to distract his enemy and has an unorthodox approach to fighting. What he really has that the rest of Schlagring lacks are fairly developed social skills.
Silverpaint
Name: Srebrzanka = Silverpaint
Species: Zafara
Gender: Female
Age: ~19
Class: Berserker
Alter-ego name: Silverblade
Sharpbeak is very cautious about taking the young zafara to a mission. As a leader she has to foresee all events and introducing Silverpaint to the battle is not random – it is a factor that startles the enemy, but is a part of a well-planned plot. At her normal state the girl does not play an important role and is ordered easy tasks. Although she has a great desire to prove herself helpful, she is weak and naive. Her attacks are puny and are a distraction to make an escape. Her ability to fly and cast light comes in handy. But her true powers gets unleashed when she gets an abrupt adrenaline shot. Due to the shock her dark side, Silverblade, is awakened. A berserk off the leash means more than trouble...
Links
Page listed at:

Credits
Content: by me (unless stated otherwise)
Background by:
Details
Coding from
Eight Is Even
. Edited by me.