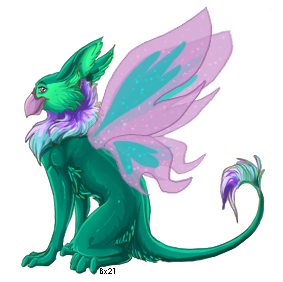 4 Corners {a guide to gimp}
Welcome friends ♥
Hey there xxloveholic, my name is Beulah (
xxloveholic
) and I'm so glad you're here - welcome to 4 Corners! 4 Corners offers you a GIMP guide/tutorial using
GIMP 2.6
. I hope you find my site helpful!
First ever on Neopets comes a GIMP 2.6 tutorial that takes you through each step one by one with visual images so that you can see exactly what needs to be done.
If you don't see a tutorial up here that you would like to see or have a question about an existing tutorial, then send me a quick mail and I'll try and have it up within a week. If you have a question, don't be afraid to ask and I'll try my best to answer it or direct you to who can.
What is GIMP?
GIMP is an acronym for
GNU Image Manipulation Program
. GIMP is an image editing/manipulation software that's distributed for free. Using this program will allow you to retouch and edit images as well as create small animated GIFs.
GIMP is a great step up from using MS Paint and it's simple to use if you, like myself, are interested in image manipulation.
Why GIMP?
GIMP shows many advantages such as it's simple enough to learn for anyone, less advanced/complex. For me, PS and CS are much too expensive. Those are just somethings some people can't afford. It may not be the best like PS, CS and so, however, GIMP is very capable and can satisfy most needs as Photoshop would. GIMP is also good source for online images, but not the best for printable(although some may oppose)
so all-in-all---GIMP an open source application, that is distributed for free, has all the power, features and capabilities that GIMP does is amazing.
GIMP can be downloaded at gimp.org and is safe and free for everyone
---
Updates & whatnots
Updates
Cleared every Sunday

Wednesday, September 14, 2011

I'm still alive!
Phew, it's been a very long month so far since I've started working.
As far as tutorial is concerned, I'm don't really know what to do a tutorial on. So, the first 3 tutorial requests I receive, I will start on.
Contact Information & Icons
Mail me! Message me! I absolutely
love
receiving mail!
Fanmail
Copy and Paste on to your URL/address bar:
Request
Copy and Paste on to your URL/address bar:
Question or Comment
Copy and Paste on to your URL/address bar:
= most used
favorite
---
Beginner's Tips
What to save your image as
PNG:
Best when used on the internet and good for transparent and high quality images)
GIF:
Best when used on the internet. (Good for animations also good for graphics
XCF:
Not usable for the internet. I found this to be only found in GIMP; it saves as a GIMP file. You can go back to this image and continue editing where you left off. However, you can not undo any actions after you have closed and re-opened the image.
Scaling/Shrinking your image
Compare these images below.


See the difference? Yes, one is closer the other is not. But take a good look at it...the left image looks squished (not cool, unprofessional and not very attractive).
If you want to make your image more professional you would need to do a few things.
First
, see what your looking for (
ask yourself
: do I
really need
that part of the image, can the image do without that part, can I see the main point of the picture). Perspective. What is eye-catching to you and your audience?
In the image I used you can see that in both images the subject (the Wocky) is running in a flower field and you still can see the clear, blue sky.
You don't really need everything in the picture, you can crop the image and still have the same perspectives.
If you already have a set banner size, take your image making sure when you scale it down that your lock is locked.
Scale your image just enough so that you can get you main subject (image) in to your banner template--as seen in the right picture.
---
Keyboard Shortcuts
CTRl + (something)
Ctrl + A :
Selects all
Ctrl + D :
Creates same image in a new window
Ctrl + E :
Crops window to image view (disables making window bigger)
Ctrl + F :
Repeats last plug-in
Ctrl + G :
Switches/Opens to gradient dialog
Ctrl + H :
Anchors layer
Ctrl + I :
Inverts selection
Ctrl + L :
Switches/Opens to layer dialog
Ctrl + M :
Merges layers
Ctrl + N :
New image (new window pops up)
Ctrl + O :
Opens new/selected image
Ctrl + Q :
Quits/Closes GIMP
Ctrl + S :
Saves image
Ctrl + V :
Pastes floating layer
Ctrl + W :
Closes current window
Ctrl + X :
Cuts
Ctrl + Y :
Redo last undo
Ctrl + Z :
Undos last
Ctrl + , :
Fills with FG color
Ctrl + . :
Fills with BG color
Ctrl + ; :
Fills with pattern
Ctrl + Shift + (somthing)
Ctrl + Shift + A :
Select none
Ctrl + Shift + V :
Paste as new image
Ctrl + Shift + :
Ctrl + Shift + :
Ctrl + Shift + :
Ctrl + Shift + :
Ctrl + Alt + (somthing)
Ctrl + Alt + :
---
Resources
---
Adding Brushes
What you will need
AbrMate
or
WinRAR
: a brush converter---very usefull (both can be found anywhere on the net)
Brushes/Stamps
: the image(s) you'll be saving as a brush. (see also:
Resources
)
Introduction

There are many ways in which you can save or create a gimp brush. GIMP brushes needed to be saved and filed as a .gbr (GIMP brush) otherwise it won't be a brush.
If you are download a PSP, CS3 brush---anything other than a PNG you need to convert to a PNG it with an AbrMate or WinRAR software before continuing this tutorial. Try not to use GIF files. It will mess up the coloring sometimes. JPEGs are fine, but it has lower quality which makes it harder to use.
The non-official-tutorial
This is only for images that are already .grb file.
Grab an image you want (choose from one of the listed in the resources if you don't have a picture already), drag it onto your desktop. Go to (COMPUTER USER) personal folder » .gimp-2.6 » brushes.
Drag you image(s) to the brushes folder. Refersh (if it's open) your GIMP brushes and you are now finihsed!


Adding a brush
001. Open your image to GIMP. Select and copy one image that you want as a brush.
002.Go to Edit » Paste as » New Brush...
Re-name your brush and you're finished!
---
Getting Started
Here, I'm assuming that you have just downloaded GIMP. So I'm going to start from the very basics and give you bits of tips and advice here and there.
Familiarize yourself with the tools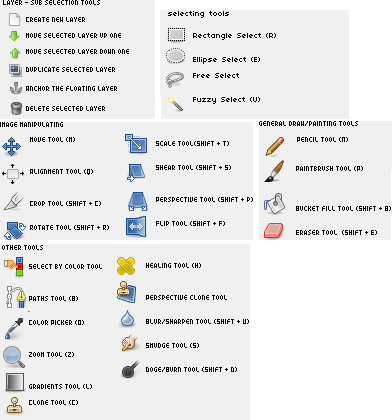 Adding quick tabs
from no tabs (left) to tabs(right)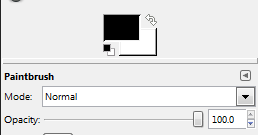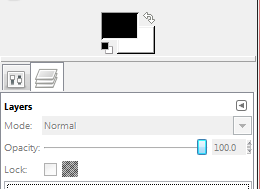 001.
Do you see the little left-pointing arrow towards the center right of the toolbox? Here, take a look at this:

(the text on the left doesn't have anything to do with adding tabs...so don't worry about that part just yet) The highlighted part is what you'll need to look at. Press the arrow and it'll provide drop down menu.
Go to
Add Tab
then select
Layers
. Add/remove as many as you need. And you're finished!
This window allows you to quickly access all of the tools available.
When you click on a tool, the lower half will change depending on the tool you select - so go ahead, try a few. One of the best ways to get to know GIMP is to play with it.
Concerning tabs, I personally prefer keeping Layers, Fonts, Brush, Gradients and Patterns up.
---
001. Clear Lines aka Scale lines
from this (left) to this (right)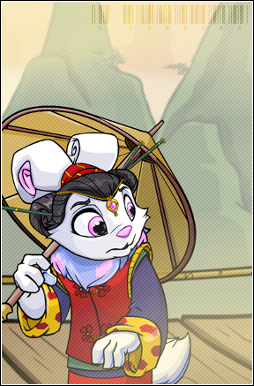 001. Create a new image (CTRL + N) and set it as a 4 x 4 image (pictured below).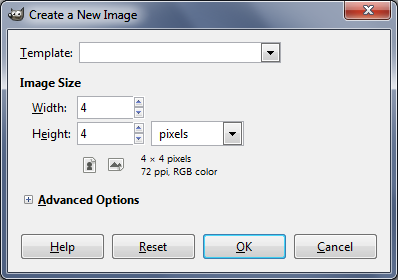 002.
Zoom in
so that you can see the image you're making clearly.
003.
Select
the
Pencil Tool

then
open
up your
tool options
and
scale
your brush to 0.05: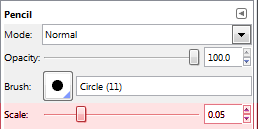 004.
Select all
(CTRL + A)
and copy
(CTRL + C)
(You can close that image without saving, but if you do choose to save it in order to use it again, click on
Edit » Paste as » New Pattern
.)
Your image should look like this: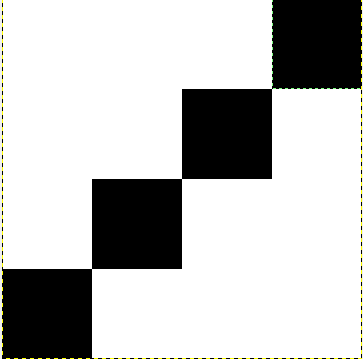 005. Open your image onto which you want to add the scan lines and create a new layer. (You don't have to change any of the widths or heights when the new window pops up; just click OK.)
006.
Select
the
Brush Tool
and then
Open
the tool dialog.
Select Pattern Fill
then click the image right below and select the small black line you made.
007. Select New Layer. With your Bucket Tool, click on the image or press (CTRL + ; ) on your keyboard.

Your image should look like this now: 008. Change the New Layer's Mode into Soft Light. Adjust the Opacity to 15.0.
(The Mode is set to Normal by default; you can change it by clicking on it and selecting Soft Light from the drop-down menu.)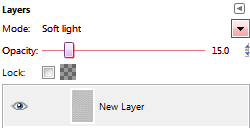 Congratulations!
You've now finsihed your image.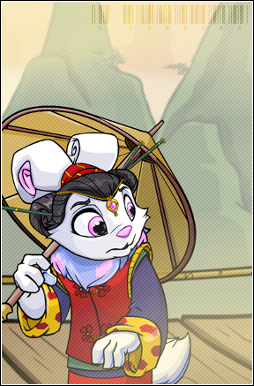 Questions or Comment?
---
003. Drop Shadows
from no background shadow (top) to a background shadow (bottom)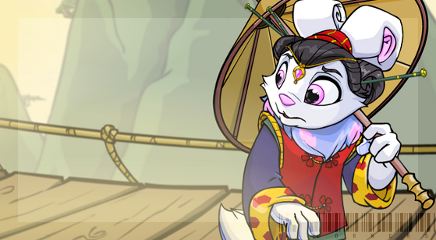 001.
Select your image. Right click on your Background Layer and select
The words look bold at first then when you add the Alpha Channel it will unbold.
From this:

To this

002. Go to Filters » Light and Shadow » Drop Shadow. A new window should pop up. I usually set my Offset X and Y to 4; you can choose what ever you like and press Ok.
Congratulations!
You image should now look like this:
Question
or
Comment
On this section?
---
Gradients
In this section you will learn about
gradients
. What they are, how they work and what kind of gradient you should use. Hover over the square images to see the color code.
001.
Start by choosing your image. I chose this cute little Jub Jub image, you can use the same one if you look
here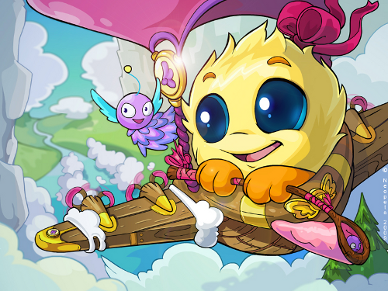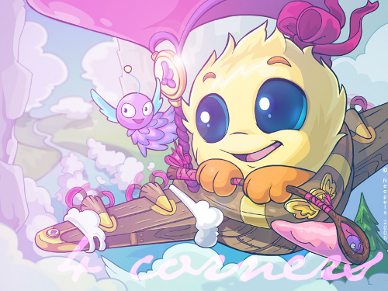 002.
Create a new layer

and
change
your
Foreground and Background colors
. Let's try these for the Jubjub (Hover over color images)


fd67ff & 1b487f
003.
Select your
Gradients
dialog and choose FB to BG (RGB)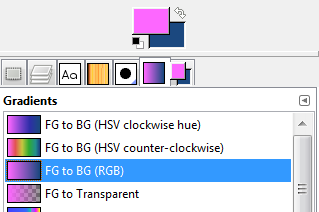 004.Select your New Layer (it wasn't selected already), click and hold the top-right middle section and drag your mouse towards the bottom-left of the middle section, like so:
005. Change your mode to Screen and move your opacity line down to around 75.6 so that the image won't look too colorized. Now you're finished!
Congratulations!
More color gradient choices: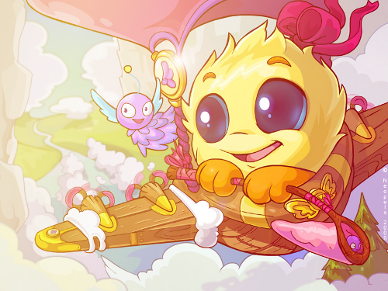 Question
or
Comment
On this section?
---
Using Textures
From no textures (left) to texturized image (right)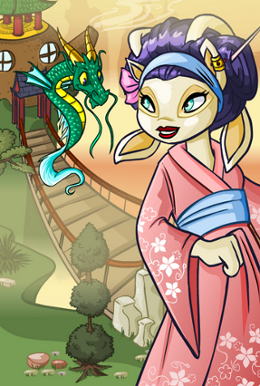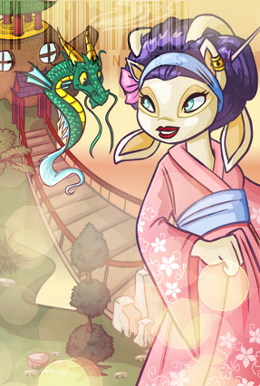 001. Pick your image and open it up in GIMP.
002. Take your texture and drag it onto your layers section

You can adjust the size of that layer however you see fit. And you should still be able to see only the texture you've chosen as pictured below: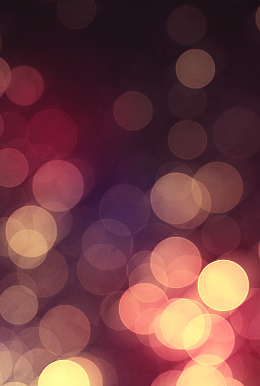 003. Change your Mode to Screen
004. Change the Opacity of your texture layer down to around 80.0 or 90.0 if you're using something just like this tutorial. If you're using more of a darker, hard texture, you might want to lessen it down maybe even to around 50.0.

And you're done!
Congratulations!

save as PNG for better images


You can keep adding layers and layers of textures if you want. I suggest, however, to keep it to a limit to where it's not so busy looking.
---
Creating a Banner
Item(s) Needed
: Stock Images (see also:
Resources
) and various Smudging Brushes
Tools
: Smudge, Erase (some music!)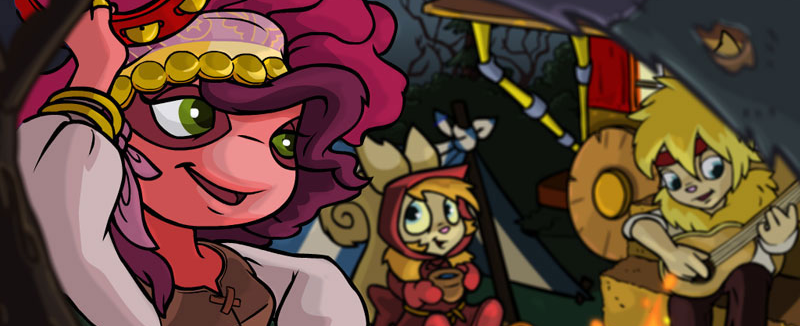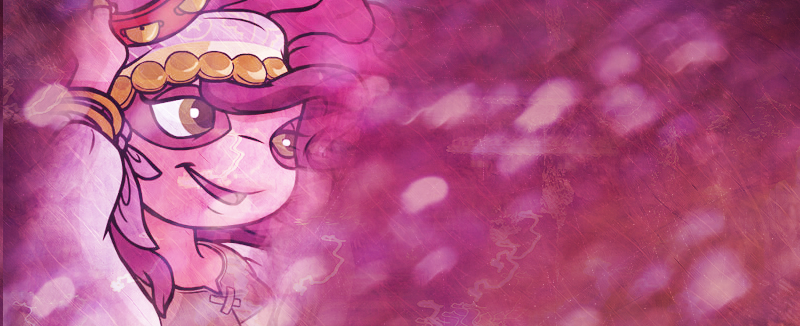 Images are scaled down for the tutorial. Drag the image to see actual size.
001. Take your image--any size will do. Mine is 800x326. Start by smudging the areas that are around your main subject towards the opposite direction so that no other faces can bee seen.
002.
Take your Smudge Tool and select the fuzzy select

and change the opacity down to 80 or so.
And smudge the same area once again. So far, this is what my image looks like (I added a little more smudges near her face so that it'll give a
woosh
-ish effect):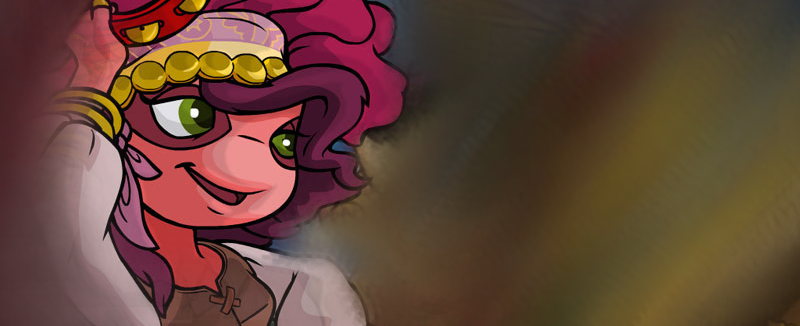 003. Create a New Layer, add a Gradient ( I used 3e1229 & 712448 as for colours) and pick your mode to Overlay. Next, change your new layer opacity down to about 39.9 or so and using your Erase tool, erase the part of the gradient where the subject is so that your subject isn't coloured.
So far, you image should look similar to this:
004. Again you're going to create a new layer and add the same gradient. This time you're going to need to change your mode to color and still using the same opacity.
005. Next, take a black stock image, overlay it and change the opacity down to around 80 or so erasing only the area of the subject. As shown below the grunge/stock image: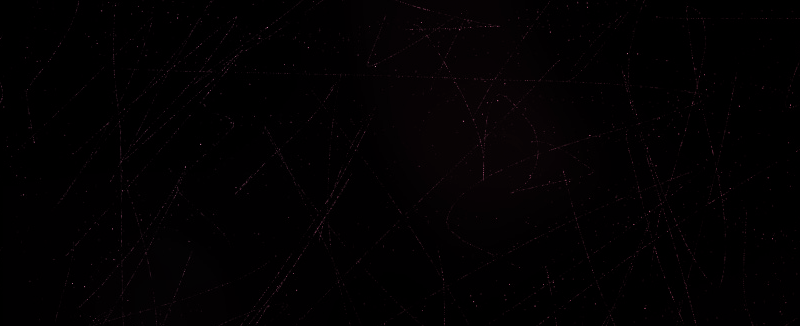 Now, so far you image should look like this (ugly, I know):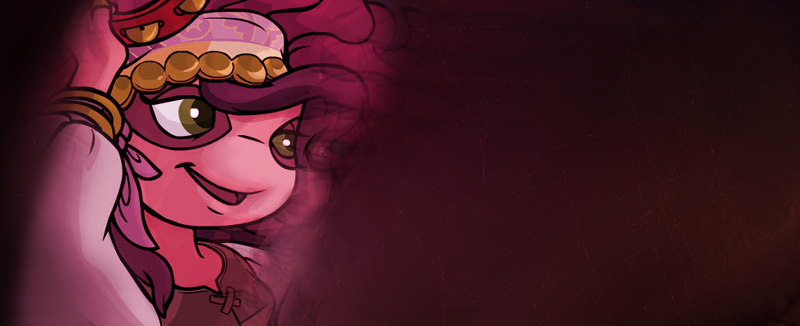 006. So, you're pretty much going to be doing the same thing for a while so make sure you have some good music you're listening to! Hee hee. Okay, so you take your next image (below) and screen that one changing the opacity down to about 20. Don't forget to erase the subject area!
007. Next two layers's mode will be on overlay and keep the opacity level. Here are the images: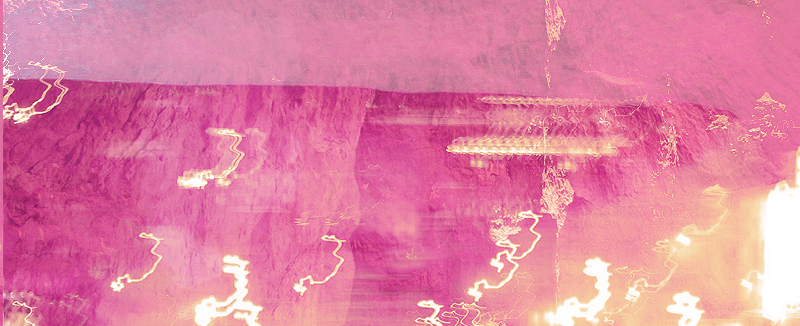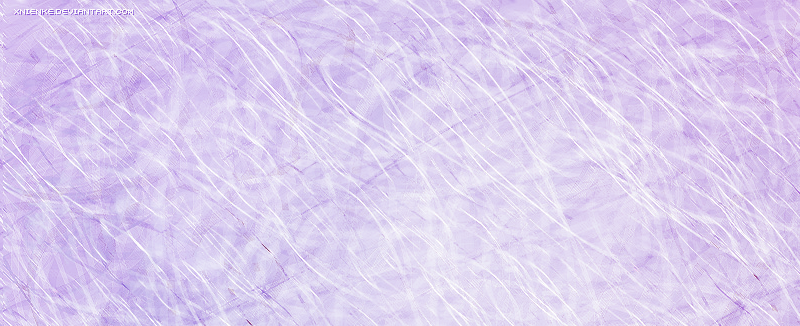 008. Finally, you can add your last stock image! Mode: Screen, Opacity: 51.6. Save as PNG let GIMP merge all layers and you're done. Finished!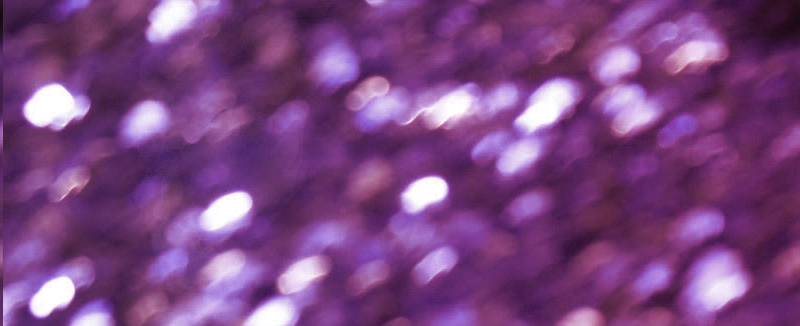 Make sure that your two gradient layers are both above all layers otherwise your image will look different.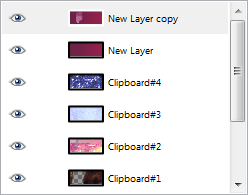 And you're done!
Congratulations!
Farewell, friend
Link Back






Listed At:
Listers are greatly appreciated!
Affiliates
Reviewed at:
---
Credits
Layout Template from
That Kills Me.
Bullets and Divider by
The Lunch Box.
Adoptable by
Butters.
NEOPETS, characters, logos, names and all related indicia are trademarks of
Neopets, Inc.
, © 1999-2011.® denotes Reg. US Pat. & TM Office. All rights reserved.
Privacy Policy
Safety Tips
|
Contact Us
|
About Us
|
Press Kit
|
Terms and Conditions