CHARACTER PROFILE - REVOLUTION
Top Secret; for Revolutionary eyes only
Basic information
Name
Freddie
Gender
Male
Age
???
DOB
September 30th
Height
5'11
Weight
65kg
Hair
dark brown, bleached blonde
Eyes
dull green
IQ
162
Memos & Important notes
Role ambiguous
Special Talent(s) fire-breathing; time travel
Occupation scientist, specialising dimensional physics; with interest in genetics
Motives The Revolution is unavoidable; just part of the grand scheme of things for what Freddie wants to achieve. He's only part of it to escape conscription from several planets, and indeed, several dimensions. He doesn't particularly care for the Revolution itself, but took the opportunity of joining the wave when he saw it as the best option. Ultimately, Freddie will detach himself from the revolution when he feels that it is no longer beneficial to him.
Physical description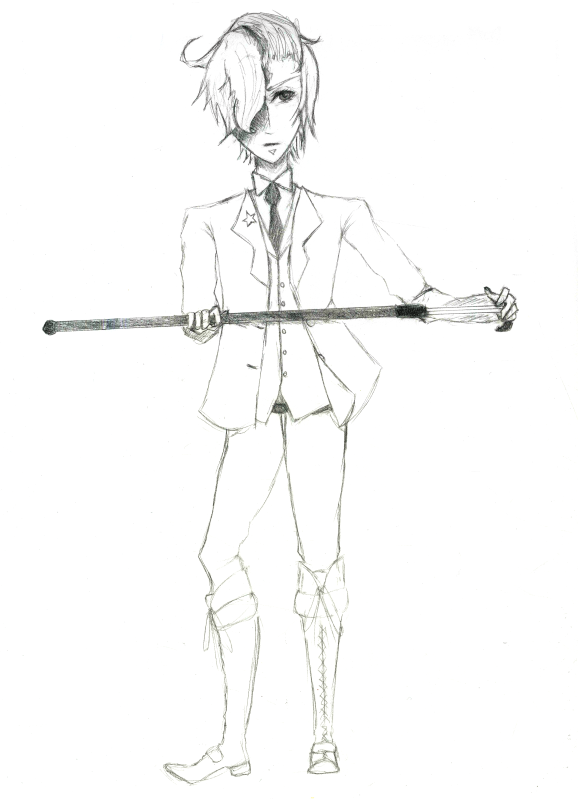 Freddie is a half human, half demon mix, and therefore he can hide his demon traits much more easily than full demons. He maintains his human form for the most part, and usually doesn't show his demon form unless in a physical fight or when he needs to jump through time quickly. He is also a time function demon, which means that his demon traits include a spiked tail, sharp claws + teeth and pointed ears.

His hair was originally dark brown, but was bleached blonde in his late teens and kept that way since, because he got tired of people saying that he was pale and this was easiest solution to it. He's more or less indifferent towards his appearance, choosing to wear a suit, avec waistcoat and tie, because that's the most optimum solution towards the problem of fashion.

Freddie is relatively tall, and he carries a cane with him, that has a thin blade concealed inside it. Freddie tends to get carried away in fights. The cane isn't an enabler; it's an inhibitor.
Personality and Demeanor
Personality Freddie's personality is characterised by ultimate reason. Everything can be solved if the correct equation is applied; the human mind is hideous, unlike an equation which is beautiful in all its certain glory. His character is also defined by an anxious logic; paranoid and constantly in a state of static panic. He very rarely sleeps, and though demons don't actually need to do so, he manages around 3 hours a week, because after all, he is half human.
Interactions Treating the Revolution as a nuclear affair, Freddie sees that people are linked to each other in the Revolution anonymously, and no one really knows how many people are in the Revolution. He doesn't participate actively in the Revolution, preferring to affect it indirectly, and as anonymously as possible, all due to the fact that he will one day leave it, after he has gained all he can from it.
Brief History
Freddie, and indeed all of his siblings, was not born on Earth, but on Gaia, twin planet to the afore mentioned. Due to the high number of worm holes connecting the two planets, many demons have travelled from Gaia to Earth, and a significant number have made their home there, with high integration rates.
However; being a time function demon, Freddie can only travel through time, and not space. While he realised that he would need to find other means of travelling back to Gaia - because he can only make a wormhole in time, not space - than plain luck of finding a space-wormhole, he still has yet to come up with a plan for his return.
He has two brothers and a sister, all of them half-siblings, and also all of them human. His eldest brother simply disappeared one day, though he was prone to wander, and has since come to learn that his younger brother and sister also ran away from home as well.
His departure from Gaia was an escape; he exposed fairies and elves to be the same species, and garnered a lot of ill sentiment from both communities. He has decided to take refuge on Earth, and continue his studies of dimensional physics/ genetics on this planet, hoping that sometime in the future, Gaia would be safe to return to.
*note*
Q: "well, why doesn't he just jump into the future on Gaia and solve it like that".
A: demons don't have a linear time line, and that's too hard to explain here. Suffice to say, though, that it wouldn't solve his problem.

For authorised personnel only. Property of Revolution and marzipan/ creosote.

/~Hugel to recruit