Best viewed by 896 X 543.
I was not forced to make this application!
About me
statsss
Design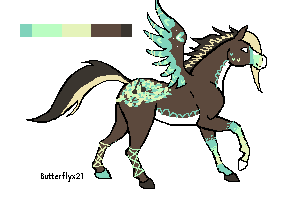 This is Nuetela's design.
This was probably the longest to do of this whole application process. When I make a design, I don't just stick colors on and call it awesome. I have to work on the design a while to get it how I want. Yes, I love creating characters. I got the colors from a pallete website and just began to work with it. I also loved that I combined the natural and unnatural colors together. There is a cherry on her hind. She somehow has alot of hearts on her for her design. Turquoise is my favorite color, and I had to use it on her so it might not look like the caramely goodness you were expecting? I just thought of a combined candy and chocolate style of design. Her mane and tail being a chocolate color with that blonde in it that looks almost like caramel.
Plans for Nuetela
I also plan on entering her in the beauty contest. I love acheiving something for them with my artwork. I am a artist and that is what I love doing.
I do plan on roleplaying her with other uni's too. I haven't really roleplayed in a long time but I would love to get back into it. It's mainly because I'm too busy chatting on the boards and plus it's hard to find people that roleplay their neopets as characters. I still love doing it but it's hard to, and when I do do it I go offsite because onsite TNT deletes your neomails too fast.
Roleplay Sample
A brown chocolated coated mare padded through the green pastures of a seemingly long day. She stopped to stare at the flowers that had a S symbol on it. She lived in another world. Earth was technically a big ball of candy land. The only thing that wasn't edible was the sky and the grass. All the trees were different colored lollipops. The ocean was chocolate syrup, the flowers were skittles, the clouds were cotton candy. Her father was a chocolate Uni and her mother was a maracite uni. She has no distinct maracite in her except the teal/green colors were part of maracite. She grew up a while ago and her parents no longer live with her. She is to hunt and feed on her own. Glassy bubblegum optics looked around for life, there was nothing except squirrels chewing away at the brownie rocks. She flipped her bang around and neighed for someone to come closer.
Farewell!!
good bye! :)