Secret Valentine Bulletin Board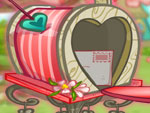 The
Month of Love
has finally arrived! Let us join hands and celebrate this month together as only a happy guild family can!
All month long, we shall welcome
anonymous letters
from any of our guildmates to be collected and posted here in our
Secret Valentine Bulletin Board
! Wouldn't it be
lovely
to collect and read messages of love to spread the cheer and happiness throughout Neopia?
To join in the celebration, simply
mail Silver
your anonymous Valentine message! Here are
three guidelines
to follow to ensure the spirit of
love
and
anonymity
:
Your message may either be personal or general. Yup! It may a personal message from you to your guild friend. Or it may be a general letter for everyone in the guild. Either would be fine.
Do NOT mention any names. In the message you will send us, whether it be personal or general, kindly abstain from putting names. This will include both your name and the name of the person you are addressing the letter to. After all, this IS the Secret Valentine Bulletin Board! Feel free to speak to your heart's content!
Send as many mails as you want. The sky's the limit! Send short ones, long ones, lots of long ones, lots of short ones, one super long mail, or one super short mail; we'll accept it all!

And that's it! We shall be accepting all mails sent throughout the month and will be displaying them all here! If you ever need a dose of love, feel free to visit here to read these heartfelt messages and hopefully, they would be able to spread the cheer of the Month of Love!

Our Lovely Messages


How I appreciate you! No matter whether you are blue or have the sniffles you come through for all of us here! What a treasure you are!
NEO may go down..NEO may vanish
But our friendship will always remain
FOREVER!!! and ever!! and ever!!!!!



My dear nBn guild mate
what brought you here was fate
You wandered high and low
Till you caught the nBn flow
How happy I am that you are here
For your posts bring to me such cheer




I give you my heart because I know you will keep it warm and safe
I give you my devotion because I know you will return it double
Thank you for being you..you are amazing..you are the BEST!!!




I just wanted to know I have finally found a guild that doesn't do any member clean out!!! we are all guild friends no matter what!!!!




Roses are Red
Violets are Flowers
Loving You For
Eternal Hours
Love Grandma



You are always so sweet, even going out of your way to help people! You never fail to appreciate even the tiniest things and that makes you so awesome! I hope the flame of kindness you possess will be able to warm a lot more people and even serve as a guiding light for those who are in darkness. Thank you for being you!



I will always be thankful that you found me even after all these years and that you have not given up until I have returned. If it weren't for you, I would never have this wonderful family. So I thank you from the bottom of my heart! And hope that you will be able to touch even more lives both in and out of neo. Happy Valentine's Day!



I closed my eyes with a pen and paper in front of me
I picked up the pen and started writing everything
When I opened my eyes again, all I saw was your name
and
Without you I am nothing; with you I am everything.




This is the best guild around, and I thank you so much for making it so special! Reading your posts, and having you as a guild member and a neofriend means more to me then you will ever realize! Thank you for being special! Thank you for being YOU!!!



Hey chook aren't you
Ever going to realize
All that you mean to me
Really darling
Truly you ARE too sweet!



I'm always glad to see you post
You've frequently made me smile!
You're one of the reasons I enjoy this guild
I really do Love Your Style!





nBn wouldn't be the same without you! Your smiles bring such joy!




People come and people go,
In and out of your life and so,
When one shines bright among the rest,
And is there when needed, you're truly blessed.
That is how I see you, friend of mine,
And why I'm sending this Valentine.



V is for the Very special welcome your pages give us every day!
A is for you, A Chook with an eye for color and fun!
L is for the Love you have for what you do!
E is for Every time you make us giggle with a dancing Chick!
N is for the nice Nest you've created for all the Chooks!
T is for the Time it takes to search for all the lovely things on the pages!
I is for how much I appreciate what you do for the guild!
N is for the best guild around .....NBN! ...And..
E is for all the Eggs you make feel welcome in the nBn nest!!
Happy Valentine's to you! Thank YOU for all you do!



Just want you to know you will always be my favorite chicken!
There would be no reason for me to come to the guild day after day if it wasn't for you!
How happy I am that we are neofriends and guildfriends and chickends!! Happy Vday to you!





Petpage by Beetle
NEOPETS, characters, logos, names and all related indicia are trademarks of Neopets, Inc., © 1999-2014.