Welcome!

...I don't know, I'm really just not ready for all of this, I... Oh someone's here I gotta run. *scrambles and hides a cell phone in her drawer* Oh, you're here for a tour? Well you have no clue what you're in for, but common, come this this way.


Character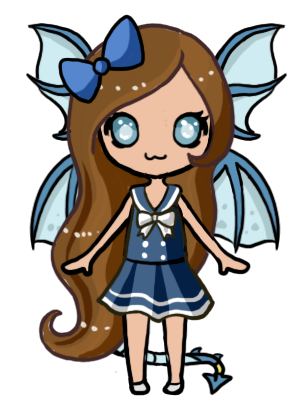 Birthday:
April 26th
Age:
17 years old
Astrological Sign:
Taurus
Birthstone:
Diamond
Traits:
Mysterious, Anxious, Glamorous, Mature, Imaginative, Graceful
Likes:
Reading, shopping, dressing up, drawing, painting, sculpting
Dislikes:
coming soon
Favorite food:
Blueberries
Favorite color:
Sapphire
Petpet:
Melly the Nebularis
Career:
High School Student
Story
Nelsiey had been dreaming about applying to college for years. She was homeschooled her whole life, and although she had friends, she longed to go to school and be able to compare homework and work on projects with other kids. She respected her mom's decision to homeschool her, but that didn't mean she was very happy about it. Her mom, Julia, told Nels that she believed she could provide her with the best education, and that no public or private school could ever challenge her. Julia wasn't happy at all that Nels wanted to go college. Well, that wasn't fair to say. Julia just wanted what was best for her daughter, and she thought that Nelsiey could learn so much more by traveling the world and learn on her own. But Nels just wanted to live the life of a normal teenager. She loved her mom more than anything though, so she decided to only apply to local colleges, so she could still live at home. Her mom finally agreed it was a fair compromise, but then again Nels didn't give her much of a choice. She could tell her mom was uneasy about it, but she never really gave it much though. This is what she was going to do, and that was the end of it.
For most kids, college essays and applications was a daunting task, but for Nels, she was more than happy to spend hours on doing whatever she had to do to get accepted. She applied to every single college within a 50 mile radius, both large private universities and small community colleges. Once the application was filled out and her essay was attached, she would give the envelope to her mom and she would take it to the post office for her. She was overjoyed that her mom was willing to her help, but she became a little suspicious when weeks turned into months, and no letters came. Not even a denial letter. Her friends were receiving their letters, so she was very perplexed on why she wasn't receiving hers. She hoped that her mom didn't have anything to do with it, but she had to be sure. One day, she decided to bring an application to the post office herself, without her mom knowing about it. She didnt really think anything would happen, but boy was she wrong.
It was a hot and humid day in June. A couple of Nelsiey's friends were over, basking in the summer sun and enjoying her refreshing pool. They had just ordered a pizza because her mom was working and Nels couldn't cook to save her life. Then, all of a sudden five police officers bursted into her backyard, and would change her life forever.
It's important to understand the years leading up to Nelsiey's birth. Nelsiey was born in year 13, during the time in which a woman by the name of Clarissa Thomas worked in a castle, owned by the king and queen of Renala. Clarissa was in charge of various tasks including cleaning, cooking, and taking care of the royal children. She truly enjoyed her job, except on a few rare occasions, but who loved their job 100% of the time anyway? She was young at the time, only 26 years old. She had tons of energy to run around and play with the children, and that was by far her favorite part of working there. There were two children, Aiden who was three and Luke who was five. And now, the queen was expecting again! The queen was very excited because she had longed for a daughter, and now she was expecting twin girls! Clarissa was happy for the queen, but she longed for her own children. After taking care of their children all day she wished she could have her own to snuggle at night, but she was a housekeeper who could never afford to raise a child the right way, not now at least.
Twice per month Clarissa was allowed to leave the castle, but only for about four hours at a time. She never had much to do, because the king and queen provided her with mostly everything she needed. They provided her shelter, food and clothing; all the essentials she needed. So when she got her free time twice a month, she visited her childhood friend, who gradually became her sweetheart along the years. She loved spending time with him, and she longed for that perfect fairy tale with him. Unfortunately though, he was disabled and couldn't work. If there were to ever have a family, she would have to be the main provider. She barely made any money at the castle, they just took care of her and she really enjoyed her time with them. She often thought, maybe it was time for a change
Closet
Dream Customization: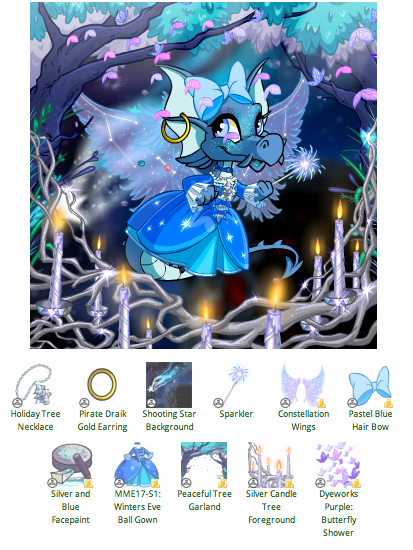 Items I'm seeking for Nels customizations:
(*Note: Bolded items are a priority)

( ) Constellation Wings
( ) SIlver and Blue Facepaint
( ) Peaceful Tree Garland
( ) SIlver Candle Tree Foreground
( ) Dyeworks Purple: Butterfly Shower
( ) Dyeworks Purple: Black Ruffled Dress
( ) Dyeworks Grey: Butterfly Dress
( ) Luxurious Birthday Ball Dress

Nels Current Closet Items:

















Credits

Layout coded and designed by Rebecca at Stardust