nav; intro | stats | likes/dislikes | about | history | petpet | art | family
Naytien
WAIT!!!
Did you read Part One of the Nexplore Trilogy? No?! Then what are you doing here!?!? Go
HERE
first. Trust me, it's worth your time.
--x--
Have you ever wanted to make a difference in the world? To help people? I didn't. I just wanted to be kept alone and not to be bothered. But you know what they say, Life's not fair, and Neopians can be cruel. One slip of the tongue to the wrong person can give you months in solitary confinement. Okay, so I gave the Captain some attitude. That gave him no right to punish me the way he did. But whatever, I'm actually lucky that I'm going to Earth- it takes me away from him... right?
back to top
statistics
Neopian
Name: Nayt
Gender: Male
Species: Draik
Color: Pirate
Age: 23
Height: 5'6

Earth
Name: Nathan
Nickname: Nate
Gender: Male
Species: Human
Color: Caucasan
Age: 23
Height: 5'10


back to top
likes/dislikes
+ Music
+ Writing songs
+ New York City
+ Performing
- Being insulted
- Worrying
- Those voices
back to top
about
Character Quote Colors:
Nayt
Amy
Captain
Nebyula
Igneio
Dave
Scott
Emly
Other

***
When you get to chapter 4, look up "Walking the Dog" by Fun.
Also, When you get to chapter 6, look up "Be Calm" also by Fun, so you can get the full affect of Nayt 's two performances :)
back to top
story
Chapter 1
So some interns and I have been observing this planet for months now, and I'm pretty sure we should start sending some Neopians over. Nebyula and Captain were walking in the empty corridors of the Neopian spaceship, Nexplore. Captain has heard her report before, and he knew exactly what he was going to do, but he loved his idea so much he wanted to hear it again. A sly grin crept up the Gold Draik's mouth. But I just don't know how we are going to do this. Should we just send our ship just outside of their atmosphere? Send Neopians out through the remaining escape pods? We haven't even talked to any of the leaders yet- Captain stopped suddenly in front of a room. A jail room. If there is one group of Neopians Captain couldn't stand, it would be the small group of criminals that had accumulated on board this ship.

It has been 20 years since they had launched off of the doomed planet of Neopia, just before their sun was entering its death phase. Only a small number of the world's population were able to board Captian's ship, and he wasn't going to let a few rebels ruin everything. Don't worry, Nebyula. I know exactly what I am going to do. Guard? Captain motioned behind Nebyula. A skieth guard approached the draik and the Starry Scorchio and went to unlock the solid steel door in front of them. It opened up to yet another door, but this one was made up of bars, so they can interact with the prisoner inside safely.

Inside the dark, windowless room, sitting in the corner, was another draik. He was asleep, his grey head leaning on the back wall. Captain took the guard's nightstick and banged it on the bars. You! Worthless! Wake up! I have figured out what your sentence is going to be. The draik woke up for a start, but he covered his eyes with his arms to shield them from the unfamiliar light. At this moment, Nebyula made the connection. Sir! The elder scorchio gasped. You don't mean to...?

Captain chuckled. Yep. We don't fully understand the living arrangements of this planet. We don't know how dangerous it can be to us. What better guinea pig than a mere prisoner? If he gets destroyed, well that's one step closer to a safer ship. Captain motioned the guard to let the prisoner out. When the guard dragged the weak draik out of the room, Captain spit on the floor. Individuals like you give us Draiks a bad name. You disgust me. Take him to Emly. She knows what to do. Now get him out of my sight. As Captain turned to leave, Nebyula and the guard heard a sinister growl coming from the prisoner.

Be careful.Nebyula said to the guard. This is Nayt, and he did some pretty bad stuff on this ship. No one was sure what he did, but there were all kinds of rumors.The growling continued. Just in case, I'll call for backup.
Chapter 2
Oh dear... Emly said. The xweetok looked at Nayt. The draik was standing in front of her, in front of a mirror. They both looked at the reflection horrified. This can't be the fashion on.... what was the planet called again? Emly looked at her clipboard. Earth? I think. But yea it is. Well at least from what I saw. I was told to send you to one of their major cities, and there are a lot of people who wear this type of clothing here. New York. New York? Nayt thought as he held out his arms and examined himself in the mirror.

He was wearing skinny jeans that felt a little too tight- his tail made it even more uncomfortable- and these black and white shoes that covered his ankles. He also wore a long t-shirt that had a mysterious picture on it that he just couldn't understand. He felt like throwing up. This style was ugly, hands down. He wanted to rip these clothes off of him and put his old jumper back on. After he thought of it, however; Captain said it was either this or immediate "disposal of his existence." Nayt sighed. Ok, let's get this over with.

Emly cleared her throat. Ok. I got this. I have studied the human anatomy for 3 months. I will get this right. I studied and memorized this spell for weeks. Ok... I can do it- Nayt growled, Can you hurry up?! You think you're nervous? Ok! Ok sorry. Here we go. Emly waved her hands in a sophisticated motion and uttered words Nayt couldn't make out. He looked at his reflection and saw the light flow from Emly's hands and move to surround himself. Soon this bright light was the only thing Nayt could see. After that his whole body felt numb. He closed his eyes and hoped to the late Fyora that he wasn't going to turn into some three-eyed mutation. Then, just as it began, it ended. The numbing left, and it got dark again. Before he opened his eyes, Nayt could hear Emly's glee. EEee! Yay! It worked!

Nayt opened his eyes and, to his amazement, his reflection didn't look like himself at all. He wasn't a draik anymore. So this is what a human looks like... He stood at his same height, at about 5'10''. He had short, dark blonde/light brown hair. He wasn't muscular, but he didn't look starved either, despite his past predicament. The only problem was... You can see my draik ears! Emly stopped jumping for joy. What? My spikes! The webbing in between! They are still here! The now human Nayt ran closer to the mirror and poked the pair of three spikes on each side of his head. On each side, six inches of the spikes stuck out from one point. Oh no! Oh no, oh no, oh no! What did I do wrong!? Oh, Captain's is going to KILL me! You can't go down there like that! Oh no oh no... Emly kept repeating that to herself while Nayt thought about it. On Emly's desk was a loose sock cap. He took it and put it on, having the back end of it hang over his spikes, covering them completely.

Emly turned and stopped in mid- 'oh' Brilliant! Good job Nayt! Ok. Step three. This time I'm going to get the book, so I don't mess up again. Nayt leaned on the desk, waiting for Emly to find the spell she was looking for. Remember to send me a postcard! she said before the waving of then hands and the light and the numbness returned. This time, when it all disappeared, Nayt wasn't on the Nexplore anymore. It was the middle of the night. In a large, empty park. In the center of one of the biggest cities of the world. New York City.
Chapter 3
Nayt, now a human with draik ears hidden under a cap, looked around in amazement. A beautiful green field, with large skyscrapers decorating the background. Wow... he said. The contrast in wildlife and civilization was nothing like this on the ship. Being an infant on Neopia, he didn't even remember if this was what his home planet was like. Not knowing what to do, he walked. He was walking for about a half hour before he made his first contact with a native. It was a dirty old man sleeping on a bench. Nayt slowly went up to the sleeping man and poked him. The man didn't move. Nayt poked him again, this time a little bit harder. When he heard the man snore even louder, he punched him on the arm. Ey! What...Who did that?! The man attempted to roll over to get a look at his attacker only to roll off of the bench on which he was sleeping. OW! Hey, why you little- As the man stumbled to get up, Nayt realized what trouble he caused. Uh, sorry... and he carefully crept away before the man got up.

Nayt walked a little bit more when he stumbled upon a street. A busy street. Despite the late hour, the street was a river of yellow taxis and a good number of other humans walking on the sidewalks. Whoa.. Nayt said. He stood there for a good ten minutes just... watching these creatures go about their lives.

Whoa is right. CNayt jumped. He didn't know he wasn't alone. Next to him stood a girl. Uhh, do I know you? She laughed. She moved her hand through her dark hair. No, but you look so lost. I felt bad. Here come with me. She held out her hand to Nayt. After a minute, she realized he wasn't going to take her hand, so she smiled and started to walk. Nayt didn't know what to do, but something in his mind told him that he needed to follow her. Like a voice. Like he had no other choice but to do what it was telling him. But then he shook his head. Voices? That's crazy. Sure, I was in isolation for weeks, but I'm not that crazy. Still, he listened to these 'voices' and followed the girl into a small casual restaurant. They sat at the bar and the girl offered to but him a soda.

So, I'm Amy. What's your name? Nayt panicked. Amy was a strange name. He didn't know how common his own name was, if at all. So he muttered Oh uhm.. *harumph*Nayt…chen. Naytien Amy looked at him. Naychen? What's that short for? Like Nathan? Yes! Nayt exclaimed. Sure! Nathan. Why not. But, call me Nayt. Amy laughed. Nayt. You said that funny, how is it spelled? She laughed, but Nayt didn't understand why. Was she making fun of him? Why would his name be funny? Suddenly, for some reason, Nayt's pulse quickened, and being in this small restaurant got him a little nervous- he needed air.

Uhm, can I go outside? Before getting an answer, he rushed outside onto the busy street. He looked up into the cloudy sky. He tried looking for stars, but he couldn't even see the outlines of the clouds. Something was wrong. Someone was watching him.

Captain looked at the large screen in the control room of the ship. On the screen Nayt was looking up right back at him, confused about what was going on. Captain saw the girl wearing a similar style of clothing walk out of the restaurant, trying to see what was wrong. And you're right, 'Nathan' I am watching you. Every move you make.
Chapter 4
Hey Nayt, whatcha writing? Dave asked Nayt. Dave was Amy's brother. It has been three weeks since Nayt first arrived on Earth, and Amy helped him get a job at the restaurant where they went to that first night. Nayt worked at the bar, and since it was a slow night, he had to find a way to keep his mind off of these paranoid thoughts that had been bothering him. I'm writing a song. I don't know. It's kinda silly, but it keeps my mind occupied, you know? Hey I didn't know you write songs. Are you good? Can I see? Me, Amy, and a buddy of ours are in a band, and we need a fourth member. Maybe when you're done here you can come over and we can see how you sing. Nayt thought about it. He had nothing else going for him other than this job. With the money he made he has been moving from one cheap hotel to the next. Does it pay? Dave laughed. It depends on if we get any shows. Usually it's not much, but it helps put cash in our pockets. Dave took Nayt's paper with the lyrics written on it. Nayt tried not to show his nervousness while Dave was reading. What if he doesn't like them? I'm no expert, so I shouldn't be expecting much, but.. still...

Wow.. Dave said when he was finished reading. This is...actually pretty sweet. Do you really feel that paranoid? I have a feeling this song can sound really cool if we give it some music. I definitely think you should come over after work to show this to everyone. Nayt smiled. He actually liked it.. but would everyone else? Yea, I'll be over. Do what your song says Nayt, he thought to himself. Be calm.



-x-



Are you ready? Amy asked Nayt. Oh, yea. I'm ready. Not. Nayt's heartbeat was on hyper mode. The band of four was getting ready to perform their first show as Nayt being lead singer. They were still working on Nayt's song that he wrote, but they did have a line up of songs that they had been rehearsing for the past couple of weeks. Nayt knew that he would be fine, but he was scared that people were going to boo him off stage, throwing tomatoes and/or various other types of food. Nayt took a deep breath. Hey. Amy said, putting her hand on his shoulder for comfort. Putting her hand there seemed to absorb all of the nerves and doubts Nayt had. You'll be great. I know it. Nayt smiled at her as Dave and Scott, the other band member, passed them and got on the small stage. Amy gave Nayt an excited look. Here we go!

They both walked out onto the stage. Amy took her spot behind a keyboard while Dave went straight to the drums. Scott stood to the right of Nayt and took the bass. Nayt, with his guitar around his neck, stood center stage at the microphone. It was a small room- but it was crowded. Despite the numerous lights pointing at Nayt, he was able to see the people looking eagerly at them- at him- to start. Hey New York!! Dave yelled behind him. At this, the people exploded in cheers. Awesome! Hey, we have a new singer- meet Nayt! Nayt was expecting people to be quiet. He was waiting for the crickets, or boos, but the people applaud and yelled and whistled even louder than before. Nayt's face beamed and he waved at them. He even heard a couple of "I LOVE YOU!!"'s from the crowd. He laughed at this, and said, It's a great pleasure playing with these guys and meeting you all. Let's get this started! 1 and 2 and 3...

Dave started on the drums. Nayt started his cords. As the intro started, Nayt had forgotten about all of the troubles that were worrying him.




Walking alone cause the night is dead
You cross my mind as I cross the bridge



Even though he just started the song, people were already dancing and clapping to the beat. At this point, Nayt started to dance as he got to the chorus



If you could see me, whoever I am
It's not like the movie, it's not all skin and bones
So Come on love-
Come on, come one, come all and go!
Na-na-na-na-na-na-na- I will not let you go!
Chapter 5
As the next couple of weeks went by, Nebyula and her interns took note on how Nayt was living. She was impressed- he was actually living a satisfactory life. Yes, he had his issue of paranoia, but that condition was caused by him living in isolation. How is our prisoner? Our guinea pig? Has he died yet? Nebyula rolled her eyes. She understood why the Captain disliked Nayt, but his anger towards the Pirate Draik was ridiculous. Nebyula zoomed in to New York City, and the two Neopians watched as the human Nayt was walking hand in hand with Amy in Central park, laughing about some joke one of them said. Unfortunately no, she said sarcastically, Nayt seems to be living comfortably on this planet. Even though he has a human body, all his vital organs remain Draik, and the chemicals and gases in the atmosphere are reacting in his body as they should be. Well, except for pollutants, but they are not causing any significant harm.

All of a sudden, they watched Nayt pause. Then, he looked up, straight at the camera that was watching him. Nebyula and Captain leaned closer to the large screen (as well as the five interns who were with them operating the surveillance), waiting to see if Nayt figured out that he, in fact, was being watched. They can see his panic grow- they could see that his breathing was increasing and he tried to hide behind the bushes, his mouth saying words that made the people around the two humans stare. Amy grabbed his arm and pulled him close to her. She took his head and made him look at her. Nebyula and Captain saw her trying to calm him down. She was telling him words that seemed to slow his breathing, and after a glance back up at the sky, they continued on their way.

Well, show's over. Captain turned and started towards the door. Let me know when something exciting happens, like when he gets hit by a bus. Nebyula looked back at the Gold Draik in disgust. After he left she and the interns got back to work. Don't worry Nayt. You're doing a great job. She watched the two humans buy some hot dogs before she zoomed out to observe other parts of the planet.



-x-



Are you sure you're ok? Amy asked. It was a beautiful September day in Central park. The leaves were bright red and yellow, and at first Nayt though they were on fire. Once Amy assured that they were not, they took a walk through the park. The band has finally perfected Nayt 's song, and they were going to play it for the first time at their concert that night. Ever since Nayt joined their band, the fan count has risen to almost triple, and they had finally got a chance to perform at one of the concert halls as an opener to a nationally famous band. Saying that Nayt was nervous was an understatement.

I'm fine, he lied. After his meltdown he was embarrassed. He hated when he broke down. It made him feel weak, and he didn't want Amy to see him weak. After taking a few breaths, his heartbeat returned to normal, and he shoved those paranoid thoughts to the back of his mind. I'm sorry... It's just... I don't know. It's stupid, but I always feel like there's someone out there just waiting for their chance to get at me. To kill me. He looked over to see Amy's worried face. He smiled to reassure her, But I know that's not going to happen, he lied again, but he squeezed Amy's hand in his to make her believe he was telling the truth. He knew it worked when she smiled back.

Good. Having a dead lead singer tonight would have been a real bummer. She laughed and skipped ahead of him. She put her hands up towards the sun and twirled a couple of times before running back to Nayt. They smiled at each other for a minute before she looked up Why are you always wearing that hat? Nayt instinctively put his hands on his head, luckily just before Amy became successful in taking it off. What? Nayt 's heart began to beat fast again. Come to think of it, I have never seen you take off your hat. Ever. Nayt avoided eye contact. With his hands on his head, he could feel his draik spikes under the cap, moving a tiny bit, just so they wouldn't stay still. Before I met you, I uh, got a really bad haircut. I don't want anyone to see. What? It's been months, your hair had to have grown back, come on, take it off- Amy repeatedly jumped to get Nayt 's hat off, all the while Nayt trying to stop her. After a close call Nayt exclaimed, QUIT IT! I AM NOT TAKING IT OFF! He said it so loud startled birds flew from the autumn trees, and people stared. Only Amy was embarrassed. Ok... I'm sorry. They continued to walk, although now they were a couple of feet away from each other, with Amy wrapping her arms around herself, and Nayt 's arms around his head.
Chapter 6
Oh man oh man oh man! Are you ready? Cause I'm ready. Ready, ready ready. O yea- I'm PUMPED! LET'S DO THIS! Nayt, Amy, and Dave looked at Scott with serious concern. They were backstage, moments before performing Nayt 's song for the first time. ...What?

Guys, we're ready whenever you are. One of the stagehands said to them. They all looked at Nayt. They were expecting him to twitch nervously, mumble whenever he spoke, but he looked at all of them in confidence and said, Yep. We're ready. And they all ran to the stage, where hundreds of screaming people waited.

Hey New York- did I ever tell you guys how much we love you? The crowed replied with screams and applause. Nayt laughed as he heard more I LOVE YOU!'s from the audience. We have a brand new song for you guys. I hope you like it- but if you don't, make us feel better by pretending you like it

Violins started the intro, and soon Nayt sung the lyrics that best explained himself.



As I walk through the streets of my new city
My back feeling much better, I suppose
I've reclaimed the use of my imagination
For better or for worse, I've yet to know
But I always knew you'd be the one to understand me,
I guess that's why it took so long to get things right.




The song continued to grow in intensity, yet as the verse moved to the bridge, then to the chorus, the style of music changed drastically. By the end, Nayt was so into it, the only thing he was conscious of was singing the song.



Oh be calm.
Be calm.
I know you feel like you are breaking down.
I know that it gets so hard sometimes,
Be calm.
Take it from me, I've been there a thousand times.
You hate your pulse because it thinks you're still alive
and everything's wrong
It just gets so hard sometimes
Be calm.



When he finished the last notes, his eyes were closed. The song ended with the same violins, yet Nayt heard no applauding, not even booing. He opened his eyes and looked at the crowed. They were staring right at him. He looked to his band members and friends; they were also staring at him. He looked at Amy and saw that she was on the verge of crying, her hands covering her mouth. Instead of racing at one hundred miles per hour, Nayt 's heart stopped. He looked at the stage floor in front of him to see his trusted sock cap lying in its own spotlight on the floor.
Chapter 7
Captain was fuming. Nebyula was speechless. Bring him back. Nebyula gasped. Are you sure? He is in front of all those people. It's one thing to see his draik ears, but another to see him disappear into thin air. At this point he can at least say they're fake or- DO YOU EXPECT ME TO BELIEVE THAT THESE HUMANS WILL BELIEVE THAT SCUM WHEN HE SAYS THOSE ARE FAKE!?! Captain screamed to Nebyula, the whole time advancing toward her in a fit of rage. Nebyula cowered against the wall. She was as shocked as Captain was angry. The scene on the screen wasn't Nayt 's fault- not at all. He was held up in the moment doing something he loved. It was unfortunate that it ruined his life. Bring. Him. Up. Captain growled. Nebyula nodded to one of her interns. The young gelert gulped and turned to the controls. She understood that Nebyula wanted her to take her time in bringing Nayt back- at least until he gets off of the stage. Everyone in the room was nervous for Nayt, except for Captain. He was livid.



-x-



Nayt was frozen on the spot. His nightmare has come true. His identity has been shown. People are judging him. They know who he is. They will come after him. And kill him. He wanted to run. He wanted to hide. He wanted his draik form so he can fly away. He wanted to go home. He wanted to do all of these things, but he couldn't move. He had forgotten how.

Nayt? Amy said. She slowly came to Nayt and picked up his cap. Then she took his arm. N- Nayt? Come with me. Come on. L-lets go She gently pulled him off stage, all the while Nayt still staring into the audience, not aware he was being pulled away. Once they were backstage, Amy sped up to a run and took Nayt into the nearest changing room and locked the door behind them. Nayt - what in the world is going on!? What are those? Finally Nayt focused. He realized where he was. My cap. he said. Where is my cap?! He saw Amy holding it at her side and he jumped towards it. At the last second Amy lifted it over her head, sending Nayt behind her and into the wall. Not until you explain a couple of things. Nayt stared at her, terrified. He didn't want to answer, but he had no choice.

I-I'm not from this world. he said, still sitting on the floor. Amy was skeptical about what she heard. Then she looked at the ears again, and let him continue. I am actually a Draik. A Neopian. My old world, Neopia, was destroyed when our sun died. A small percentage of our population escaped our fate to search for a new home, and we found Earth. I was sent her as a guinea pig to test the quality of the atmosphere and to see if I was able to form a life here. Nayt looked down in shame. Waiting for Amy to start screaming, calling the cops to take Nayt away to some lab to question and dissect him. But she didn't say anything. He looked up and saw that she was crouched in front of him, looking at him in, not fright, but wonder. For some reason, she said, brushing her hand against his cheek. I believe you completely. They continued to stare at each other, with a single tear rolling down Nayt 's face.

All of a sudden, the door roared. The people on the other side were banging on the door, knowing the two were inside. At the same time, Nayt saw the familiar light surrounding him. Oh no... Nayt said. He was right. The whole time. He was being watched. Someone was watching him. Captain. Amy! He yelled. Amy turned to him in shock, she saw him slowly dissolving. Nayt! she yelled, and she jumped on Nayt, holding him tightly in her arms, hoping that was enough to keep him with her. The light continued to take over Nayt 's vision, the last thing he saw was the door busting open, with security entering the room. But the only thing the guards saw was an empty room, with no one in it.

Soon the light disappeared, and instead of the dressing room, Nayt was back on the Nexplore. Well well well Nayt heard Captain say. He opened his eyes to see the Gold Draik staring at him with death in his eyes. Next to him stood Nebyula, her hands covering her mouth in shock. Look who we have here. Nayt realized someone was holding on to him. He looked down to see Amy, staring at the two Dragon-like creatures standing in from of them in complete shock.
Chapter 8
Nayt looked in amazement at Amy when he found out that somehow, she came with him. Amy, why did you come here?! Amy stared wide eyed and mouth open at Nayt, and she saw a grey colored dragon creature sitting next to her. In her mind she screamed, long and loud, but only a small gasp came out of her mouth. She backed away from Nayt in fear. Captain rolled his eyes. Will someone get her out of here? Nebyula slowly approached the petrified girl.

Don't be afraid, young one. I won't hurt you. Come with me and I can get you some water and food. Taking her time, Nebula knelt in front of the strange creature. It took a while, and Captain was rolling his eyes the whole while, impatient. Nayt was still afraid of what was going to happen- he didn't even know what to worry about. He put his hands to his face to feel his draik snout and flapped his wings. By coming back to the ship, he has transform back into a draik. In a way, he was thankful.

It may have seemed like forever, but Amy was able to focus her attention on Nebyula and let herself be led to the break room just down the hall. Finally. He turned to Nayt. I knew you were scum, so I can't say I'm surprised when I saw you showing interest in that alien.

Nayt had enough. He growled at Captain and jumped up to his feet and slammed Captain into the wall. Noses inches apart, Nayt glared into the Gold Draik's eyes. Don't you dare talk about her like that he said, not once taking his eyes off of him. Captain saw no threat. Do you think you scare me? Captain saw Igneio, the Chief engineer, walk into the room. He probably had an issue with something about the ship no doubt, but Captain needed the muscular bori for something else right now. Igneio, please dispose of this- he grabbed Nayt 's shoulders and pushed him back violently so that Nayt fell hard on his tail. Igneio came up from behind and pulled him up from his armpits. In Nayt's ear, Igneio whispered.

Nebyula called me for help and explained everything. Amy is ok, just a bit shaken. Nayt was grateful, but he was still glaring at the Captain, who was slowly approaching the two.

Without a smirk on his face, the Captain ordered Igneio, Kill him. Both Nayt and Igneio reacted in shock. As well as the girl. Nayt roared in anger and fire flew out of his mouth toward Captain. Luckily, being a magma pet, Igneio was unaffected by the sudden intense heat. In Nayt 's rage, his flames engulfed Captain. When the flames subsided, Captain stood there in his burnt clothes. Nayt was too angry to remember that Draiks had fireproof skin. Go now.

Igneio took Nayt out of the room, all the while Nayt still staring at Captain. One day Captain, he said, spitting at the ground, You'll get yours.
Chapter 9
Instead of dragging Nayt to the jail, Igneio took him to the room where Nayt once stood looking at himself in the mirror, amused at the human looking back at him. He saw that Emly was waiting for him, spell book in hand. And to his surprise, Nebyula and Amy were there too. Amy looked much better, but still felt a little uncomfortable. When the two entered the room, Amy ran up to Nayt. She looked at him with uncertainty. Nayt was nervous of what she would do, but he was relieved as his thought were, yet again, proven wrong when she gave him the biggest hug he has ever experienced. He put his arms around her and squeezed in affection. Nebyula chocked up as the two creatures from different worlds found refuge in each other's arms. Ignieo nudged Nebyula, Really? He laughed. Nebyula turned to him and punched his arm as she chuckled to herself.

Finally they separated, tears in their eyes, knowing that it was the end.I hope you guys know that this isn't the end. The two looked at the bori in confusion. He laughed at this. You honestly thought we were going to kill you? That we were going to listen to that lunatic? Nayt laughed in embarrassment and scratched the top of his head. Well, I am sort of a pessimistic. Igneio laughed again as he patted the draik on the shoulder. Don't worry kid, we've got a plan for you two. Nebyula? Nebyula looked confident as she explained yet another one of her genius plans.

Nayt, Emly and I found a spell that can take you out of your draik form and into your human form, permanently. We would have transformed you like before, but we want to show Captain that you were 'dead' so he would leave you alone. What we are going to do then is to transport you and Amy here to another part of the country, so that you can avoid and forget about the troubles in New York. With the both of you missing, people will blame the dirty air of the building for what they saw. Nayt beamed at this idea. He will stay with Amy. On Earth. And Captain won't be watching him anymore. He looked at her, and saw that she looked worried. What about my brother? Our band? My whole life was in New York... Nayt thought about it. Of course you can write to them, our surveillance saw that all your brother is worried. We have different abilities than humans, and I can say in confidence that he will understand and accept everything you tell him once you're home. After this thought Amy became more accepting. Still in his arms, Amy looked at Nayt and nodded. Let's do it.

We will be sending you to a small town in California. My good friend Equai lives there. She escaped from this ship during that breakdown two years ago. When you get there, send her my love. Emly centered herself in front of Nayt and Amy as she read from her book. Nayt squeezed Amy as the familiar light took over his vision once again.


-The End-
Epilogue
o3o
Coming soon
back to top
artwork
Reference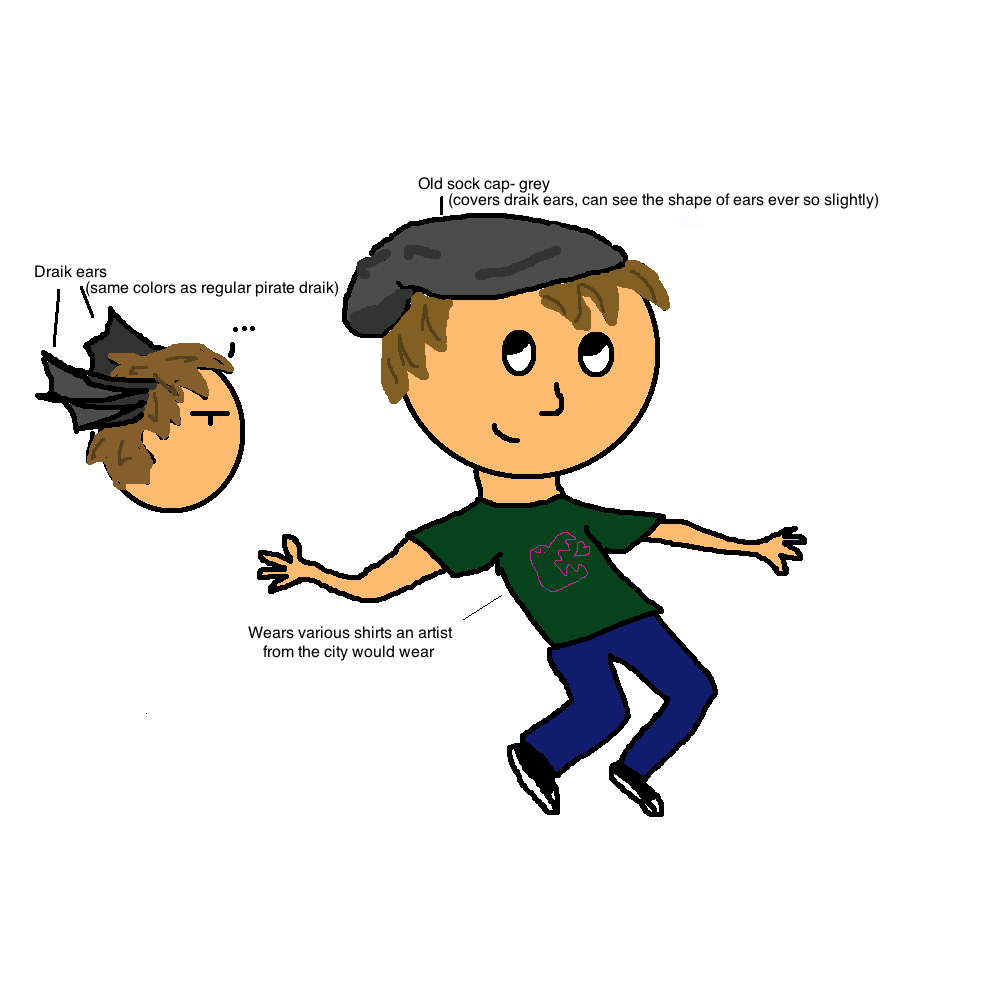 Nayt's draik form is the same as a regular draik. No mystical markings or anything. In the story everyone is supposed to be a regular Neopian.
-By Me-
-For Me-
-Toy Box-
back to top
Credit/ Link Back
Sadly, I am not creative enough to make my own songs. For this story, all songs were written and sung by the band Fun.

Y'll come back now, ya hear?





Star all over again with the Nexplore series!
Part 1------Part 2

back to top
NEOPETS, characters, logos, names and all related indicia
are trademarks of Neopets, Inc.,