Avatar Team Page
Welcome
Hello There!
This is the guild Superpack's Avatar Team Page!
Here at Superpack we strive to make are guild entertaining for everyone!
We try to hit all aspects of Neo Life.
Our NC Page can be found here.
This page is dedicated to all our avatar collecting guild members! I'm Helen, I'm the Avatar Leader in the guild and I run this page. If you have any questions about this section of the guild please send all mails to my main account: _starryeyedsurprise_, if my inbox is full, which it often is, chuck some junk my way, or mail my side itsonlyforever_. Also, if you have any items or pets you would like to lend to guild members, or know of any good avatar related guides, please let me know.
Avatar Pet Lenders:
Please mail the correct user by clicking on their username.













Rules:
Be polite.
If being lent an item or pet, follow the owner of the pet/item rules.
ALWAYS say thank you to your lender!
Item Lenders:
Please mail the correct user by clicking on their username.


Guides
Here is a list of guides to help you increase your avatar count
Clickable and Easy Avatars:
My Kadoatery Guide:

Game Avatars: (Click on Avatar for Guide)
Battledome Avatars:
Games/Activities:
Avatar Simon
How it Works:
Every Thursday at roughly 11am NST there will be a game of avatar Simon on the guild message board. I will post with various different avatars. Then, if you have that avatar, you post with it. Whoever has the most, wins! I'll try and use avatars of varying difficulty to keep it fair
Tis the season
How it Works:
On and off neo there are SO many holidays and what not that we can have fun with!
Depending on the time of year, I'll choose a theme for this activity.
Be it Spring time, Christmas, or Illusen Day!
It's a surprise!
All you then need to do is to pick an avatar that matches the theme and make a matching font to go with it, you can post in the guild or on the regular boards with your font, then please take a screenie and mail a link to me at _starryeyedsurprise_
Send in your entry by the posted due date.
You will then have another 3 days to send your vote to me and on the 4th day I will announce the winner!!
(No voting for yourself and no pre-made fonts.)
Current Theme
Turkey Day!

Thanksgiving is fast approaching! Show me your best font/avatar combo!

Dead Line to send in Entries: 26th November




Participants:


None yet :(
Guild Fonts
Lawyerbot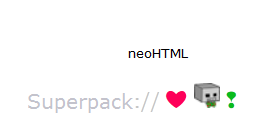 NEOPETS, characters, logos, names and all related indicia
are trademarks of Neopets, Inc., © 1999-2013.
® denotes Reg. US Pat. & TM Office. All rights reserved.
PRIVACY POLICY | Safety Tips | Contact Us | About Us | Press Kit
Use of this site signifies your acceptance of the Terms and Conditions