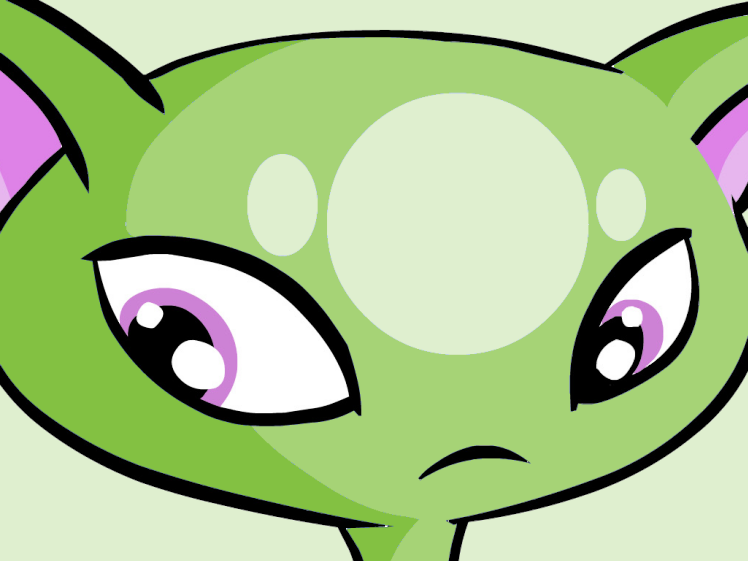 The Info
So you want to feed kads and not spend too many nps on the game huh? Well, after talking to a variety of feeders when recently updating my Grouped Foodlist to include item price ranges, I decided that I'd try working on a list of items for people just like you! All the foods listed on this page at the time of creation (12/2007) cost 1000nps or less. Item eligibility was determined by averaging out the 10 lowest items on SSW . As a result, there are additional items not listed here that you may be able to find for 1000nps or less. Please keep in mind that prices in neopia are never static and they could change at any time.

If you have any questions, comments or anything else, please send me a neomail by clicking here.


The Thanks
Kirsty and Kendall: Thank you so much for the amazing background and coding help. It looks awesome!
Toni: Thank you for your Foodlist. I don't know where I would have even begun to start without it.
The Kadders: Thank you all for your constant support and making this game so much fun.

#
1/3 Chilli Deluxe Pizza
1/3 Garden Fresh Pizza
1/3 Yummy Cloud Pizza
2/3 Garden Fresh Pizza

A
Acara Day Burger
Acara Day Pancakes
Acara Day Spaghetti
Aisha Chocolate Cheesecake
Aisha Hot Chocolate
Aisha Ice Cream
Aisha Toffee Apple
Almost Gummy Rat (Grape)
Almost Gummy Rat (Strawberry)
Altador Buns
Altadorian Bread
Apple and Cheese Sandwich
Apple Fruit Pancakes
Apple Jelly Apple
Apple Juice
Apple Neocola
Archaesaurus Tail
Artichoke Ice Pop
Asparacone
Asparagus and Yoghurt Pizza
Azzle
Azzle Coffee

B
Baby Kougra Custard
Baby Tomatoes
Bacon and Beans Jacket Potato
Bacon Deluxe Hot Dog
Bacon Muffin
Bag of Chips
Bag Of Kiko Treats
Bag of Nuts
Bag of Peas
Bag of Sugar
Bagguss
Baked Apple Jacket Potato
Baked Juppie
Baked Rye Loaf
Banana and Chocolate Rock Slices
Banana and Chocolate Rock Stick
Banana Hot Dog
Banana Milkshake
Banana Roll
Bargasaurus Steak
Bark Taco
Bat Cookie
B-B-Q Pork
Beans with Sausages
Beany Burpers
Beef and Veg Baby Food
Beef Rouladen
Beefy Broccoli
Beefy Cheesy Hot Dog
Berry Buzz Ice Cream
Bite Size Celery
Bitten Green Apple
Bitten Red Apple
Black Currant Milkshake
Black Eyed Peas
Blackberry Elephante Sundae
Blackberry Sundae
Blended Pipper
Blobbule
Blooble and Cheese Plate
Blue Apple Chia Pop
Blue Cheese Draik Head
Blue Ice Apple
Blue Orange Chia Pop
Blue Oyster
Blue Swirl Cheesicle
Blueberry and Chokato AchyFi
Blueberry Faerie Bubble
Blueberry Gateaux
Blueberry Jelly Draik Head
Blueberry Jetsam Jelly
Blueberry Roll
Blueberry Snow Puff
Blumaroo Day Pizza
Blumaroo Steak
Borovan Ice Cream Scoop
Borovan Pavlova
Bottle of Water
Bowl of Wocky Day Soup
Braku Berry Juice
Breakfast Croissant
Broccoli
Broccoli and Cheese Pizza
Bronto Bite
Bubbling Blue Soup
Bubbling Blueberry Pizza
Bubbling Burping Juice
Bucket Of Slops
Bud Bud
Bunch of Tomatoes
Burnt Hot Dog
Buttered Jacket Potato
Buttery Pecan Kiko Fudge
Butterscotch Milkshake
Buzz Honey
Buzz Meatloaf

C
Cabbage Doughnut
Cabbage Taco
Cactopus
Cactus Blossom
Cactus Leaf
Caffeine Free Neocola
Calamari Jacket Potato
Calcium Supplement
Camouflage Hot Dog
Can of Neocola
Candy Floss Chia Pop
Candy Peas
Caramalised Blunkabean
Caramel Acara On A Stick
Caramel Baby Cabbage
Caramel Coated Pear
Carnapepper Finger Sandwiches
Carnapepper Soup
Carobchip Cherry Trail Mix
Carrot
Carrot Cone
Carrot Hot Dog
Carrot Lupe Treat
Carton of Orange Juice
Cauliflower
Celery
Celestial Salad
Cheddar Fries
Cheery Tomatoes
Cheese
Cheese and Onion Baked Apple
Cheese and Tomato Muffin
Cheese Manicotti
Cheese Stuffed Mushrooms
Cheese Tortilla
Cheeseburger
Cheesy Baby Cabbage
Cheesy Caper Surprise Pizza
Cheesy Cloud Cookie
Cheesy Krawk Sandwich
Cheesy Meat Wrap
Cheesy Onion Sticks
Cheesy Potato Tower
Cheesy Slorgwich
Cheops Juice
Cheops Plant
Cherries
Cherries Jubalee
Cherry Faerie Bubble
Cherry Milkshake
Cherry Twist Lollypop
Cherry-tastic Faerie Pie
Chia Cheese Blintz
Chiazilla Quesadilla
Chicken Cordon Bleu
Chilled Eyeball Custard
Chilled Seaweed Cone
Chilli And Cheese Hot Dog
Chilli Deluxe Pizza Slice
Chilli Hot Dog
Chip Butty with Tomato Sauce
Chips and Curry Sauce
Chips and Gravy
Chocolate and Asparagus AchyFi
Chocolate Carrot Sundae
Chocolate Chip Zafara Cookie
Chocolate Cloud Cookie
Chocolate Coated Cabbage
Chocolate Coated Flies
Chocolate Coated Pear
Chocolate Covered Apple
Chocolate Covered Kiko Popcornball
Chocolate Deluxe Flotsam Day Shake
Chocolate Dipped Ruki Lolly
Chocolate Eclair Paste
Chocolate Elephante Sundae
Chocolate Hot Dog
Chocolate Kiko Fudge
Chocolate Milk
Chocolate Milkshake
Chocolate Orange Kiko Fudge
Chocolate Parsnip
ChocoPie Slice
Chokato Burger
Chokato Crisps
Chokato Ghostkersandwich
Chokato JubJub Mini Burger
Chokato Mash Jacket Potato
Chokato Toasty
Chomate Triple Decker
Chomato
Chomby Chips
Chomby Leafy Lollypop
Chomby Meatloaf
Chomby Tail Burger
Chunky Meaty Stew
Churros
Chyrsaberry Pizza
Cinnamon Granola Bar
Cinnamon Toasties Blast
Clawmatoe
Clown Chia Zeenana Ice Cream
Coco NeoCrunch
Cocoa Juppie
Cocolatte Fruit
Coconut and Gooseberry Achyfi
Coconut Hot Dog
Coffee
Coffee Milkshake
Completely Non-lethal Sandwich
Cookie Hot Dog
Cooling Courgette Slice
Corn Balls
Crab Apple Chia Pop
Crablett
Crazy Crisp Taco
Cream Cheese Dip
Creamy Carrot Soup
Creamy Carrot Trifle
Creamy Hot Dog
Crispies
Crispy Crunchy Cookies Cereal
Crown Roast Beef
Crunchy Carrot Burger
Crunchy Kacheek Cereal
Crunchy Quiggles
Crust-Only Pizza
Cup of Tea
Cup of Water
Cup of Wocky Day Soup
Cybunny Candy Floss
Cybunny Carrot Pasta

D
Decorated Fruit Basket
Dehydrated Ham and Eggs
Delicious Faerie Bubbles
Deli Turkey Slices
Desert Kabob
Deviled Delight
Deviled Steak
Dewy Apple Sandwich
Diet Neocola
Dino Snapper
Dirt Pie
Draik Steak
Dried Grapefruit Slices
Dried Gruel Capsules
Dried Squid on a Stick
Drillaroot
Dung Ice Cream
Durian Biscuit
Durian Custard
Durian Pie
Dust Covered Salad

E
Earth Faerie Brownies
Edible Smelly Gym Socks
Eggs on Rock
El Champion
Elderberry Achyfi
Ellecha
Elppa
Enchanting Strawberry Cereal
Ergy Pizza
Extra Cheesy Jacket Potato
Extra Slim Hot Dog
Eye Candy
Eyeball Slurpy
Eyrie Gumbo
Eyrie Pancake
Eyrie Meatloaf

F
Faerie Artichoke
Faerie Beetroot
Faerie Crisps
Faerie Dumplings
Faerie Eclair
Faerie Fondant
Faerie Leaves Hot Dog
Faerie Pastry
Faerie Pineapple
Faerie Toast With Butter
Fajita Chips
Fake Blumaroo Steak
Famous Crab Burger
Farn Plant
Fava Beans
Fire Faerie Straw
Fish Egg Basket
Flaming BBQ Crisps
Flaming Blooble Fruit Juice
Flaming Burnumup
Flaming Fire Faerie Pizza
Flaming Hot Banana
Flaming Hot Burrito
Flaming Hot Chilli Bowl
Flaming Hot Corndog
Flaming Hot Hot Dog
Flaming Hot Pizza
Flat Bread
Flatfruit
Flatfruit Lollypop
Flatfruit Shake
Flattened Durian
Floating Pasta Mass
Florg Ice Cream
Florg Nachos
Flotsam Kelp Shake
Fluffy Faerie Pancakes
Fly and MaggOt Pizza
Forest Fruit Baby Food
Fortune Cookie
Fresh Green Salad
Fresh Kreluberry
Fresh Lemint Juice
Fresh Turnip Sandwich
Freshly Tinned Carrots
Fried Chicken Breast
Fried Egg
Fried Hot Dog
Fried Shrimp
Fried Trilo Bites
Froozle
Frozen Corn Dog
Frozen Cucumber Slices
Fruit Stuffed Jacket Potato
Fruity Faerie Fingers
Fruity Kiko Necklace
Fruity Shaved Ice
Fruity Usul Acorns
Fudge Kiko Lolly
Funky Carrot
Funnydew Melon
Funnydew Neggnog
Furanga Fruit
Fuzzly Pear

G
Gamaberry Stuffed Jacket Potato
Garlic Bread Halves
Garlic Butter Hot Dog
Gelert Sticky Rice Cake
Gherkin Hot Dog
Ghost Marshmallows
Glaring Eye Wrap
Gloof Stick
Glowing Green Soup
Glowing Pretzel
Gnorbu Burger
Gnorbu Salad
Gobi Fruit
Gobi Fruit Sandwich
Golden Ivy Leaves
Gooseberry Cupcake
Gooseberry Shake
Gooseberry Tuskaninny Ice Cream
Grackle Bug Steak
Grackle Bug on a Stick
Grackle-Stuffed Turkey
Grape and Lime Rock Stick
Grape and Orange Candy Stick
Grape Jam Hot Dog
Grape Pizza
Grape Roll
Grape Snow Puff
Grapefruit
Grapple
Grarrl Keno Negg
Gravel Cereal
Green Apple
Green Cabbage
Green Grapes
Green Oat Cereal
Green Rock Slices
Green Tea
Green Tea Custard
Grey Cheese
Grilled Asparagus
Grilled Chokato on Toast
Grilled Ummagine Chips
Grilled Veggie Bowl
Grondik Root
Gruel
Gruel Cake
Gruel Ice Lolly
Gruel Pizza
Gruel Sandwich
Gruisberry
Guava Roll
Gummy Grensa
Gurney Fruit

H
Hairy Fungus Salad
Hairy Rock Burger
Half Chilli Deluxe Pizza
Half Garden Fresh Pizza
Half Yummy Cloud Pizza
Ham
Hammy Cheese Wedge
Harffel Fruit
Haunted Brucicle
Haunted Woods Chocolate Milk Glass
Hero Gyro
Honey Filled Olive
Hot Banana Soup
Hot Burnumup
Hot Cakes
Hot Chocolate Dip
Hot Crossed Buns
Hot Dog
Hot Dog Sundae Deluxe
Hot Dog with Mustard & Relish
Hot Dog with (Onions)
Hot Strawberry Soup

I
Ice Lolly
Iceberg Sundae
Iced Borovan
Iced Kougra Coffee
Icky Fruit
Icy Hot Berry
Illusen Acorn
Illusen Leaf Burrito
Ink Pasta
Inkade
Intergalactic Chewy Stuff
Intergalactic Spiced Beans
Ionic Bread
Iron Supplement
Islandberry Tea

J
Jacket Potato with Beans
Jalapeno Popper
Jar Of Flies
Jellied Eyeballs
Jelly Berries
Jelly Celery
Jelly Cereal
Jelly Courgette
Jelly Green Cheese
Jelly (Onion)
Jetsam Apple Cake
Jhudora Day Ice Cream
Jhudora Faerie Straw
Jhudora Rotten Negg
Jhudoras AchyFi
Jug of Fresh Phearade
Juicee
Jumbo Pea Sandwich
Juppie Cheese Wedge

K
Kacheek Marshmallows on a Stick
Kacheek Vanilla Pudding
Kau Cupcake
Kau Kau Farm Half And Half
Kelpcakes with Green Sauce
Kiko Fudge Sundae
Kiko Lake Cookie
Kiko Swirl Lolly
Kiwi
Kiwi and Cucumber Sandwich
Kiwi Milkshake
Kougra Day Burger
Krawk Apple
Krawk Apple Cake
Krawk Ice Cream Sandwich
Kreludan Jelly Cupcake
Kreludan Jelly Pyramids
Kreludan Rocket Cookie

L
Large Tonu Day Burger
Lava Bread
Lava Bread Bowl
Leafy Slorgwich
Lean Meat Kebab
Leek
Leek Stew
Left-over Turkey Wing Sandwich
Lemberry Chia Jelly
Lemint
Lemint Custard
Lemint Muffin
Lemint Pizza Slice
Lemon
Lemon and Thornberry Jelly
Lemon Brucicle
Lemon Faerie Bubble
Lemon Jelly Pop
Lemon Meringue Baby Food
Lemon Snow Puff
Lemwart
Lenny Cream of Onion Soup
Lenny Meaty Burger
Lenny Mint Chocolate Chip Ice Cream
Lenny Vegetable Soup
Lenny Veggie Burger
Lentil And Bean Hot Dog
Lesser Bearded Plantfruit
Lettuce
Light Faerie Sundae
Lime
Lime Achyfi
Lime Brucicle
Lime Faerie Bubble
Lime Jelly Burger
Lime Ruki Sundae
Lime Snot Kiko Lolly
Lime Snow Puff
Lime Sorbet
Low Fat Milk
Lupe Snack Pack
Lupe Sticky Rice Cake

M
Mano Root
Marracado
Marshmallow Grundo
Marshmallow Milkshake
Mashed Eye Potato
Mashed Potato With Gravy
Meat A La Twig
Meat Feast Pizza
Meat Feast Pizza Block
Meat Kebab
Meat Lasagna
Meat Wrap
Meatball Toasty
Meatless Meatballs
Meaty Courgette Slice
Meaty Pot Pie
Medicinal Plant
Mega Carrot Pie
Mega Tonu Day Burger
Megapepper Pizza
Melowhirl
Melowhirl Juice
Melted Ice Cube
Meridellian Chocolate Milk Glass
Meridellian Potato
Metal Pizza
Mini Egg Taco
Mini Tooth Faerie Pizza
Mint Chocolate Chia Pop
Mint Chocolate Chip Smore
Mint Ice Cream
Mint Rolls
Minty Flotsam Day Shake
Minty Rock Ice Cream
Mixed Nuts
Mixed Rock Slices
Mocha Smore
Moehog Veggie Sandwich
Molabean
Mollusc Surprise
Molten Hot Chilli
Mouldy Potato
Mud Pizza
Mummified Banana
Mummified Ice Cream
Mummified Pepper
Mummy Burrito
Mummy Spaghetti
Munion
Munuberry
Mushrolivepepper Pizza
Mushroom and Herb Salad
Mutando Jacket Potato
Mutant Apple
Mutant Carrot
Mutant Tchea
Mutant Ummagine
Mynci Delight
Mynci Vegetable Soup
Mystery Island Chocolate Milk Glass

N
Nacho Cheese Stuffed Hot Dog
Nautilus
Neo Cola Chia Pop
Neo Crackers
Neo Taco
Neocola Jellypop
Neocrunch Cereal
Neopia Central Chocolate Milk Glass
Neosaurus Tail
Nerkin Leg
Nice Iced Pizza
Nimmo Bubbly Surprise
Nimmo Cream Cakes
Nimmo Day Sandwich
Nine Cheese Pizza Block
Non-magical Blueberry Chia Pop
Non-magical Grape Chia Pop
Non-Magical Lime Chia Pop
Non-Magical Orange Chia Pop
Noodle Salad
Nurako
Nutty Cheese Surprise

O
Octornapie
Olive Cupcake
(Onion)
(Onion) Bagel
Oranella
Orange
Orange and Lime Rock Stick
Orange Chicken
Orange Faerie Bubble
Orange Gnorbu Cake
Orange Honey Sticks
Orange Jelly Sandwich
Orange Juice
Orange Roll Orange Spanner Jelly
Organic Beetroot
Organic Celery
Organic Cherries
Organic Chia Wort Root
Organic Green Apple
Organic Green Grapes
Organic Mushroom
Organic Olives
Organic Peach
Organic Pear
Organic Pineapple
Organic Radish
Organic Red Apple
Organic Red Grapes
Organic Spring (Onion)
Organic Tomato

P
Parsnip
Parsnips and Cream
Pea and Ham Baby Food
Pea Stuffed Pepper
Peach Ice Cream
Peach Milkshake
Peanut
Peanut Butter Spiders
Peanut Kiko Apple
Pear Lollypop
Pear
Pegleg Chicken
Peppermint Pizza
Pepperolive Pizza
Pepperoni Power! Pizza
Phtlygon Wing
Pickled Eel
Pickled Keno Eggs
Pickled (Onions)
Pigalicious Ham Sandwich
Pimplepepper
Pineapple
Pink Hot Dog
Pink Rock Slices
Pink Rock Stick
Pitcher of Water
Pixxi Squash
Pizza
Plain Frozen Yogurt
Plain Honey Sticks
Plain Mashed Potato
Planet Pops
Plateau Berries
Pleto Melon
Potato and Sweetcorn Soup
Potato Stuffed Pepper
Potato Wedges
Prickly Merato Sandwich
Prime Veggie Burger
Primordial Thing
Pteri Sundae
Ptolymelon
Pumpkin Chip Surprise
Pumpkin Cookies
Pumpkin Pie
Puntec Fruit Pasta
Purple Grasper
Pyracone
Pyramibread
Pyramicake
Pyramid Potato Skins
Pyrapple

Q
Qando Bread
Qando Fruit
Qando Pita
Qando Pizza
Qasalan Cone
Qasalan Flatbread Delight
Quadruple Fudge Cheese Wedge
Queela Crisp
Queela Fruit
Quiggle Foot Wrap

R
Radish
Radish Hot Dog
Radish Sprouts
Rainbow Chia Pop
Raisins
Rambus Salad Sandwich
Ransaurus Steak
Raspberry Blumaroo Cone
Raspberry Brucicle
Raspberry Faerie Bubble
Raspberry Faerie Crepe
Raspberry Jelly Pop
Raspberry JubJub Mini Burger
Raspberry Milkshake
Raspberry Neocola
Raspeberry Jelly Draik Head
Raw Potato
Raw Wartroot
Real Cheese Cheesecake
Red Apple
Red Berry Rock Slices
Red Berry Rock Stick
Red Eye Egg
Refreshing Peophin Burger
Reptillian Arm
Reptillian Wing
Rhuby Fruit
Rhuby Fruit Jam Hot Dog
River Wave Breeze
Roast Gargapple
Roasted Tchea Fruit
Roast Tentacle
Roseatte Ice Cream
Roseatte Sundae

S
Sakhmetian Grape Sandwich
Sakhmetian Grapes
Sand Apple
Sand Banana
Sand Cherries
Sand Orange
Sand Grapes
Sand Peach
Sand Pear
Sand Shroom
Sand Squash
Sand Strawberry
Sand Watermelon
Sandy Sandwich
Sauce Drenched Pizza
Sausage and Cheese Roll
Savoury Cheese Draik Head
Savoury Grundo Veggieballs
Scarab Cookie
Scary Soup
Scorched Chomato
Scorched Gobi Fruit
Scorched Rhuby
Scorched Suti Fruit
Scorchio Banana Cake
Scorchio Chocolate Cake
Scorchipepper Jacket Potato
Scrambled Eggplant
Screlon
Seafood Twist
Seasoning Sand
Seaweed Wrapped Cake
Shark Sandwich
Shell Burger
Shenkuu Chocolate Milk Glass
Sherbet Lemon Chia Pop
Shrimptail with Kelp Sauce
Single Scoop of Sorbet
Skeith Juice Cocktail
Sketch Cake
Sketch Cheese
Sketch Loaf
Sketch Roast Chicken
Slime Ghostkersandwich
Slime Sundae
Slimesicle
Slimey Slorgwich
Sloople Flower
Sloth Surprise
Sludge Pie
Slug Flakes
Slugroot
Snot Split
Snot Wrap
Snotty Spaghetti
Snow Banana
Snow Brucicle
Snow Cake
Snow Grapes
Snow Pepper
Snow Pizza
Snow Sandwich
Snow Submarine Sandwich
Snowberry Chia Pop
Snowghetti and Meatball
Snowy Carrot Hot Dog
Soft Tyrannian Cheese and Crackers
Soft White Cheese
Sour Cream Hot Dog
Space Station Chocolate Milk Glass
Spaghetti A La Kacheek
Sparkling Draik Cake
Spherical Lemon
Spherical Strawberry
Sphinx Links
Spiced Apple Pie
Spicy Chicken Burrito
Spicy Fruit Punch
Spicy Peophin Burger
Spicy Salsa Jacket Potato
Spicy Tomato Soup
Spicy Wings
Spinach Hot Dog
Spindly Plant
Spine Cone
Spirit Of The Ruins Fizz
Splime Chia Pop
Split Pizza
Spooky Doughnut
Spooky Gooplecream
Spooky Raspberry Pie
Spooky Shake
Spore Blossom
Spotted Chocolate Jetsam Sandwich
Spotted Gelert Sundae
Spotted Ice Cream
Spotted Kau Ice Cream
Spotted Kau Sandwich
Spotted Kau Sundae
Spotty Cheese Wedge
Spring (Onion)
Spudnick
Squashed Salisbury Steak
Squishy Brain Wrap
Sroom Fruit
Sroom Fruit Sandwich
Stale Bread
Star Shortbread Cookies
Stick-O-Mynci
Stick-O-Sap
Stone Roasted Vegatables
Stone Soup
Stone Veggie
Straw Cubes
Strawberries and Cream Baby Food
Strawberry and Lime Achyfi
Strawberry Brucicle
Strawberry Flotsam Day Shake
Strawberry Fruit Pancakes
Strawberry Ice Cream Sandwich
Strawberry Jetsam Sandwich
Strawberry Kiko Fudge
Strawberry Marshmallow Grundo
Strawberry Milkshake
Strawberry Nimmo Ice Lolly
Strawberry Poogle Cupcake
Strawberry Stone Doughnuts
Strawberry Usul Shake
Strawmelon Jam Burger
Strypedillo
Stuffed Dorkle Pepper
Sugarbunny Surprise
Sun Dried Techo Claw
Super Spice Jalapeno Hot Dog
Super Sour Shocker Chia Pop
Sushi Rolls
Sutek Beans
Sutek Muffin
Suti Fruit
Suti Jam Triple Decker
Swirly Kiko Fudge

T
Tagobo Potion
Tangella
Tangella Sandwich
Tangy Peophin Burger
Tasty Turnip Tartar
Tchea Fruit
Tchea Toasty
Teal Juppie
Techo Meat Pie
Tentacle Cupcake
Tentacle Sprout
Terror Mountain Chocolate Milk Glass
The Faerie Queen Burrito
Thistleberry Tuskaninny Ice Cream
Thistle Shoyru Ice Cream
Thornata Juice
Thornberry Bagel
Thornberry Crepe
Thornberry Fruit Grog
Tigerbuggle Tuskaninny Ice Cream
Tigersquash Burger
Tigersquash Chia Pop
Tigersquash Corn Dog
Tiger Shoyru Ice Cream
Toast
Tobbie Fruit
Toffee Baby Cabbage
Toffee Classic
Toffee Ice Cream
Tomato
Tongue with Veggies
Tongue Wrap
Trilo Bite
Tri-Nana
Tropical Fruit Smoothie
Tropical Trail Mix
Tuna Sub
Tureen of Olives
Tuskaninny Veggieloaf
Tut Trout
Twirly Fruit Grog
Twirly Fruit Shoyru Ice Cream
Twirly Fruit Toasty
Two Bottles of Water
Two Garlic Bulbs
Tyrannian Cookies
Tyrannian Flat Bread
Tyrannian Green Cheese and Crackers
Tyrannian Rockberries
Tyrannian Salad
Tyrannian Water Beans

U
Ugga Melon
Ummagine
Uni Veggie Wrap
Unripe Bomberry

V
Vanilla Elephante Sundae
Vanilla Gelert Ice Cream Sandwich
Vanilla Milkshake
Vegan Cheese
Vegetable Deluxe
Vegetable Quiggle Sandwich
Vegetarian Cheeseburger
Vegetarian Fyora Day Taco
Vegetarian Kyrii Sandwich
Vegetarian Tonu Day Burger
Veggie Hot Dog
Veggie Sausage
Vitamin A Tablets
Vitamin B Tablets
Vitamin C Tablets
W
Wartroot
Water Burger
Water Faerie Straw
Water Ice Cream
Watery Hot Dog
Wheat Bread Hot Dog
Wheaty Kyrii Sandwich
White Chocolate Asparagus Souffle
White Chocolate Pear
Wiggly Hot Dog

X
None

Y
Yam-Lime Pizza
Yeasty Bread
Yellow Rock Slices
Yellow Rock Stick
Yummy Cloud Pizza Slice
Yummy Muddy Pizza

Z
Zeevine
Zesty Zafara Burrito


You've clicked on a link that will take you outside of
Neopets.com. We do not control your destination's website,
so its rules, regulations, and Meepit defense systems will be
different! Are you sure you'd like to continue?
It is a journey
I must face...alone.
*dramatic music*
I want to stay on Neopets,
where the dangers of
Meepit invasion
are taken seriously.

You've clicked on a link that will take you outside of
Neopets.com. We do not control your destination's website,
so its rules, regulations, and Meepit defense systems will be
different! Are you sure you'd like to continue?
It is a journey
I must face...alone.
*dramatic music*
I want to stay on Neopets,
where the dangers of
Meepit invasion
are taken seriously.

You've clicked on a link that will take you outside of
Neopets.com. We do not control your destination's website,
so its rules, regulations, and Meepit defense systems will be
different! Are you sure you'd like to continue?
It is a journey
I must face...alone.
*dramatic music*
I want to stay on Neopets,
where the dangers of
Meepit invasion
are taken seriously.

NEOPETS, characters, logos, names and all related indicia
are trademarks of Neopets, Inc., © 1999-2017.
® denotes Reg. US Pat. & TM Office. All rights reserved.
PRIVACY POLICY | Safety Tips | Contact Us | About Us | Press Kit
Use of this site signifies your acceptance of the Terms and Conditions