Intro
-"The way we think and the way we do is formed by the way we dream. The dreams we have are a reflection of what we really want, but not always what we can have.
Hello visitor, my name is Nahanna. I would love to be your guide for this page, but I have sworn not to tell the secrets of my world, but I think this book will answer most of your questions. She handed you a book titled: "The many mysteries of the Nightmaren relm, by Suzanne". You looked up and she was gone, so you decided to read the book for now. You opened the book and saw the index page:
About Nahanna.............1 Design.........................2 About The Nightmaren..3 Ranks..........................4 TimeTravellers.............5 Art/Adopts....................6 Farewell.......................7
Warning
Just when you wanted to turn the page a creature appeared out of the book and you dropped it the moment this creature landed on the ground.
It was weasel-like, but there was something unnatural about it: it seemed like it had a white mask where its face should be. The eyes of this creature were black with bright yellow irises.
-"Who are you?" You asked. The creature looked you dead in the eye.
-"I am Parchment, god of the Nightmaren relm. The author of this book asked me to warn the persons who want to read this book. She said not to read this book if you value your life. The god-creature said.
-"What could possible be so horrid about this book that will endanger my life?" You said.
-"That is up to you to find out, or not if you listen. Parchment said and disappeared in thin air. What would be so dangerous about this book a God agreed to warn the person who wants to read it?
You opened the book and began to read the first page…
he Nightmaren race is an ancient race, as old as the earth itself. We are the keepers of dreams and the guides of faith and destiny of the creatures of the earth.
We live long, proud and in hiding. The creatures of the normal world don't understand what we do, what we know and why we have "special abilities" and they haven't. They envy us and therefore they hate us, tell tales to their offspring about how the Nightmares will come if they misbehave.
We mean no harm to them; we merely want to give something to dream about and to live for. They seem to gather behind a small group out of the desert, they seem to think the desert folk know best.
They caused the Nightmaren realm to exist, they drove us in there to hide. They will be punished.
About Nahanna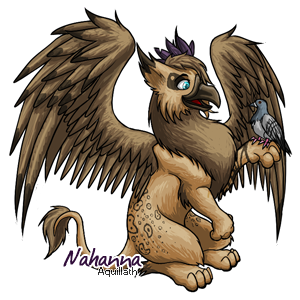 Name:
Nahanna
Nick:
Hanna, Nahan.
Genger:
Female
Age:
Looks 17 but is over 700 years old.
Species:
Nightmaren
Subspecies:
Dream Gryphon
Rank:
Dream Collector
Homeland: The Plains
Born: The great Thunder Plains
Personality: She is a soft and kind hearted Nightmaren who doesn't like to hurt creatures, she loves to study the stars and dreamt dreams to try to predict the future for a limited part. She also has the ability to feel the souls or beings of creatures around her.
Family: They have probably died a long time ago…
Love: Eh, not allowed to have, but I like to hang out with someone
Kids: *no comment*
Status: Keeping a distance from the other group members.
Main fur: Light brown
Wings: Brown with dark chocolate coloured tips.
Eyes: Light blue.
Feathers: Purple.
Nahanna is a really kind hearted gryphon and can't feel angry towards others. She isn't a full-blood Nightmaren, she had two normal creatures for parents. This is possible because once the Nightmaren genes are in a family, they can't disappear. Sometimes kids can suddenly be born like Nightmarens, but their older sibling isn't automatically a Nightmaren.
Nahanna was born in an Indian style Clan and lived there happy and carefree. She did have some weird encounters with bolbs of light surrounded by smoke. All of those bolbs were looking for her, they were bright pink, orange, blue, purple, yellow and green, but there were some who didn't have the same aura as the other light bolbs: they were dark coloured and some even deep red and deep blue.
Nahanna soon discovered they were dreams which have been dreamt. She touched one dream once and saw its content, which she wished she hasn't.
But after that incident she began to feel scared because the dreams began to pile up around her, but disappeared when someone else came by. One day she was finished with the dreams stalking her and she got a dream catcher.
But that same dream catcher guided the dreams closer to her and disappeared through it into a place she didn't know then.
A few weeks after repeating that ritual some strange creatures entered the village and demanded to take Nahanna with them. This was the first time Nahanna has encountered Nightmaren and she was frightened. They were two cats, one huge cat stitched together and only mumbled things to the second big cat, which was purple and had a strange mask on her face.
The chief didn't want to give Nahanna to them and they began to threaten him, but still he refused to give her up. The villagers tried to get Nahanna away in the meantime, but the giant cat noticed it and it failed. In the end the big cat just grabbed Nahanna and ran away, while the slightly smaller cat reassured Nahanna that she could see her parents again soon.
When they introduced Nahanna with the Nightmaren world and her future task she went into training to show her how much strength she actually has and how to use it.
In that time of training she discovered that she could feel the creatures around her, but once she stepped in the normal world she was shocked to see how many creatures died around her from age, killed, disease and accidents she was so scared she shut down that power and never used it again. She only used her power to locate sleeping and dreaming creatures, this way she can decide when it's time to begin to collect the dreamt dreams. The rest of the night she is looking at the stars and trying to figure out a pattern in them.
Design
Nahanna is a normal built gyphon, strong in the legs and powerful wings. She was born with her marking and the spiritual members of her Clan were all excited that she was special because she had a special mark. They even believed that she would make it as a clan chief because the current had also 'special' markings.
But they were very wrong about that, Nahanna is a Nightmaren and that is what makes her special.
She has twice the strength of a normal gryphon and can be faster than the fasted gryphon. Nahanna also ages very slow, which can be confusing for other creatures. Nahanna has also the ability to sense other beings around her, asleep and awake, but she is afraid to use the ability for the creatures who are awake. The dream 'sensing' isn't like the other sensing, she uses the dreams they dream to locate them. When they are awake she can locate them through their being or soul.
Dream Catcher
The dream catcher she has in her ear is for directing the dreams into the dream dimension. She got the dream catcher at first to protect herself against them, instead of bringing someone else with her all the time. But the dreams came closer to her and went through the dream catcher to disappear to the dream world. From that moment on Nahanna has used the dream catcher to grant the dreamt dreams to their dimension.
Feathers
The feathers on her head are a Clan tradition. Each year they have to hunt for prey and the member of the clan who has the fastest kill earns a feather. But since Nahanna refused to kill an animal pure for earning feathers she earned them by doing special things (like healing a very sick person or animal).
Legmarking
Her leg marking does have a meaning, but Nahanna hasn't discovered it yet. She went to the owl gryphon of the forest, but he said to keep look inside to find the meaning of that marking. Nahanna questioned him at first, but when she discovered from Parchment, the librarian of the Nightmaren world, that the owl gryphon was thé Owl himself. The creature who helped create the planed together with the Fire bird and Parchment (the 3 gods).
ADOPTABLES
Rules:
1. No stealing.
2. Do NOT use in the BC OR AG.
3. Do not remove my username.
4. Do not take a custom adoptable that isn't your design.
Normal colours










Customs

Requests: Open/

Closed

Trade:

Open

/Closed

Old Set


















Art by me
---
Art bt others