Welcome guest! Ive been waiting for you for a bit, I really though you would be here earlier, but Thats ok ;)
Anyways Welcome to My Plushie Place. As many of you know, I LOoOoOVe Plushies, Id Love to have them all, but most of them are soo expensive that I dont have money enought to buy them.
What they are and where to buy them
Plushies are wonderful toys that can be taken anywhere! Well except underwater, they would get ruined, but in any case, Plushies are my favorite Toys! You can hug them, you can squeeze them, and you can throw them to your friends without hurting them. They are great! They are just like cute little colorful pillows. There are so many things about Plushies, and I love everything that has a plushie word written on their names. There are Plushies about pets, about our favorite Neoquest characters, about the most evil of evilness, there are even plushies for neggs!
You can buy most of the plushies on the
toy shop
but some are very rare that you might try your luck with the
Shop Wizard
he might be able to help you find a better price on whatever plushie you might want to buy.


About Regular
I counted 596 Plushies that I sorted by colors. I found 66 Plushies with the word Red on them, Red being the color that most plushies are made of. Then they get followed by the Blue ones with 65, Green with 64, Yellow with 62 and the Neoquest Plushies with 52. All the other colors I sorted them down with the boxes below.
About Magical
Magical Plushies, what do you do with them?
Well, you Play with them (or you can sell them for many Nps) :D just be careful, those magical plushies have mysterious powers, they can change your Neopet species by playing with them! I wouldn't like to play with any of those, I love being a Silver Shoyru. If you kaelay let your Neopets play with them, they Will be changed, if they play with a Magical Red Blumaroo Plushie, your pet Will be turned into a Red Blumaroo. So I recommend you that you are absolutely sure that you want you pet to look like your Magical Plushie before giving it to them.
| | | |
| --- | --- | --- |
| Red | Blue | Green |
| Yellow | Neoquest | Rainbow |
| Mutant | Purple | Baby |
| Darigan | White | Cloud |
| Halloween | Mixed | Silver |
| Golden | Island | Faerie |
| Starry | Paintbrushes | Neggs |
| VIP | VIP Evil | Magical and Not |
| Christmas | Pink | Striped |
| Spotted | Tyrannian | Fire |
| Electric | Disco | Valentines |
| Skunk | Reject | Evil |
| Angel | Orange | Other |







Thankfully for us, WE can also be painted as Plushies with the wonderful Plushie Paint Brush, but I love the way I look, lol I love silver and I wouldn't like to be painted Plushie myself, but some pets look just Great! And our Petpets can also be painted like plushies!! (Actually one of my greatest wishes is for Isilme, my Miamouse to be painted Plushie, oh she would look so cute!)
I guess you are wondering what Species can be painted like Plushies, Well ill tell you right now! And you can also see here what Petpets can be painted plushies, too.
| | |
| --- | --- |
| Plushie Pets | Plushie Petpets |




The best way to keep your plushies in perfect conditions is to clean them often on. I recommend you to use the Rain Water Shampoo, it's not expensive and the essence gives the plushies a lovely smell. Besides, this shampoo

is very soft with the materials the plushies are made of, so you can count on it to leave your plushies clean as the first time you saw them. I also use the Blue Daisy Brush to comb the plushies, that way the hair looks just lovely, you should really try it out.
Another thing, you should try NOT to play too rough with them. I've seen many people that treat their plushies very bad and they end up very bad looking, some get broken, some are totally ripped! So treat your plushies with respect, materials wont hold on too long.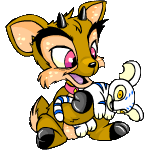 Can't believe it? Nor can I, we Also get to play a plushie game! This great game is called
Plushie Tycoon
. It's a game where you get to own your Plushie factory. It's really really cool, you should try it out,
Why not?
. Me? Of course I've played it, but I've never gotten too far, I'm not too good with business. I have to say that id so love a Plushie Tycoon Trophy, but maybe later on I will try my luck again.
Look! this is the Purdyful trophy you could get if you win!




Well I guess we have reached the part of my page that is more about me than about plushies, well not much because I'm a plushie freak ;). As you noticed by now (if you haven't OMG!) I love plushies and my greatest goal is to have all the plushies there are in Neopia, but as I showed you earlier there are so many plushies, and lots are very expensive. So I guess my wishlist is to have the next plushies that I show you (or any other plushie I dont have).




You can see what plushies I already have by visiting
Kaelay's Shop
. If you donated any plushie and your not on the list, please contact
kaelay
and let her know.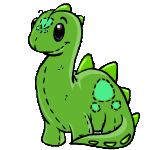 Besides loving plushies, what does a Shoyru like me like to do? I love soaring trough the clouds in the afternoon sky, I love to go shopping with my friends and I totally die whenever my owner Kaelay takes me to a concert at the Tyrannian Concert Hall. I also love to spend my vacation days at Mystery Island and from time to time, I go with my brother Dreadfyre to see how he gets fired at in the Lab ray, he he its quite funny when he gets turned into another species, you should see the look in his face.
Finally, I love music boxes, though I haven't really seen one for sale on Neopia, if there is one, Id really love to have one.
- - - - - - - -
My stats are not too great. Once I used to go training at Mystery Island, but not anymore. Codestones are quite expensive now and I prefer Kaelay to give me those nps to buy some cute plushies. Anyways, these are my stats:
My level is: 8
My strength is: 11
My speed is: 24
My defence: 17
My Hit points are: 26/26
And My IQ is: 23
I also have my best friend. She is called Isilme, She is a Miamouse. She is the cutest and greatest Petpet Ive ever seen. She been with me for more than a year and I love her very very much. Shes been here with me at good days and on bad days, trying to cheer me up when im down and laughing with me in happy times, She is the best.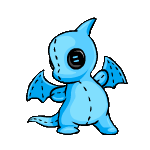 Here I will introduce you to my family and my closest friends. I wanted to use a picture of a plushie that exists, but sadfully, I couldnt find a starry scorchio for Dreadfyre, nor a shadow Shoyru for Tenshi and a purple shoyru for Petal. Anyways, Here I present to you, My loved ones.
Dreadfyre

My brother Dreadfyre. He is a very good brother; he always looks after me and makes sure I'm never in danger. When I first met Tenshinoyume, he got so jealous, and He didn't liked him!, but right now its cool because they get along very good, they are good friends and they hang out often, also with Kaylidar, Tenshi's brother. He loves visiting the lab ray, loves all kinds of foods and is totally in love with Defenders of Neopia, even though he can't beat the Tiki guy.
Azuruz

Isn't he cute? Sure he is! and I think a lot of Neopeople thinks so too, because he gets a lot of visitors on his petpage and he's got a lot of art and fan art, I guess he's a bit popular among Unis. He loves Html and css coding, he loves reading books *hint hint* and he hates going into the Haunted Forest.
Bulette_Chaser
(Aka Chase)

Hes the cutest Draik ive ever seen!, One day we found him lost in the woods. He was so alone and scared. Kaelay was the first to see him and she took him in. Chase was always a very scared Draik, but as the time passed he became a very adventurous Neopet. He loves expensive collections like paintbrushes, loves sword and he will totally refuse to eat omelets.
- - - - - - - -
Tenshinoyume

My boyfriend! Aww.. He is so the nicest shoyru, he is very good with me and treats me like a Queen (not many boys do that) and he often sends me flowers. HE asked me to be his Girlfriend on the 23rd of the month of Hiding of Y3 (August the 23rd of 2001). We often go out and soar though the skies together, it is so wonderful. I love him much.
Petal

I met Petal not long ago, she is one on Kaelay's friends Neopet. She is very quiet when she just meets new people, but once you get along with her, she is very sweet and very nice. I often on invite her to my house to play, she got pretty scared when she first entered the Robo-Room in my house. Shes not too much into robots.