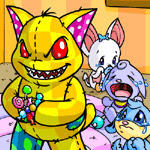 Candied Rules:
1) Don't steal the candy!
2) Don't eat the pets!

Wall Of Shame:
Dr. Frank Sloth, MSPP poogles (all!), The Pant Devil, Sophie the Swamp Witch, and poorly fed grarrls and sketihs.

Join!
Simply neomail
me this form:


Link Back:


.


A world of pure imagination *
the sweetest directory in Neopia - - - Updated: 03.01.19
Hello! Welcome to
Candied
, a neopet directory dedicated to showcasing the most delicious-- erm... CUTEST-- pets across the land. Here you will learn all about the magic candy lore throughout Neopia! From the bubbling chocolate rooms, gummy stretching stations, mallow laboratory, biscuit bakery, brucicle icebox ballroom, and a custard chilling arena, there is always something new to see and taste! The factory finally opened for public tours after years of secrecy on June 24, 2018. As you can imagine, some rooms are still off limits due to secret testings currently taking place for our newest creations. However, there is so much to explore! Grab a piece of taffy and let's begin!

Candied Listings


Candy, chocolate, mallow, jelly, biscuit, brucicle, and custard neopets!




Kake the Kadotie will show you around the factory!
Candy Lore *
so much to learn about the sweetest things!
The Chocolate Ball
Neopedia Article
Delicious Avatars *
hashtag forever longing for a mallow grundo avatar
Hoping to add fonts to this section soon!

Restock an item with a rarity of 90 or more at
The Chocolate Factory
.
*Tip: Items priced over 5,000np generally work.*

Play with a toy piñata until it breaks.
*Tip: Pawkeet Piñata and Meuka Piñata are cheap!

Feed your pet an item with 'custard' in the name.
*Tip: Green Tea Custard and Chilled Eyeball Custard are cheap!*

Feed your pet a food item with speckled' in the name.
*Tip: Speckled Apple and Speckled Ice Cream are cheap!*

View the
Neopia Central
stamp album after completing.
*Only one confirmed user has this avatar!*
Tasty Neopian Times Stories *
Eating isn't enough, read up on your favorite sweet!
There are
many
other articles focusing on sweet themes, these were simply selected due to their superb content!
Chocolate Related Articles
How to Get Invited to the Chocolate Ball
by sevlow_12
Empty Candy
by chocolateisamust
One Bar of Chocolate
by star_29791
Chocolate Neopet Care Guide
by mythol3025
Chocolate: The 10 Best for Valentines Day
by: theneoowner
Annual Chocolate Ball Better Than Ever
by princess325145
Character Re-Introductions: Chocolate Factory Kiko
by pikachu315111
How to Handle Chocolate Factory-Related Frustration
by bha288
Candy Related Articles
Pop 'Em In Your Mouth!
by lurking_and_giving
Tricks are Treats: Show Me the Candy
by neuroticat42
The Malevolent Candy Vampire
by jhudora96
New Color : Candy...Food?
by ruben160
The Keeping and Caring of Candy Pets
by scubadove
Candy!
by cardinally
Mmmm Candy pets
by serebii251
Rock Hard Candy
by andromedric
Mallow Related Articles
Mallow Myth
by mazoku_kuiin
All Hail The Mallow Grundo
by iceprincess87
Marshmallows Revealed!
by illumiinate
Mallow Grundos- Do Not Eat!
by fallingfaries
The Downside To Being A Mallow Grundo
by supremity
A Matter of Marshmallow
by lepetitpoulet
Top Ten Silliest Marshmallow Items of Neopia
by bha288
Custard Related Articles
Defense Techniques For Custard Pets
by puppy200010
The Problem With Custard
by skyward_rush
Custard: The Often Forgotten Edible Color
by mbredboy31
Brucicle Related Articles
It's A Hard Summer For A Brucicle
by jhudora96
Your Guide To Holiday Brucicles
by randmar
Biscuit Related Articles
Interview With An Edible Pet
by jedigirl7288
The Dough Makes The Biscuit
by oddball_001
Biscuit Troubles
by saraid0
Trophy Guide To Biscuit Brigade
by wokitana
Jelly Related Articles
The Woes of Being Jelly
by 3dcourtney12044
The Glowing Jelly Story
by nickeeeee69
The Top 30 Uses For Jelly
by reelhorrorshow
Revealed!
by faerie91993
On The Impossibility of Jelly World
by mats77
Yummy Items *
too many... to eat... must try....
All across Neopia, users can purchase a variety of chocolates, gummies, mints, bonbons, and floss for their pets to munch on! Just to give a picture of how expansive of a collection the factory has produced over the years, take a look at these totals:
1,180
total of candy items, including chocolate, gummies, hard candy, etc.
74
total mallow items
53
total custard items, including pepets!
878
total chocolate items, including petpets!
46
total brucicle items
109
total biscuit items
420
total jelly/gelatin items
Updated Oct. 2018
Favorite Items
These are just a few personal favorites that I feel best capture the creative feel of candy, chocolate, mallow, and custard pets! Hover for item names.
Most Expensive Items
Many items are so rare that prices aren't even available. Hover for item names and prices.
But WHY?? Items
These are items that no one asked for and no one understands... some even hinting towards... cannibalism? Hover for item names if you dare.
These users have dedicated themselves to displaying tasty treats in all their glory! Check out their galleries if you feel like gaining inspiration or possibly just enjoy salivating. (yikes)
Currently seeking galleries to list!
Worthy Wearables *
only the finest for your finest
-list cool wearables here (NP/NC)
-customization guide links
Candy Neopets*
sugary, sweet little things.
This room of the factory houses our delectable hard and gummy candies! Our candy neopets specialize in coating just the perfect amount of sugar on the gumdrops and meticulously paint ever so perfect swirly stripes. Interested in obtaining one of these artistic neopets? Here's how!
The color Candy was released on February 23, 2017. "Candy Paint Brush" is the official name of the item that coats your pet in sugary goodness! A Candy Paint Brush currently sells for 6,500,000np (6.25.18). However, there are multiple ways of changing your pet into this great color: a faerie fountain quest, the lab ray, a flask of rainbow fountain water, a rainbow swirly potion, and a kaleideonegg all have a
small
chance of turning your pet candy!

Chocolate Neopets*
rich, creamy, melt in your mouth-- WHAT!?
Watch your step-- bubbling chocolate often spills onto the floor in this magical room! Long into the early hours of morning, our Chocolatiers carefully craft each individual piece of Neopian Paradise. Mint, orange, chokato, strawberry... the combination of flavors never end! Longing for your own dedicated artisan? Keep reading!
The color Chocolate was released on February 18, 2005. Unlike Candy, there is no official paint brush! Chocolate pets are often created through the zapping with the Secret Laboratory Map. Other
chances
of changing your pet into this classic color include using a faerie fountain quest, a flask of rainbow fountain water, a rainbow swirly potion, or a kaleideonegg.

Mallow Grundos*
what squishy lil guys
DON'T TOUCH THA-- well... good luck washing that out of your hair! Welcome to the Mallow Laboratory! Here the grundo's magically create the fluffiest and lightest mallows, all without hands! Each mallow must pass a series of tests before shipment. Is it cute? Is it squishable? Is it too pure and innocent to ever join sloth? Wait, what? Nevermind. Sold on owning one of these amazing creatures? You should be!
The color Mallow was released on August 12, 2005. Due to it being a single species color, there once again is not paint brush. Grundo's are often zapped through the lab ray or dipped in the Rainbow Fountain to become Mallow. However, users may also
try
to obtain one through using a flask of rainbow fountain water, a rainbow swirly potion, or a kaleideonegg.

Custard Neopets*
ooey, gooey, scrumdiddlyumptious!
Many Neopian's are surprised that the Chocolate Factory would have it's hand in the custard game! Custard is the grandfather of fillings and the powerhouse of classic flavoring. The simplicity allows for ever-growing, specialized, candy-inspired experiments to bring you the next new sugary hit! Although we had to hire a crew to specifically mop this room 24-7, we simply could not innovate new products without our Custard Scientists. Looking to get your hands on one of these goopy nerds? Continue!
The color Custard was released on March 22, 2004. Yet again, there is no paint brush for this stellar color! Custard fanatics may try to change their pets color into this delightful mess by using a faerie fountain quest, zapping with the Secret Laboratory Map, and by
taking their chances
through using a flask of rainbow fountain water, a rainbow swirly potion, or a kaleideonegg.

Biscuit Neopets*
crumbly little bits of joy
Snag a handful of chocolate chips and welcome to the Biscuit Bakery! Here our doting and warm hearted biscuits whip up meaningful gifts to send to Neopets who are in need or hurting. We believe strongly in using our resources not only effectively but philanthropically! What better way to show care than by offering a warm, chocolate covered biscuit? ♥ Feeling a void in your neo-life and looking for some old fashioned nurturing? Consider adopting a biscuit pet today!
The color Biscuit was released on February 8, 2006. A "Biscuit Paint Brush" is the most common way of obtaining this look and currently costs 165,000np (6.25.18). Still, other ways of transforming your pet into the cutest of cookies include: using a faerie fountain quest, zapping with the lab ray, and
chancing
through using a flask of rainbow fountain water, a rainbow swirly potion, or a kaleideonegg.

Brucicle and Ice Bruces*
the chillest dudes in the factory
Please done a complimentary parka, as we are about to enter the Brucicle Icebox Ballroom. This chilly wonderland may look nearly abandoned but our operations are still going strong. With the decline in Brucicle neopets occurring in 2007 we have been a little short staffed... nonetheless, our beloved old-timers continue to mold the popular popsicles neopets love and crave in the summertime! Fashioning the tiniest of candies for eyes and delicately painting details onto the ice cream is no small task!
Brucicles can no longer be obtained, as they are an unconverted (UC) neopet. On April 26, 2007 the conversion occurred, giving players the option to convert Brucicles into regular ice Bruces.
Post-conversion, vintage Brucicles began passing down their ice cream magic to
Ice Bruces
. Here you will find old and new bruces working side by side to develop new sweet treats for the hot Neopian summers! Interested in owning an
Ice
bruce? Try obtaining one through zapping your pet with the lab ray! You can also try your luck by using a kaleidonegg.
Jelly Neopets*
their wobbling makes them difficult to high five....
If you brought peanutbutter with you... kindly keep it tucked nicely in your bag. Our jelly workers get a little antsy around that sticky substance! These wobbly pets are the silliest in the factory-- it's a wonder any work is accomplished here! Oh, you're wondering where our gelatin supplies comes from? Where does that door in the corner lead to? ...Moving on!
If you are interested in your own jiggly pet, you're in luck! Jelly neopets are obtainable through the Secret Laboratory Map, the Rainbow Fountain, or a Color Splash Random Event. You can also
try
your luck by using a Flask of Rainbow Fountain Water, Rainbow Swirly Potion, or a Kaleideonegg.

Contact The Owner*
Candied began in the Spring of 2018 and is hosted by me, Olive! I researched and compiled this page to its entirety, please do not steal or copy this idea. :) If you have any
questions, concerns, suggestions, tips, or encouragements,
please feel free to neomail me by clicking on the marshmallow elephante below. I love affiliating and viewing other awesome sites, so don't be shy!
yay, neomail!
Creative Credit
Thanks to all the creative neopians!
The owner of Element has given permission to use their coding for this petpage.
Please check out their lovely CSS site!

css © Element, edited by thebiscuitbunch.

CANDIED banner by the amazing Anna!

Adorbs pink affiliate buttons created by Alexis!

NEOPETS, characters, logos, names and all related indicia are trademarks of Neopets, Inc., © 1999-2018.