.


||NAME :|| Moptrais
||NICKNAME :|| Mopts
||SPECIES :|| Aisha
||BRUSH :|| White
||GENDER :|| Female
||EYES :|| Bright Yellow
||AGE :|| Juvenile
||BIRTHDAY :|| November 12th
||RESIDENCE :|| Haunted Woods, Graveyard
||SOUNDTRACK :||
This is Halloween- Nightmare before Christmas
Heads Will Roll- Yeah Yeah Yeahs
Sticks and Stones- The Pierces
Love Bites (So Do I)- Halestorm
Misery Business- Paramore
crushcrushcrush- Paramore



Moptrais is a rather odd aisha. She has long bat-like ears and a set of shadowy claw shaped wings (likely obtained through some form of ghostly dark magic). She spends nearly all of her time in the graveyards of the Haunted Woods, eating bugs and keeping the tombstones looking eerily nice, and has fittingly dubbed herself to be a Grave Aisha.
When asked why she spends so much time tending to others' graves she answers
They know how much I've done for them, so they won't eat me when the zombie apocalypse comes. Not if. When.
She closes her statement with a cheshire-esque smile.
Mopts' other hobbies include frightening children, playing pranks on other neopets, insisting that everyday should be halloween, and occasionally indulging in being SO RANDOM x3 !!1!!one
((Note: Mopts has a secondary, significantly less 3dgy, anthro character that exists in the same universe as Toxic, Sphat, and most of my other modern/city slickin neopets.))
.. need to redo page to center around anthro mopts ive decided..
Art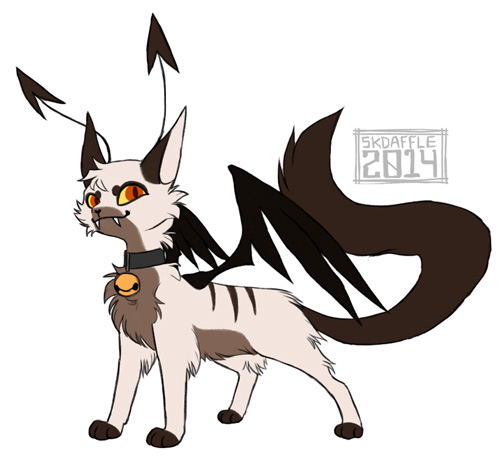 By Others
By
Finchia
and
Sleepytroll
!!
By
Hemo
!
By the lovely
meepitiest
,
Shii
, and
Kontera
!
By the awesome
Susie
!
------------------------------------------------------------------------------------------------------------------------------------------
My Account | Customise | Games | Explore | News | Pet Central | Boards | Shops | Premades | BG