An Interview with Misty


Uhm, greetings, peasant! What is it that you want? An interview? Well, I have about ten free minutes until tea time, so okay. Just stay at least five feet away from me, don't look me in the eye, and don't breathe in my direction!

So, I see you're royalty. What land do you rule over, and what is your title?

My name is Princess Mistyfoot, and I rule over Southeastern Brightvale, though I reside here in Faerieland with my family.

Where were you born, and how often do you visit your kingdom?

I was born in my kingdom. I visit my kingdom at least once every two weeks. It is very nice there, there is a small city, three small villages, and about six farms on the outskirts of my land. There's a dark forest surronding the city, which is good if there is ever an attack, because those who live on the farms or in the villages can find refuge in the city. Of course, we have never been attacked. If any area of Brightvale were to be attacked it would be Central Brightvale, where King Hagan resides.

Does your kingdom have an army of knights, and is there a castle?

Yes, we do have an army of knights. They help the rest of Brightvale and Meridell whenever there are wars, and they collect taxes and protect the royalty. And yes, there is a castle, but I'd call it more of a very large manor. It is on a hill overlooking the city.

Why do you live here and not in your kingdom?

Well, I prefer living here with my family. The knights take care of the castle while I'm gone, and of course we take vacations there.

Do you like your sisters?

I love my sisters! June is the very best shopping buddy, and since Naz is also royalty, we often go to Royal Balls together. However, Mummy has been keeping this 'lab rat' here, and I don't like her, or him, or whatever it is!

Do you--

Time for me to go, peasant! Now, I'll ask you to leave once, and if you don't, I'll send the drackonacks on you! Leave now!


Artwork of me!



Thanks krawkycrazy!


This is a list of all the directories I am in!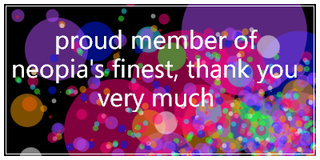 Au Revoir!

Goodbye peasants (or shall I say good riddance..)! See you.. ah, never! And if you ever tell anybody of importance that Princess Misty actually conversed with your peasant self, you will most certainly find yourself in a dungeon. Hmph!