Hi there mercy_angel!
My name is Misty832000, but you can just call me Misty. I was a beautiful Striped Uni, but now I'm a Desert Kacheek. Before I became a Striped Uni I was a plain old blue one. I'm now the lab rat since Potato refuses to go back to that mad Techo. She says that he always messes up her BD stats. I'm already hours old making me the second oldest one in my family!

When I'm not playing with Angel, I love to play games and hang out with my friends. Unis are naturally really athletic, so of course I usually win. Afterwards we all have a snack, like ice cream or chocolate cake - vegetables are so uncivilized! I love to eat sweets, but I always remember to brush my teeth afterwards to avoid getting cavities.





These are some of my favourite foods :)
Even though I don't look like a Uni on the outside, I'll always be an Uni at heart. I always use Uni shampoo and conditioner to keep my mane and tail tangle-free and shining. Angel will tell you that I accept nothing but the best to buff and polish my pretty petite hooves. Oh, what's a Uni to do? I hope I have the outfit to match..... (As you can probably tell by now, I'm a little spoiled.)
Here are some of the items that I use to keep myself looking beautiful:







I almost forgot to mention my lovely Feepit, Snow. I love to take her shopping with me. I think that she's just as spoiled as I am. Sometimes I even take Snow with me to the Spa where we both get pampered.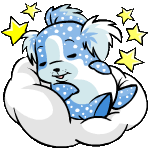 Since Angel got the petpet lab ray, Snow has been changing frequently. I'll always remember her as being a cute little Feepit though. By the way, Feepits are so much cuter than those evil Meepits.
I am not just a pretty face however, I read books regularly and once a week Angel takes me to the battledome to watch the tournament, especially when my brother Chubbs or my sister Potato is fighting. I would like to enter, it looks like such fun but I am afraid I might chip a hoof.
I really love my owner and I think I am the luckiest pet in all Neopia. If you would like to play with me or chat with my owner, NeoMessage mercy_angel!
Below is my hidden NC wishlist:
Adorable Pink Heart Wig
Autumn Back Porch Background
Beautiful Glowing Wings
Blue Kadoatie Hoodie
Butterfly Dress
Dark Chocolate Candy Wig
Dark Faerie Sister Wig
Dark Winter Hooded Cape
Darkest Faerie Dress
Flower Jewelled Sandals
Flower Petal Wings
Flower Sandals
Funky Shenkuu Wig
Garden Tea Dress
Golden Ball Gown
Gothic Inspired Makeup
Hannah and the Ice Caves Collectors Coat
Hoodie Sweater with Cybunny Ears
Iscas Dress
Lacy Cobweb Wings
Long Gemstone Wig
New Years in Shenkuu Background
New Years in Terror Mountain Background
Noil Costume
Noil Costume Hat
Noil Costume Slippers
Noil Costume Mittens
Noil Face Paint
Perfect Hair Wig
Pink Lulu Contacts
Poinsettia Wings
Pretty Dark Wig
Pretty Pink Wig
Prissy Miss Snowflake Dress
Prissy Miss Valentine Dress
Shining Princess Shoes
Snow Queen Wig and Crown
Sparkling Snowflake Wings
Spooky Green Contacts
Spring Flower Rain Slicker
Spring Flower Wig
Star and Moon Dream Wig
Tiara Updo Wig
Wintery Snow Swirl Capelet
Wizarding Apprentice Robe
Zenco the Magnificent Contacts