The menus will be following. There are four different menus, each one contains many succulent morsels from which you can choose. You may only select ONE item from each menu so choose wisely...

Once you have chosen the foods you want, go to the Eat page and all of the items you have selected will be listed there with the prices.

If you have a change of mind, you can remove items from your list by clicking the Delete button on the Eat page. When you are ready for the meal, hit the Eat Your Food button and enjoy the meal! If you are unable to finish the meal, we can arrange for you to take it home with you.

Read again what she just said.
3. There are 4 menu's. You can choose 1 item only or 1 item from each menu.
4. After choosing food goto the EAT Page.
5. At the EAT page if you decide you don't want something click delete and the food will go back.
6. If you are ready to eat it click on the Eat Your Food.
7. You may get left-overs at this point *having left-overs is random*
8. You can now leave the restaraunt.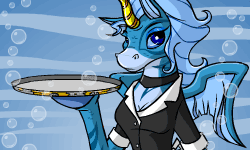 THE MANY SAYINGS OF THE WAITRESS ...
Welcome, I am sure that you will love the food here.
Welcome to kelp!
I hope you enjoy your evening.
Everything here is wonderful.
Mmmmm, the Fish Special is excellent today.
Hello, may I recommend the Ocean Platter today?
Feel free to take your time selecting your meal.
Let me know if there is anything I can do for you!
The Filet of Beef is exceptional today!
Hello, welcome to kelp.

WOW She is very friendly on politeness, isn't she?! So far so good. We are going to Love this place * ssshhh we are already hooked *
KELP APPETISERS
Maraquan Cream Broth 13,300 nps
Rich, spicy and ultra creamy. This soup is a true luxury.
Kelp Gazpacho 15,000 nps
A cool refreshing soup with a hint of lime and pesto.
Ocean Delight Salad 14,700 nps
Liberal helpings of shellfish and sea food make this a very filling salad indeed.
Mixed Green Salad 13,400 nps
Lettuce, kelp and nuts make this a tangy healthy choice.
Fresh Oysters 16,300 nps
Three fresh oysters with a lemon butter sauce.
Angel Hair Salad 13,000 nps
A light pasta salad sprinkled with meats and vegetables.
Succulent Cheese Dip 14,300 nps
A cheese mountain garnished with wafer cones and fresh chives.
Tropical Fruit Bowl 13,000 nps
A unique selection of some of the freshest Maraquan fruits.
Pate A La Kelp 15,800 nps
Our unique vegetarian pate is made from only the finest vegetation around.
KELP MAIN COURSES
Filet of Beef 33,000 nps
A succulent steak with a whirl of asparagus.
Spicy Radish Salad 28,400 nps
This vegetarian treat will both amaze and delight your taste buds.
Stramberry Sausages 31,200 nps
Mini sausages enhanced with Stramberry sauce and mashed zeevines.
Ocean Platter 33,000 nps
A delectable blend of Maraquan delights.
Fish Special 32,500 nps
A exotic blend of the freshest fish caught this morning accompanied by angel hair pasta.
Braised Turkey Cutlet 29,000 nps
Tender succulent turkey served with a variety of fresh Maraquan foliage.
Whole Roast Pheasant 32,400 nps
This tangy, gamey bird is smothered in a Foozette sauce and served with baked Corn Balls.
Luxurious Vegetarian Star Pie 29,100 nps
Our unique take on a vegetable quiche, infused with Grunions and Zeevines.
KELP DESSERTS
Kelps Signature Ice Cream 12,100 nps
People traveled from all over Neopia to sample this most unusual dessert.
Honeyed Horn Of Plenty 12,000 nps
Ice cream, sorbet and assorted Maraquan berries all drizzled with honey.
Peachpa and Stramberry Shell 12,200 nps
A wafer shell filled with Peachpa and Stramberry sorbet.
Coral Cake 12,300 nps
A spongy, sweet cake that is native to Maraqua.
Octopi Souffle 12,500 nps
Three delicious types of chocolate souffle shaped like Octopi.
Triple Chocolate Shell 12,400 nps
Milk, white and dark chocolate are elegantly blended together to make this distinctive dessert.
KELP COCKTAILS
Aged Tchea Juice 8,000 nps
The shape of the glass helps aerate the fine vintage and bring out the bold Tchea flavours.
Funnydew Melon Delight 9,000 nps
A cool beverage that helps cleanse your palate.
Lemwart Fizz 7,000 nps
A refreshing elixir infused with the apple-like taste of Lemwart.
Phear Juice Tonic 8,000 nps
Phear Juice decorated with a variety of tropical fruits.
Twirly Fruit Blend 9,000 nps
A light refreshing fizzy drink with a slight hint of Blobbule Juice.
Thornberry Brew 7,000 nps
An extremely concentrate blast of Thornberry juice.
Cornupepper Lemonade 9,000 nps
Made with Cornupepper seeds to give this drink a hot, spicy after taste.
Seaweed Surprise 9,000 nps
A tangy twist made from seaweed extracts.
Foozette Juice 9,000 nps
A sweet delicious drink made with fresh Foozette nectar from Mystery Island.
Blue and Orange Rambus Blend 9,000 nps
Fresh Blue and Orange Rambus delivered straight from the Space Station to make these exotic drinks.

AVATAR INFO :
The Bon Appetit avatar for this place is Random and Very Hard to get. You must have left-overs to get the avatar.
Because left-overs/avatar is random there are a few things that can be tried.
1. Have plenty of neopoints, as items are a bit spendy.
2. Make sure your pet is Bloated before entering.
3. Order 1 food from each menu and Hope on a Bloated belly all this will net a left-over.

Good Luck trying any method. Remember it IS Random and Hard to get the avatar.

Ways people have tried :
1. Picking item spending No nps and refreshing at the eat page.
2. Picking 1 item eating it and refreshing.
3. Ordering 1 item from each menu and got left-overs *there is not always left-overs with this option even when bloated*.
4. There was no event to see, assumed I hadn't gotten the avatar so kept eating ... the 8 times I ate I was given leftovers the once ... let people know that it's entirely possible they have the av, they just didn't get a SHH. *** this info is from a user ....
5. I just got the av - first try - with my pet "very bloated" (instead of just "bloated") - one item from each of the menus (expensive!), got leftovers. I had tried it just bloated, no luck. However when I got my pet very bloated I decided to try again. ***THX ;) NEW info 6/13/06
6. My ixi ate her food and had leftovers, but I didn't get the RE saying that I got the avie, so I kept refreshing at the eat page about 10 times then went to my lookup and it was there. ***THX Miss :) NEW info 6/15/06