Hello, everyone! This is Spark Ninetales, once again, with the rewrite of the Adblock Guide. What is this for, you may ask? Well, for Firefox users, this gives you a way to ward off all those pesky ads that Neopets has these days. And if you're not already using Firefox, why not give it a try? It is, in my humble opinion, much better than Internet Explorer. But explaining Firefox's better qualities is Mozilla's job, I'm just here to tell you how to block ads. So what are we waiting for? Let's get cracking!

Step One - Getting Firefox (skip if you're already a Firefox user)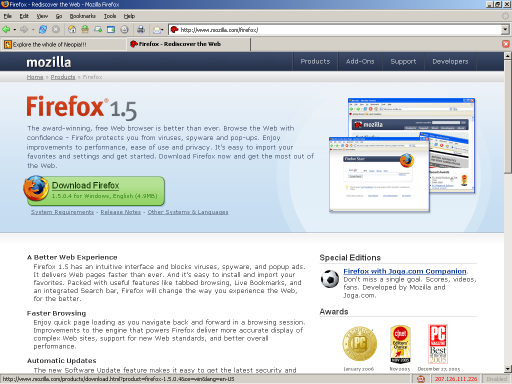 Go to the Mozilla Firefox page:
http://www.mozilla.com/firefox/
and click the green "Download Firefox" button. Save the installation file to a place you know you'll find later, such as your Desktop or personal download folder. Run the installation file to install Firefox on your computer. If you're not sure how to do this, click the "Release Notes" link under the download button, and instructions for installing Firefox should be on the page that loads.

Step Two - Getting Adblock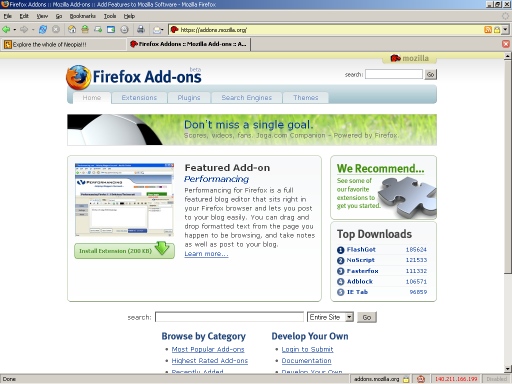 Go to the Mozilla Firefox Add-ons page:
https://addons.mozilla.org/
It should look similar to the screenshot above. Adblock should be listed as one of the top downloads. If it isn't, go here:
https://addons.mozilla.org/firefox/10/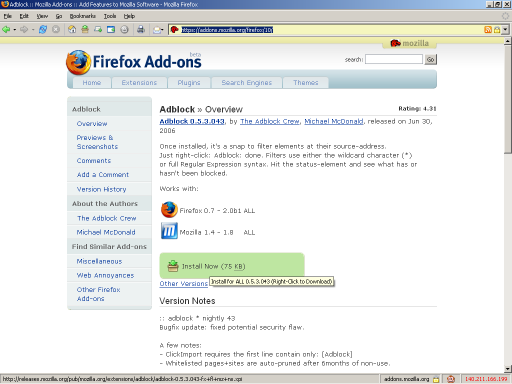 The resulting page should look similar to the screenshot above. Click the green "Install Now" button.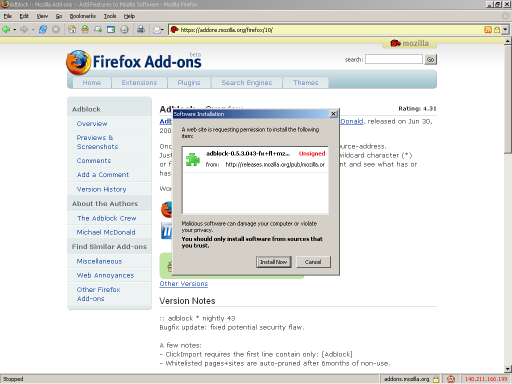 Firefox might throw a "Install Software" message at you, saying the extension is unsigned, and that malicious software can harm your computer. But since this particular add-on is from Mozilla's Firefox Extension page, it's trustable. Click "Install Now" whenever you can.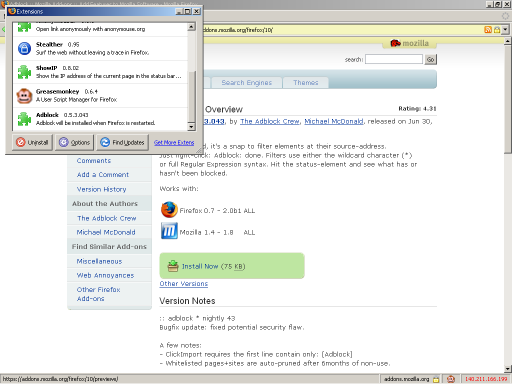 You should see something like this. (Don't worry about the other items on this list. These are just other Firefox extensions I have installed.) Do as the message tells you, and restart Firefox (exit and run again) to install Adblock.

Step Three - So, Now What?
Congratulations, you're now well on your way to a better, almost ad-free, internet experience. :P There are two ways you can go about blocking ads. One way is to block ads manually. The other involves another Firefox extension, which I will explain later in the guide.

Step Three, Part One - Manual Adblocking
Manually blocking ads and other image nasties is easy, once you get the hang of it. Just wander about Neopia until you encounter an ad, such as the banner ad above.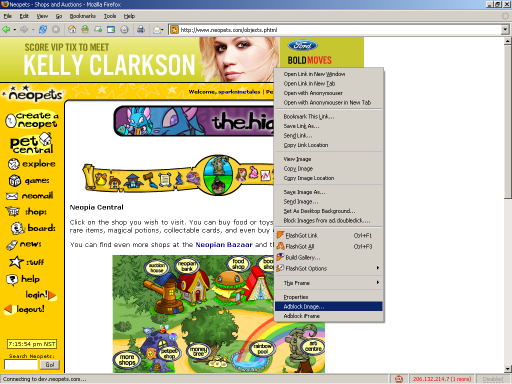 Right click the ad, and choose "Adblock Image".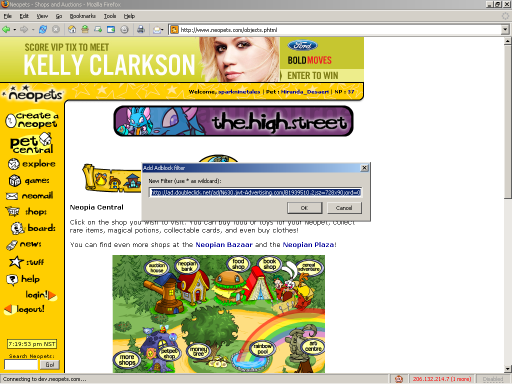 An "Add Filter" window should pop up. Note the text in the text area. That's the URL for that particular ad image. In this case, it's:

http://ad.doubleclick.net/ad/N630.jwt-Advertising.com/B1939510.2;sz=728x90;ord=0887900577?

but since Doubleclick is an ad company's site, let's block everything they throw at us! Highlight the whole string of text in the "Add Filter" window and delete it. (Hit Backspace or Del). Now, type in the following:

http://*.doubleclick.net/*

and click OK.
The asterisks (*) are wildcards, meaning that they can stand for any word, number, or combination of the two. This prevents Doubleclick from showing us ads from a site with a slightly different URL (example: ad2.doubleclick.net), and it also blocks ANYTHING in those sites' subdirectories. Simply put, bye-bye Doubleclick.

But what about Macromedia Flash ads? First of all, make sure Object Tabs are enabled in Adblock. In Firefox, go to the Tools menu, then Adblock, then Preferences, or use Control-Shift-P. This should bring up Adblock's preferences -blocked-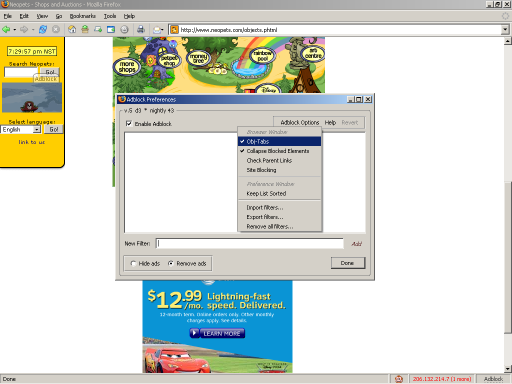 In the Adblock Preferences window, click Options. If the "Obj-Tabs" option is unchecked, click it to enable it. This places "Adblock" tabs on Flash (and possibly other type) ads, so getting rid of them is a snap. For example...




...I click on the Adblock tab that's on the AT&T ad, and...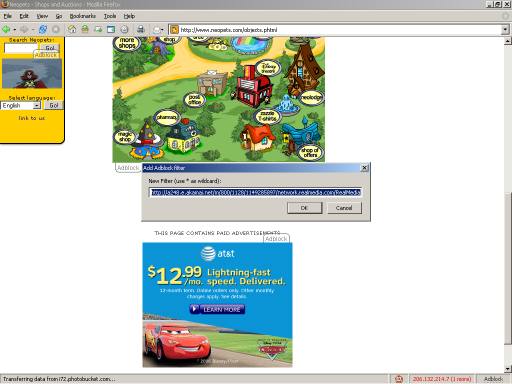 ...I get a Add Filter window, just as if I had chose "Adblock Image" for an image ad. In this case, it's:

http://a248.e.akamai.net/m/800/1128/1149285897/network.realmedia.com/RealMedia/ads/Creatives/OasDefault/...
(shortened form, it goes on and on...)

But let's use wildcards to tell all of Akamai to go away. Type this in instead:

http://*.akamai.net/*

and click OK.

Step Three, Part Two - Blocking Ads the Easy Way, Starring Filterset.G!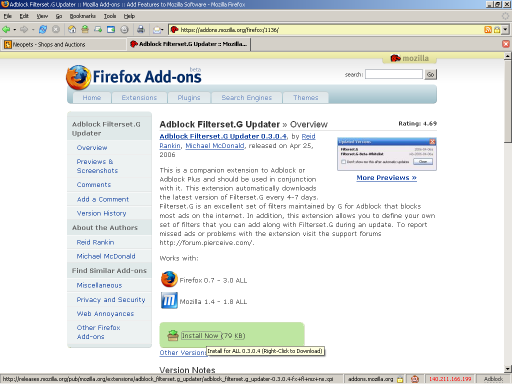 If you can't be bothered to repeat the (I admit) rather tedious process of blocking ads individually, there's a Firefox extension that automatically updates Adblock with an extensive filter that blocks all sorts of ads. Go here:
https://addons.mozilla.org/firefox/1136/
and install the Filterset.G Updater. Installing this extension should be a similar process to installing Adblock: click the Install Now button, click OK at the Software Update window, and restart Firefox.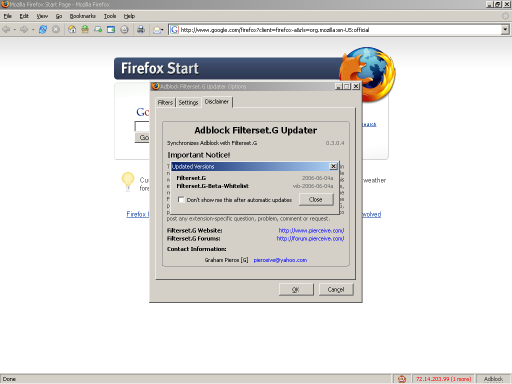 The next time you start Firefox, you should get a Disclaimer and a Update Notice window popup. You might want to check the "Don't show this when updating..." option on the Update Notice window before closing it. Close both windows. Congratulations, your Neopian (and, in fact, internet) experience is rid of a lot of ads. The Filterset.G Updater should automatically update Adblock with the latest filter every week or so, so you don't have to worry about that. Have fun!


Got a question? Comment? Confused? Send me a neomail. Also, feel free to link this. Spread the word, for this knowledge is power in the hands of us Neopians!
NEOPETS, characters, logos, names and all related indicia
are trademarks of Neopets, Inc., © 1999-2013.
® denotes Reg. US Pat. & TM Office. All rights reserved.
PRIVACY POLICY | Safety Tips | Contact Us | About Us | Press Kit
Use of this site signifies your acceptance of the Terms and Conditions