Diana's Dream Pets
Here you can request up to 2 dream pets, if any of them get zaped the zappers will be in touch with you.
To Request a pet please neomail _princess_diana.
RULES
1. you can only have 2 pets on the list at a time
2. No begging for pets, there are people in line in front of you, be patient
3.No requesting UC or Lutaris please
4. I you have gotten your dream pet please notify me so i can take you off the list
NOTE:Baby, Pirate, Plushie, Quiguki, Royal, and Usuki are NOT available in the lab, so keep that in mind when choosing your dream pet. It is less likely to get these colors.
ALSO: If you want a certain gender and/or are name picky, please be sure to specify.
Link back to us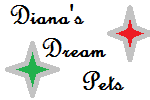 Funds
Since it takes a lot of neopoints to buy the paint brushes and potions to get everyone's dream pets, we have decided that the best way to help as many neopians as possible, would be to use our lab maps. However, we will on occasion go out of our way to buy paint brushes and potions to fulfill a dream. If you would like to do your part, Donations are greatly appreciated in my TRADE
Stats
Started 7/23/12
Funds 630,000np
Zappers 28
Number of pets given away 5
Number of Painted pets given away 1
Number of requests 109
Section Leaders
If you want to request a pet please neomail _princess_diana, thank you.
_princess_diana (All)
starry_wolf_howling (Section A-D)
dadlindsay (Section E-H)
zapdosbear (Section I-K)
word_speller_ (Section L-P)
Ameyxo (Section Q-Z)
Zappers
If you want to be a zapper please neomail _Princess_Diana
vickiponypal--(Section A-D)
xxpagoxx--(Section E-H)
cut_and_bleed--(Section I-K)
detective_brittany--(Section L-P)
squeakybubble1--(Section Q-Z)
aliiciaa--(Section Q-Z)
thefantasyprincess (Section ?)
purple_yellow--(Section ?)
amyliz9900--(Section ?)
puppies10190--(Section ?)
shutupdude1331--(Section ?)
macarena_dance--(Section ?)
riza_wildman--(Section ?)
bella20216--(Section ?)
medusa1231--(Section ?)
botenoam--(Section ?)
nynx--(Section ?)
giggler__9--(Section ?)
huskiecheergirl--(Section ?)
prisym--(Section ?)
its_nate--(Section ?)
seahorselady1--(Section ?)
skull3d--(Section ?)
wingedfaery--(Section ?)
Requested Pets
Acara
giggler__9--Mutant Acara(10/24/12)
ameyxo--Elderlyboy Acara (10/29/12)
cassichu--male mutant Acara (2/3/13)
Aisha
katiaswift11--V/WN Female Alien Aisha(7/27/12)
lovcity--Female chocolate Aisha(8/26/12)
ameyxo--Alien Aisha (10/29/12)
Blumaroo
x_mrs_liam_payne_x--Woodland blumaroo(7/23/12)
Bori
kougracatiger115--desert bori(7/23/12)
Bruce
anthony10713--vwn/wn island bruce(7/23/12)
Buzz
Chia
chia_floured--VWN/WN Peach Chia(10/29/12)
24lydia24--WN male pea chia(11/6/12)
Chomby
ham_water--Mutant Chomby, WN, M(3/18/13)
Cybunny
cooldork19--Water Cybunny(7/23/12)
cooldork19--Eventide Cybunny(7/23/12)
lilmissgiggl3s--Maraquan Cybunny(7/23/12)
Draik
anthony10713--vwn/wn maraquan draik(7/23/12)
purple_yellow--basic Draik(7/23/12)
vickiponypal--Mutant Draik(7/23/12)
shutupdude1331--Zombie Draik(7/24/12)
kiishaya--darigan draik(7/24/12)
evb14--Mutant Draik(7/24/12)
detective_brittany--WN Any Draik(7/27/12)
detective_brittany--grey draik(7/27/12)
taylorrulez353123--any draik(7/27/12)
xriels--WN-DN Wraith Draik(8/3/12)
ashleeque--WN draik(8/15/12)
luvcandy08--VWN Grey Draik(8/20/12)
crazy_man8--desert draik(10/29/12)
cosplayodango--F White Draik(11/6/12)
cosplayodango--F Shadow Draik(11/6/12)
smcxkac--WN Desert Draik (11/6/12)
xo_fullmoon_xo--wn F faerie Draik (2/3/13)
xo_fullmoon_xo--F wn water draik (2/3/13)
Elephante
Eyrie
safiriana--Wn Cased robot eyrie (10/24/12)
safiriana--Wn White eyrie (10/24/12)
writing_lullabyes--F Darigan Eyrie (10/29/12)
anz95 --Maraquan Eyrie(11/6/12)
Flotsam
dragongirl62019961--WN Desert Flotsam(7/27/12)
Gelert
lapony_lamary--maraquan Gelert(7/23/12)
evechan8--Maraquan Gelert(7/23/12)
0starkill0--WN female maraquan gelert(7/26/12)
kaykae007--Maraquan Gelert(7/27/12)
famuse--VWN Shadow Gelert(8/16/12)
robinhoodfan--F VWN snow gelert(8/20/12)
katablz--WN/VWN faerie gelert (10/31/12)
Gnorbu
xx_midnight_xx3--faerie gnorbu(8/3/12)
Grarrl
bruler--fearie grarrl(10/29/12)
Grundo
cccdy666--Halloween Grundo(10/25/12)
Hissi
kougracatiger115--transparent hissi(7/23/12)
vickiponypal--Maracite Hissi(7/23/12)
aliiciaa--WN Ice Hissi(8/20/12)
cccdy666--Desert Hissi(10/25/12)
Ixi
Jetsam
crab17--WN Faerie Jetsam(7/27/12)

boy_of_no_return--Robot Jetsam(9/10/12)

vongola_freak--Camo Jetsam (3/20/13)
JubJub
crab17--WN Maraquan Jubjub(7/27/12)
Kacheek
marpink--Maraquan kacheek(7/23/12)
christa99b--WN Female White Kacheek(7/27/12)
googlierocks--VWN male halloween kacheek(8/26/12)
viickiiie_101--WN Male White Kacheek(11/6/12)
Kau
Kiko
Koi
achesh--WN plushie koi (3/27/13)
achesh--WN woodland Koi(3/27/13)
Korbat
jumptovictory--Robot korbat (robotic name)(7/23/12)
Kougra
erin30526--Eventide Kougra(10/24/12)
erin30526-- maractite kougra(10/24/12)
Krawk
kiishaya--faerie krawk(7/24/12)
daiana_35--robot krawk(7/27/12)
saradoggy10--wraith krawk(8/26/12)
mexxyyy--WN Zombie Krawk (10/24/12)
thehelper187--Robot Krawk(11/6/12)
Kyrii
brendascove--Water Kyrii(8/26/12)
101_belle_101--F Stealthy Kyrii(3/27/13)
Lenny
nynx--WN Female Pink Lenny (10/24/12)
Lupe
magicpasty--WN Robot Lupe(8/16/12)
Meerca
Moehog
Mynci
Nimmo
Ogrin
bella20216--VWN Elderly Boy Ogrin(8/15/12)
boy_of_no_return--Male Robot Ogrin(9/10/12)
Peophin
mexxyyy--WN Female White Peophin (10/24/12)
dethklok_skwisgaar--F Halloween Peophin (3/27/13)
Poogle
christa99b--WN MSP Poogle(7/27/12)
daiana_35--WN MSP Female poogle(7/27/12)
katiaswift11--V/WN Female MSPP(7/27/12)
bella20216--MSP Poogle(8/16/12)
thecharmbeneath-- MSP Poogle (10/24/12)
rawr_melissa_rwar--MSP (2/3/13)
Pteri
xx_midnight_xx3--faerie pteri(8/3/12)
Quiggle
Ruki
Scorchio
wolfspirit200179 --Halloween Scorchio(8/15/12)
Shoyru
dragongirl62019961--WN Faerie Shoyru(7/27/12)
Skeith
Techo
thehelper187--Robo Techo(11/6/12)
Tonu
lapony_lamary--maraquan tonu(7/23/12)
Tuskaninny
Uni
lilmissgiggl3s--Woodland uni(7/23/12)
24lydia24--female/WN Maractite uni(7/24/12)
wujingjing--Water Uni (10/31/12)
Usul
economicman--robot usul(7/27/12)
capitulated--WN F faerie usul (10/21/12)
spektra7--F WN Choco Usul (10/24/12)
Wocky
marpink--Water Wocky(7/26/12)
Xweetok
kaykae007--Faerie Xwee(7/27/12)
aliiciaa--WN Halloween Xweetok(8/20/12)
googlierocks--VWN male halloween xweetok(8/26/12)
aliiciaa--WN female Eventide Xweetok(4/5/13)
Yurble
talky_toon--DN desert yurble male (2/3/13)
Zafara
taylorrulez353123--Male Darigan Zafara(11/6/12)
Pets that will need to be painted
evechan8--Plushie Gnorbu(7/23/12)
jordanjrain--Baby krawk(7/24/12)
kakafofixono--Baby Krawk(7/27/12)
giggler__9--Baby Aisha (10/24/12)
lorrizlezhou_1_6--Plushie Aisha (11/6/12)
lorrizlezhou_1_6--RG Aisha (11/6/12)
santamonicace--Plushie Kougra (11/8/12)
rawr_melissa_rwar--Royal Boy Uni(2/3/13)
cassichu--male plush aisha (2/3/13)
LAYOUT BY SUNNYNEO
NEOPETS, characters, logos, names and all related indicia
are trademarks of Neopets, Inc., © 1999-2013.
® denotes Reg. US Pat. & TM Office. All rights reserved.
PRIVACY POLICY | Safety Tips | Contact Us | About Us | Press Kit
Use of this site signifies your acceptance of the Terms and Conditions