Aloha E!
There's no place I'd rather be
Sen Kagemiya and Shu Akitsu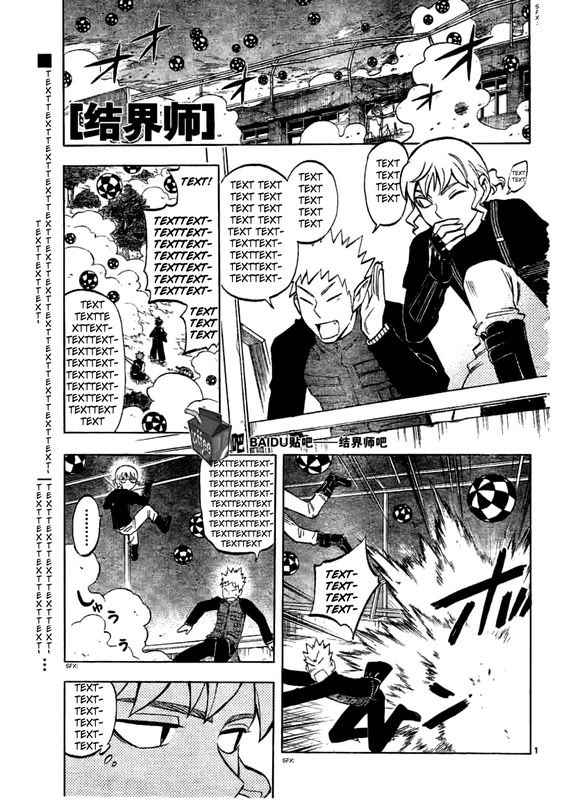 Sen Kagemiya is a fourteen-year-old boy just starting the 9th grade. He was originally in the Combat Division of the Shadow Organization, but was transferred to the Intellegence Division with Shu Akitsu. He is a half-ayakashi and it is revealed he can read minds and extract claws from his fingers. He hates bugs and also hates to be reminded of his feminine features. Sen's main features are his curly blond hair and pale skin, along with having a very skinny body. No matter what he wears he usually looks like a girl and nevertheless has a deep voice.
Shu Akitsu is Sen's friend who also works for the Shadow Organization. He is assigned with Sen from the Combat to Intellegence Division. He is also a half-ayakashi who can grow wings and use D3v!ls Ear which allows him to have excellent hearing. He has grey-brown spikey hair and squinted eyes that rarely open up. He's very tall and is two years younger than Sen in the manga, but one year older than him in the anime. I go by the first one, so he is a twelve-year-old boy entering the seventh grade.
Then on my surfboard out at sea
Kazuki Muto
A 16-year-old boy who attends a private school with his sister, Mahiro. He becomes involved with an Alchemic Warrior, Tokiko Tsumura, and gets kxlled when he tries to save her. He is brought back to life using a Kakugane, which turns out later on to be a Black Kakugane. He is told to go on with his regular life, but when his sister almost gets eaten by a Homunculus he decides to help Tokiko fight. The kakugane that is within him turns him into a 'Victor' and has to use the white kakugane to turn back.
Kazuki is very enthusiastic and friendly, and cares a lot for his friends and family. Even though he hates pain he tends to put himself in danger or difficulty in order to help or protect others.
*I will protray him as his usual self or a 20-year-old PE teacher. :)
Tokiko Tsumura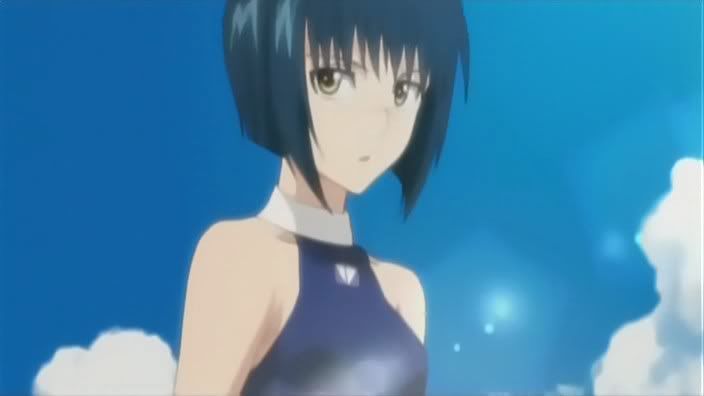 A seventeen-year-old alchemic warrior that was assigned to take care of a homunculus problme in the town where Kazuki lived. When Kazuki gets himself kxlled when trying to save her (she actually had the situation under control and Kazuki ruined her chance to defeat the Homunculus), she felt a sense of attatchement and revived him using a Kakugane to replace his heart. Tokiko is very dedicated to her job as a warrior and claims to hate all homunculi, which led to her quitting school in order to be more efficient. Her hatred comes from the tramau she suffered as a little girl when all the people in her school were kxlled or eaten by the homunculi. As such, she is serious almost 24/7, and this leads to awkward situations when around Kazuki and his friends. She is assigned to be a student in Kazuki's school by Captain bravo and eventually falls in luff with Kazuki. Her 'famous' quote when battling is, "I'll splatter your guts" in the manga and "I'll rip your guts out' in the anime.
Lingering in the ocean blue
Xion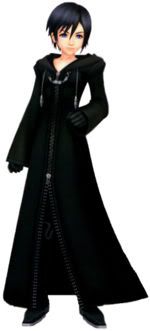 Xion is the fourteenth member of Organization XIII and appears in Kingdom Hearts 358/2 days. She is not actually a NObody, and not even a true member of Organization XIII. Because of this she does not have a throne, nor a title or breed of Nobody to control. Instead, she's a failed replica of Sora created with his leaked memories of Kairi as a fail-safe in case both Sora and Roxas were useless in Organization XIII's plans. While this enables her to use the Keyblade, it also halts Sora's progression of regaining his memories so he can fully awaken while in his pod. Namine, Diz, and Riku soon come to realize this.
As Sora's memories are the basis of her being, Xion initially resembles Kairi, though her physical appearance eventually changes depending who is looking at her and who they have connections with. Roxas, Axel, adn Riku see her as Xion (and later as Sora), while Xemnas and Xigbar see her as Ventus, and Saix sees her as a hooded doll.