Chapter 1
It was an unusual summer evening. The Moon-wing Clan took great pride in the unique way they raised their young. So much, in fact, that their young and eggs never went unsupervised. Each egg was brought immediately to the nursery to be cared for communally by each clan member in turn. Each of the young would be brought up together with the other clan young of their season. Individual heritage was of little importance. In fact, often the eggs would get mixed up and no one was entirely sure which young was whose.
The reason why this summer evening was so different was because the usual egg guard was missing. The two blue melon sized eggs were left dangerously alone. Moonlight cast down through the trees at the exposed eggs as though exposing their vulnerability. A shadow came over them-
With a loud crack and a wiggle, a young clan member stumbled into the nursery. His large eyes blinked several times, adjusting to the dim light. The clan leaders had named him Kracket, meaning "cricket head" in the old tongue. Rightfully so, as it seemed you could hear the sound of a singing cricket twixt his ears. The poor chap couldn't think himself out of an imaginary box.
Kracket blinked a few more times, a little worried that his mini adventure may have been discovered due to his absence, but he saw no other draiks. He wailed. An egg! When he had left, there had been two, but now that he was back, there were three! He sobbed and wailed some more, knowing that at least one other draik knew he had been away from his post (he had not the brain power to deduce that if it were a member of any moral, he or she would have stayed to make sure the eggs were watched, at the very least). He decided to think up a story. Yes, that should work. Make up a story that proved he HAD to be somewhere else at that split moment the egg was dropped off.
He was hungry! No, that was just too unresponsible (yes, he thought unresponsible). He thought there was an alarm in the main hall and decided to check it out! No, then he should have taken the eggs with him to make sure they got out if it was a fire. He had heard a youngling scream in its sleep! Yes! It made him sound heroic and most of all-not like a stupid head.
As all this went through his head, he never thought to check over the egg. The other two were a robin egg blue, while the third was more of a silvery color. This fact was discovered by the others the following morning. They, of course never asked poor Kracket why he was away from the nursery. They did ask who brought in the egg, to which he blurted he did not remember. "Typical Kracket." they said. "With air for brains, the only thing he is good for is watching eggs that can't move.
The rumors of the strange arrival spread but did not linger. It was typical for the clan eggs to vary in colors of blue. Eventually the news faded and no one asked questions.
As August turned to September, the nursery was ablaze with curious folk. Any day, the summer eggs would be hatching. News of the first crack had brought even more curious draiks. Now the eggs were riddled with cracks and the vibrant sound of draiklings emerged, frantic to escape their shell prisons.
The first of the three to hatch was a male. Soon after escaping it, he showed his aggression by attacking the remnants of his shell, shaking it in his tiny jaws. The adults awed at his protests.
The second one was much slower to hatch. Her fur and scales shined lighter blue than the male. Her eyes wide, adjusting to the light, quite curious. One of the adult females insisted to her friend that it was hers and chimed proudly about how beautiful she was.
The last egg wiggled. It was the oddly colored one. The crowd watched silently, all dying of curiosity over what such an odd egg would bring. The top popped off and the little draik wiggled its way out through the small hole it had made. Indeed, the odd egg had become an odd draik. She was slightly larger than the other two, yet her feather wings were the same size. Her fur shone a beautiful purplish blue and her scales gleamed like moonstones.
Many of the clan members oohed and ahhed over her beautiful and unusual colors, speculating which members were the parents. Many pointed out her small wings, though. Mighty feathered wings were the pride of the Moon-wing clan. "Perhaps they will grow into her as she grows," some said. Many hoped so, as such a grand and unusual member would be spectacular for the Moon-wing clan. And so they named her Mejirah, meaning "beauty strong".
Chapter 2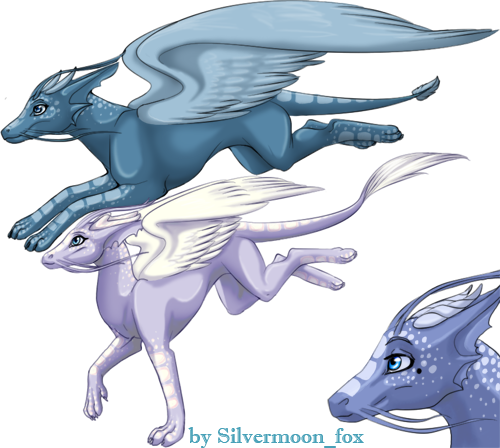 Thirteen moons passed, the typical time it took for a youngling to reach maturity. Mejirah was spending her late summer evening with her two season mates. As per clan tradition, the trio had been raised together as siblings. The male was named Vickren-meaning " Tough-Jaw" and the female was named Armeji, meaning " Gentle-Beauty" .
Sadly, Mejirah's wings did not seem to grow much with her. In fact, they were hardly bigger than when she had first hatched. The excitement of her pelt was smothered by the fact that her wings had not emerged. She was seen as a hinderance, as she could not fly with the other clan members and hunt to feed herself. Instead she hunted with her season mates, gliding from tree to tree, catching small prey to whet their appetites. She had adapted fairly well. While she could not fly up, she was far more agile gliding through tight brush. She proved swift of foot and quite bright for her age. Vickren took to her quite well, defending her from other young draiks that may bully her for her disability. Armeji didn't deem to have much more going on than the village idiot- Kracket. But she was a beautiful draik. So many liked her and she stayed loyal to her season mates.
The magnificent trio bound and glided, unsupervised now that they could fend for themselves against danger. Mejirah bounded in front, half gliding, half running. Vickren kept pace with her, growling with mock play, straining to catch up with her. Meanwhile Armeji glided merrily behind, snapping at small butterflies, completely oblivious to anything else. A good hunting season had allowed the young to go out and frolic for a time, something Mejirah in particular had needed.
For the most part, the other draiks ignored her, but at times, she was looked upon with a hint of pity. Such looks sickened her. She pushed herself harder than any of the clan's young members. She learned keener ways to hunt, but the fact that she could not fly had prevented her from being included in the main hunts. She was left to dawdle back at home, watching eggs like a feather brain. The thought crossed her mind several times that they did not cast her out only because her scales were pretty.
Frolicking deafened her mind of such thoughts. She would yearn for her season mates to return so that they could spend an evening such as this. This day had been longer than most, and the trio found themselves further than they had ever been before. Mejirah stopped when the trees gave way and the skies opened up. Vickren glided up to her and tapped her between her shoulder blades as though he was going to tackle her, but then pulled away and landed a few feet before her. They both looked curiously at the unknown lands that laid ahead.
The land seemed to end just a few feet away and a roaring fluid beast took over for the next several hundred feet. The curious young edged closer. They had never seen anything like it.
What do you think it is," asked Mejirah.
Vickren squirmed with discomfort, as though something inside him deeply feared the strange force, but his desire to show brave, soon overcame it and he stepped even closer and slowly lowered a paw towards it and touched it. "It's cold!" he cried. "It feels like...drinking water, but it's...moving."
By that time, Armeji had caught up to them. She suddenly came out of her trance and made a small screeching sound. "It's the river-srong! Stay away! If you fall in, you will drown!"
The other two draiks looked at each other puzzled. Anything coming from the mouth of Armeji had to be thought out as perhaps being bologna.
Remember the rhyme?
You Are Safe in the Sky
In the River, You Will Die"
Mejirah and Vickren glanced again at each other. "How do you know what a river looks like, Armeji, " grunted Vickren.
My mother told me," She simply replied. "She said that my aunt drowned two summers ago from trying to catch a...shiny thing in the water."
Mejirah bit her tongue to keep from saying anything she would regret to the naturally fragile minded Armeji. She felt the sharp sting of jealously. It was not typical for a youngling to be claimed by his or her parents, but Armeji had been and her parents spent extra time teaching her (something she obviously needed). The fact made Mejirah think her parents must be ashamed of her.
She got in the water and it got in her feathers and it made her too heavy and she drowned," Armeji continued.
Vickren shivered when he glanced back at the water, but Mejirah seemed entranced by it. She knew that she should be afraid, but the sparkling beast distracted her from everything, including her jealousy.
We should be getting back," Vickren interrupted her wayward thoughts. "It's starting to get late and...I don't think we should be this far away from the clan anyways."
He turned away and took flight, Armeji eagerly took off after him, glancing with a concerned look towards the raging river. Mejirah lingered for a second or two, taking in the sight. How could something so lovely be so dangerous? A soft call from Armeji made her come to her senses. She pushed the river out of her mind and took off after her season mates, though images of the grand place lingered in her thoughts and in her dreams from that night on.
Chapter 3
Crashing and swirling. Mejirah was surrounded by it. The river-strong snaked around her being, trapping her as though it were a great basilisk. Her hear raced. The cold tendrils trickled through her fur, holding her down. The weight was incredible. It pushed down on her and covered her from sight. She was drowning-
Mejirah woke with a start. The roar had been replaced with the soft chirp of petpetpets. Soft moonlight lit up her nest she shared with her season mates. A soft whimper from Armeji startled Mejirah, but the little powder blue draikess rolled over with a loud not-so-lady-like snore and fell quiet again.
Mejirah breathed out. Her heart was racing still and sweat misted her face. A pit fell in her stomach. These dreams seemed so wrong. She felt guilt for dwelling on such a devastating creature as though it were something precious. It was best she forget the thing, the sooner, the better. I'll just take a quick stroll, she thought. Just to get it out of my mind.
She peeked her head out of the stick made nest to the still trees outside. The other nests were still. The moon-wing clan often hunted in the early evening, but the morning darkness was spent in a deep slumber.
Deeming it safe and that she would be alone, Mejirah glided down to the moss covered ground, tripping lightly as she landed somewhat gracefully. Her soft feet made no sound. Even the petpetpets kept chirping as she walked along the moonlight path, filling her ears with imaginative song. Her mind was eased. Music had always been her first love. The moon-wing clan had their own form of music. A rich chorus of voices that would intertwine and create new melodies. The music was beautiful, but the music Mejirah entertained in her own head was even more so. She imagined a solid and mournful melody, accompanied by the very petpetpet chirping she heard. Unlike the moon-wing clan's music, her melody twisted and turned, but never changed completely.
A hum escaped her lips and Mejirah snapped to attention. She didn't want to wake up any stray clan members and certainly didn't want some foreign melody to escape her mind. She was different enough.
The pause was enough to bring her to her senses. She realized that a ways ahead the forest was lit up with the magical lights the elders used during ceremonies. A puzzled look crossed her face. There were no plans for festivities until the red-leaf-fall and that was at least a month away.
She felt her curiosity pull her forward. She tucked her wings in to prevent them from pushing branches or causing a breeze that may shake the leaves and carefully crawled up towards the light.
She placed herself carefully in the shadows of the surrounding trees. Her wounded wings had enabled her to engage a different kind of stalking. Such practice enabled her to approach other draiks with little or no notice. This night there were several draiks out. The lines on their faces indicated that they were the elders of the clan. They all murmured amongst themselves about seemingly meaningless things like how the leaves were turning colors and the petpetpets were unusually loud.
One of the elders cleared his throat loudly. The others fell quiet and directed their gaze to the clan leader, Sok-eye. It was then that Mejirah realized they were all laying down on moss beds all in a circle facing each other. This was a clan meeting! She had never been part of one before, but had seen them. The clan members would eventually become part of the meeting on about their 30th birthday, depending on their mental maturity. Thus the faces at the meeting were very worn. But most clan meetings were held much more publicly. Other members were allowed to watch quietly, but never participate other than to relay facts or news on occasion.
I take that most of you are aware why such a secret meeting is taking place," Sok-eye began to speak, clearly, but quietly. "This meeting is held in secret to prevent panic among the younger clan members. The sixth year is upon us: the year of lean hunting."
A rush of whispers polluted the congregation again. Whispers of concern or anger were rampant. Sok-eye raised a furry paw and again the congregation fell silent.
As per the natural pattern of our valley, the prey animals will be migrating outside our hunting grounds. I can not stress enough, explain gently to your legacy one on one that there will be no eggs any season this year until the prey return the following red-leaf-fall." The old one paused, as if waiting for it to quiet again, but there was no need. Each elder was either hanging on his every word or thinking silently to themselves on how they would approach each of the members planning eggs soon. "Every member must be careful. We cannot afford mistakes this year, or we risk starvation. The yearlings will join us on our hunts early-"
What of the crippled one," interrupted a crusty old female Mejirah recognized as Prisza. "The one named Mejirah. Her wings are too small to join us on the hunt. She can't hunt enough food to feed herself."
Sok-eye glanced down his nose at Prisza. His face seemed to twitch slightly, showing he did not appreciate being interrupted, but he did not ignore her. "Mejirah will need to be dealt with in some way. We have not yet decided how."
What about the old healer in the next valley over the mountains to the north?" asked another elder.
An outsider?" snarled another with distaste, "Touch our Mejirah?" The name was said with both distaste and love.
I say we let her fend for herself," grunted yet another. "She can fend for herself on small prey with no help from us."
What about in the winter when the small prey sleeps?"
Silence!" demanded Sok-eye. The others fell silent instantly with small looks of shame on their faces. "This matter is to be thought out carefully. I feel that we should part. Each think of a way we can deal with this matter in its entirety and bring it forward next morning. We shall discuss this," he raised his brows, "-with order."
Murmurs rose low and quiet, but soon stopped. Each of the elders nodded and stood up. Mejirah bounded back into the shadows as quiet as she could be so as not to be found out. Her heart raced wildly with a mixture of feelings: fear, hate, sadness, confusion. She knew that she was a burden on the clan, but not this much! What would they do with her? Could she maybe learn a new way to hunt big prey by then? She would need help and she doubted any other would be willing to change their hunting way to run as a pack with her.
Her rampant thoughts had distracted her so much that Mejirah had not realized that she was already back to the tree where her season nest lay. She looked up longingly at the edge of the branch made nest. A soft snore came from above. Vickren often started snoring once the sun started rising. Harsh orange light started creeping over the ground now. Most of the clan would be sleeping for the next several hours until midday.
Her gaze turned to the north mountains. They were slightly distant, hazed to a dusty blue, but not daunting. Snow barely caped the pointed peaks. The summer sun had melted the most of it, feeding its waters to the river-strong. Perhaps this healer...is worth the journey, she thought. She sighed, with one last glance at the sleeping nests. She would go. No one would even know she was missing until she was past the river-strong
Off she trotted northward, the mountains in her sights. In her mind, she imagined coming home to the clan with two enormous beautiful wings. She smiled on the outside. It would be worth it.
Chapter 4
The first part of Mejirah's journey was easy. She knew the land well, every tree, every rock. She kept a strong pace. If she wasn't outside the clan's hunting grounds by mid-day, they may discover her missing and retrieve her. If it got dark, she could perhaps hide from them. The Isthil had great night vision, but it would be color blind. Mejirah's purplish pelt gave her away, otherwise.
It wasn't long before she reached it. The river-strong roared as though to scare her back to her clan with her tail between her legs. She hadn't remembered how big it was. It was like a serpent, but so much larger than any serpent could be. She would have to be careful crossing the dangerous thing. Even if she could fly, the cold from the water cause the air to almost pull a flyer down.
Mejirah spread her wings with hesitation. She did not fear the river-strong as much as she felt she should. Her steady gaze found a series of stones fighting the current. It seemed they were actually moving their way upstream, the way they stood their ground. Mejirah crouched and like a spring was loaded in her hind legs, she leapt. Half gliding, half relying on her strong legs, Mejirah landed lightly on the rock.
Her feet slipped a little on the wet surface. A shiver ran down her spine. Maybe she should turn back.
She shook her head to rid herself of such fears, and almost as a way to escape them, took another giant leap. Another and another, soon she found herself at the other side of the river-strong. The other side now seemed to look greener than ever. She sighed and turned back around. She was most likely safe from being forced to return and the mountain was only a two day run, at best.
By nightfall she had made her way a fair distance into the mountain range. It had surprised her that it was much harder than she thought it would be. The journey was mostly up hill. But the healer lives in the valley below. I can just glide down the other side, she thought. She began to shiver again. It was so much colder up here than in the valley. Her fur was made to keep her warm in the cold high air, but only for short periods of time. Isthil draiks were expected to be low altitude flyers. She kept on going for a couple hours after dark, then decided to stop for the night. It would be easier to run up the mountain being warmed by the sun.
So she curled up in a little ball, tucked in tight under the roots of a pine tree and closed her eyes. All the while, her dreams were filled with play from her season mates.
The rest of her journey seemed uneventful. As she approached the peak of the mountains, it got colder and colder. She had carefully chosen her path to keep as low as possible. It was late afternoon once she reached the top.
The sight below was absolutely majestic. Behind her, the river-strong looked like a tiny long worm. Ahead was the next valley. It was so much more beautiful than her own. The trees were more lush. There were less thin pines and more ancient oak threes and cedars. It took her breath away.
She had heard stories of the ancient healer that lived in this valley. Many claimed that she brewed potions from bones and blood. Others said she was a homely old crone who tended a lovely garden full of healing herbs. All the stories told of her little hut and that beside it ran a great waterfall and a gentle stream.
Mejirah hunted the scenery for another river that could make such a waterfall. Her spirits lifted. There was only one stream strong enough to make such a waterfall and it was not far at all.
She launched herself into the air and glided her way down the mountain side. Even though her wings were of a crippling size, they were perfect for such a glide. The cold wind whipped through her fur. She tucked back her ears to hush the roar and too keep them by her warm neck.
It seemed like hours, but was perhaps only one that passed by. The stream glittered below and grew larger as Mejirah descended. Her heart leapt into her throat as she spotted the small clearing. It gradually emerged from the smoky crashing waters. It was beautiful!
Mejirah had never seen so many flowers, or so many kinds of flowers. They littered the grassy knolls below, bright blues and yellows. Her wings curved up and she landed softly among the soft little jewels. The ground was so soft here.
Not far ahead, Mejirah could make out a squat little hut. It was hard to see from above as the roof seemed to be entirely made of moss. Pieces of herbs hung from the hanging eaves, drying in the evening sun. The fragrence of flowers and warm bread flowed from the entrance that had no door.
Mejirah paused, a little shy, then walked carefully up to the hut.
Hello there, young one," the voice nearly made Mejirah crawl out of her skin. It was sweet, but oddly haunting. "I'm over here."
Mejirah turned to look behind her. There stood a beautiful creature. She had never seen anything like it before. It didn't look like any draik, she had seen before. Her pelt was a shining purplish blue and touches of gold accented her face. Her fur seemed unnaturally long in places, and her eyes were golden, blank, pupil-less.
The old creature chuckled. "I am not a draik. I am a Lupe. My name is Fanta. I am the healer that lives here in this valley."
A shiver ran down Mejirah's neck. How could she-? How did she read her mind?
As though coming out of a spell, Fanta's eyes closed and opened again, now with pupils and not glowing as much. "Ah, there," she exclaimed. "I can't see you when I'm in that state, but I can sense what is on your utmost thoughts. A seer has to have some way to make sure no one sneaks up on her when she is 'seeing'."
Mejirah hesitated. "I'm...I'm from the other side of the mountains. I came here to see you." She swallowed her shyness as best as she could. This creature obviously meant her no harm, by the motherly way she looked at Mejirah. "You see, I was born with crippled wings. Some of the elders in my clan said that you can heal them for me, that you can make them grander than ever."
A slightly sad look crossed the lupe's face. She seemed deep in thought. The look disheartened Mejirah. She had never thought of the possibility that this plan may fail.
I have seen but a glimps of your future, young one, and if there is anything I can pull from it, it is that I can not heal your wings for you.
Tears started to well up in Mejirah's eyes. Her heart ached more than it ever had before. I'm so broken, not even the best of healers can help me, She thought.
There is something that I can do for you," the lupe smiled gently. "I can't heal your wings because they are as they should be. They are perfectly healthy. But I know that you wish to have them work." Fanta reached a paw into her thick neck fur and pulled free a piece of twine. At the end of it sparkled a glass like orb that glowed and hummed. "My magics are limited to healing and foresight, but there is another who has a very unique power. She can grant you a wish."
A thousand things at once rushed to Mejirah's head. "Where can I find her?"
Fanta raised a paw to quiet her. "Her name is Shaeniire, and she is a siren. If you follow this stream to the big waters, there you will find her. You must be careful, for she is young and sometimes impulsive. Bring her this orb, and she shall use the magic inside to grant you a wish. It is not the most powerful of wishes," her face softened in a comforting smile, "but it should be enough to grant you what you need."
The draik murmered a thousand thank yous, and picked up the twine in her teeth. The orb dimmed a little after leaving Fanta's side. The lupe simply nodded and turned to go quietly into her hut.
Even though it was getting dark, Mejirah took off running, following the stream. Hope kept her weary legs moving and her body light. If there was ever a hope, she would keep to it.
Chapter 5