Hi, my name is Maydalynn the Meerca. I love my owner, gotgrrr so very much. I am 88728 hours old and my strength is at level 8! Thanks for visiting my site guest, I hope you will become my friend.
invalid tagPssst!

I wanna let you in on a little secret.
I'm the BEST kind of NeoPet! A Meerca!!!!!!!!





| | | |
| --- | --- | --- |
| | Chuffer Bob is my hero. He is a hero to all Meercas. We all look up to him. I wish I could meet him one day. | |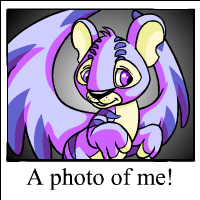 This is gotgrrrs best photo of me!
It's not very good, since I was having a bad tail day.


Isn't my tail lovely and long :)

Things that
are BAD:
invalid tagMeerca Pie!!!!!!!!!!!!!!!

So what does a Meerca like me like?
This is a list of my favourite things!
Golden Juppies - MMMmmmm these are great, sadly they are hard to get hold of so I only get to eat them as a special treat.
Gormball - That game is the greatest! I would love to be as good as Brian or Ursulla. One day I may play in the Gormball Tournament with them... you never know!
Fuzzles - They are just so cute. I want the whole set but gotgrrr says I will be spoilt if I have them all.
Poogle Racing - Sometime gotgrrr takes me to the Poogle Racetrack, its on Faerieland you know. Last time we won 500NP on just one bet. I got a bright orange Fuzzle and my sisters got green bikes from the winnings.
Oh, I almost forgot to tell you guys about the greatest game ever created! Meerca Chase!!!!!!!

There also been some great stories and comics written about the marvelous Meercas in the Neopian Times. Check this one out!






NEOPETS, characters, logos, names and all related indicia
are trademarks of Neopets, Inc., © 1999-2013.
® denotes Reg. US Pat. & TM Office. All rights reserved.
PRIVACY POLICY | Safety Tips | Contact Us | About Us | Press Kit
Use of this site signifies your acceptance of the Terms and Conditions