Nepthitus and its Realms
↚ And I can hear it in her voice, in every call ↛
Nepthitus
is a technologically advanced world that is comprised of hundreds of dimensions overlayed on top of each other. All dimensions, or realms, share the same ground, but contain different people, technology, flora and fauna. Each is on a different plane of existence, unable to see or hear the others. These realms have developed completely separate from each other for thousands of years, each developing their own culture. The two main realms of Nepthitus are the
Friedlan
and
Onus
Realms. Friedlan is populated with a humanoid species called the Landed as well as some Daemon, while Onus is populated with the Daemon species, which have two forms: humanoid and true.
Within the past 100 years inhabitants of Onus have discovered portals, gateways between Friedlan and Onus. Portals are constantly fluctuating and moving around, but the Daemon population learned how to track these movements. They built settlements and camps around
portals
, such as the infamous Night Circus.
Daemons have slowly been able to creep into the Landed's realm and integrate themselves into their society without the Landed's realizing, since only Landed children can see a Daemons true form. This is due to the fact that Landed's lost their ability to see and use magic long ago, while Daemons retained this knowledge. Landed children have an innate ability to sense this magic before they grow old and forget how to use their ability. Daemons control the government of Friedlan under the Landed's noses. No Landed's live in Onus.
---
Regions of the Realms
Onus
Authria-Capitol
Eryptia- Desert Region
Triptyna-Western Mountain Region
Neghara-Southern Wastes
Frailheim-Northern Lakes

Friedlan
Frivilla-Capitol
Erifa-The Desert
Terralithian-Western Mountians
Lishharn-The Lake District
Refallo-Tundral Plain

---
The Authority
What:
The governing body of Onus
Structure:
The Authority is structured using the Tarot deck. There are 22 Major Arcana, which are the main council of decision makers. Ten of the 22 major arcana are elevated to
senior
elders, which have more power than the other 12. These senior elders make up the true 'Authority' as they head the major divisions of the government and have most of the power. The other 12 are minor positions that still have voting power.
The Minor Arcana are assigned under different Majors for certain jobs. You must be a senior agent of the government to obtain Minor Arcana status. This status is granted after much effort and dedication to the Authority.
Their Rule:
The populous of daemons are split between accepting and dissenting against the Authority. They rule with an iron fist and punishment is swift and absolute. Many think that the Authority abuses their power and hurts the lower economic class. There has been some speculation that key members of the senior elders are corrupt.
---
The Daemon
The Daemon are a race of magical beings that inhabits the Onus Realm of Nepthitus. There are many species of Daemon, though there are ten species that are more prominent population wise. Each species has a
different ability
that is innate to them, whether it be forming binding contracts or seeing the future. Each ability has tremendous power, but also has a built in drawback to curb its use. Each Daemon species abilities lend themselves to certain professions more, but there is no true trend of job classification based on species. The Daemon species trait is
familial
, species being passed down from parent to child. If two species intermarry, there is a 50/50 chance of getting one species or the other. Sometimes more prominent species have a speceist view on lesser known species.
Each Daemon has two forms:
humanoid and true
. The true form of a Daemon is an animal, and this animal depends on what species you are. The true form of a Daemon has all key defining features of their humanoid form. A Daemon's humanoid form look like the Landed populus of Friedlan, with the defining features of their species. Daemons can switch between these two forms at will, and Daemon culture has no preference to either.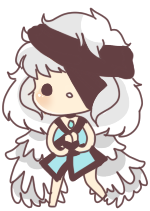 ↚ Raum Daemons ↛
Raum Daemons are a rare species of daemon that are able to see the future. Be happy that a Raum cannot see your future, as all they can see are the bad things coming toward you. These
visions
happen at random times and have random lengths. A normal, run of the mill Raum will have visions of specific events in a person's life, be it tripping and breaking their nose or getting hit by vehicle. More powerful Raum daemons will have visions of whole groups of people and what will befall them.
All Raum daemons are
blind
in one or both of their eyes. The eye becomes blind after they have their first vision. There have been no findings on the pattern for which eye the blindness will take. During visions, a Raum's blind eye will glow, seeing the vision through that eye. Raum can tell when a vision is coming when they get an eye ache. It is common for Raum to pass out during a vision, due to the strain it puts on the body and mental faculties. Depending on the severity and duration of the vision, it can take from hours to days to wake up.
Each Raum has a precious
stone embedded
on their person as a rite of passage when they turn 20 years old. It is used to focus their powers and channel them. It is placed in their center of power, which is unique for all individuals. They all have a set of
wings
that range in size depending on the strength of their power. Raum feathers are often sold on the black market because they are said to have medicinal properties. They have
extended lifespans
of up to 400 years.