| | |
| --- | --- |
| | Hiya, My name is Lutaeo, and I am a 87795 hour old Gelert. I have a fantastic owner called harelequin, who takes great care of me. The name Gelert is after a famous hero who died for his owner. All Gelerts are very proud of their heritage and try to be as loyal and trustworthy as they can. |
So what is a day in the life of Lutaeo the Gelert really like? Well I like to start off with a big breakfast, my favourite is a big bowl of hot soup (especially minestrone or sausage and bean) followed by a generous helping of Jam on Toast. Then I either play with my toys for a few hours or run errands for harelequin.



Around lunch time I like to pay a visit to the Soup Kitchen. Ever since harelequin told me stories about Neopets who can't afford to eat I like to help out in the Soup Kitchen. The poor Soup Faerie is ever so busy and can always do with an extra pair of paws to feed the endless line of starving Neopets. After a couple of hours the lunch time rush dies down and I say good bye to the Soup Faerie (she is ever so pretty you know!).
Then I either play some more, or read a new book for a few hours. I am trying to read all the books in Neopia, although I have quite a long way to go.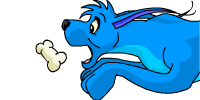 If I am really lucky harelequin will take me out adventuring. I exploring new places and it is surprising how many extraordinary areas there are just in Neopia Central! We try to go to Mystery Island once a week, the beach is just SOOOOOO much fun. If you haven't been yet, you really need to go.
---
Likes

Luxury Bell - it was one of my first toys
Beach Ball
Gelert frisbee attack - Ha ha take that Pant Devil!
Maps of Neopia (a great book)
Cherry wish stick (great for playing fetch, plus brings good luck on adventures)

Dislikes

Being mistaken for Lupes
Unis, because they're vain and selfish
The Secret Lab: Ugh... stay away!
Crabulas: If one of these pesky pets has ever snuck up from behind and pinched you, then I'm sure you dislike 'em, too.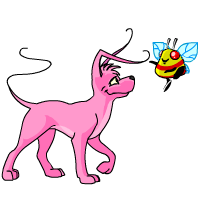 Well now you know all about me, why not NeoMessage harelequin
and tell my owner all about you. We love to meet new friends, maybe
we can have a friendly match in the Battledome some day?