Introduction
Welcome to Lupin's petpage... I, Kage, have finally made him a decent petpage for once! *claps* I am so excited to actually get this done. It's pretty much 100% done, of course if something changes I will change it. I mainly did for all of the Lupin fans out there at miss and that I should have at least one petpage done instead of half done then changing it later. I might end up changing this spot once I come up with something cool other than this different intro the page XDD! This is going to be told in his point of view in some(if not all) spots in the petpage so please enjoy! *pushes Lupin in*
Edit: I have recently found and changed this coding around since some bad words where in here and I am so happy that I can use the petpage again. I worked so hard on it years ago. I am so proud of it that I do not want to remake it! It was put back on 10/3/15!
Profile
Name: Lupin Thunder
Nicknames: Lu
Pelt: a fox orange, but scruffy
Marks: Look at the Picture
Eyes: Cider red
Ears: a bit Large
Figure: Lean muscles
Faults: Werewolf Demon
Tail: Two fluffy ones
Species: Lupe
Brush: Brown
Gender: Male
Age: Adult
Type: Werewolf Demon
Love: Aerith
Personality: coming
Owner: Kage
Pups:Kurro& Max& Akawn
Likes and Dislikes
PICTURE HERE
●Food
●Girls
●Aerith~
●His Family
●Chia Treats
●His Fans
●Swimming
●Hanging out with Friends
●Meeting new people
●Training
●Summer Time
PICTURE HERE
●His mistakes
●His werewolf blood
●Not being there for his pups
●Snow
●Being depressed
●Moldy/old Food
●Fighting
●Fear of his pups not forgiving him
●Fear Loosing Aerith
●Most of his Fears
●Art thieves and ect.
Story Pieces
Just because his history is so long, I'm only putting up little summaries of it.
[x]..It was a warm day in spring. Everything was waking up from the dark times of winter. The woods was coming back to life. Today was the say that a little ball of orange fur. He was very different from his other three siblings. He was the only one with two tails instead of three. His parents of course did not care. He was the only orange one in the group as well. They named him Lupin, he looked a lot like his mother...
[x]...Lupin adored playing around with his siblings. They were his best friends in the whole world when he was just a puppy. He did everything with him. He was very easy to trick. His siblings talked him into getting into trouble, because they knew that Lupin was somewhat more special than them, at least they thought since he was next in line to be the Aplha in their small pack. They were jealous, though Lupin had no idea...
[x]...They are now around ten months old now. Lupin was being trained by his Father more than the others because Lupin was a slow learner at first. He then got it down with now problem. His siblings did not like that fact, so the cooked up a prank to get Lupin to run off by himself. They came up to Lupin and said "We have a little game for you Lu." Lupin tilted his head and wasn't sure what was going on. "What is it guys?" Bones looked at him with his piercing yellow eyes and then opened his mouth as spoke, "Well, it's a treasure hunt. It's located at the swamp." "The swamp? guys.. that's a place where hunters are.." "What are you Lupin? Chicken?" Bones laughed. "Fine, I'll do it." Lupin growled. Lupin in ran off to go find that treasure that they were talking to him about...
[x]...His mother paniced as she couldn't find her Lupin. "Lupin!" she howled for days. Bones and the other siblings made up a story on how Lupin was captured by hunters. His mother was heart broken. Lupin however was walking around deep into the forest alone, luckly he knew how to hunt, or he'd be a walking skeleton...
[x]...A couple of years went by. Lupin was alone and he longed to be with his parents and siblings. He was mad at Bones since he was tricked by him for the last time. Lupin decided he would move on. Even though he very angry at his own family. He soon met a African wild lupe. Her name was Dark Lightning. Lupin ended up falling in love with this gal. She was his only friend at the time, he felt like his life meant everything to him. They even had a puppy together but soon, She disappeared with his puppy. He was very crushed. He had no idea why she left of why bad things kept happening to him.
[x]...From his stress and depression, his werewolf blood boiled within him. It has taken over him many times. He had no control over it. After a few months past, he gained control of himself again. He learned how to control his urges to become that beast of a werewolf to hunt and wipe out almost anything that moved or got in his way...
[x]...Lupin then met a lovely female by the name of Zakuro.(he was in his adolescent years) He wasn't trusting her right off the bat, but he couldn't really help it. He felt a connection between me and her. She had a crush on me, but this was around the time I have met another beautiful female named Aerith. It was really hard to choose, I loved them both, but my heart leaned to Zakuro. Aerith and I were still best friends though, even though she was very upset with me.
[x]...Who knew he would have a few years of happiness! Lupin was very pleased and content with his life with Zakuro. We ended up having a beautiful daughter together. She picked out her name and it was Kurro. It fit her just fine. It was such a wonderful surprise that he would be a father again! Lupin loved being a father, it was just a warm feeling. About a year or so later my son, Max, was born. Sadly he had another son with Aerith around the same time. It was pretty hard to keep him a secret and I did not like leaving Aerith to take care of our son by herself...and keeping this from Zakuro was hard as well.
[x]..When Roo got older we had some problems with her. He was angry back when she blew the wholes in the walls of mine and Zakuro's place, but it was funny. Roo and Max where unrepeatable. They were so cute together, he thought we would be the most happiest family of all time.
[x]..As the years went past, Zakuro's memory started to slip from her. He fell into a depression again, as she had no idea who he was or the kids. He ended up leaving them for good. He took care of the kids for awhile, but Roo ended up raising Max most of the time. Then Roo had a child of her own. He thought she was too young to have a child, but she has done a better job than he have. So he do not blame her.
[x]...Lupin was still in a major depression and he went to Aerith. She was his only friend left that actually knew who he was. He made up with her and then he started to remember how much he truely loved Aerith. He felt like made a mistake to be with Zakuro, but he would always still love her, but he wasn't in love with Zakuro anymore. He was now in love with Aerith...
[x]...One day Lupin just melted down and was a werewolf demon again and attacked Aerith. Once he was back to normal he thought he executed her until he noticed she was alive. He was so happy she was alive and he was torn to pieces that he hurt his best friend that happened to be his new partner. Now Lupin and Aerith is still together having a good time. Lupin hasn't become a werewolf in a long time. He has controlled his emotions...
[x] More coming~
Love
It seems like I have know this wonderful girl all my life. She is my everything. I don't think I can ever EVER picture myself without her by my side. I can feel my heart beat against my ribs every time I see her beautiful face. My heart just goes out to her. Sure, I've made a few mistakes in the past, but we are together now and nothing, I mean nothing can separate us now. I would do anything for her. She was there for me when my life crumbled in front of my eyes. I owe her so so much. I want to spend every moment of my life with her. If something happened to her I don't know what I would do. Every little thing she does make me so happy no matter how "dumb" it may be.
Family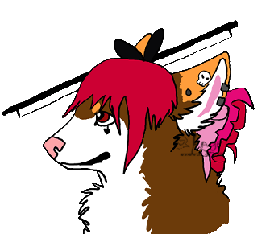 Kuroo Thunder
is my only and oldest daughter. She can play beautiful music. She is very talented in what she does. She is a single mother with Light and has done a great job. She has matured quickly from raising her younger brother Max. Roo...I owe you way to much. You will always be my baby girl.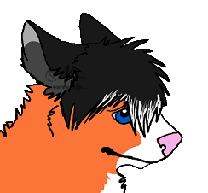 Max thunder is my youngest son. Poor thing has been through a lot since me and Zakuro broke up. He has been in a deep depression and was raised my his sister because I was in a major depression during his early years in life. He is very brave for learning how to control those powers of his that he got from his mother.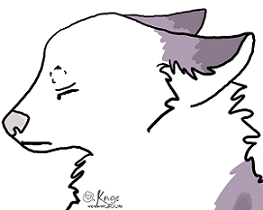 Akawn is my oldest son. He looks just like his mother. Sadly, I have not seen him grow up. I regret it everyday. I hope he for gives me, I really want to see him again. His mother is Aerith.
Light Thunder
is my grandson. I know, I am pretty surprised I am a grandfather too, but what can ya say. He is a cute little pup isnt' he. I think he was the happiest pup I have seen. I bet he has grown a lot. From what I heard from his mother, Roo, is that he loves his sweets.
Friends
Zakuro Aoyama
is one of my closest friends. Well the friend that I have friend left anyways, was one of my love at one point in time. I'm glad that she same ole Zakuro that I remember now. Our pups where Kurro and Max. I still hang out with her every now and then, to keep in touch mainly. It's kinda weird, but most ex's just never talk again but this is a different story now aint it?
Adoptables
-Don't modify my adoptables.
-Don't claim these as your own.
-Don't remove my signature.
-Don't steal
-Always link back!
-Don't enter them in ANY contest
-Don't trace them, or draw them just like the way I did.(not my style of drawing)
If you break any of these rules above then you are screwed in getting an adoptable. If you get one then abuse it I will delete your adoptable that you asked for. I do have the right to say no to a trade or request even if they are open.
Requests: Closed, friends only
Trades: When I get bored. So you can neomail me if ya want.
Normal and Painted
Blue
Green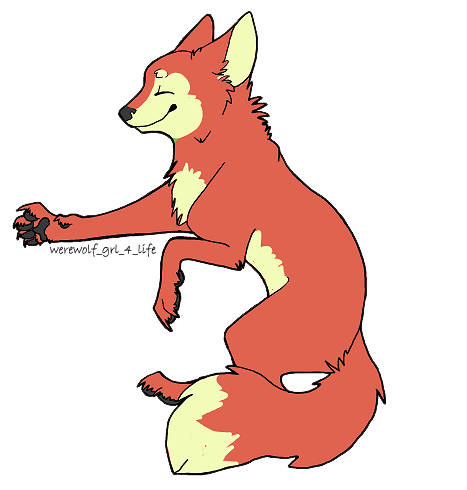 Red
Yellow
CUSTOMS
Ivanaiek
Courtney_1320
Daut

Diezahl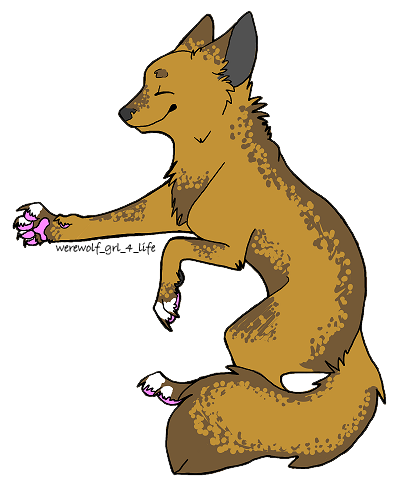 Acixi

Sepptu
Mini Me's
Links
50 X 50

50 X 50

Other Petpages
Oh if you want to link trade that is totally fine. Your pet doesnt have to be a lupe to get a link trade XD