About Lith
name.x
Lithpone
gender.x
Masculine/Male
age.x
Adult
breed.x
Timber Wolf/ British Colombian Wolf cross
love.x
Alemei
offspring.x
Sweeny
description.x
Lithopone has always been slightly taller then most males. His legs are long, yet toned well with lean muscles. His muzzle is blunt and his shoulders broad. His paws are large with overly long claws. His pelt is the color of dark chocolate with black highlights throughout the tips of his fur. His eyes are two tones of yellow, the outer rim being a dark gold and the center a much lighter yellow. Since birth he's had to pupils but be seems to see just fine none the less. To top off his odd appearance, he has a burnt orange mow hawk that starts at the center of his forehead that runs the entire length of his neck.
strengths.x
Open minded
Tough (both physical and mental)
Wise
Quick thinking
weaknesses.x
Whelps
Females
His ears. He hates his ears being touched.
personality.x
Lithopone tends to be overly cautious of those he just comes to meet. He's been taught trust no one, even those who you think you know. He's barely got a sense of humor, hardly ever finding the punchlines all that funny.
history.x
-Coming soon-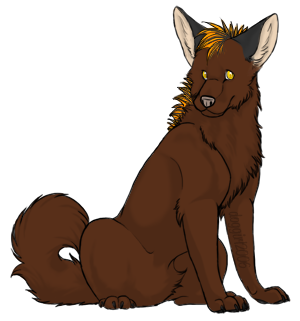 Art Gallery