UC or Converted? (article)
Written by:
Eve
Idea Based off "The Sneetches" by Dr. Seuss
image found at SunnyNeo but orginally from Neopets and here
In land of Neopia, there were only two types of Neopets after the artists withdrew. The Unconverted and the Regular. Some had more colours and poses than the other. They was breath taking at sight and blinded anyone with their poses. But the regulars had nothing worth to mention. Nothing to make them better than an Unconverted, so they became saddened and were shunned from society.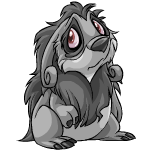 It lead to a division between the Neopets. Families were divided if a Regular twin was born. Friends became enemies if their appearances changed. A Unconverted would never be associated with a Regular again. To have the colours and the poses meant they they were the elite, the wealthy, the famous, the unconverted.
But this also meant that the Regulars were shunned and sad. They were never invited to the parties, never got to dress in unique clothes, and never had enough poses. The Regulars became outcasts.
One day a traveler named Nicky Cast, came to Neopia. Expecting to see cheerful smiles and music in the air of the past, he saw a society divided. Appearances changed and once close friends won't look at each other. Seeing this, her mind began running wild at the major difference the last time the traveler was here, she ran to the closest Neopet to find out what happened. Once Nicky realized what happened after the artists withdrew, she set to work with a idea for bringing the Unconverted and the Regulars back together.
From dusk til dawn Nicky slaved at her work to make all the Neopets have harmony again. Finally the sun rose over the horizon and the work was done! Packing everything into the mysterious machine, Nicky went to the Regular side of town.
Regulars! Come on out! I've got something to show you!"
Peering out from closed shutters and open blinds, the outcast of Neopia watched Nicky Cast speak. Nicky explained what she wanted to do, to help them have harmony in society once again. Asking for volunteers to step in the machine, no one came out....
Silence floated through the air as time passed. Would no one come out? Would they live life only to be shunned at every turn? When Nicky began to admit defeat, a young poogle, named Elyonn, came out. Shoving aside her fears, Elyonn stepped into the traveler's machine.
Cranking noises, squeaks, and ....moving cloth? sounds filled the air as the growing crowd of Regulars watch on in awe. Finally, the noises stopped! Nicky watched in pride as Elyonn came out:
Out of Nicky's machine, Elyonn was dressed in a autumn jacket and khaki trousers. If one looked closely enoguh, a faint backdrop of autumn trees could be seen. Seeing this, all of the Regulars cheered in joy as Nicky said that this could bring the elite, the Unconverted, down. While they had the colours and poses, they could not wear different clothes or background unless they all had a default pose. The traveler even gave out a free set of clothes for everyone when the leader of the newly named Customized, agree to buy all of their clothes from her.
The next day, the Unconverted were in a shock! How did the Regulars changed their clothes, the background, their makeup? How did they go from unnoticeable to fashionable? What could they do? New customization was not a option, it would take to much time for everyone to get their own clothes. Realizing their defeat, the Unconverted began to accept the Customized. Slowly the line of division blurred until it was not remembered anymore. A Customized and a Unconverted could now be friends, family feuds ended, and they all became known just as Neopets once again.
Nicky Cast became the main retailer of Neopia and even created a mall to sell all of her clothes. The NC Mall spread all over the lands to bring Neopets the clothes they needed. Now all Neopets were breath-taking and pleasing to the eye thanks to Nicky Cast!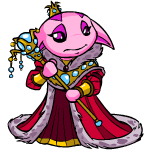 But what happened to Elyonn and Nicky? Together they worked to change all Neopets back to what once was. This was so that all Neopets could truly be equal again. After years of research, the pair finally had success in their morphing potion and tested it on Elyonn. She turned into the rare auto-converted royal girl Poogle! Awed by the outcome of the new morphing potion, they set to make it again. But sadly, it turned out to be a one time thing. Now Elyonn is the only Unconverted Royalgirl Poogle in all of Neopia. She now spends her days promoting NC Mall's newest items and bringing together all Neopets in Neopia.
Oh Fiddlesticks! (comic)
by chuukii
How to give the perfect gift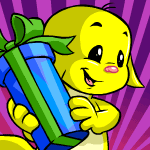 It is your friends birthday, and you have nothing to give them! You want to make their "neo-day" perfect by finding this perfect gift, but don't know what to give them! Following these steps can help you give them the best day you can!
Step 1: Learn about them
You should always know about your friend. Learning about what they like in real life and on Neopets can help you decide what they would love! Read their lookup or profile, most people put what they love on there.
Step 2: Think about the gift
Once you have completed step 1, you have learned all about them! Put this to use by searching for a gift! If they like to play soccer( in real life) and like draiks(on neopets) then you shouldn't buy them a Kacheek Plushie! Buy them something "ball", "soccer", or "Draik" related. This will insure you that you are giving them the best present!
Step 3:How to save money
Okay, so you have in mind WHAT you want to buy, but you arn't the richest Neopian, so how would you buy it with out breaking the bank? Every 3rd day of the month, is half priced day. EVERY item in Neopian shops are half priced! This day is PERFECT to stock up and save on gifts! Also, go around to shops to find a great deal on something! Selling that can get you some profit that you can save up for something else!
Step 4: Buy It! Finally! You can buy the gift now! Head on over to the shop, and buy your item! Be sure to have the right amount of neopoints and less than 50 items in your inventory!
After Math
If this does not work out for you, then you should try giving them the basics. Everyone LOVES cake, so try giving them a slice of cake.Also, gift bags are a neopets favorite and I am sure your friend will love it! If any of this does NOT work out, and you end up giving them omelette, it is the thought that counts, so do not worry! Happy Birthday!
Korbat Art
Drawn by:
genafire
Interview with Nienke
Interview with
Nienke
. Interview by
Madame
.
Me:
Hello Nienke. *shakes hand* I am glad to see you, I have a few questions. When and why did you open Nienke's premades? Did someone inspire you? Where did the name come from?
Nienke:
I opened Nienke's Premades way back in 2007, it was then called Nienkju's Graphics. I didn't really feel like coming up with an original name, so I just used the most simple name I could think of. After a while I took down the graphics and I started to focus on making premade layouts. Because of that and the fact that I've never really liked my username, I changed the name to Nienke's Premades. I don't think anyone really inspired me, but I've always really liked Jessica's (from swimchick) work
Me:
Great! How did you really learn how to make such amazing layouts, any good tutorials you would recommend? What have you started from, making petpage layouts, petlookups, user lookups or guild layouts?
Nienke:
Well, I learned most things by myself, I usually don't follow tutorials. I do however really like swimchick's tutorials.
I started with making userlookups, because I thought that my lookup was really boring and I couldn't find any premade I liked. Today I rather make petpage layouts, because you can do so much more with a petpage layout than with any other layout on neopets.
Me:
Very interesting. Are you planning on writing a tutorial yourself?
Nienke:
I was already working on a tutorial site, but I have been very busy lately and I still haven't found the time to finish it. I think I might put some of the tutorials I've already finished up on my extras page, but I'm not really sure about that yet
Me:
Okay. And how did the idea of Nienke's Resources appear?
Nienke:
I used to work for a Dutch graphics site called "Dreamy Graphics" and they also offered textures. So one day I decided that I also wanted to make some textures for the site and I did. When I quit working for them, I had first put the textures on DA. Later I decided that I also wanted to put them on neopets, so I created Nienke's Resources as a division of my premades site.
Me:
I have seen that you started taking layout and button requests, why?
Nienke:
Some people told me that I make nice buttons and that I should take requests (Caitlin and Remy!), so I started to think about that. I've always enjoyed making buttons and I wanted to add something extra to my site. When I got back from my holiday I really really wanted to make this extras page and I decided to include button- and layout requests. I'm not that fond of taking layout requests, but every once in a while I feel like making layouts for other people and then I open requests!
Me:
And finally, what are your plans for Nienke's Premades future? For how long do you think you will be able to maintain the site actively?
Nienke:
I don't really have any new plans at the moment. Maybe the tutorials, but I'm not sure what to do with that. I do want to make some more premades, textures and buttons though.
I don't really know. I'm getting way more busy now I'm going to university, but as long as I have time to update once a week, I'll keep updating
Me:
I guess this is it, thanks for the interview and have a nice day!
Pounded (comic)
Drawn by:
Azu
Guild Of The Month
By: Redmadam

Guild | Webbie | Portal
My pick is The
Weewoo Journal
. A guild where others can express themselves in many different genres, otherwise, Multi-themed. They have many writing, art events and activities. They are not only a great, friendly community but the owner,
Weewoo Writer
tries her best to make the guild as creative and awesome as it is. Yes, I was a part of the guild one time, and I regret leaving it. If you love writing or drawing,
The Weewoo Journal
is for you! The guild has all an amazing guild for writers should.
Other guild links:
Want to help the guild? Visit The donation shop
Just joined and dont know what to do? Check the Newbies Page
Have an art you want to share? Check the Art Corner

Does Jelly World Exist?
Written by:
Tiffany
Jelly World is merely a legend… or is it? Since anyone could remember, Jelly World was a tale told to young Neopets as a bedtime story. Countless explorers have tried to find Jelly World, but to no avail. There are many mysteries surrounding the so called Jelly World. Is this where jelly items originated? To find out, I visited a long time Jelly World believer, who would like to keep her identity anonymous. I will call her "Jelly Girl" for now.
Jelly Girl is very experienced in Jelly and everything about it. She wrote several best-selling books and was nominated for several awards for her excellent Neopian Times Articles. Jelly Girl has no plans to write any more books or articles, as she is now the President, C.E.O., and founder of the Jelly World Believers Organization.
1. Where is Jelly World located?
According to Jelly Girl, Jelly World cannot be accessed by using your map. It cannot be found there either. A popular rumour that Jelly Girl has heard is that Jelly World is accessed using a secret code, a.k.a. a "link". However, this "link" has never been heard of before and this "link" has not been found by any Jelly World researchers before. The most reliable rumour that Jelly Girl has heard is that to access Jelly World, you must be part of some sort of club. This club is only available to those who have been invited. Not much has been found out about this club, since club members must keep all club information secret.
2. Why have "TNT" always denied the existence of Jelly World?
TNT" or The Neopets Team has denied the existence of Jelly World for some time now. "TNT" runs everything to do with Neopia, so why aren't they telling us about Jelly World, if it does exist? One theory Jelly Girl has is that they are part of the secret club. Another theory she has is that the Meepits have forced "TNT" to not reveal anything about Jelly World. This brings me to my next question:
3. What do the Meepits have to do with Jelly World?
Whenever "TNT" mentions Jelly World, they almost always mention Meepits. These creatures have always been evil, unlike their rivals, the Feepits. Jelly Girl thinks that the Meepits are using Jelly World as headquarters, or the first step of their evil plot to world domination. The Feepits have always denied any knowledge of Jelly World or the connection between the Meepits and Jelly World, but perhaps that is because don't want Neopians to get too scared of what is supposedly happening. Supposedly, the Feepits are working on a plan to find Jelly World and to find out what the Meepits have to do with it.
4. Where do the jelly items come from?
Jelly items are quite popular. From food to furniture, at least every Neopian household has 1 item that is jelly themed. Many have thought that these jelly items come from the brother of the Chocolate Factory owner, but the Chocolate Factory owner has denied these claims. We found a tag on a piece of Jelly Furniture that said, "Made in Jelly World." Is that claim true, or is it just something to lure Neopians into buying these so called "Jelly World items?" Jelly Girl says that the claim is true and that all jelly items are made by a guy she calls the Jelly World Store Shopkeeper, a.k.a. Bob (her nickname for him).
But for every Jelly World Believer, there is someone that is Jelly World Opposed. The Jelly World Opposed Organization started the day after the Jelly World Believers Organization was formed. These members are determined to tell all of Neopia that Jelly World is not true and that anyone that is trying to sell you information, books, anything that has to with Jelly World is fake. However, Jelly World Opposed has been facing some trouble in Neopia. Every club or organization in all of Neopia must be looked over by Fyora the Faerie Queen, King Altador, or another one of the Neopia lands rulers. Fyora happened to look over the Jelly World Opposed Organization's papers, and apparently, their organization has been scamming Neopians out of countless Neopoints through fundraising supposedly going towards Jelly World Opposed's research. It is really going towards buying a Lab Map set for the entire organization.
This reporter for the Neostars Magazine found out that some Jellies can give you diseases, such as Poisonous and Glowing Jellies. How did this become? Jelly Girl said earlier in my interview that Jelly World is for good, not evil. She believes that Jelly World Opposed Organization has told this to people to scare them. But that is not true, because a few days ago, a fellow friend of mine accidentaly fed a Poisonous Jelly to her pet, and her pet got sick. Meepits could have been the cause of this, but who knows…
Jelly Girl had to leave to go for her Jelly World Believers Organization meeting after my last question, but I hope to contact her again soon.
So is Jelly World real or not? That's up to you to decide. This is abbi2hip1023, signing off for the Neostars Magazine.
Talk about random (comic)
Drawn by: buizelmaniac
What Slushie are You?
You go for a walk in the park. The first thing that catches your eye is...
A. That goregous burger over there. o.o
B. The thing that takes me longest to eat up.
C. Anything funky, man. Peace!
D. Anything that smells as horrible as me.
In art class, you must paint a picture. The picture is of...
A. A burger?
B. My paper...It's gone.
C. Peace signs with the words "Long live the disco!"
D. The teacher doesn't let me touch the art supplies...
Your catchprase is...
A. "Burgers rock my socks!"
B. I normally don't have time to say anything before the people run in fear.:(
C. "Pump up the peace and disco!"
D. "Smell-tastic?"
What mystical creature/historical event is most like you?
A. Do burgers count?
B. The Plague
C. Pixie power!
D. Dung?
Your favorite wearable is...
A. Buger hat? Is that even one of them?
B. Black Halloween Capelet
C. Disco Aisha Cap
D. Pile of Dung. It's a classic.

Mostly A's-Cheeseburger Slushie
Mostly B's-Black Hole Slushie
Mostly C's-Disco Slushie
Mostly D's-Dung Slushie
Jokes
All jokes by: happykid13z

#1. Frank Sloth; First off I don't really understand where in the world he would come from. Who is green, and wears those unfashionable black robes? Does he live in Hogwarts? Because i'm sure they would have to wear those robes somewhere...

#2. I wonder this, the Kau's have a image of them painting nails; yet they don't have fingers :|
Faerie Aisha
Drawn by: Zikarra at DA
Good Night Poem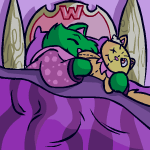 Now get in bed, I'll tell a story,
It wouldn't be scary, dont worry.
When you got into your bed,
and hugged a pillow to your head,
I gave you a funny look,
and started reading a big book,
My day was really, really good,
I woke up in a happy mood,
I went to Meridell for lunch,
I drank a tasty fruit punch,
Then I traveled to Kiko Lake,
and had a very short break,
and a yummy piece of cake,
then I went to Haunted Woods
and I bought some scary goods,
I entered a big Haunted house,
and heard a peep of tiny mouse,
I traveled a lot today,
and now it's time to fly away,
the day has come to the end,
have a good night my dear friend.
I close the book and smile sweelty
and you are sleeping very neatly.
-Madame.
(article)
Special Thanks
Dear guest,
There are quite a few people who I want to thank for helping make Neostars Magazine as magically amazing as it is.
Firstly, thanks to all of the writers, artists, poets and all other people who submitted your work. I appreciate the time you spend on it, it's wonderful how much to put effort into it. Even if your work was rejected, thanks so much for just spending the time on it.
Secondly, thanks to Turnip for helping me edit all the magazine's content and giving many tips. Turnip is one of those people who I can always ask for help and he will not ignore me, he would help. I admire him a lot, his two successful sites both took part in my magazine. The Lunch Box made many graphics and Frequent Flyer helped me with the editing part. Thanks a lot!
Thirdly thanks to Teressa, the owner of the guild of the month. She made the pretty cover and she was the one who inspired me to continue with the magazine. If you are reading this, I want to let you know that you are amazing!!
Sincerely,
Redmadam
The Aesthetics of Applesauce
More than 40 million tons of apples are produced in the world each year, China being the largest producer, the Us being second.
There are more than seven thousand varieties of apples in the world. So from there, you have a lot of different types of apples and types of applesauces.
The apple said to have hit Isaac Newton and inspire his theory of gravity is the large green-skinned kind called the "Flower of Kent".
Cheese and You: A Lactose Life
The Wisconsin Cheese-Makers Association has had a biennial (every two years) World Champion Cheese Contest since 1957. past winners include an Australian brie and a Dutch Old Gouda.
In Wisconsin, you must have a cheese-makers license to make cheese, and master cheese-makers license to make Limburger cheese.
According to a British study (titled "Optimum Use of Cheese in a Cheese Sandwich"), the optimum thickness of cheese on a sandwich depends on the cheese. Various thicknesses range from 2.5 mm to 7mm.
Tyromancy is divination (fortune-telling) by cheese.
The Science of Scrabble
In the Malaysian Scrabble, there are nineteen 'A's, being the highest number of any single number of any Scrabble game.
In Finnish Scrabble 'D' is worth seven points.
There are 121 two-letter words allowed to be played in Scrabble, using every letter except 'V'. 'AA' is one, which is actually a type of volcanic lava, as well as rivers (Aa rather than AA) in Germany and France.
Twelve is the only word on the English board that scores it's own value.
Advertising
Monthly Advertisement
10/01-10/31
The Florist is a unique button request site by Sophia and a winner of Kaleidoscopic's SOTM. The site was created in December 2009 and went though many changes and improvements including a re-opening. Thanks to Sophia for making it as amazing as it is. Be sure to check it out and, if requests are open, request a button!