REVOLUTION CHARACTER PROFILE
- TOP SECRET - CONFIDENTIAL -

Cadet Basic Information
Name: Leore
Gender: Female
Age: N/A
DOB: November 17th
Height: 5'10 (6'1 in heels)
Weight: ~70lb (she's fluff)
Hair: Teal
Eyes: Red
Rank: Sergeant

Memo and Important Notes
Role: Engineer
Special Talent(s): (Chemical) Engineering, Weapon Concealment and Stealth. :B
Previous Occupation: Doll
Motives: Doesn't like rules.

Physical Description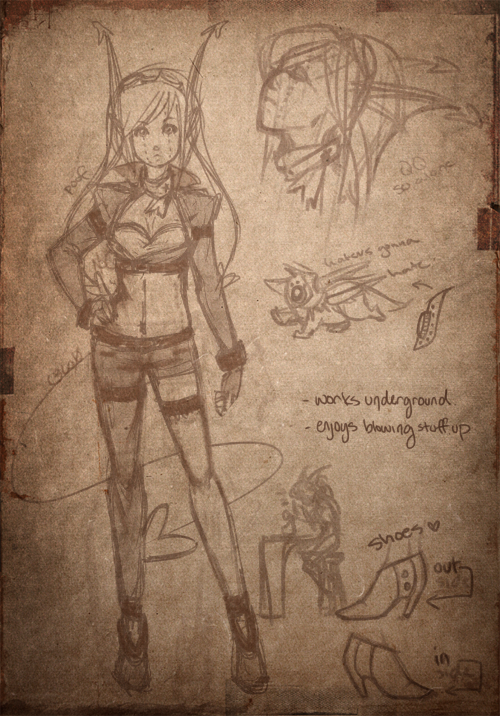 Leore's skin, or fabric rather, is made up of a flame-resistant light gold fabric stitched together with durable brown thread; most notably, two parallel seams down her face, overlapping her red eyes. Her tail is made of an extremely strong, nearly unbreakable line that both extends, retracts and holds position with complete silence. She tends to keep it just above floor's length though. Her tail heart is simply made of the same flame resistant material as the rest of her body.
Her (synthetic) hair is a dark teal generally kept short because it is flammable and merely there for aesthetic purposes. Making a flame retardant wig isn't really up there on her priorities at the moment. However she has made modifications to her ears just for fun.
Since she mainly works underground (both literally and figuratively) her normal attire isn't as restrictive as one might expect within the country. She's mainly found in her work clothes, which are made of a light, pliable leather for easy movement. Her left leg is bare because it contains a compartment within her thigh that she may need to access at any given time. She has random utility belts - around her waist, legs and arms - filled with various gadgets and elements (*coughpoisonscough*) and many other things you probably wouldn't expect a normal person to carry. Despite her normal work ethic, she still finds it necessary to set aside little things that please her, which apparently includes wearing heels whenever possible and (somewhat) practical.

Personality and Demeanor
Personality: Fiercely independent and stubborn, Leore isn't exactly an open book. She's operated by herself her entire life, but with the situation being what it is, she's lending her skills where they're needed. She's never really had to interact with others so joining the Revolution is a new experience for her as she's always relied solely on herself. She doesn't like being talked to really, and hates being asked stupid/redundant questions (though they may not actually have obvious answers.) She is by all accounts a loner and really doesn't want to be your friend.
Interactions: Despite her tough exterior - which is ironic because she's cuddly soft (not that anyone would know) - she has serious abandonment issues. She's extremely tough on those who try to get close to her and is always testing the limits of those around her. Truthfully, she's let no one in her entire life. She's generally cynical and does most of her talking through a thick layer of sarcasm. Don't hug her.

Brief History
Leore was originally a little girl's doll - but she doesn't tell many people (read:anyone) this. But when the girl's family attempted to flee the country, she was left behind. She didn't know when it had happened, or how long it had been since they left. But she had gained consciousness within a burning building, alone. The only memories of the day she came alive was a shadow fleeing through the smoke that she never saw again. The one she assumed to be her Creator. For whatever reason, she knew that the shadow was not the one responsible for burning down the house that was once her home. It was them. The very people who drove her family away.
Since then she's been her own person. She eventually found a desire for excitement and adventure and began dabbling with dangerous elements, where she discovered that she was adept in creating poisons, explosives and other dangerous paraphernalia.
She's a nomad and never in one place for too long; she also never keeps in contact with the few people she interacts with over her travels.

How it Began (Mission 2)
It's hard to believe that anyone would voluntarily choose to stay in the Community if they had the fortuitous opportunity to leave. When the doors were open and freedom was beckoning, she looked away; fighting the temptation to flee. But that would leave questions unanswered, jobs unfinished and revenge undone. She knew that regret would haunt her for the rest of her life.
Heat. It was her first feeling.

Next came the spark. The realization of sentience. Which was immediately followed by assault; every single sense, previously untouched, was completely overwhelmed. Thick smoke had invaded her nose and the bitter taste of gunpowder burned her throat. All around her, fire cackled, consuming the wooden structure of the walls and floors. But the heat; the heat was unbearable, every single fiber of her being told her that she was on fire - she was burning.
Not wanting to face the reality, clenched her eyes shut. But the thundering crash of a beam falling through the floor made her jolt to her feet and her eyes burst open. She was immediately blinded. Though the room was engulfed in dark black smoke, bright fire rose from the floors, making it nearly impossible to distinguish where she was. But while squinting to regain vision... she knew.
From the corner of her eye, she saw a figure. A shadow? Just the smoke. Snapping back to the reality, she looked down expecting to see the charred remains of fibers and cotton but instead saw that she was fine; well, intact at the very least. Far from fine.
Then yet another spark: get out.
She managed to escape the burning building. The remains of what used to be her home. She could not tell how long it had been. She couldn't think. She couldn't breathe. She couldn't move. She stood there, outside the house in the abandoned street... staring; watching the strange and unfamiliar memories that trickled in and out of conscious thought, burn down before her very eyes. It was ironic, that her first conscious memory, was the eradication of her former life.
When the reel of her entire existence ceased to play within her mind and the flames that consumed her home had sizzled out, something clicked.
There was someone there.
Sitting behind her was a stout plushie scorchio. He seemed to be quite young, based on his appearance, though the tiny spectacles that rested almost rightfully on his snout made her believe he was much older than he appeared. His brick red scarf somehow seemed to add years to him as well. Despite the suspiciousness of his presence, somehow he almost radiated benevolence, so suspicion was overlooked.
I'm glad you made it out in one piece," he raised a brow, "Well, almost anyway," he tilted his head and frowned.
The draik girl looked down, and didn't see a tear on her.
Almost?" She whispered, speaking was foreign and awkward.
Almost." His head tilted more and flicked his stubby tail.
Her ears pulled back as she twisted around and saw that her long tail was gone, torn right off from the base of her back. This was also when she realized that she was otherwise bare. Not that it mattered, since she was merely fabric and stuffing after all. Though she felt exposed without all of the clothes she knew her girl enjoyed dressing her in. Her ears dropped further down with grief.
The scorchio looked at her reassuringly, "It's an easy fix. It seemed to come off pretty clean.
It's not th-... wait. Who are you? The shock of actually meeting someone out in such a deserted area had subsided and protective instincts she never knew she had kicked in. She stepped back.
A friend." He unwrapped his scarf and touched a glimmering golden star hiding beneath its folds. It was then she noticed the remains of a similar red scarf wrapped around her neck as well. She pulled it from her neck, and a tarnished star fell to the floor.
That star represents your affiliation with the Revolution - your family's affiliation with us." He paused and removed his spectacles, "But your girl's father made a grave error that cost both him and his family their lives."
Her eyes widened. "They're dead?
The scorchio looked down, "They may as well be. But what's important is that you are not with them."


For authorized personnel only. Property of Revolution and l3lo0.
/~HUGEL TO RECRUIT