SAY HELLO
Oh, it's you.
Maybe you should come back here later. You know, when there's actually something here. This page is currently under construction.
ME, MYSELF, AND I
Name: Lea "Lei" McMarriot
Age: 23 (human years)
Gender: Female
Nationality: American
Owner: Tama
Alias: Lei
Occupation: Model-turned-actress
Eye Color: Red
DOB: February 12th (Aquarius)
Birthplace: Chicago, Illinois
Personality: Sarcastic, passive-aggressive, attention-seeker,
obsessive, rarely vulnerable, petty
Fosters: Nhoir, Rhuje
Siblings: Saebyll
| | |
| --- | --- |
| | Lei loves anything involving herself, but focuses her career path in places that require her to act as someone or something else--such as a model or actress. She loves living in the spotlight and takes great pride in her appearance, choosing to wear only the most stylish of clothing. |
Due to this, she tends to look down on people not as wealthy or well-dressed as herself and shies away from associating with those that might drag her status down.
She keeps her emotions under a tight lid, preferring to hide behind a veil of sarcasm and good looks to get her through difficult situations, but she won't hesitate to let someone have a piece of her mind--if she knew she could afford to lose that someone.
Otherwise she keeps quiet, keeping the peace only because she believes she'll crush them under her boot when she reaches the top.
EW AND AH
Dislikes

badly dressed people
bad hair days
her freckles
the colour orange
violence

Likes

popularity
fashion
her job
people
dreams
THE FOSTER FAMILY
These are the people that have...graciously accepted me into their lives. I suppose I should be grateful, but I'm mostly just disappointed, really. You would be, too, if you were stuck with these guys.

| | |
| --- | --- |
| Oh, goodness. Ol' Ru. Now there's a crazy lady. If you could personify mental disorders, Ru would be it. Her feelings are all over the place. I think she's some kind of...vampire-thing? Not sure. Her hair would be lovely, though, if she washed it once in a while. | |
| | |
| --- | --- |
| I really do wonder what's going through Noir's head sometimes. She doesn't seem all there most of the time. Can't hate her for it because she's a very sweet person...and where she comes up with these fabulous clothes I'll never know. | |
| | |
| --- | --- |
| What a revolting little worm Eckhart is, always dabbling away in her laboratory for days on end--without showering! Undoubtably the most intelligent being I've met, but also the most socially deficient. | |
| | |
| --- | --- |
| Agent Siq is still a big, tiny mystery to me. But that shade of pink is blindingly hideous. Ugh. | |
Love? Not sure. Read this instead, won't you?

I want your horror
I want your design
Cause you're a criminal
As long as you're mine
I want your love
Tell it like it is, Lady Gaga.
As for me, I don't really have the time--not to mention I don't think it really exists.
But think what you want, I won't judge. Much.
REFERENCE OF YOURS TRUELY & ROLEPLAY INFO

Reference Sheet: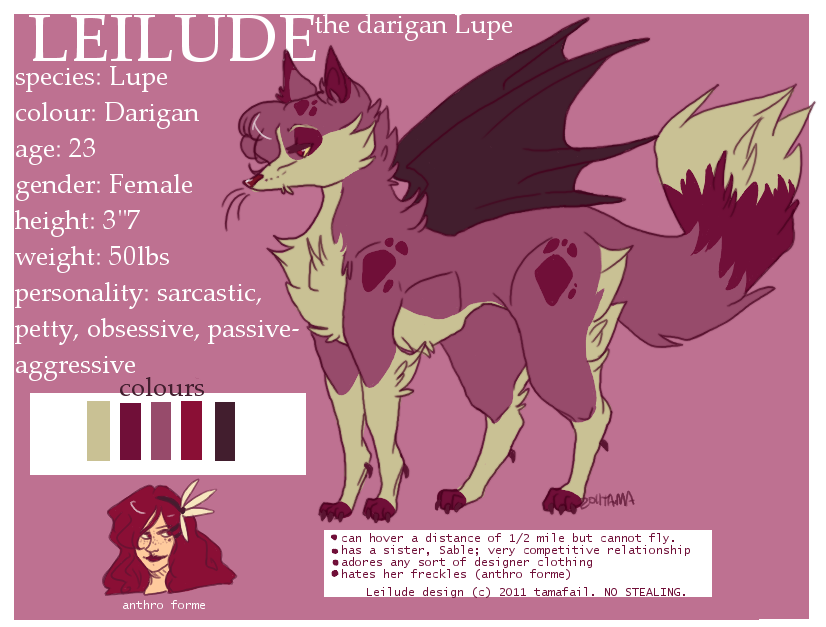 RP Information
RP is currently: OPEN
✗ I don't do well in areas where I might get dirty; ie, swamps, forests, caves, etc.
✗ I love cities and interact well in crowds, but I tend to be bossy
✗ I will not associate kindly with those of a lower social status and/or seem uncleanly.
✗ This tends to drive many away, so be prepared.
✗ Alternatively, I will be very sweet to those in power and/or in my good graces
✗ I prefer anthro RP, but I can do quad as well.
ART OF ME


Thanks, jollygoodshowchaps!


ADOPTABLES
Rules:
1. Adoptables may not be used off Neopets.com.
2. Do not steal/rip/claim these adoptables as your own/use them in the beauty contest.
3. If you are refused, it is most likely because your lupe's design is too difficult.
4. No clothing/hair/extra tails/wings.
5. No reference, no custom.
6. Don't use an adoptable that isn't yours.
7. Fill out and neomail this form to Tamafail.
Name of Lupe:
Reference Picture:
Adoptable Trades: OPEN
Adoptable Requests: OPEN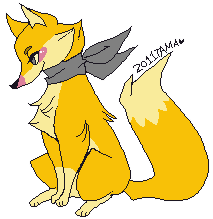 Yellow
Red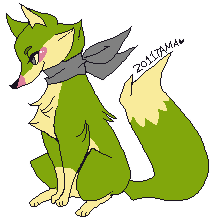 Green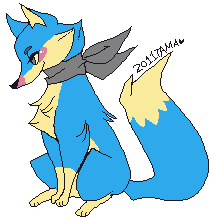 Blue
Customs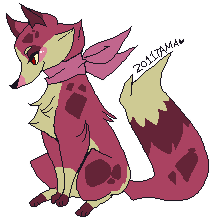 Leilude (Me)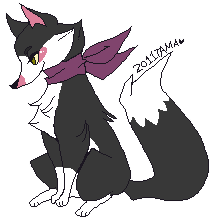 Nhoir


Yilth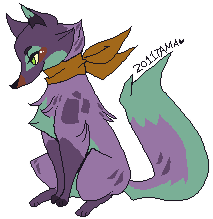 VanDiego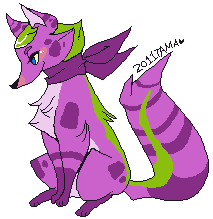 TiidoL


Hoary_Fox


Hryc


Zears

TAKE A MEMENTO

READ THIS
Picture above is drawn by
tamafail
.
Base-CSS by
XBECCI
@
FAKE
THEWAY.
Art and Lei @
tamafail
NO STEALING.