[ Welcome ] [ What is Premium? ] [ How Can I Join?? ] [ Referring Members ] [ Types of Service ] [ Sign Up Process ]
[ Upgrade Your Service ] [ Misc. Questions ] [ How to Begin ] [ Navigating In/Out of Portal ] [ Super Shop Wizard ]
[ Sniping ] [ Alias Accounts ] [ Sub-Accounts ] [ Referral Tips ] [ How to Refer ] [ How do I Delete Referrals? ]
[ Referral Rewards ] [ Lucky Space Faerie Charm ] [ Space Faerie Scratchcard ] [ How Do I Collect Rewards? ]
[ Boss Button ] [ What is Stealth? ] [ Member Testimonials ] [ How Do I Cancel? ]
[ Link to My Page ] [ Helpful Sites & Other Links ] NEW [ What to do if Frozen ] [ Protect Yourself ]
This page is best viewed at 1024x768 resolution.
Welcome, guest to LeenaLu's Neopet's Premium FAQ! This page is designed for the Commonly Asked Questions on the boards, and is designed for easy navigation and fast answers! This is not a comprehensive Premium Guide, nor was it meant to be. For information on everything premium, visit Leto's page.
If you have anything to contribute to my page, or any suggestions, please neomail my owner kandykaleena!
Please keep in mind that this page is still under construction, and I will always be updating this page as more questions need to be answered, or as I expand my page's topics. If you have any questions that are not yet answered here, please neomail kandykaleena!

What is Premium?
Premium is essentially a must have for neopets addicts! It is a web service that enhances Neopets, and it costs $7.99 a month or $69.99 a year for the web pack service. You also have the option of the Dial-Up Service, which includes the webpack, but also is your internet provider; which costs $15.95 per month or $99.99 a year. What are the perks, you ask? Click here!

How Can I Join?
You can either wait for neopets to have more openings become available, or you can get a referral from a current member. If you are looking for a referal, please check out my list below, that is a list of some members that are currently giving out invites. Please keep in mind we DO get credit for referrals, so if you ask for one, we ask that you intend on staying past the 15 day Trial, otherwise we wasted 1 of our 20 referrals.

Referring Members
My owner kandykaleena has already met her maximum amount of referrals, but here is a list of some wonderful longtime Premium members that are handing out referrals.

[ failz ] [ twitchchewie ] [ amilu ] ninjafly7 ] [ friskysquirt ] [ burgundy70 ] [ shertlc ]
Types of Service:
There are Two Types of Premium Service, and here is a brief description of each.
Web Pack: $7.99 per month or $69.95 per year


Your own Customizable Portal!

No Advertisements AT ALL on neopets!

Weekly Space Faerie Scratchcard

Your Own Email (My Webmail Address)

Higher Chance of Random Events

SHH Directly to your Webmail

Super Shop Wizard (Searches ALL shops at once to give you the cheapest prices the FIRST Time, no need to refresh!)

AWESOME Premium-Only Boards (99% Spam Free!)


Dial-Up Service: $15.95 per month or $99.99 per year


Includes the Above mentioned Web Pack

Also includes Dial-Up connection (Up to 15x Fasters than Standard Dial-Up)

Unlimited Internet Access* (64 Hours a Week in their fine print)

Unlimited E-mail Storage

Have Additional Premium Accounts (called Sub-Accounts, and an alias for your main Premium account.

Keep your current internet provider during the trial.
Sign Up Process:
As I mentioned at the beginning-Premium is a service that you pay for, costing either $7.99 a month or $69.95 a year (better value).
When you get your referral, you will be taken to a page to sign up. Even for your trial, you have to enter a credit card in order to sign up. You will not be charged during your 14 day trial, but you MUST cancel before the end of your trial if you do not want to continue the service, otherwise you will automatuically be charged.
Another method of payment would be using a verified paypal account, with a credit card on it as a back-up just in case you don'thave the money on paypal to pay for neopets. It gets charged monthly just like a credit card would be.

Upgrading Your Service
Although we are sure you used to be able to both Upgrade AND Downgrade your payment options on-line, it looks like now you can only upgrade your service. If you are a yearly subscriber, and want to switch to monthly, you will need to call one of the hotlines: U.S. TOLL FREE: 1.877.NEOPIAN; International: 310.321.6712 (7 Days a Week, 5AM to 12AM PST)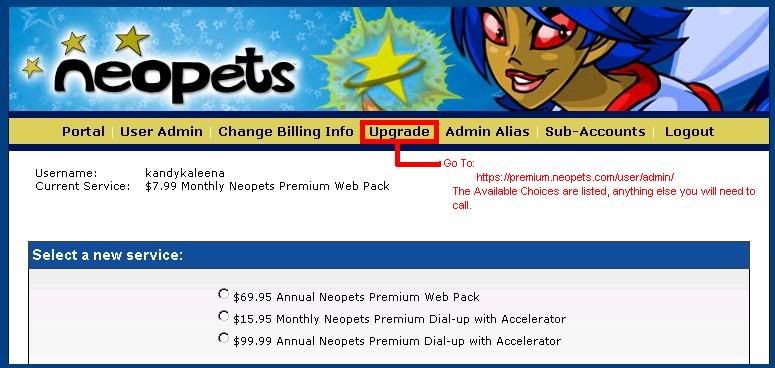 Remember: It is possible to change your payment details online if you wish to either upgrade your service OR if your credit card has expired and you have been cut off from premium or paypal has refused to pay and you have been cut of from premium.


Miscellaneous Questions
More will be added as I get them! :)


Q: How do I change my billing on-line?

A: If you go to your admin page, which is found my logging into your webmail. You then click Upgrade from there, depending on what you want to do. This allows you to enter new details and you won't get an interruption to your subscription. NOTE: You can only upgrade the service or enter new details if your card has expired, otherwise you will have to call.

Q: Do I need to pay for the Dial-Up Service to get an alias account?

A: No! The Alias account is a web pack feature, which essentially gives your side account access to the Premium Portal page, although you do not receive Webmail SHHs, the Space Faerie Scratchcard, and you cannot refer. On the Dial-Up Service, you can have multiple Premium Sub-Accounts, designed for a family that has multiple players. Each of these accounts will get the SHH, Scratchcard and be able to refer.


How to Begin
The only unique features about Neopets Premium are the webmail service and the portal features. That's all you are paying for, the rest of neopets is completely free. Go spend some time familiarizing yourself with your portal features and customize it to your liking. Learn to navigate the site from the portal.


Navigating In/Out of Portal
Did you accidentally get stuck browsing in portal, and you can't figure out how to get the regular page back, or vice versa? Hopefully this image below will help you! Just find the Red/Green Arrows and click them to change in and out of portal!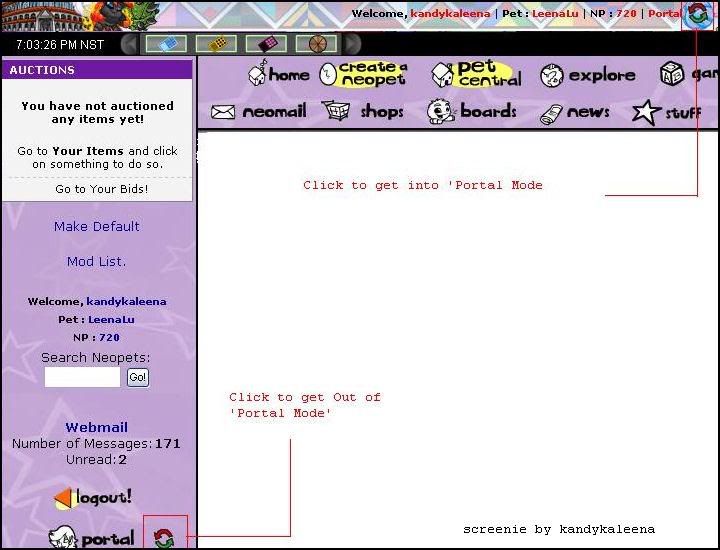 There are also some more screenshots that can be found here, compiled by a friend of mine. :)

Super Shop Wizard:
You may be asking yourself "What is this Super Shop Wizard (SSW) and what does he do for me?". Well, the SSW Searches ALL shops at once to give you the cheapest prices the FIRST TIME, no need to refresh! This is great, because you can look for the cheapest items and be done with it. The downside is you cannot search for Lab Map pieces, Transmogrication Potions, and certain other rare items, as it unbalances the game. Also, keep in mind that you will get "banned" if you do too many searches, meaning you cannot use it for a certain amount of time.
Where is the SSW? This is a very common question, so don't feel bad! To find your super shop wizard it usually is at the bottom of your portal page, however if it is not there go to